Crypkart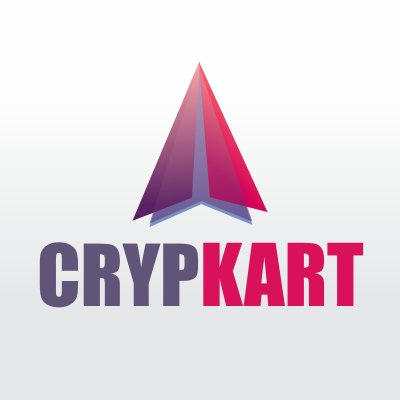 Crypkart is a global Cryptocurrency Exchange. We believe in the future of Cryptos and the opportunity they bring in. Crypkart has been built to empower traders and optimize their earning potential.
This platform is a decentralized peer-to-peer (P2P) crypto-currency exchange platform which supports and registers numerous crypto-currencies and create a better and more efficient trading platform for the crypto-currency traders.
Crypkart intends to become the best platform when it comes to trade in crypto-currency all over the world and to develop a well-structured system which will aid crypto-currency traders in transactions and also bring a turnaround in the crypto-currency industry.
Most importantly, crypkart will open the crypto-currency exchange market to the masses to venture into and participate in trading which will ensure global acceptance and participation of the crypto-currency exchange industry.
MISSION
To Become The First Choice For Traders Across The Globe For Trading Cryptocurrencies
To Inculcate And Imbibe Cryptocurrency Trading As A Viable And Full Time Career Option For All.
Build the best ecosystem and IT system for supporting traders and crypto trading eco-system
PROBEMS THEY HOPE TO SOLVE
• Inadequate or ineffective technologies used in other crypto-currency exchange platforms will be replaced by the crypkart platform using their advanced technologies to make operations effective as well as productive.
• Crypkart will eliminate the threat posed by hackers by running a fully secured network using their watchdog algorithm to guide against attacks and the well advanced and tested security firewalls makes it impossible for hackers to get into the system.
• The platform will remove the inefficiencies in management as the team in charge have lots of experience in crypto-currency trade.
• Ineffective customers care will be eliminated by the platform as they have invested much in customer support system in order to ensure a round the clock support for the users especially the new ones.
TOKEN INFORMATION
CrypKoin price : 0.1$ per token
ICO offer : 0.05$ per token effectively after bonus
rst 1 Million tokens.Valid only for
Tech Team : 3%
Marketing Team : 2%
Founders : 40% ICO : 5%
Airdrop & Bounties : 5%
To be sold to traders : 45%
THE CRYPKART EXCHANGE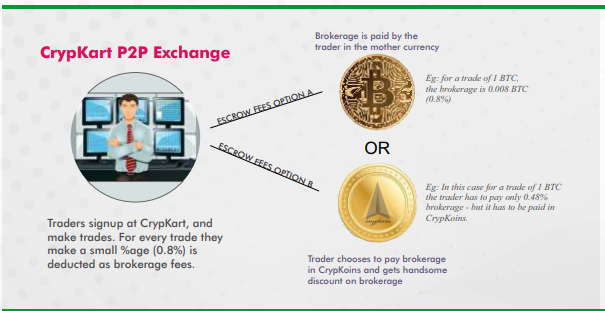 The CrypKart Exchange is build with the latest and most secure tech stack to give speed security and reliance. Our peer – to – peer engine is smart and works in the favor of the traders. Since our core team consists of many seasoned traders – we built the features that were missing in some of the top exchanges. The below listed features are straight from the wish list of traders.
• First platform to support multiple crypto currencies
• Slab based commission structure : trade more, save more
• Team builder and trade management module : for power traders – now expand your trading business
• A dedicated android and ios app : for trading on the go
• Framework to launch ALTCoins
• Account management and strong analytics : business intelligence built in
• Multi-lingual : we are inclusive
• The team, the experience and the expertise : CrypKart is by traders, for traders and from traders. Immense experience with trading and trading platforms to the core.
• CrypKart Partner Program – with hoards of business opportunities
• CrypKoin : CrypKart's own token with high utilization opportunities
• One of its kind – Both p2p and order booking trading options olled into one platform
• Offline Presence for safe, secure cash transactions. We are coming soon to your city.
COINS SUPPORTED


TEAM




ROADMAP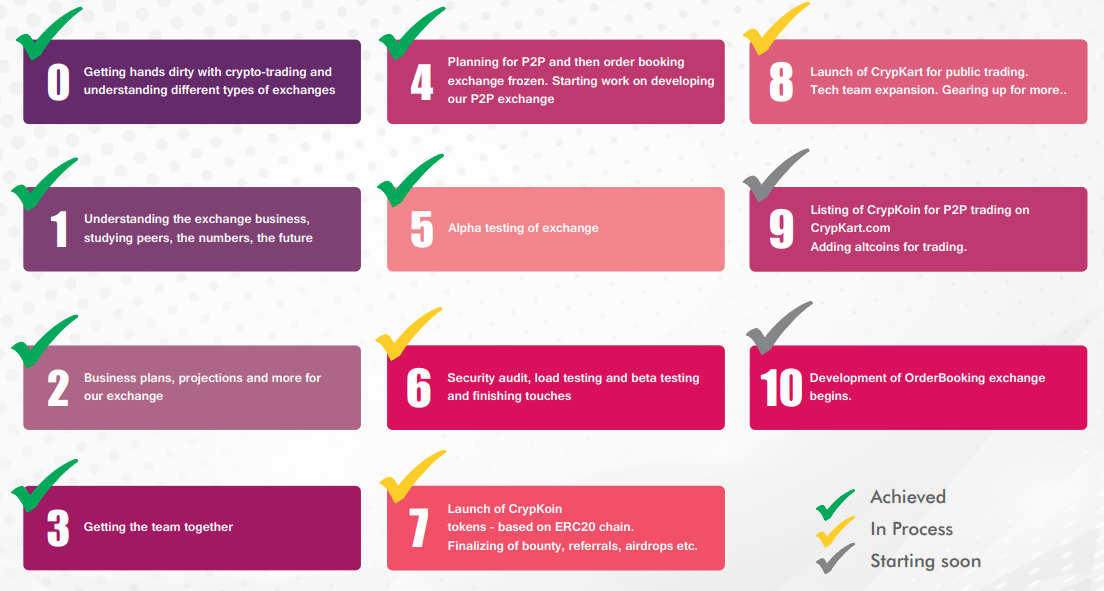 SUMMARY
Dear reader, this is just a brief overview of the purpose, benefits and opportunities that can be gained from this innovative project. After reading this briefing, I am sure you will want to know more
For more information about this great project kindly click on the links below;
Website: https://crypkart.com/
Whitepaper: https://crypkart.com/open/download/whitepaper
Facebook: https://www.facebook.com/crypkartcom
Twitter: https://twitter.com/CrypKart
Medium: https://medium.com/@crypkart
Telegram Discussion: https://t.me/crypkartdiscussion
Telegram Channel: https://t.me/crypkart
Author : jalan rusak
Bitcointalk URL: https://bitcointalk.org/index.php?action=profile;u=1953661