CRYPTF – BLOCKCHAIN PLATFORM FOR FINANCIAL MARKET
No doubt the world seeks a more secure and improved digital way of doing virtually almost everything and thus giving rise to new innovations ranging from smart cars, smart homes, and smart wrist watches to fitness trackers, VR headsets etc. Innovations like Internet of Things (IoT) have transformed the world into a gigantic, ever-evolving information platform and the desire for safe and efficient "hyper-connectivity" is ever increasing.
CryptF main goal is to harness the opportunity by creating new set of cryptocoins which were first supported by stocks and bonds. The cryptF device presents an opportunity to all social classes to participate in global financial markets.
CryptF cryptocoins are a blockchain based investment/ instrument collective product. cryptF also creates opportunity for every crypto holder to invest in leading bonds and companies in developing countries across the world. CryptF coins have a reliable support of blue-chip stocks and bonds and the price of the coin is programmed with the current market value of the securities. The investment portfolio is managed by CryptF so the whole experience is completely hassle free for coin holders. Cryptf relatively low circulation causes sensitivity to price manipulation and subsequent volatility and this presents a very rapid opportunity. Cryptf creates an opportunity for any holder of cryptocurrency to invest in the shares of leading companies and bonds of developing countries.
UNIQUE BENEFITS OF CRYPTF
 Operating costs are low for investors
 Coin prices are maintained reliably tracked on the appropriate stock index or bond.
 Participants can participate in global financial markets directly from your cryptowallet.
 Portfolio is transparent
 Cryptf coin has high liquidity.
 Cryptf guarantees repurchase of unconditional coins from investors either directly or on crypto exchange.
THE CRYPTF TOKEN
The cryptf token is called CRFT TOKEN. It is based on blockchain – based smart contracts in ethereum. Tokens will only be issued during the ICO period and each buyer needs to use an ERC-20 compatible wallet. Tokens do not expire giving holders of tokens an opportunity to take part in quarterly revenue distributions. Earnings per token must be transferred to ETH using a CRFT smart contract and once ICO is completed, tokens can be traded on crypto exchanges. Unsold token must be discarded.
Token CRFT Name Total Issue Volume 90.000.000 token is the total volume issue
Soft Cap Rp 150.000 (ETH 500), the minimum required for the project to proceed.
THE CRYPTF ICO
CryptF has ICO programs done with the aim of increasing the number of available cryptocoins directly translated into revenue growth. Funds financed should be used to create infrastructure, develop our products, organize crypto exchange trading, and support coin liquidity.
CRYPTF TOKENS
We emit CPTF tokens. Tokens do not expire and allow owners to take part in the quarterly earnings distribution. Earnings per token are to be transferred to ETH using CPTF smart-contracts.
Once the ICO is over, tokens can be traded on crypto-exchanges. Unsold tokens are to be disposed of.
Token Name
CPTF
Total Issue Volume
90,000,000 tokens is the total issue volume
Soft Cap
USD 150,000 (ETH 500), Minimum amount required for the project to proceed
Initial price of the token is 1 token = 0.001 ETH
TOKEN DISTRIBUTION
70% of tokens are available for sale during ICO, 21% is the company reserve, 9% is the team pool
In addition to ICO, CryptF also preempts the Pre-ICO program, as for the schedule as follows:
• December 13, 2017, 1 pm UTC – December 26, 2017, 13:00 UTC
Offer size is limited to 15,000,000 (15 million) CRFT
ICO Round 1
• January 4, 2018, 1 pm UTC – January 24, 2018, 13:00 UTC
Offer size limited to 30,000,000 (30 million) CRFT
Round of ICO 2
• February 8, 2018, 1 pm UTC – February 21, 2018, 13:00 UTC
Offer size is limited to 6,000,000 (6 million) CRFT
Round of ICO 3
• March 1, 2018, 1 pm UTC – March 14, 2018, 13:00 UTC
Offer size limited to 12,000,000 (12 million) CRFT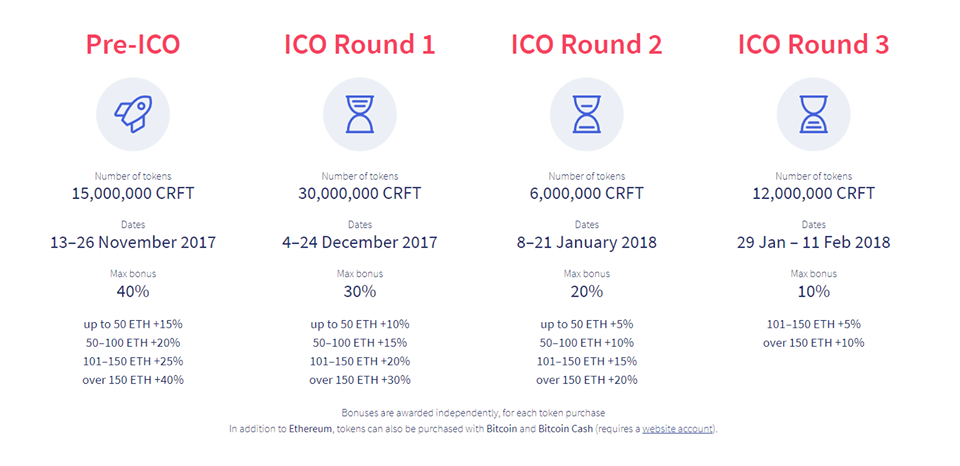 This is a well-planned program attractive to investors so join us today. For more information about CryptF and to connect with other participants all over the world, please click on any of the provided links below.
Bitcointalk Signature and Avatar Campaign – 40%
Rules of the campaign:
– You must make a minimum of 5 posts to get stakes for each week.
– Posts must be constructive and on-topic.
– Spam posts will result in a ban.
– You must wear the signature/avatar/personal text appropriate to your rank at all times.
– Removal of signatures/avatar/personal text will result in a ban.
Rewards:
Amount of stakes by user rank:
1. Hero/Legendary 8 stakes/week
2. Sr. Member 6 stakes/week
3. Full member 4 stakes/week
4. Member 3 stakes/week
5. Jr. member 1.5 stakes/week
Translation Campaign – 10%
Searching for Japanese, Korean, Russian translators
Rules:
Only professional translators are allowed.
Use of google translate is not allowed.
Send links to your previous works. We will pick translator based on his previous work.
A translator can only be assigned with one language translation.
Account level must be Jr. Member or higher.
Rewards:
40 stakes per completed ANN
1 stake/post in your translated ANN
80 stakes per completed Whitepaper translation
100 Stakes per website translation
| | | | |
| --- | --- | --- | --- |
| Language | Translator | ANN Thread | Whitepaper |
| Chinese | Energy_girl | | |
| Indonesian | dihari | | |
| Vietnamese | Watanabe1505 | | |
| Filipino | elegant_joylin | | |
| Italian | cryptotum88 | | |
| Turkish | Cean | | |
| Romanian | majestymage | | |
| Polish | dwminer1 | | |
____________________________________________________________________________________
Twitter campaign -10%
Rules:
–  Have a minimum of 300 followers
–  Share Cryptf content at least once a week
Every member can prepare a post with their own content and link to CryptF website.
Weekly stakes for the participants:
Followers – stakes
300-500 = 1 stake
500-800 = 2 stakes
800-1200 = 3 stakes
1200–2000 = 4 stakes
2000- 5000 = 5 stakes
5000–10000 = 6 stakes
10000+ = 7 stakes
____________________________________________________________________________________
Facebook Bounty Campaign – 10%
Rules:
– Follow and like the CryptF Facebook page
– Facebook account must have at least 200 friends.
– Minimum Jr. Members account levels.
– Write at least 3 posts a week about CryptF using the tag #cryptf
– List your posts and reposts in the bounty campaign thread every week.
Bounty stakes for facebook:
7 stakes per week for people who follow the instructions.
____________________________________________________________________________________
Blog / Media Campaign – 30%
Blog / Media Campaing Sign Up Form
Create an article, video, publication or review of the CryptF project.
Rules:
– Articles must be longer than 2500 characters. Articles below 2500 characters will not be accepted.
– Videos must be at least 1:00 minute long. Videos under 1:00 minute will not be accepted.
– Articles must have 2 links to the official project website and a link to the whitepaper.
– In the description of a video, you must have one link to the official website, one link to the white paper.
We will review each creative piece and reward 10, 20, or 30 stakes depending on the views of the video and the overall quality of the blog/video.