CryptF presents a simple way to invest cryptocurrency in traditional international markets and diver
No doubt the world seeks a more secure and improved digital way of doing virtually almost everything and thus giving rise to new innovations ranging from smart cars, smart homes, and smart wrist watches to fitness trackers, VR headsets etc. Innovations like Internet of Things (IoT) have transformed the world into a gigantic, ever-evolving information platform and the desire for safe and efficient "hyper-connectivity" is ever increasing.
CryptF main goal is to harness the opportunity by creating new set of cryptocoins which were first supported by stocks and bonds. The cryptF device presents an opportunity to all social classes to participate in global financial markets.
CryptF cryptocoins are a blockchain based investment/ instrument collective product. cryptF also creates opportunity for every crypto holder to invest in leading bonds and companies in developing countries across the world. CryptF coins have a reliable support of blue-chip stocks and bonds and the price of the coin is programmed with the current market value of the securities. The investment portfolio is managed by CryptF so the whole experience is completely hassle free for coin holders. Cryptf relatively low circulation causes sensitivity to price manipulation and subsequent volatility and this presents a very rapid opportunity. Cryptf creates an opportunity for any holder of cryptocurrency to invest in the shares of leading companies and bonds of developing countries.
UNIQUE BENEFITS OF CRYPTF
Operating costs are low for investors
Coin prices are maintained reliably tracked on the appropriate stock index or bond.
Participants can participate in global financial markets directly from your cryptowallet.
Portfolio is transparent
Cryptf coin has high liquidity.
Cryptf guarantees repurchase of unconditional coins from investors either directly or on crypto exchange.
THE CRYPTF TOKEN
The cryptf token is called CRFT TOKEN. It is based on blockchain — based smart contracts in ethereum. Tokens will only be issued during the ICO period and each buyer needs to use an ERC-20 compatible wallet. Tokens do not expire giving holders of tokens an opportunity to take part in quarterly revenue distributions. Earnings per token must be transferred to ETH using a CRFT smart contract and once ICO is completed, tokens can be traded on crypto exchanges. Unsold token must be discarded.
Token CRFT Name Total Issue Volume 90.000.000 token is the total volume issue
Soft Cap Rp 150.000 (ETH 500), the minimum required for the project to proceed.
Advantages
• Ability to participate in the global financial markets straight from your cryptowallet.
• Coin price is kept reliably tracked to corresponding shares or bonds index.
• Transparent portfolio.
• Low operational costs for investors.
• High liquidity of the coins. CryptF guarantees unconditional coin buyback from investors
either directly or on crypto exchange.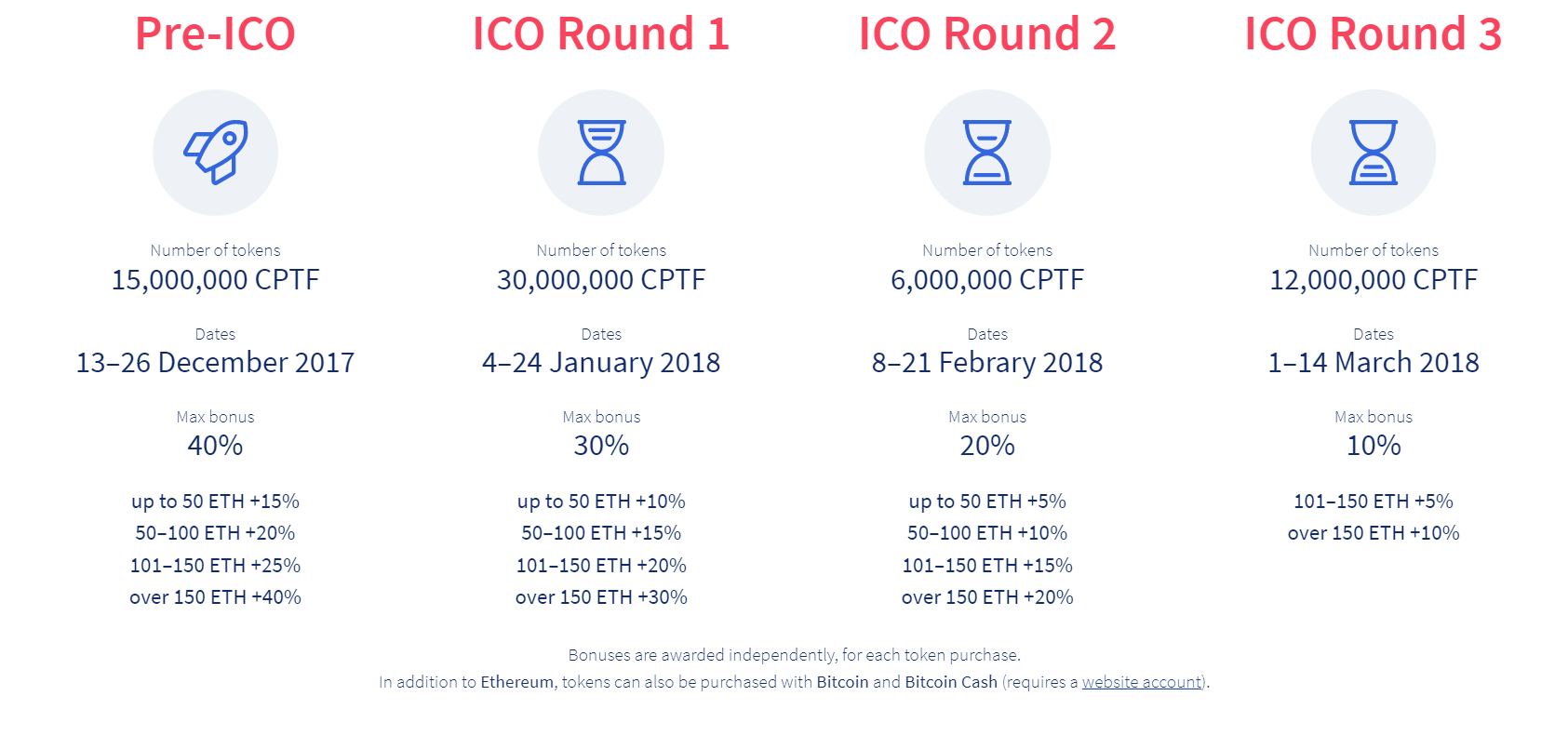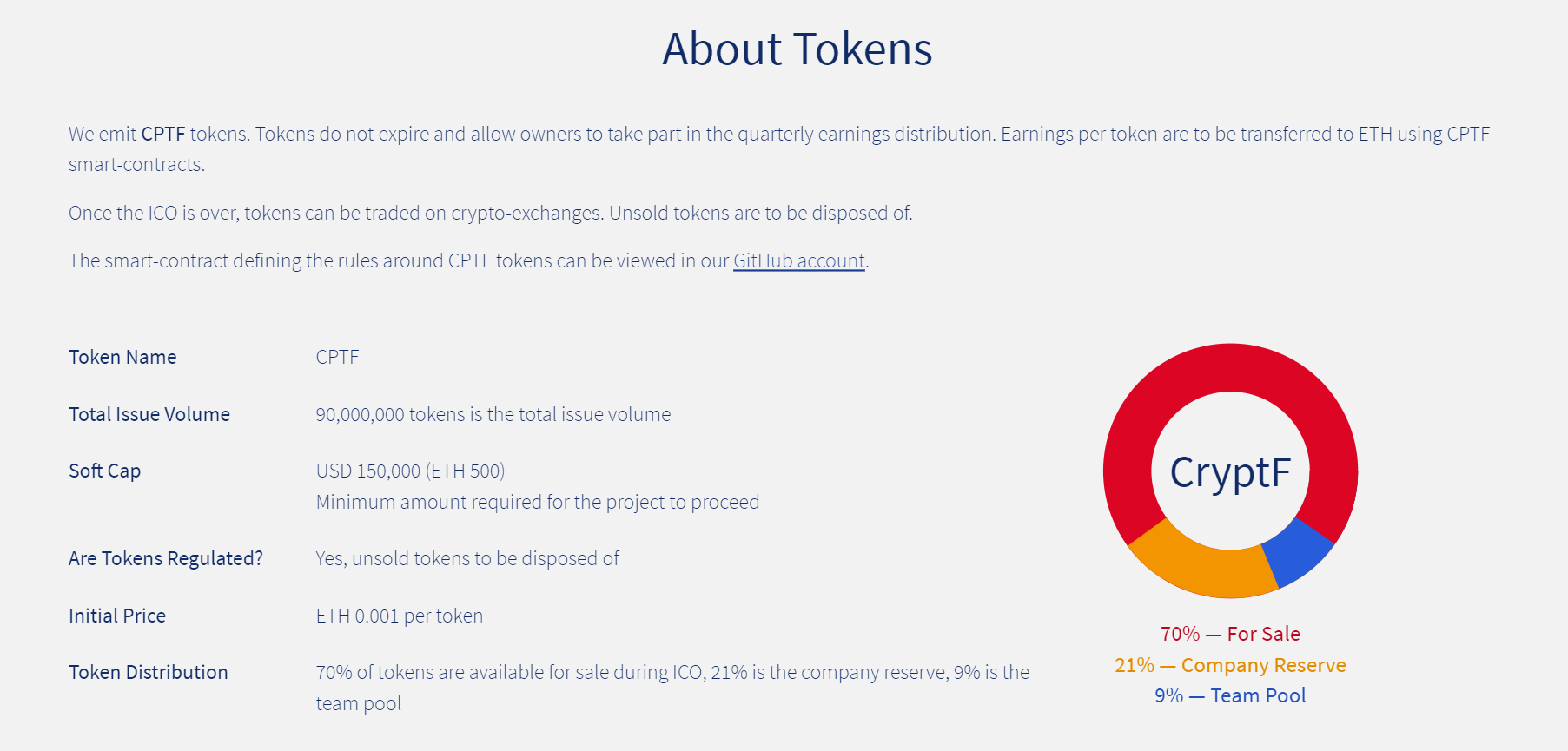 CryptF Coins Advantages
CryptF coins are much easier to buy than obtaining stocks and bonds on a traditional exchange.
Coin price will always match the current value of linked investments.
With 0.01 of a coin price as the minimum purchase amount, investing in popular shares and bonds is now affordable.
Buying CryptF coins allows to "park" your cryptoassets for as short as a few minutes and for as long as you like. Extreme volatility, a characteristic of cryptocurrencies, is no longer a concern.
Regular audits and broker verified reports will ensure maximum transparency of CryptF securities accounts.
CryptF coins are created via physical replication: securities linked to an issued coin are obtained by CryptF to guarantee the coin price matches the current securities market price.
2018 RoadMap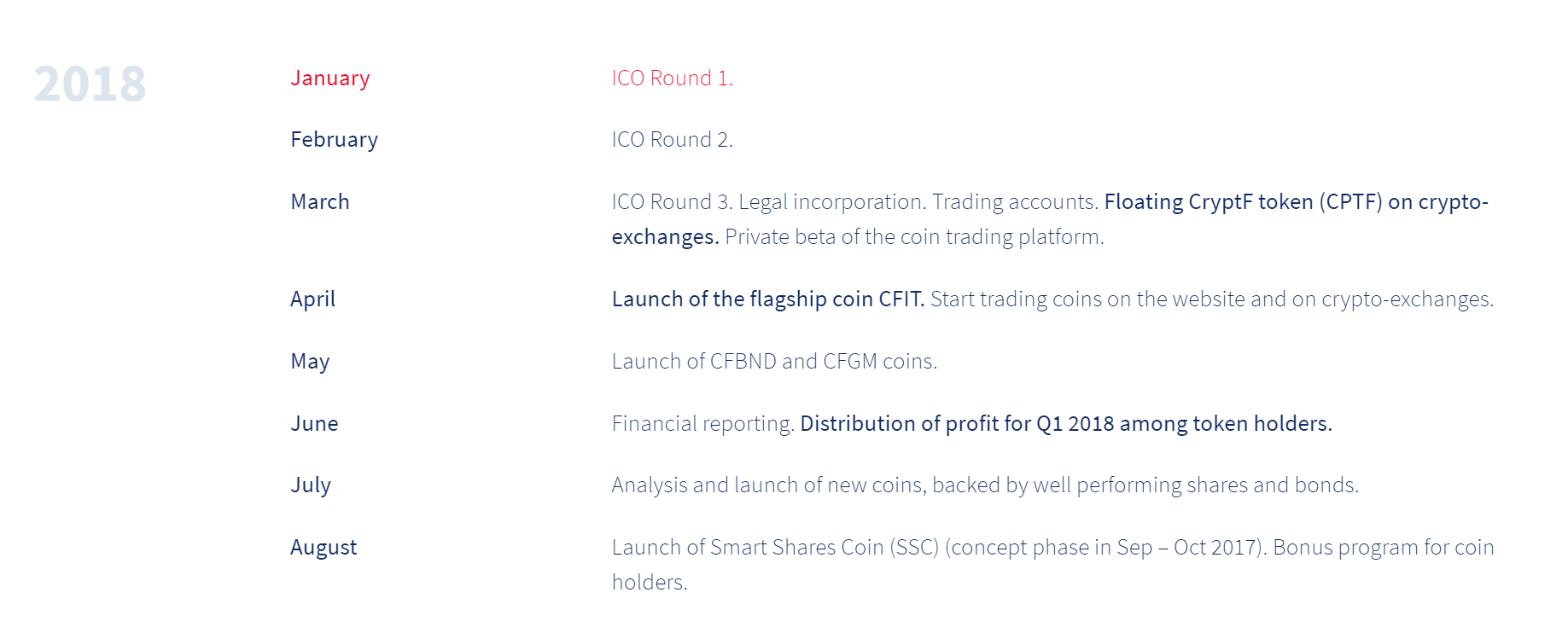 This is a well-planned program attractive to investors so join us today. For more information about CryptF and to connect with other participants all over the world, please click on any of the provided links below.
Website: http://cryptf.io/
Whitepaper: https://cryptf.io/CryptF%20White%20Paper.pdf
Facebook: https://www.facebook.com/cryptf/
Twitter: https://twitter.com/cryptf_io