Cryptfunder Funding Platform for the Crypto Community
About Cryptfunder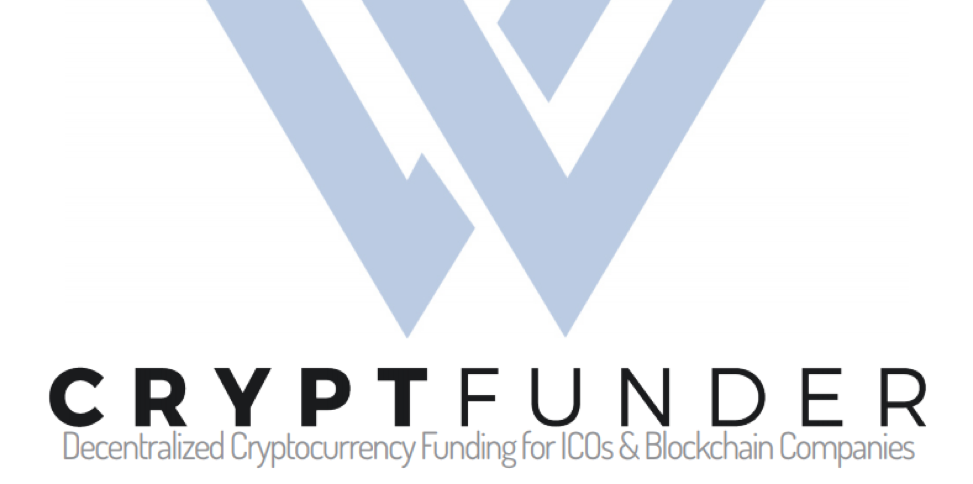 Crpytfunder is an ICO that seeks to provide a funding platform for the crypto community. Other startup ICOs and blockchain companies can also take advantage of the platform to fund their projects.
The team will do a background check on proposed projects, checking the team members, experts and ideas behind the project to filter them out before funding the project. The project will be chosen based on their potential market value, real-world application of the idea and the quality of the team members.
Various stages of development in these startup ICOs will be critically looked at for viability. Funds will be laser targeted at disruptive projects that break the established mold with the potential to deliver stratospheric results for token holders.
Cryptfunder will act to provide seed capital at a crucial phase of pre-ICO launch. The tokens will be acquired at a discounted rate and funding will help guide the ICO through its developmental stages. This will in turn provide value for Cryptfunder participants.
Learn more about this ICO here:
Team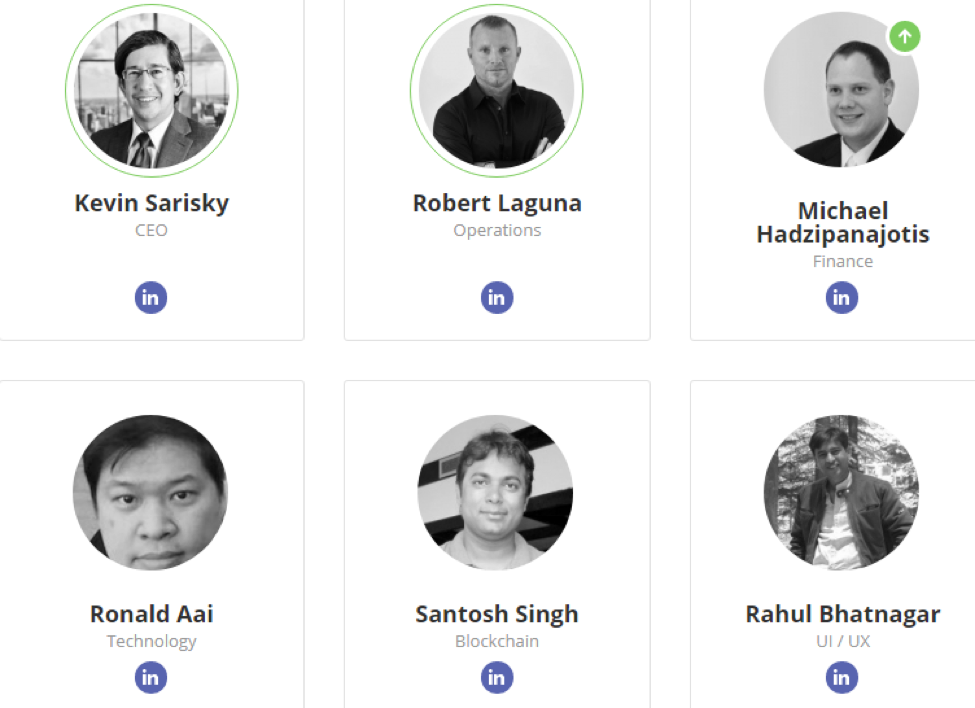 I did a background check on the team members, looking into their LinkedIn profile and I think they have the required experience within the ranks. The CEO, Kevin S. is a blockchain specialist and Aerospace engineer. Here is an assuring quote from this LinkedIn profile:
"Aerospace engineer to blockchain specialist, Kevin Sarisky has developed skills ranging from specialized engineering applications, operations, consulting and investment trading to cryptocurrency trading and investing throughout his career. Kevin has engaged with major Fortune 500 companies such as Boeing, Raytheon, Hughes, Honeywell and others that have helped him hone his managerial skills."
Financial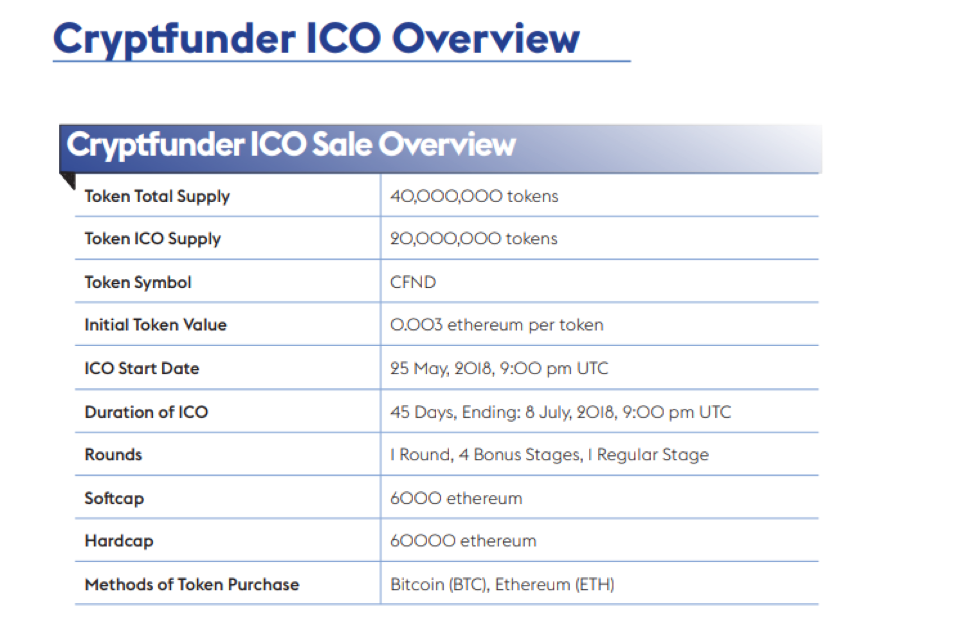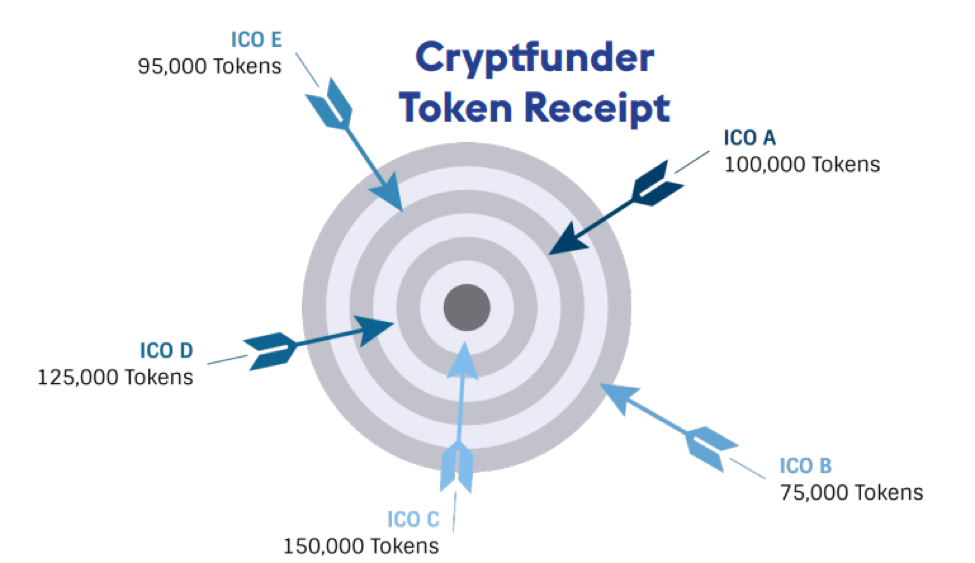 If you want to invest in this ICO here are some important financial details you should consider. The ICO will trade from May 25th 2018 to July 08th 2018 with the token code CFND. One CFND will cost 0.003ETH. The only accepted funding sources are Bitcoin and Ethererum.
A minimum investment amount of 0.1 ETH has been set while there is a structured bonus plan that ranges from 5% to 15% to encourage investments.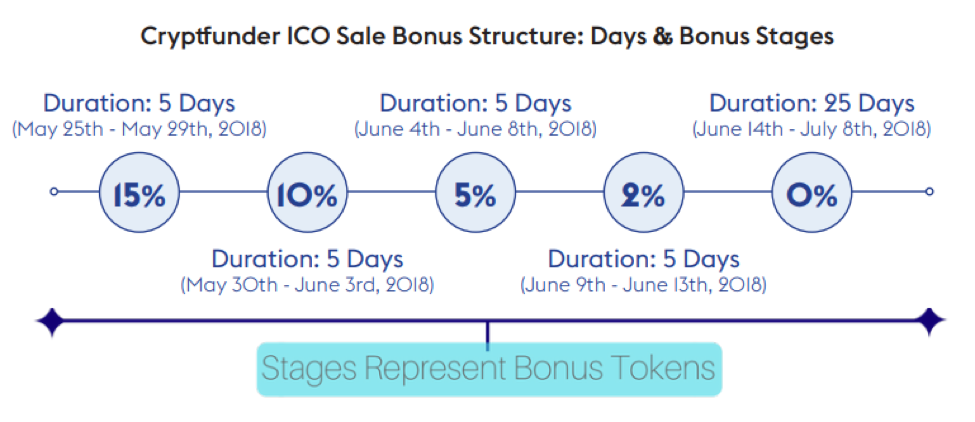 A soft and hard cap of 6,000 ETH and 60,000 ETH respectively is in place to see that the team reaches its goals. There will be 20 million tokens available for sale at the ICO launch that represents a 50% distribution among the public.
Roadmap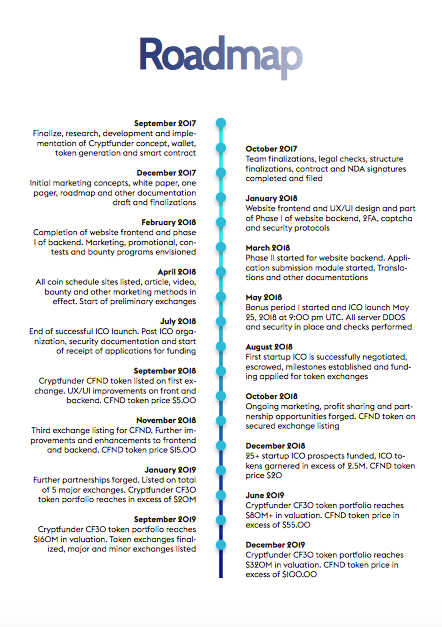 Overall, this is a fairly good ICO. Investors who want to take away the burden of researching and finding profitable ICOs to invest in will be particularly pleased with this ICO. Once they the platform is launched all you will need to do is invest and allow the Cryptfunder team members to do the investing on your behalf. Well, thats all for this article folks! Hope you enjoyed it! Now its time for the question of the day!!! It is………
What upcoming ICO do you trust the most and why?
Remember I'll Upvote and follow the person that comments my favourite answer!
Disclaimer
The information in this article is just for the interest of Crypto Lovers and should not be considered as investment advice. If you want to take this opportunity, then invest only what you can afford
for more information
WEBSITE https://www.cryptfunder.io/
WHITEPAPER
https://www.cryptfunder.io/documents/Cryptfunder%20-%20White%20Paper.pdf
TELEGRAM https://t.me/cryptfunderico
INSTAGRAM https://www.instagram.com/cryptfunder/
FACEBOOK https://www.facebook.com/cryptfunder.io/
BLOG https://medium.com/@cryptfunder
ANN https://bitcointalk.org/index.php?topic=3310443.0
TWITTER https://twitter.com/cryptfunder
bombitto
0x6AaB8a727a208e4f6783acA2BDD88CB36b18eFfc