CryptoBank – Getting All Benefits of "Digital Gold" Of The XXI Century on Blockchain Technology
Hello Readers, met again with us through this article, let me introduce you much deeper about Cryptobank, the only blockchain technology giving us all benefits of Digital Gold and more other features,In recent months, the announcement of the regulation of decentralized properties has been drafted in Russia. And when the central bank of the Russian federation advances in the path of creating a national cryptocurrency, the CryptoBank development group has already started developing the idea in real life. CryptoBank Blockchain startup has created Cryptoruble; a decentralized, non-volatile cryptocurrency linked to the Russian Ruble.
CryptoBank is a decentralized global payment system based on Blockchain technology and includes CryptoYuan, CryptoDollar, CryptoEuro, CryptoRuble and other currencies, which have successfully brought together professional traders. Companies and individuals who want to use cryptocurrency without risk of volatility on a single platform. The software is based on Bitcoin cryptocurrency, and the transaction framework uses the latest Blockchain capabilities. Get all the benefits of "Digital Gold" and more features with CryptoBank. CryptoBank is built on Bitcoin's open source code. This ensures complete security and transparency of every transaction that is available thanks to blockchain and cryptocurrency technology.
Currency Stability
CB Checker is used to converting traditional currency in digital assets. Thus their value is related to various national currencies, such as US dollar, Euro, Chinese yuan, Russian ruble. Relevant assets are CBD, CBE, CBY, CBR.
with details;
1 CryptoDollar (CBD) = 1 Dollar (USD)
1 Cryptoeuro (CBE) = 1 Euro (EUR)
1 CryptoYuan (CBY) = 1 Yuan (CNY)
1 CryptoRuble (CBR) = 1 Ruble (RUB)
For the moment, these cryptocurrencies can be exchanged on https://cbex.co.in/
On ensuring the proper price stability, CryptoBank uses the method that combines the rate of support in reserve storage and the diversification of funds. At the same time, CryptoBank does not need to stockpile reserves in traditional financial institutions. Not like the traditional currencies (FIAT) which are subject to regulation by the central authorities of the country of which they are published, CryptoBank is decentralized and does not suffer the geopolitical restrictions and also the age restrictions. The cryptocurrency created by CryptoBank has a lot of advantage. Not only in comparison with foreign currency (FIAT) but also with respect to other cryptocurrencies like Bitcoin and Ethereum … They are suitable, not only to pay for goods and services in everyday life but also in case of need to preserve the value assets.
THe Advantages of It's Technology
There are several advantages that make the cryptobank be the best current financial system:
CryptoBank built using the source code bitcoin guaranteed security and transparency. Each transaction will be recorded Blockchain and cryptocurrency thanks to technology.
CryptoBank implements an effective integration and simple which makes Blockchain CryptoBank can be integrated with a wide range of digital currency exchange platform as well as the services of traditional financial institutions.
CB Ticker in use to convert traditional currency to digital currency. The value of the currency will be linked to national currencies such as the EURO, USD, YUAN, rubles. The relevant assets is CBE, CBY, CBR, CBD.
Exchange rates will be stable and already in the guarantee, because the token CryptoBank using model escrow and diversified funds in received from clients in the trade CryptoBank. 1 CBD = 1 USD, 1 EUR = 1 CBE 1 CBR = 1 RUR, CNY CBY = 1 1.
Distribution in doing with tight and under the control of Auditors and financiers who are truly fair and rule out inaccuracies. The users can see our reserve at any time. Transactions that occur can be investigate by everyone using the BlockExplore, CryptoBank Blockchain can audit and keep track of the total amount (CBR, CBE, CBD, CBY) of funds that circulate.
With the CryptoBank everyone can do the transfer currency interbank exchange or purse and can also transfer to other users using the debit card very easily and quickly. This way is a new strategy for cryptocurrency or for arbitration between the bank, where only you act as a custodian of personal assets. In doing so you completely overcome any sort of risk of freezing a moment of balance and or other unpleasant occurrences.
Maximizing The Use Of Cryptocurrency
The free market – you could use CryptoBank as an alternative means to your financial system. Perform storage and withdrawals in a particular currency. CryptoBank is already using technology Blockchain decentralized and will protect all assets that you have. CryptoBank provides a Portfolio of Cryptocurrency who do not have vitality and provide all the benefits that exist.
Blockchain technology for business – you can deliver services and goods using non-cryptocurrency vitality to you and your customers can minimize the cost of needed because transactions are done without involving traditional financial institutions.
For the casual user and the experienced Trader – using the CryptoBank everyone can have the opportunity to do the currency easily in different exchanges or wallet. You can also make a transfer by using the debit card very easily and quickly. The new strategy presented by CryptoBank will facilitate in conducting the arbitration between the bank quickly. you will act as the custodian of your own personal assets. Will avoid the problem of freezing accounts and other financial problems.
The Opportunities Received By The Owner Of CryptoBank Token :
If owners manage 1 CBMT or more may perform the tasks time voting arrangements approved by the vote of members. Then CryptoBank will apply it into the platform.
The owner of the CBMT automatically will become one of the founders of the CryptoBank with things that belong to do regular profit from a percentage of the company's revenue. 1 CBMT = 0.1% share in the company.
If you have 10 CBMT then it can launch their own miners pond and can turn a profit on the transaction in addition blocks CBR, CBD, CBY and CBY.
If you have 30 or more CBMT you can do the creation of Masternodes that will serve to replace or anonymization coins in CBR, CBD, CBE and CBY blockchain.
The latter, if it has 100 or more CBMT you get access to open the repository GitHub.
BLOCKCHAIN DEPOSIT ALGORITHM
All what you should know before getting rewards from CryptoBank deposit
The Roadmap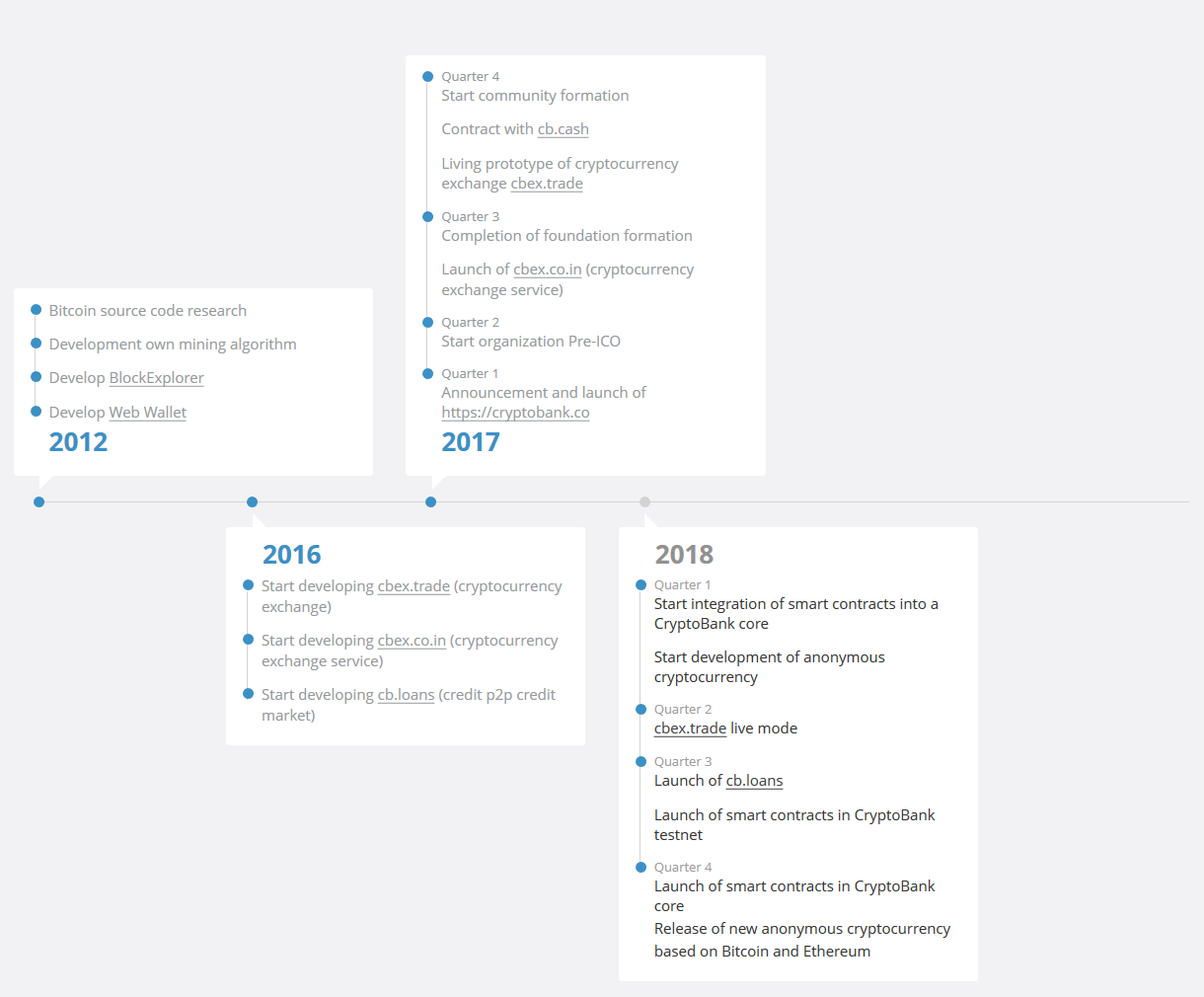 The Partners
For more information, Please Check and Visit us on the following official link :
Website : https://cryptobank.co/
Facebook : https://www.facebook.com/CryptoBank.co/
Twitter : https://twitter.com/CryptoBank_CO
Telegram: https://t.me/cryptobank_co
Whitepapet : https://cryptobank.co/papers/cryptobank_whitepaper.pdf
Bounty Thread : https://bitcointalk.org/index.php?topic=4139104.0
Author : Asongotan
Profilelink:https://bitcointalk.org/index.php?action=profile;u=1302256
My Cryptobank Wallet : DJsFTqme7c37jt2EandiLKdLsDzDQBKqZz