CryptoBnB – Vacation Rentals Platform Based on Blockchain
Current short-term rental platforms have caused a significant portion of the population to change their outlook toward a hospitality-sharing economy. A decade ago, the idea of renting a room in a stranger's house was not well received. That way of renting and traveling has become much more common, especially for Millennial travelers. It has resulted in gains of 10 percent or higher per year for these platforms.
The Problems
One of the greatest weaknesses of the short-term rental platform is centralization, which has created significant overhead costs since hiring people in every country to manage platforms and be on call is expensive. Centralization has also forced these companies to take on the role of an escrow agent, negotiating the deal between the buyer and the seller. Centralized marketplaces such as Airbnb have also been blamed for bringing a bad influence into the neighborhood by attracting travelers who are not similar to their hosts.
Solutions
  
CryptoBnB is a vacation rentals marketplace built to improve short-term rental experiences for hosts, guests and service providers worldwide. CryptoBnB is building a next-generation marketplace of online, short-term rentals and tenant smart-matches that powered by blockchain, artificial intelligence and big data.
CryptoBnB was created to overcome the shortcomings of the existing short-term rental platforms. Today's platforms suffer from centralization, which has caused inefficiencies CryptoBnB will be built on the already functioning short-term rental model but with the introduction of advanced technology based on blockchain technology, AI, and big data.
CryptoBnB will be hosted on the Web and on mobile devices through native applications. The platform will use P2P smart contracts to conduct transactions on the backend. The platform will be powered by blockchain and will use CKey tokens for exchange of services. Although the platform will have a similar look and feel to existing short-term home rental platforms, the backend will be powered by the CryptoDNA™ protocol.
CryptoBnB platform will be powered by CryptoDNA™, a patent-pending technology that aims to solve the following:
User identity to solve fraudulent claims
Trust-based voting and rating system to allow users to know their peers' ratings
Self-learning smart wallet that captures the preference of a user
0 percent commission
P2P smart contracts and no middlemen
P2P marketing using AI logic
Address network limitations of micro transactions on the blockchain and use IPFS (InterPlanetary File System) to handle that
CryptoBnB will build a smart platform that serves a growing market segment. The platform will develop tools that will make the market grow in a more transparent, user-friendly manner. CryptoBnB will attempt to resolve the technological gaps in the current short-term rental platforms.
CryptoBnB Features
Intelligent search engine
The first search engine linked to blockchain that harnesses AI and big data to ensure optimum & bespoke search results. Combining user preferences, transaction history and data from searches, travellers are matched with ideal listings.
P2P Marketing
The first P2P marketing mechanism uses AI data stored in the blockchain to provided enhanced ROI and better targeted campaigns for hosts.
CryptoDnA Smart Wallet 
The heart of the platform is the technological force behind intelligent search engines and smart contracts.
CryptoBnB Objective
CryptoBnB's main objective is to balance the two-sided market between users so all can benefit. CryptoBnB will solve fraudulent transactions by a robust process and technology.
CryptoBnB will use the CryptoDNA™ protocol, which will be the first to combine the "power of three": blockchain and smart contracts, artificial intelligence, and big data. That will generate an intelligent hospitality service marketplace that benefits property owners and travelers by providing more accurate matches between travelers and properties.
CryptoBnB will build on existing proved technology to create a new technology that will make real changes with the power of blockchain. With secure wallets used to store digital identities and trust ratings on a global scale, users will benefit from a P2P connection, which minimizes trust issues through smart contracts and reduced usage fees.
Crypto DNA est le cœur d'une plateforme qui renforce les portefeuilles, les moteurs de recherche intelligents et les contrats intelligents CyrptoBnB. Dans CryptoBNB, le premier mécanisme de marketing P2P est stocké dans une chaîne de blocs basée sur des données AI. Cela fournira de meilleurs résultats d'investissement et des campagnes mieux ciblées pour l'hôte.
Le modèle économique de CryptoBnB vise à harmoniser les avantages économiques de tous les utilisateurs de la manière suivante;
0% Commission – Cette plate-forme permettra la réduction des coûts.
Coûts cachés – Des plateformes similaires cachent des coûts cachés tels que des coûts de nettoyage pouvant atteindre 70% des tarifs de location quotidiens. CryptoBnB aura un bazar où les utilisateurs peuvent choisir le service le moins cher qu'ils aiment, en supposant que l'utilisateur décide de ne pas le faire seul.
Arbitrage – L'objectif principal de CryptoBNB est de créer autant d'opportunités de conflit que possible. Cependant, les conflits sont inévitables, de sorte qu'un centre spécial pour les décisions d'arbitrage a été établi.
En conclusion, nous nous efforçons de faire en sorte que cette plate-forme soit conforme à la demande actuelle du marché. Où Booking.com ou toute autre plate-forme populaire a encore un écart, nous allons le surmonter sur la plate-forme CryptoBnB. Grâce aux fonctionnalités existantes, nous sommes confiants de pouvoir faire de cette plate-forme un leader dans l'innovation et la technologie. Nous allons développer et construire cette plate-forme avec un système plus transparent et meilleur. CryptoBnB va essayer d'éliminer les lacunes technologiques sur les baux actuels à court terme avec la technologie blockchain.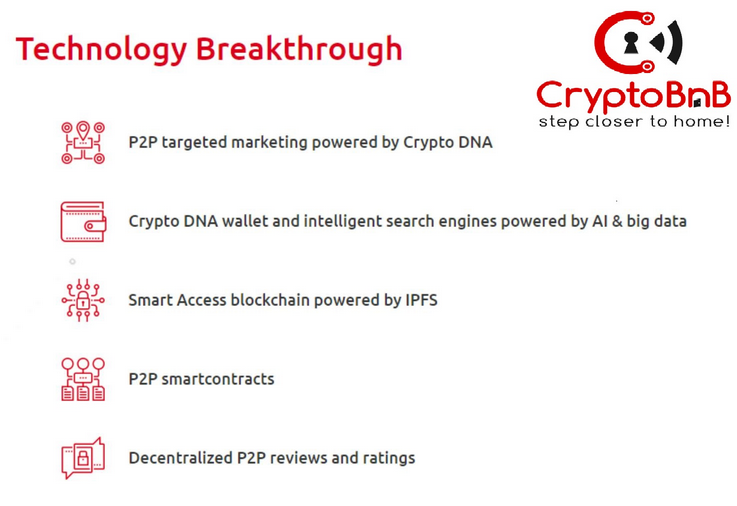 VENTE DE JETONS
Avec cette opportunité, nous vous invitons à développer cette plate-forme pour atteindre la communauté plus large. Nous émettrons un jeton appelé "Token CKey", voici les données.
1 Clé = 0,08 $
Nombre de jetons Ckey 1000000000
Publié sur le jeton bonus Sched
HardCap est de 15,2 millions de dollars
Un montant minimum de 5 millions de dollars
l'achat minimum est de 75 dollars américains (0,1 ETH)
CKey Stream – ERC20
Le portefeuille du participant doit être conforme à la norme ETH ERC20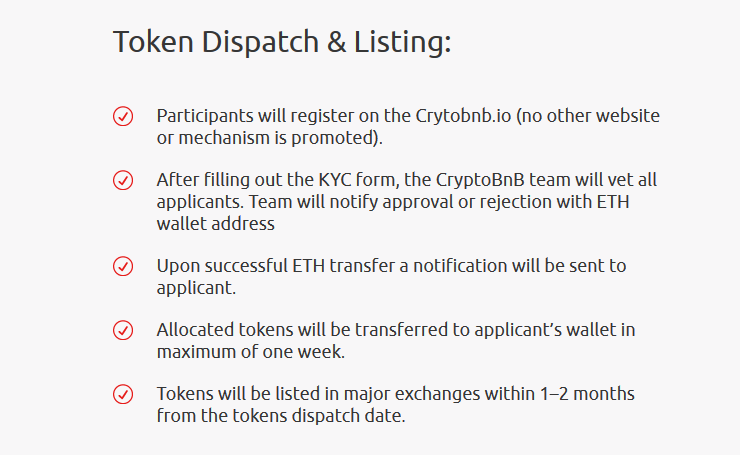 Allocation de Token Ckey
Réserve 22.50%
Jeton ICO 30,00%
Équipe 7.50%
Fondateur 20.00%
Conseillers 2,50%
Bonus hôte 10%
SP bonus 5%
Primes 2.50%
Utilisation des fonds
Blockchain Team 15%:
20% Marketing et Ventes
Support multi-plateforme 15%
Administration et fonctionnement 10%
Fonds de développement 5%, partenariat stratégique
5% Affaires juridiques
5% de bugs de sécurité et de primes
Coût de la réserve 25%
équipe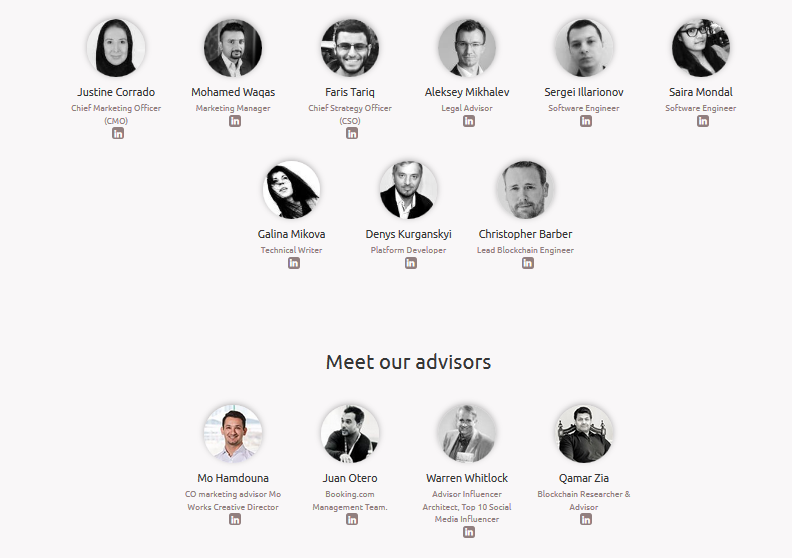 Pour plus d'informations, visitez leur site officiel:
Site Web: http://cryptobnb.io/
Livre blanc: https://cryptobnb.io/wp-content/uploads/2018/01/CryptoBnB_fr.pdf
Fil d'ANN: https://bitcointalk.org/index.php?topic=2547705.0
Facebook: https://www.facebook.com/cryptobnbico/
Twitter: https://twitter.com/CryptobnbIco