Lately, a steadily increasing number of ICOs are being launched, and consequently, there is an increase in problems that plague these kinds of investments, such is the mistrust that potential investors have in the Crypto-Asset industry, because it's somehow hard to differentiate between a legitimate and illegitimate ICO project. As a result, even high quality and legitimate startups or existing companies struggle to have a successful ICO.
This calls for many stages of verification and due diligence to ensure that an investment is sound, well-organized and have general quality assurance. As a Crypto-Assets writer and enthusiast, it's a must for me to carry out research/due diligence in validating the legitimacy of an ICO project before writing on or recommending it. I have a number of questions I ask and things I look out for in an ICO project before I could give such a project a yes-yes. One of the things I look out for is "the Goals, the business model, the Team and the Partners of a project". And in this particular ICO project, CryptoFlix, I'm writing about, it's a yes-yes. Trust me, CryptoFlix is a great project.
CryptoFlix is a project I've been following for some time now, and this is what I can say about it:
It has a great team with a lot of relevant experiences, very attractive business model with a good dividend token use case, cap limits are within a reasonable range, professional content, good looking materials, secured, focus on the relevant networks and has a great road map.
CryptoFlix, if you haven't heard of it already, it's a movie streaming and film funding platform that is developed using cutting-edge Blockchain technology. CryptoFlix is the first media company in the world, who offers free online content with educational purposes via films and TV to everyone, regardless of their location, origin, or socio-economic status. The objective behind the CryptoFlix is facilitating users to stream movies legally by making it cheaper than downloading pirated versions. CRYPTOFLIX will pledge 1% of all revenue on the platform to re-purchase FLIX Tokens. This is due to thefact that FLIX is a utility token and the platform users need to be able to always access these.
CryptoFlix aims to launch the the platform's Ecosystem with CryptoFlix – a closed network film and TV streaming platform as the central element.
The team is absolutely amazing and they have been working on CryptoFlix as a whole for sometimes now. I have tracked the records of various members of the team and I can say that they are incredibly professional.
I personally have done a lot of digging on CryptoFlix and I am yet to find any major red flag that would make me give up on investing in their ICO. Knowing how much the core members of the team have sacrificed to build everything from the ground up gives me more hope about the company as a whole.
CryptoFlix's reputation speaks for itself and is strongly supported by various facts and by real business model that works every day. By investing (cryptocurrency) in the project you can be 100% sure of the reliability of your investment, as you invest into business with real assets and real people.
CryptoFlix group, completely, every one of its representatives work for the advantage of the project/organization and are constantly prepared to help in any matter. If there are any doubts or questions, you can always contact support — technical support is ready to help at any time. They are dependably in touch and don't dismiss any issue. For sure, at the present moment when we are discussing ICO ventures this reality is very crucial.
The CryptoFlix Platform:
The CryptoFlix Platform is the central element in the CryptoFlix Ecosystem. It is where most users will have their interface with our product and all other elements of the ecosystem are connected to CryptoFlix.
When users register on the CryptoFlix platform, they will have one account to access both paid content – movies and TV and free content – educational films, documentaries, and TV. When the user is logged in there are two types of content:
Cinema content – paid movies and TV.
Educational Screening content – free films and TV for private individual use.
The platform account will also feature a user digital wallet where users can top up their balance for paid content and which will be integrated with local as well as Blockchain based payment forms as necessary for each market. Payment for the content on the CryptoFlix Platform by way of FLIX tokens will feature a discounted price compared to payment in other accepted digital currencies.
Non-private individual – institutional users can access the educational content through a prepaid monthly subscription plan, which will be competitively and reasonably priced to ensure that the content owners are satisfied as well as to ensure that the content will be used correctly and not through illegal use. This solution is optimal for schools, libraries, organizations, etc.
Blockchain:
Blockchain technology is widely used in CryptoFlix business processes which makes it impossible to substitute or lose financial data. Using Smart contracts makes CryptoFlix a reliable and impartial guarantor of fulfilling obligations to the investors of the project.
ICO and Cryptocurrency:
ICO is crowdfunding via use of cryptocurrency, which can be a source of capital for startup or existing companies. In an ICO a percentage of the newly issued cryptocurrency is sold to investors in exchange for legal tender or other cryptocurrencies such as Bitcoin.
Why you should invest on Early Stage:
Early stage and existing companies might worth extremely low and have huge potential to fast-growing. Smart startup companies today can scale up hundreds of time faster than they could just a few years back. There's never been better time to invest. This opportunity now available not only for venture capital or institutional investors, but for retail investors and for you too.
CryptoFlix ICO:
In order to create a first class movie platform, acting within the framework of the global legal system, it is necessary to attract funding on a large scale which allows the system in question to start work as well as remain independent. That is why CryptoFlix is conducting its own collection of funds using the most modern and convenient instrument, the ICO: the sale of tokens.
FLIX Tokens:
FLIX Tokens is a valuable digital asset, CryptoFlix project's token, which will be used/tradeable at/on the biggest crypto currency markets. With the help of ICO CryptoFlix plans to attract the investment resources at a wide range. As suppose, the token sale will be interesting for the owners of digital assets, who would like to transfer them into the more secured investment tool and not to tremble anytime they hear the news about the possible Bitcoin rate falling.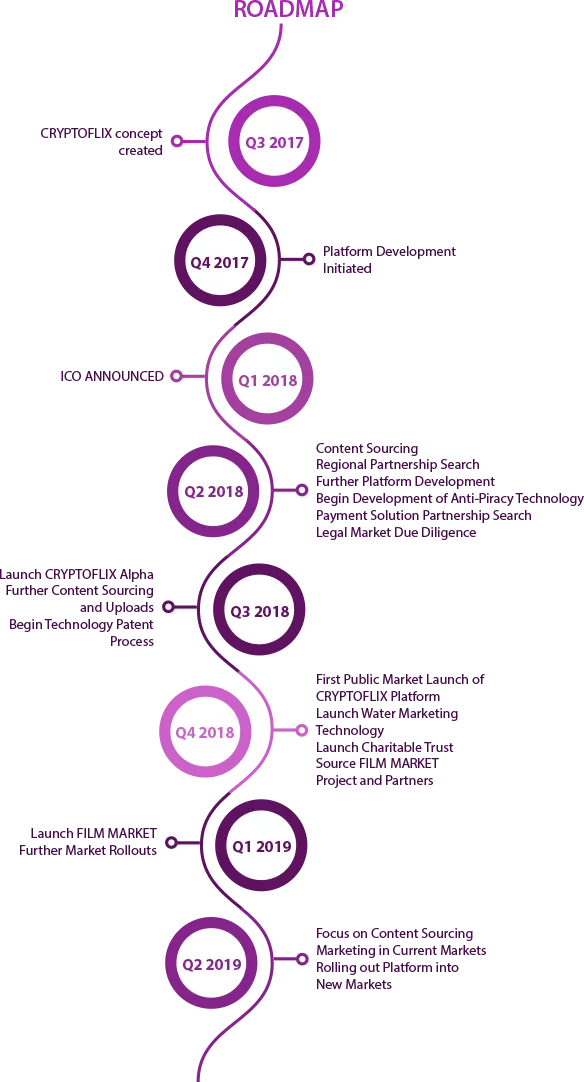 ICO Details:
The ICO began on May 15, 2018 and will end on June 15, 2018
Token Information:
Token: FLIX
Price: 1 FLIX = 0.0004 ETH
MVP/Prototype: Available
Platform: Ethereum
Accepting: ETH
Minimum investment: 0.1 ETH
Soft cap: 2,000 ETH
Hard cap: 22,800 ETH
Country: Barbados
Whitelist/KYC: KYC
In conclusion, CryptoFlix ICO is still ongoing and will come to an end in less than 1 day, on the 15th June, 2018. The good news is that it's not too late to take part in this one of a kind investment opportunity.
Please, never make your final decision based only on what you've read here. I advise you to do your own due diligence on the project and have personal conviction before making the final call.
For more info:
Website: https://cryptoflix.io/
Whitepaper: http://cryptoflix.io/Cryptoflix-WP.pdf
Telegram: https://t.me/CryptoflixAnnouncement
Facebook: https://www.facebook.com/CryptoFlix-463320494070192/
Twitter: https://twitter.com/Crypto_Flix
Blog: https://medium.com/@cryptoflix
Ann Thread: https://bitcointalk.org/index.php?topic=2871239
Author: Cryptocraz
Bitcointalk Address: https://bitcointalk.org/index.php?action=profile;u=1698372