"CRYPTOGRAIN"


Cryptograin Provides services through mobile apps and web versions. most likely to collect personal deposits in fiat and cryptocurrency assets with automatic and semi-automatic mode. which supports the use of highly liquid cryptocurrencies, for example: Bitcoin, Ethereum, Litecoin, etc.
the project is so ready for a global scale. we really have a very professional team and for financial partners who greatly improve the project every day.
Stages for Token sales

ANNOTATIONCryptograin is a service provided through a mobile application and a web-version. It allows accumulating personal savings in fiat and cryptocurrency assets in automatic and semiautomatic mode. It supports the use of highly liquid cryptocurrencies, for example: (Bitcoin, Ethereum, Litecoin, etc.)
The project is ready for being globally scaled. We have a team of professionals and financial partners, who are improving the project on a daily basis.
WHAT PROBLEM WE SOLVEAccumulating wealth requires time and diligence. And this is not an easy process, since the knowledge of the main economic principles is required.
Money should earn money. Keeping money in a deposit account in an ordinary bank will hardly lead to accumulation, as far as interests on bank deposits are not able to exceed inflation rates.
Low salaries, lack of certain economic knowledge, and failure to use financial instruments prevents people from the accumulation of earnings.
But, despite all the facts mentioned above, everyone has the opportunity to start saving
today with the help of Cryptograin that introduces service and modern technologies to allow
accumulating.
We will try to change your attitude to money – you will start saving it almost without noticing this fact.
We will help to overcome the psychological barrier that many people have: "I simply do not have money to save."
One of the main tasks of Cryptograin is to promote wide-scale recognition and involvement of users in the ecosystem of accumulating digital assets, by providing a high-quality and simple tool for saving.
Average users may have very little experience in the use of cryptocurrencies and, most likely, do not have an easy access to acquire them.
In addition, an average consumer always has concerns about new and innovative technologies, he or she faces difficulties when using available tools and options. In Cryptograin mobile application, a user gets the access to the digital wallet which allows accumulating in fiat and crypto currencies, making payments, and executing exchange transactions with the help of simple and user-friendly interface.
It is easy to save and earn money

DURING SHOPPING
Rounding off transactions when shopping in stores and outlets, and automatically investing the difference into personal account


WHEN DEPOSITING A CARD
Rounding off transactions when depositing a card (incoming funds transfer) and automatically invest the difference into personal account


REGULAR TRANSFERS
Making a fixed transfer to your account on a daily, weekly or monthly basis


WHEN DEPOSITING THE ACCOUNT
Investing funds when depositing personal account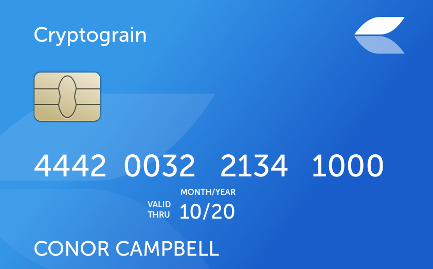 You can withdraw funds to debit and virtual cards from CryptograinSave money in the service, and if necessary – withdraw money all over the world, make free purchases in stores, get money directly to the card.
Advantages
FOR INVESTORS
1. Bonuses from net profit from transactions of all users in the service
2. Bonuses from the subscription fee of all users in the service
3. Profit due to the growth of cryptocurrency rate
4. Percentage of profit received as interest rates on loans
FOR USERS
1. Bonuses from transactions of a user brought to the service
2. Bonuses from subscription fee of a user brought to the service
3. Bonuses from a loan of a user brought to the service
4. Profit from the growth of funds invested into crypto assets
ROADMAP[AUGUST 2017]
Developing the idea of creating the service. Analysing and studying the market. Establishing the project team.
[OCTOBER 2017]
Developing Web and mobile application design, developing the service architecture.
[DECEMBER 2017]
Developing the draft of White Paper, preparing for the ICO. Introducing the blockchain technologies into the economic component of the project.
Designing a mobile application and backend part of the service. Resolving the legal issues of the project.
[Q3 2018]
Signing agreements with partners.
Developing Smart Contracts.
Launching ICO
[Q4 2018]
Improving the service ecosystem and signing agreements with providering partners. Developing an advertising campaign.
Developing the backend of the service. Developing the mobile application.
[Q1 2019]
Launching the beta version of the mobile application and the web version of the service. Conducting an advertising campaign.
[Q2 2019]
Opening the service for all users. Improving the scalability of the project.
Rewarding bonuses to token holders and users participating in the loyalty program.
[2019]
Obtaining the necessary licenses, including those to manage funds and perform brokerage activies, to work with professional investors.
Integrating with scoring platforms
Details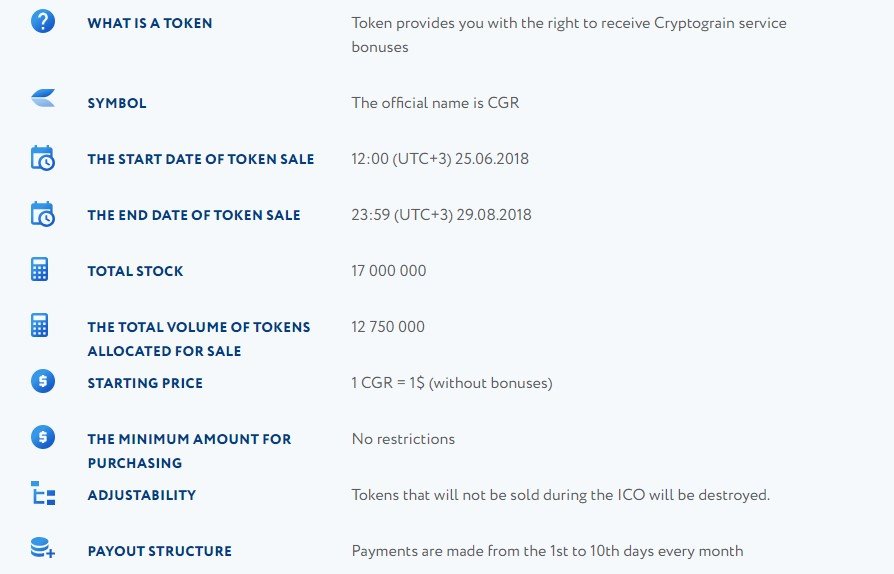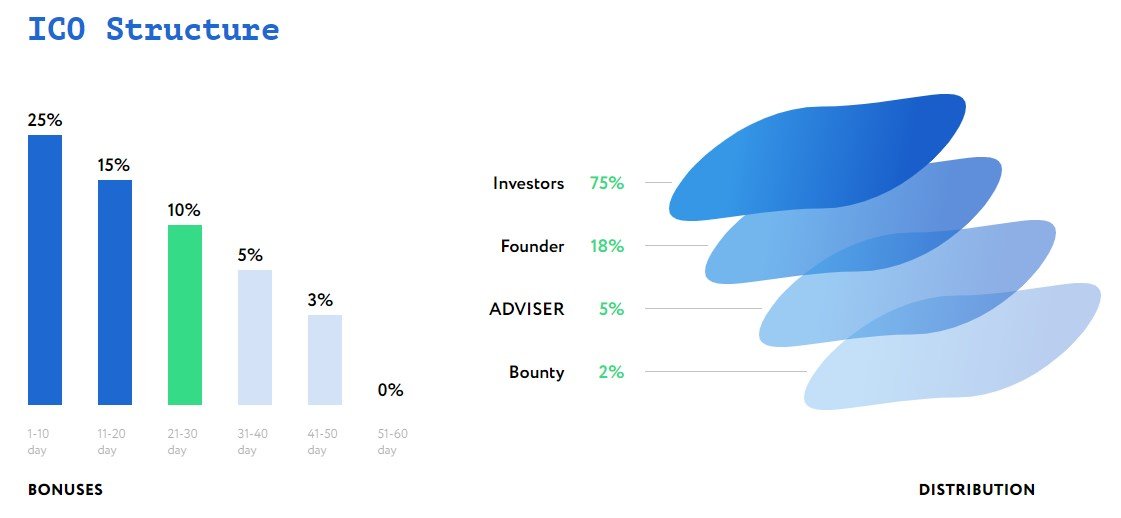 Bounty
340,000 OF CGR TOKENS – 2% OF THE TOTAL STOCK OF CGR TOKENS (17,000,000) – WILL BE AVAILABLE FOR THE BOUNTY CAMPAIGN POOL. BOUNTY CAMPAIGN PARTICIPANTS HAVE THE OPPORTUNITY TO GET CGR BONUS TOKENS (FREE OF CHARGE) FOR ATTRACTING INVESTORS TO CRYPTOGRAIN SERVICE. 12 750 000 CGR TOKENS ARE PLACED FOR SALE
To participate in the Bounty campaign, users need to:
Sign up for personal account of Cryptograin service.
Copy a personal referral (invitation) link from a personal account.
In case referrals invited by a user through a special link sign up for personal account and purchase CGR tokens, the participant of the Bounty campaign (the link owner) is awarded CGR bonus tokens.
There is a percentage-based distribution of CGR bonus tokens. The member of the Bounty campaign is credited 2.6% of CGR tokens for every attracted $1* (1 CGR = $1, excluding bonuses applied for each stage of the crowdsale)
Bonus tokens are displayed in the transaction history of a user's personal account.
Upon completion of the ICO, the participants of the Bounty campaign will be credited with CGR bonus tokens.
OUR TEAM


ADVISORS

For those who join and want to know more satisfying information, complete and more clearly visit the link below !!!! ….
WHITEPAPER:Facebook:
Twitter:
Telegram:
YouTube:
ANN:
BOUNTYAuthor : https://bitcointalk.org/index.php?action=profile;u=1397196