CRYPTONIA POKER: POWERED BY CRYPTOCURRENCY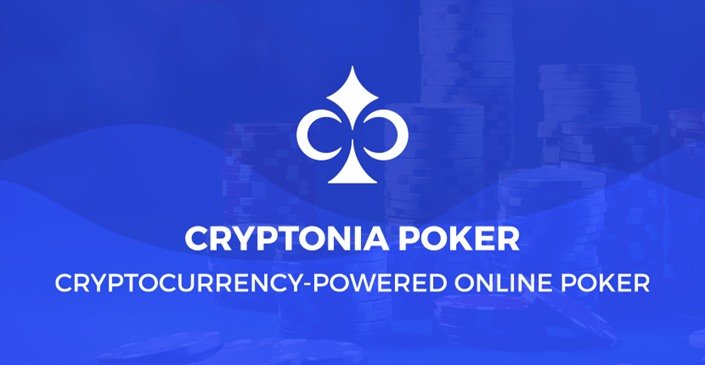 Hello everybody, let's look at some analysis of the project that has drastically imparted the world of online poker. For those of us who are conversant with poker games, you probably know already that insecurity and lack of transparency has been a real challenge for a long time coming. Poker accounts has been rigged, and the uncompromising nature of most payment service providers has affected the global market of online poker.
However, there is quite commendable growth in the industry of online gambling; so much that it has been predicted to make its players richer by 52 billion US dollars by the end of 2018, and further increase of extra 8 billion by 2020. And there is no denying the fact that poker has the greatest potential of earning money in this industry, especially if there has not been a ban on gambling by most countries' government where their casinos has been closed and/or turned into something else. Could there ever be a way out of this situation? Actually there is, and that solution is called Cryptonia Poker.
Cryptonia Poker is a solution to all the lapses and inefficiencies of the current poker industry. Built upon the blockchain technology, Cryptonia Poker is the best online poker that allows you to withdraw money in just a click, where security and transparency is a watchword. Cryptonia Poker is powered by its own token which can be bought or sold on any crypto-exchange; it is the official currency used on this platform. This token can be purchased anywhere in the world, provided online gambling laws are not prohibited by law in those places. Using your device with an Internet connection, you can immerse yourself in the world of online poker, absolutely legally, with the same real people as yourself. More interestingly, your full anonymity is assured because the company does not collect your personal data.
Cryptonia Poker tries to combine the attraction of poker along with transparency and crypto currency value in online poker room, which is based on blockade technology. The main feature of this poker room is that it avoids delays associated with processing payments. In addition, this technology drives the generation of truly random numbers, which makes the game transparent.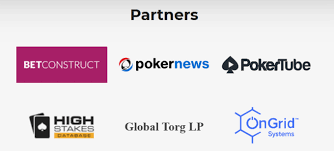 What does Cryptonia bring to the table?
Randm number generation and fair play
Cryptocurrency incorporated in poker rooms
Secured user data
Transactions and revenue distribution powered by smart contracts
Monitoring and security systems
Security f participants' accounts
Resolution of legal issues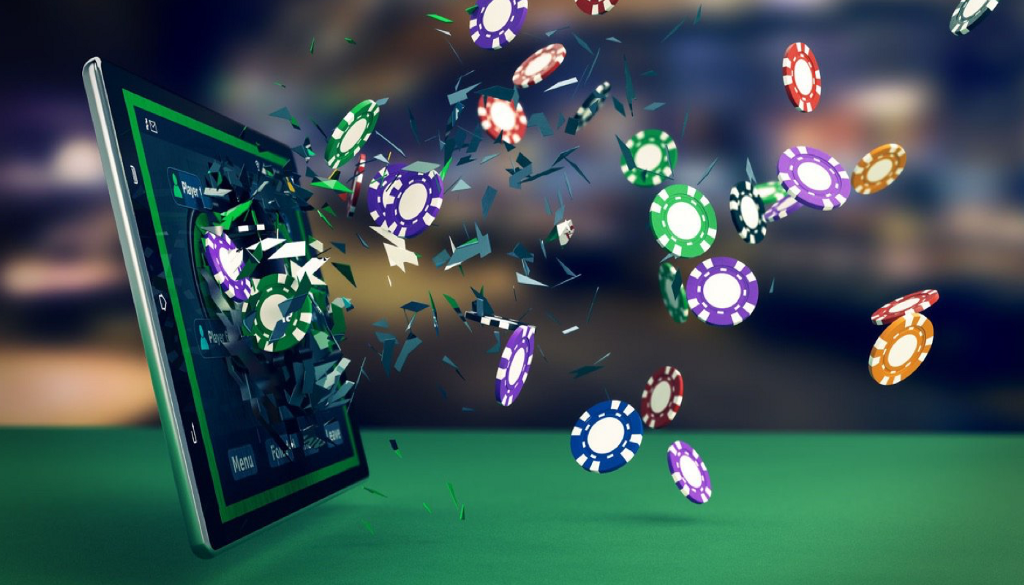 How to be a part of this revolution
• First of all, you add details of crypto currency purse to a Cryptonia Poker account
• Transfer funds from the crypto currency purse to your account at Cryptonia Poker
• And you can start playing immediately after updating your balance
Withdrawal Process?
• You have to make a request of withdrawal of funds from your account
• The server receives the request and processes it via a smart contract
• Tokens are transferred from the main wallet to crypto currency in few seconds.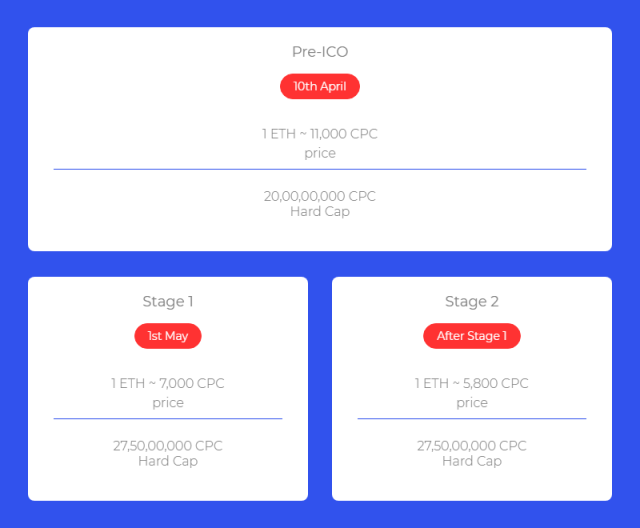 ICO Details
Symbol: CPC
PRE-ICO : 10 Apr, 2018 – 30 Apr, 2018
Hard cap : 200,000,000 CPC
Price Token : 1 ETH = 11,000 CPC
ICO : 01 May, 2018 – 01 Jul, 2018
SoftCap : 15,000,000 USD or 275,000,000 CPC
Hard cap : 45,000,000 USD or 550,000,000 CPC
Total Supply : 1,000,000,000 CPC
Price Token
Stage 1 : 1 ETH = 7,000 CPC
Stage 2 : 1 ETH = 5,800 CPC
Ethereum Allocation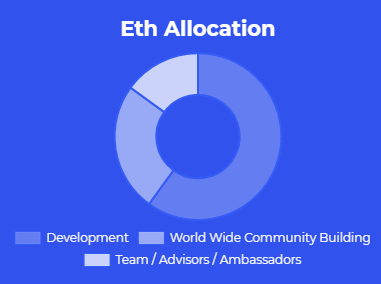 Development: 60%
Community Building: 25%
Team/Advisors/Ambassadors: 15%
Token Allocation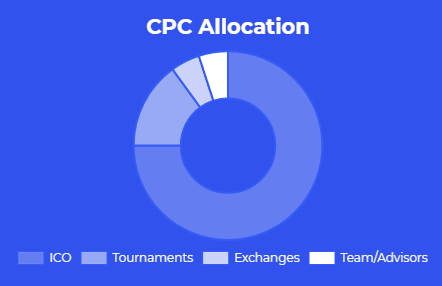 ICO: 75%
Tournaments: 15%
Exchanges: 5%
Team/Advisors: 5%
Why Cryptonia?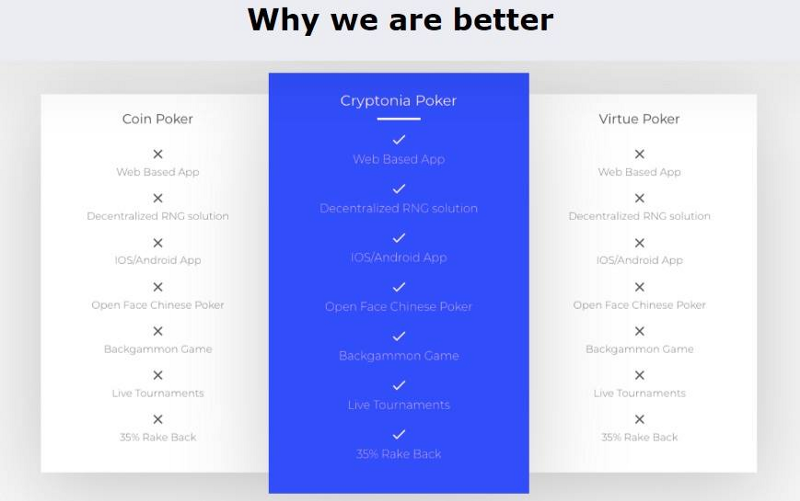 Timeline



10th April
Cryptonia Pre-ICO
May 2018
Beta App Launch
1st May
Cryptonia Poker ICO Stage 1
1st June
Cryptonia Poker ICO Stage 2
July
Cryptonia listed in Exchanges
Cryptonia Launch on Cryptonia Poker
Cryptonia Opening tournament
Cryptonia's referral and partner programme
August
Decentralized, random number generating solution
Cryptonia's fair play program completion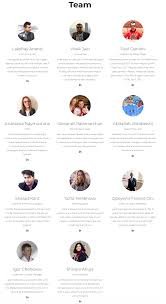 Conclusion
All Cryptonia Poker is all about is making sure that you can play without worrying about privacy and security, and you can do that in the comfort of your bed with an internet-enabled device which (legally) connects you to the same real people as yourself. Cryptonia Poker is a project that constantly improves and upgrades, with so many benefits for its players. If you have any iota of feeling for poker or cryptocurrency, this is the place to be. Waste no time any further to join this great revolution. To join and for further information, please do well to follw the links provided below.
Reference Links
Telegram: https://t.me/cryptoniapoker
Medium: https://medium.com/@community_85879/
Twitter: https://twitter.com/CryptoniaPoker
Reddit: https://www.reddit.com/user/CRYPTONIAPOKER
Facebook: https://www.facebook.com/cryptoniapoker/
GitHub: https://github.com/OnGridSystems/CryptoniaPokerContracts
YouTube: https://www.youtube.com/watch?v=tMBGHOqo2a0&feature=youtu.be
Bitcointalk: https://bitcointalk.org/index.php?topic=3206512
Authored by: Davison
Bitcointalk url: https://bitcointalk.org/index.php?action=profile;u=2075838
Wallet: 0xcd3AA411AAF6Ab5017394e00Ad49eCF6B39Ee84B