Cryptonity: Community based exchange platform
Cryptonity is an ecosystem through which Cryptocurrencies are being traded. Advent of Cryptocurrency has led to creation of platform through which individual can conveniently trade their Cryptocurrency. However with discovery of some of the major problem associated with already existing Cryptocurrency platform such as poor users interaction, limited trading pair, complex user interface, inadequate trading bot etc., Cryptonity is the next exchange platform to address these problem by recreating Cryptocurrency trading through creation of platform that bring traders closer together and also give the more power to decide what features they want on the platform. In this review, we shall be examine some of the distinct features that Cryptonity exchange platform intend to integrate when the platform is completely open after the initial coin offering. Below are some features which will make Cryptonity stand out of many crypto related exchange platform available today on the internet;
(1) Availability on different devices: In order to provide user varieties of coverage so that they can be able to trade easily, cryptonity will be available on different interface which will include; web based, Android, iOS and mobile HTML5.
(2) User-friendly with multilingual Support: cryptonity platform will be available in 4 different languages (English, French, Chinese, Korean) at start while other languages will be available later. This will assist users to be able to explore the platform the way they want without any language barrier.
(3) Four Distinct Trading Pair: the number of trading pair give users flexibility in trading which in turn mean when there are higher trading pair, it means there will be more flexibility in selecting the desire pairing that a trader is interested in. cryptonity will be available in Four different trading pairs (BTC, ETH, XNY, USDT). Fiat currency as trading pair is also part of the plan of the Cryptonity and this will be implemented as soon as necessary license is granted.
(4) Development of Self-owned Blockchain: Another important aim of Cryptonity is to develope a new blockchain (i.e.Cryptonity blockchain). Work on this will start immediately the cryptonity ICO is finished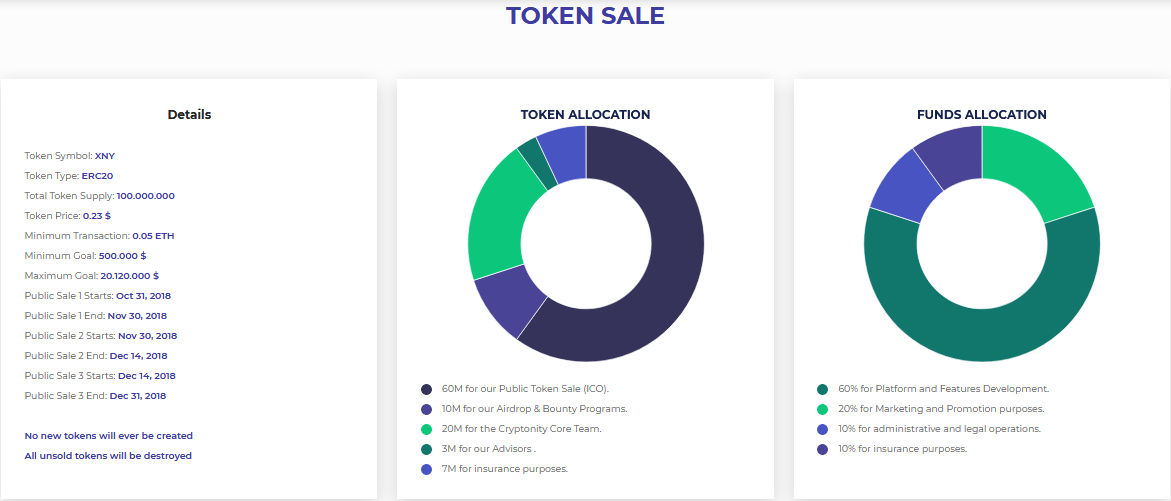 (5) Integration of security tools to prevent users account hacking: This is the one of the major functions every users are always looking for. Any exchange without good security system is dangerous. We all know how much challenge crypto exchange platform has faced in the past. The etherdelta security bridge is still very fresh in our memory. In order to make Cryptonity platform very secure, cryptonity will be equipped with varieties of security tools which include; email confirmation for any new IP address detected which is different from previous one used to login, security questions, anti-phishing code, two-factor authentification through google authenticator, finger print integration for mobile phone application, FIDO U2F Security key implementation for some devices that is compatible with it.
(6) Multi-Order Supported: Cryptonity will support three type of order which include; Market order, Limit orders and stop loss orders. The main benefit of these varieties of order is that they allow traders to place an order and the order will be implemented when the condition is met even when the users is not online
(7) Analysis and strategic tools integration: Analysis on crypto is very important and this help traders to make great decisions when trading. Cryptonity will provide a portfolio that will allow traders to track all the gain and loss, price alert and many other features.