CryptoRobotics: Platform for cryptocurrency exchanges
PROBLEMS
Existing trading terminalsfor trading on cryptocurrency exchange are mostly paid and not cross-platform.
The main terminals have only a web interface, as well as TOP-10 stock exchanges by turnover, which significantly limits the functionality of analytics and makes it impossible to have an internet algotrading.
Crypto-currency exchange rates vary widely on the different stock exchanges, it is more beneficial for a user
to trade on several exchanges at once, but switching between exchanges takes a large amount of time.
There are no unique toolsfor technical analysis at the cryptocurrency exchanges.
Websites of stock exchanges and terminals are not always optimized for different types of screens,
including mobiles.
Robots presented on the market are not always reliable and do not have a user-friendly interface.
There is no universal and reliable software solution for creating personal algorithmic robots and testing them on the histories.
A ready base with trading strategiesin the crypto-currency market doesn't exist.
A universal rating of traders for studying and following a successful experience doesn't exist.
Linear trading strategies quickly lose their relevance, require constant improvement, a self-learning system is required.
What is CryptoRobotics??
CryptoRoboticsis a desktop platform-terminal trading platform for MAC and Windows OS computers, tablets, iOS smartphones, Android, Windows mobile with one-click access and switches between major crytpo currency exchanges. CryptoRobotics makes technical and trading analysis instruments similar to stock market terminals like Quik, Metatrader available for krypto.
Allows users to connect simultaneously to 30 krypto currency exchanges and make transactions in both manual and automatic modes. This trading robot is a system capable of monitoring indicators independently based on one or more conditions, which make decisions in transactions.
Therefore, CryptoRobotics trading terminal is a software solution designed to act interactively in a variety of standard procedures that a trader needs to work in the currency market of crypto. The project was developed for a free cross platform terminal for crypto currency exchanges.
A trading robot is a system capable of independent monitoring of necessary indicators and making a decision on the transaction based on one or several indicators. Thus, the robot can almost completely substitute the user in the trade taking over all the necessary functions of a successful trader.
Trading algorithms embedded in robots, the use of technical and statistical analysis methods, its algorithms for buying and selling, a set of protective tactics, adherence to risk management rules and a money managementsystem – all this makes the robots of the system a complete trading system.
The MAC and Windows working framework is a work area stage terminal that obtained entrance with a single tick for PCs, tablets, iOS cell phones, Android, Windows Mobile, and a switch in expansive crytpo trade trades. CryptoRobotics can be utilized for krypto Quik makes specialized and exchange examination instruments like securities exchange terminals as Metatrader.
Market volume
As per web-distributing for December 2017 13.3 million enlisted clients in the Coinbase trade (San Francisco, California), yet for the present stock trade is excluded in TOP-10 and takes under 3% of aggregate market exchanging on cryptocurrency trade. In the meantime, one a player in the dealers on the cryptocurrency trade keeps on keeping their assets in the share trading system, in spite of the dangers, and the other part has a wallet of cash.
As indicated by gauges by different authorities before the finish of 2017, there are 5.8-11.5 million novel satchels for cryptocurrency on the planet. In January 2018 in excess of 200 cryptocurrency trades have been made and they work on the planet, and obviously every one of them has its own particular database, including a shipper database, which makes assessing the aggregate number of extraordinary clients to be inconceivable. Be that as it may, advertise development is continually being accounted for by the cointelegraph.com entrance: in excess of 100 000 clients join the cryptocurrency trade stage each day.
What makes CryptoRobotics Special?
Calculations and Artificial Intelligence utilized as a part of CryptoRobotics in algotrading!
Computerized reasoning varies from all items made before by groups with complex undertakings. Among them are:
˗ improvement of self-learning framework;
˗ association with a greatest number of master databases that maintain a strategic distance from organize clog related with excess data and extra weight on the stock exchange;
˗ cancellation of mistakes amid database choice;
˗ making of non-direct calculations to take care of dealer issues;
˗ gather input and build up extra exchanging systems that don't have a place with
the fundamental elements of exchanging robots;
˗ instruct frameworks to "reason" for investigation and make new techniques;
˗ and numerous different undertakings that AI can recommend without anyone else
Framework robot
An exchanging robot is a framework fit for checking freely required pointers and settling on exchanges choices in view of at least one markers. Subsequently, the robot can totally supplant the client in the exchange assuming control over all the important elements of an effective dealer.
The exchanging calculation is inserted in the robot, the utilization of specialized examination strategies and measurements, its calculation for purchasing and offering, an arrangement of defensive strategies, consistence with chance administration tenets and cash administration frameworks – all these make the robot a total exchanging framework.
Robot Maker
The exchanging robot that is in the terminal may for reasons unknown not meet the prerequisites of the vendor. For the createpersonal exchanging robot at the CryptoRobotics terminal, the Robot Constructor is utilized, requiring no abilities or programming learning.
Constructor interface is instinctive, every client can test his exchanging methodology in history and make his own robot in light of re-test comes about.
The Robots Constructor makes it conceivable to make new exchanging systems or change existing ones without utilizing the program. To do this, it is important to characterize exchange rules in view of an extensive number of innate conditions , specialized examination markers, chance control techniques and different conditions.
ROBO Tokens
ROBO tokens are currencies used as payments in CryptoRobotics terminal products, Payments for this terminal product can be through the privacy of the user and can be through the Market robot.
TOKEN INFORMATION AND ICO
Total token: 120,000,000 ROBO tokens
Type: ERC-20 standard (ethereum)
Token for ICO: 57.6 million ROBO tokens
PRA-ICO
Started: March 20, 2018
Expires: May 20, 2018
Number of tokens: 9,600,000 (8%)
ICO
Started: May 20, 2018
Expires: June 20, 2018
Number of tokens: 48,000,000 (40%)
Price: 0.00015 ETH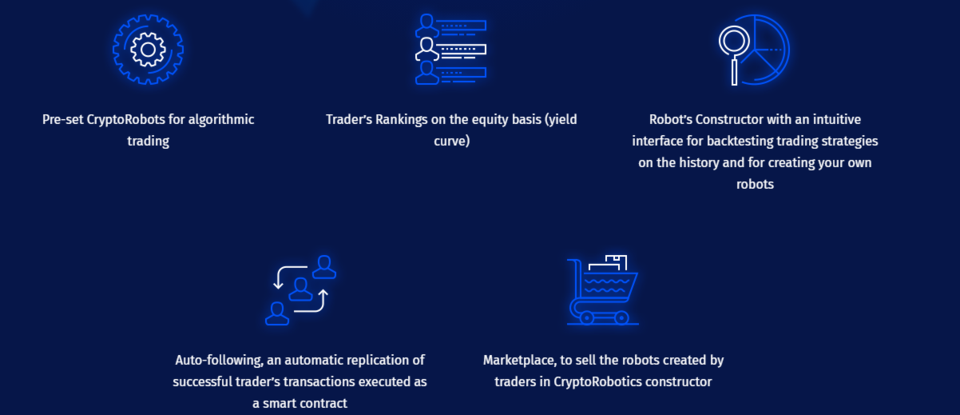 The problems below are going to have a solution thank to this team, in a specified date by their roadmap:
Specified Roadmap until 2020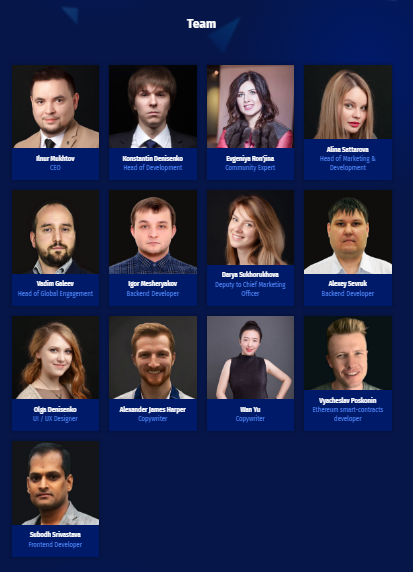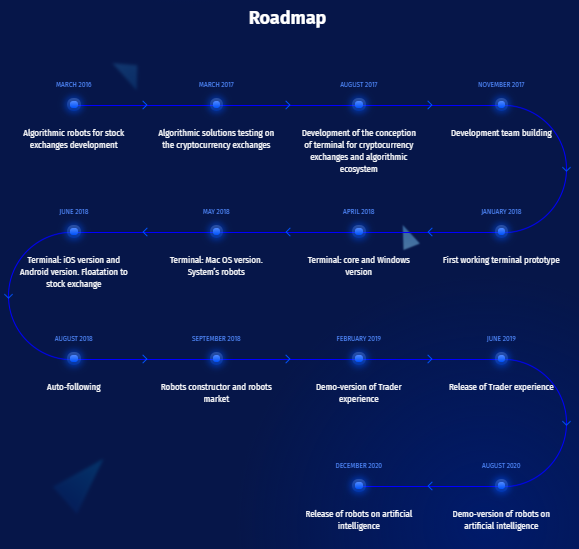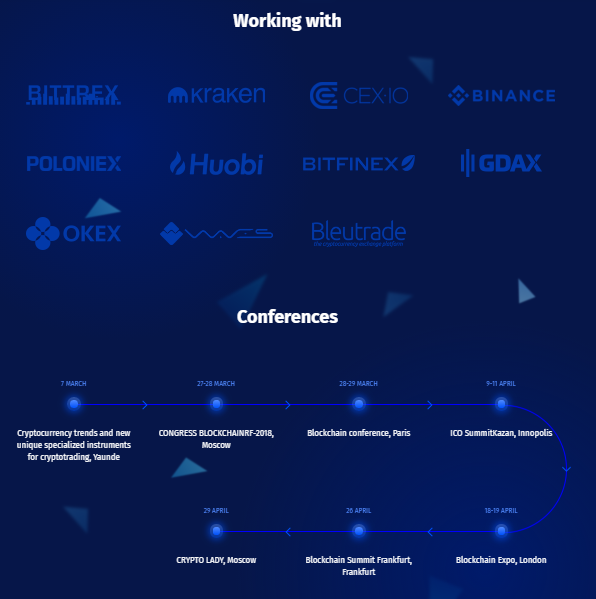 TOKEN ALLOCATION
8% PRA-ICO
40% ICO
30% FOUNDER
3% DEVELOPMENT
3% BOUNTY
9% SAVE FUNDS
7% ADVISOR
Visit the links below:
Website: https://cryptorobotics.io/
Whitepaper: https://cryptorobotics.io/img/WP_ENG.pdf
ANN thread: https: //bitcointalk.org/index.php? Topic = 3418407.0
Twitter: https://twitter.com/cryptorobotics
Facebook: https://www.facebook.com/groups/378114272653455/
Telegram: https://t.me/Cryptorobotics
YouTube: https://www.youtube.com/channel/UCIvpJ36PC4S2XuD–dUaFFQ
Instagram: https://www.instagram.com/cryptorobitics/
Reddit: https://www.reddit.com/user/Cryptorobotics/
GitHub: https://github.com/RitaCrypto
Authored by Danny_yell: https://bitcointalk.org/index.php?action=profile;u=1273420