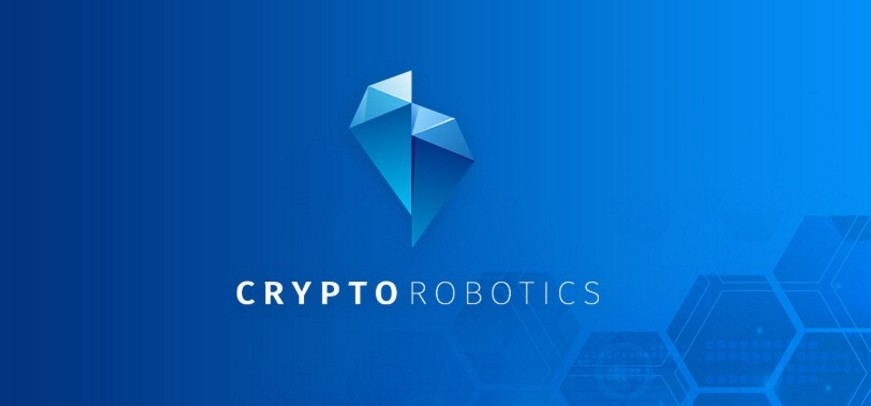 It is no news that the wide acceptance of cryptocurrencies since its creation in 2009 has paved way for the creation and development of new cryptocurrencies on a daily basis and has been of great benefit to traders over the years. Cryptocurrencies have taken the world by storm and its global acceptance is amazing. There are over 20 million users of cryptocurrencies generated everyday worldwide. The cryptocurrency market has significantly grown over the years that it is estimated to grow to worth over $5 trillion in 2025. However, the cryptocurrencies being created are in many exchanges which makes users to sign up to different platforms. This makes the whole process cumbersome creating lack of trust in such platforms. Users also due to time lapse miss out on trading opportunities and funds are in transit in the different platforms. Other issues include:
• Existiong cryptocurrency trading terminals do not integrate other exchanges therefore, Cryptocurrency rate vary widely from exchange to exchange and are often costly to use
• There are no unique tools for technical analysis provided by cryptocurrency exchanges
• The lack of reliable and universal software solution for creating personal algorithmic trading robots and testing them on historical trading data.
• A lot of, if not all exchange terminals do not appear to be optimized for different screen sizes especially for mobiles and tablets.
• The system lacks a self-learning system plus there is lack of universal trader rating system.
This quagmire prompted a team of cryptocurrency enthusiasts to develop an extraordinary platform with the objective to enable its users gain easy access to trade all top coins on one exchange securely and at low transaction fees called CRYPTOROBOTICS. CRYPTOROBOTICS is a Russian project based on blockchain technology and smart contracts `developed to ease the difficulty of trading on exchanges. The decentralized platform can operate on more than one platform at the same time and is compatible with devices such as Android, Mac OS, Windows and iOS.the platform also makes use of Artificial Intelligence to create algorithms for the profitability of the cryptocurrency market. For more information please refer to the video below:
FEATURES OF THE PLATFORM
• Robot constructor platform with an intuitive user interface for creation and testing of trading strategies on the historical trading data
• Pre-set cryptorobots for algorithmic trading
• Auto-follow trader, allowing traders to automatically replicate successful trader transactions executed as a smart contract (Ethereum Blockchain)
• Robot marketplace selling robots created by traders in robot constructor platform.
• Trader rankings based on trader yield curve
TOKEN DETAILS
The ROBO token is a utility token based on the Ethereum ERC20 token standard used to transact on the platform. The pre-ICO started on the 5th of March and ended on the 16th of May, 2018 while the main ICO started on the 20th of May and will end on the 20th of June, 2018 with the total token supply of 120,000,000 and 57,600,000 allocated for sale at the rate of 0.00015 = 1 ETH. The soft cap is valued at 1, 000 ETH while the hard cap is valued at 7848 ETH. All unsold tokens will be burnt after the ICO.
TOKEN DISTRIBUTION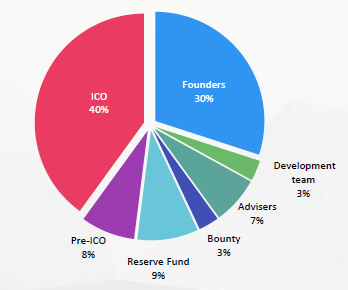 40%- ICO
30%- founders
9%- reserve fund
8%- pre- ICO
7%- advisers
3%- development team
3%- bounty
USE OF FUNDS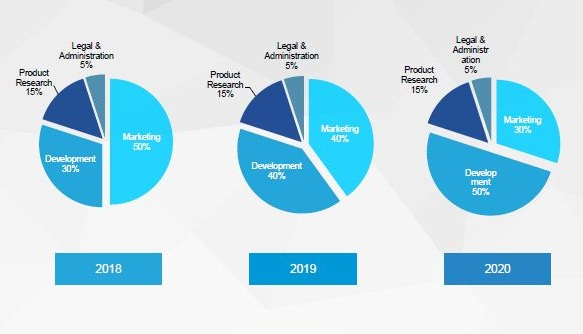 2018- 20%
50%- marketing
30%- development team
15%- product research
5%- legal & administration
2019- 30%
40%- marketing
40%- development team
15%- product research
5%- legal & administration
2020- 50%
30%- marketing
50%- development team
15%- product research
5%- legal & administration
ROADMAP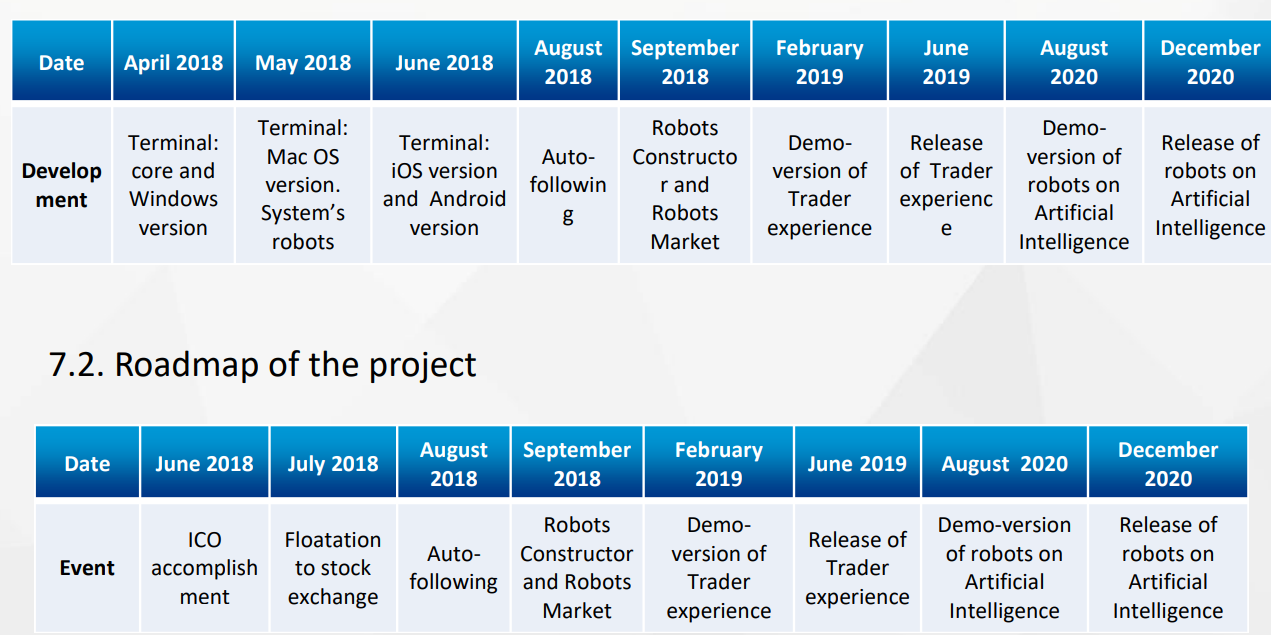 ROADMAP FOR DEVELOPMENT
2018
APRIL- terminal: core and windows version
MAY- terminal: Mac OS version system's robot
JUNE- terminal: iOS version and android version
AUGUST- auto-following
SEPTEMBER robots constructor and robots market
2019
FEBRUARY: demo-version of trade experience
JUNE: Rlease of trader experience
AUGUST: demo-version of robots on Artificial Intelligence
DECEMBER: release of robots on Artificial Intelligence
ROADMAP OF THE PROJECT
2018
JUNE- ICO accomplishment
JULY- floatation to stock exchange
AUGUST- auto-following
SEPTEMBER- robots constructor and robots market
2019
FEBRUARY- demo-version of trader experience
JUNE- release of trader experience
2020
AUGUST- demo-version of robots on Artificial Intelligence
DECEMBER- release of robots on Artificial intelligence
TEAM
Mukhtov Ilnur, CEO
Ivan Scherbakov, Chief Advisor
Konstantin Denisenko, Team Leader
Igor Mescheryakov, Backend developer
Alina Sattarova, Head of Marketing and Business Development
Darya Sukhorukova, Marketing Manager
Evgeniya Ron'jina, Community Expert
Alina Sattarova, Head of Marketing & Development
Vadim Galeev, Head of Global Engagement
Alexey Sevruk, Backend Developer
Olga Denisenko, UI / UX Designer
Alexander James Harper, Copywriter
Wan Yu, Copywriter
Vyacheslav Poskonin, Ethereum smart-contracts developer
Subodh Srivastava, Frontend Developer
Maxim Kuryachiy, Marketing Team
Alexey Kuryachiy, Marketing Team
Pavel Kuryachiy, Marketing Team
Denis Schendryakov, Marketing Team and Trading Expert
ADVISORS
Jonathan Fianu, EMEA Director of PredictX
Nikhil Puri, Director at KPMG
Will Bryant, Director at American Express
Gurpreet Dhaliwal, Business head at Olam
Youssoufa Aminou, Founder at Yuscards.com
Anatoli Ille, Easy Business Community Founder
Ron Ribitzky, MD, R&D Ribitzky
Jean-Michel Billaut, Founder of Atelier BNP Paribas
Joseph Bedminster
Oliver Prock, Founder & CEO at Salus Alpha
Iurie Moraru, vice-president of Swiss-CIS joint chamber of commerce
Nick Kho, CEO and Co-Founder of Real Social Dynamics
The cryptorobotics project is a great opportunity for traders and the cryptocurrency market at large. Join the platform today and enjoy awesome benefits. For more information visit the website and connect with other users on the social media platforms listed below:
Website: https://cryptorobotics.io/
Whitepaper: https://cryptorobotics.io/img/WP_ENG.pdf
Ann thread: https://bitcointalk.org/index.php?topic=3418407.new#new
Telegram: https://t.me/Cryptorobotics
Facebook: https://www.facebook.com/groups/378114272653455/
Twitter: https://twitter.com/cryptorobotics
Steemit: https://steemit.com/@cryptorobotics
Published by: ogtejiri
Bitcointalk URL: https://bitcointalk.org/index.php?action=profile;u=1790132
Ethereum wallet: 0x33E8810b5432ccD823b6c45975A55Fb9F6c931D6