CRYPTOSOLARTECH

Hello everyone in this article I will present an interesting ICO analysis, called Cryptosolartech, based on some of the following criteria:
Blockchain with solar energy
Blockchain & energy for a better world
What is CRYPTOSOLARTECH?
During Cryptosolartech ICO, we will get our own cryptocurrency, on a farm where we will install 3,000 cryptocurrency equipment to mine, in two different variants to optimize profitability, and be able to supply ourselves with our own energy farm, coming from a photovoltaic solar power plant, in the province of Seville (Spain), this energy can also be distributed as a service for power companies.
Ethereum Public Blockchain will be used for management, revenue generation and start-up of the physical assets that make up this project. Therefore, the purpose of this ICO is to create cryptocurrency mining fields and solar photovoltaic power plants to generate electricity. To participate in this project only digital tokens are available for sale to register operations.
ICO will issue 1260 million tokens called Cryptosolartech (CST). All tokens that are not sold during ICO will be burned. No more tokens to be issued in the future.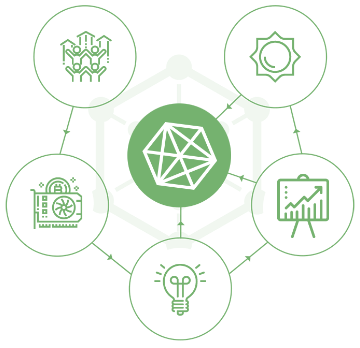 Install photovoltaic solar to the pool
The basic reason why investments in solar energy can be profitable is given because of the drastic decline of materials for construction, as well as the increase in the performance of electrical equipment, added to the constant cost increases in power generation.
The purpose of this research is to obtain financing for 45,000 kW photovoltaic power plant.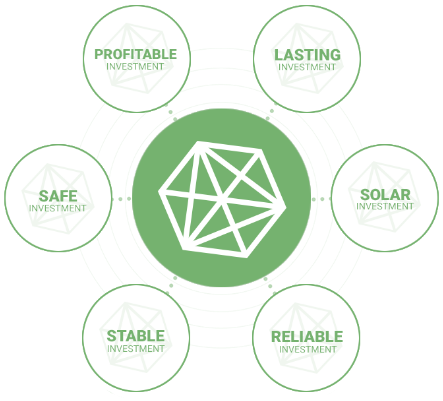 Cryptosolartech Token (CST)
Cryptosolartech, is a holding digital asset that will show ownership of fraction, mining of cryptocurrency mining and photovoltaic solar power plant. Initially the location of the photovoltaic plant will be in the province of Seville (Spain), and the mining farm will be in Malaga (Spain) in the industrial warehouse that has been activated for this activity.
Cryptosolartech is an ERC-20 type token that will work on Blockchain Ethereum.
CST Tokens are classified as Utility tokens, so all owners will have the right to use the assets acquired, and may request exploitation and use when they need it.
For this ICO, a set of 1260 million Cryptosolartech tokens will be published. All tokens not sold during ICO will be burned. No more tokens to be issued in the future. The initial value of 1 CST equals 0.10 Euro.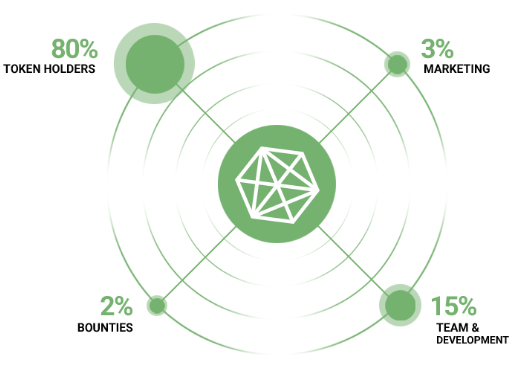 OPERATION OF CRYPTOSOLARTECH TOKEN
SUPPLY: 1.260 million Tokens
20% retained for future development and market expansion.
PUBLIC SALE OFFER:
PAYMENT METHODS:
1.008 million Tokens
TOKEN FORMAT: ERC-20 Utility Token
ETH/ BTC / FIAT
SALE PHASES
START OF PRE-SALE: APRIL 16, 2018
FINAL PRE-SALE:
END OF THE OFFICIAL SALE:
APRIL 30, 2018
START OF OFFICIAL SALE: MAY 01, 2018
JULY 14, 2018
ROADMAP
FEBRUARY 2018 The point of connection of the guarantor's pre-approval.
APRIL 2018 Starting from ICO.
MEI 2018 Administrative Authorization Application (SICA)
JUNE 2018 Request for Environmental Authorization.
Requesting a Public Construction Authority.
Request of Confederate Authorization.
Request Authorization Endesa.
Request for Authorization of Electrical Networks.
AUGUST 2018 End of ICO
SEPTEMBER 2018 Aquisition of Land.
Acquisition of industrial warehouse for mining development.
ASIC Acquisition.
OCTOBER 2018 Application for Construction License for photovoltaic plants.
Conditioning facilities for mining development.
NOVEMBER 2018 Installation of photovoltaic plants.
Installation of ASIC mining.
APRIL 2019 Starting from photovoltaic activities and mining operations.
TEAM

Advisors

To contribute and Know the progress of this offer, you may visit some of the following Links:
WEBSITE :https://cryptosolartech.org/en/
WHITEPAPER :https://cryptosolartech.org/doc/cryptosolartech-whitepaper-en.pdf
FACEBOOK :https://www.facebook.com/cryptosolartech/
TWITTER :https://twitter.com/cryptosolartech
TELEGRAM :https://t.me/cryptosolartech
The bitcointalk name: Rawon ayam
https://bitcointalk.org/index.php?action=profile;u=1397196