CRYPTOSOUK – CRYPTO EXCHANGE FOR MIDDLE EAST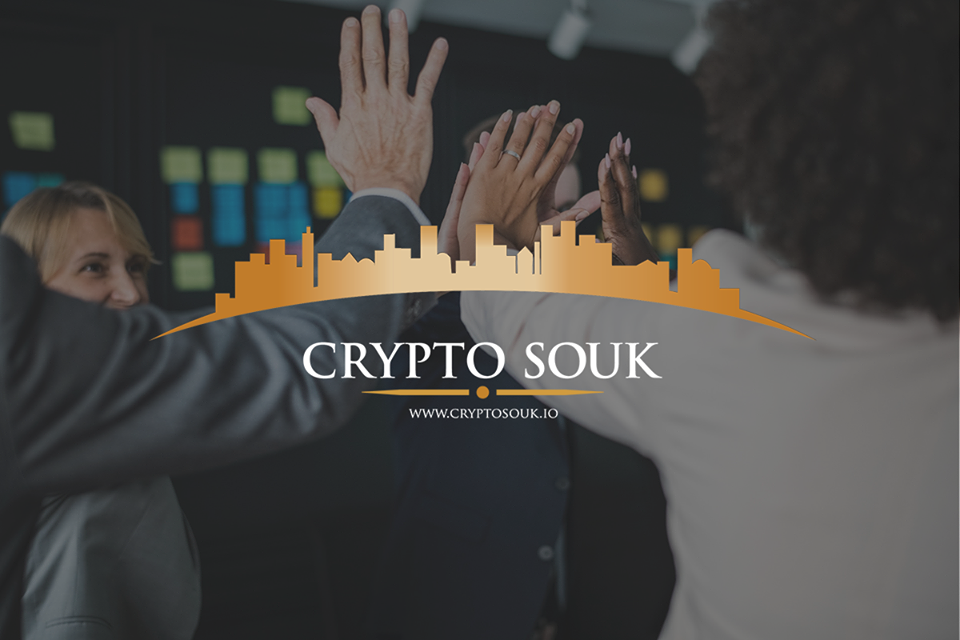 CryptoSouk is the next generation crypto exchange.
The development of computer technology contributes to the emergence of so-called digital money or crypto currency in the market, whose existence in the era of globalization is entirely justifiable.

Currently, there are many sites to trade crypto currency. Many of them have been tested by time. And until now the most important problem is the issue of financial security.
Many traders who have experience working with other financial markets are still trying to give preference to digital assets. The digital currency market has unlimited possibilities for all traders.
The more we see today that crypto money is used not only to pay for services and consumer goods, but also for investments. The growing popularity of the crypto currency continues, leading to the emergence of crypto trading.
Market instability, constant growth or depreciation, constant risk faced by traders, and this, in turn, forces users to search for reliable and safe trading and financial companies.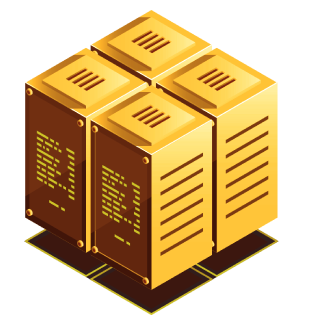 The main criteria for choosing a site for crypto currency trading are: Daily trading volume – this indicator shows the popularity of a particular pair; the number of currency pairs – even now there is an exchange where only BTC can be redeemed for USD; commission for the operation – the game on exchange rates may not be profitable because of high commissions for withdrawal of funds; restrictions on withdrawals and how to refill your balance – you need to pay attention to the terms of fund input and output, as well as payment systems that support sites selected by users.
The most reliable is the exchange with a large cash turnover. Since Bitcoin, Ethereum, Litecoin and other digital analogs continue to grow, just as new areas of crypto currency trading are emerging in the market.
CryptoSouk is the next generation crypto currency exchange for merchants of all levels.
The company solves several problems at once: fair pricing, customer service based on world standards, creation of ideal conditions for trading and crypto currency exchange.
Considering the needs and realities of the modern age CryptoSouk provides traders with easy-to-use tools such as: a set of indicators (58 indicators available, linear regression line, generator and t.pr.), custom trend lines, interactive interfaces, the ability to see price charts , depth charts, order books. Great attention is given to security issues.
So, in real-time on the platform made replication and archiving all data exchange, as used for this purpose embedded database Streaming DB, which is moving and error checking.
All merchant users are given the opportunity to create multiple reports, such as trading activity, transaction activity, reports for treasury. It is also possible to store this data in CSV format.
CryptoSouk pay attention to order system. On the exchange, orders to buy and sell are always displayed in real time. The order system automatically calculates commission fees and puts it in the order price.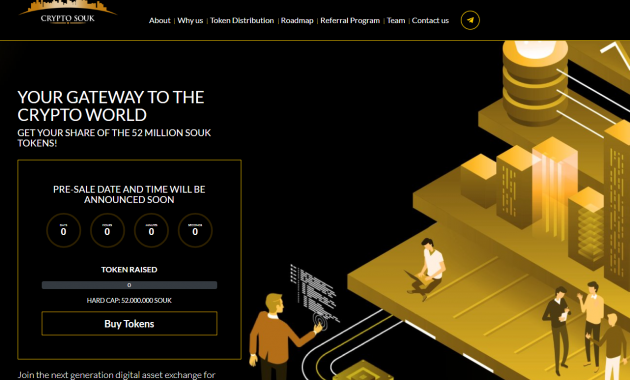 About CryptoSouk
We believe that there is a unique opportunity to focus on centralized exchange of currencies in the Middle East and Arabic. We also believe that major operations for trading, and the experience of making business if necessary to create a deeper and unusable. In the Middle East, there are many wholesalers and investors who want a higher service and are not interested in better detail of private key prisoners. They also want to partner with trading platforms that have culture, allow for the region, and change their language. They can be involved in this growing economic phenomenon and not technical. We've brought together a team of forex and regional and technology experts and experts who can provide a unique Arabic language. We offer platforms launched in the region that offer trade Bitcoin, Ethereum, Litecoin, Ripple, Dash, Zcash and Monero at first. We anticipate that we will be able to offer this coin will also help us get new customers for the exchange as well.
WHY CRYPTOSOUK?
Reliability combined with a rich array of features
Enjoy the best digital asset exchange which focuses on the needs of novice traders, professional traders and digital currency experts. We are dedicated to making digital currency trading accessible, fast and totally secure.
Native Charting

Enterprise matching engine with execution ability of 1 Million transactions per second

Advanced APIs to access or provide liquidity to others

20+ order options including but not limited to; FILL or KILL, IOC, STOP, LIMIT.

Multiple integration ability for KYC/AML, Banking/PSPs

Institutional Grade Security combined Cold/Warm/Hot Wallet rule based systems

Interoperability with Traditional and DLT infrastructure
CryptoSouk: Shaking the market
To make every user's engagement to the platform more meaningful and as incentivized as possible, CryptoSouk is offering users to gain SOUK tokens through their referral program. This is good for influencers and individuals who wish to earn.
The CryptoSouk Referral Program works by giving of unique referral link to each user and if someone sings up using the link, the referrer will have 50% of the overall transaction fee done by their referral in a span of a whole year. And this will continue for as long as the referred remains an active user.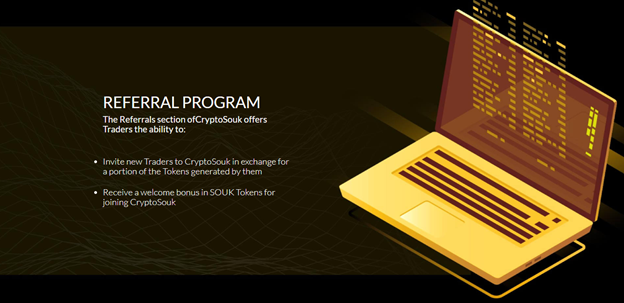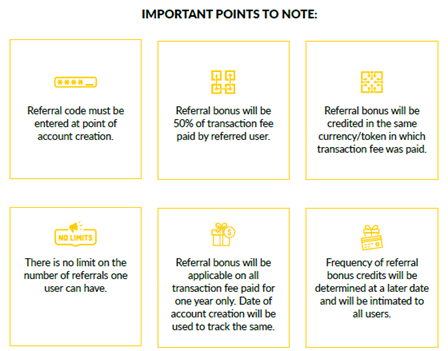 CryptoSouk: The SOUK Token

The SOUK token is the native digital currency used within the CryptoSouk ecosystem. It will be used in doing transactions within the platform as well as users using SOUK Tokens to pay for exchange and trading fees will received 30% discount for patronizing the said utility token. The SOUK token will also be used to make asset listings within the platform. Note that all listings are all subjected for prior review by the team.
The image below shows the token economics of the CryptoSouk platform.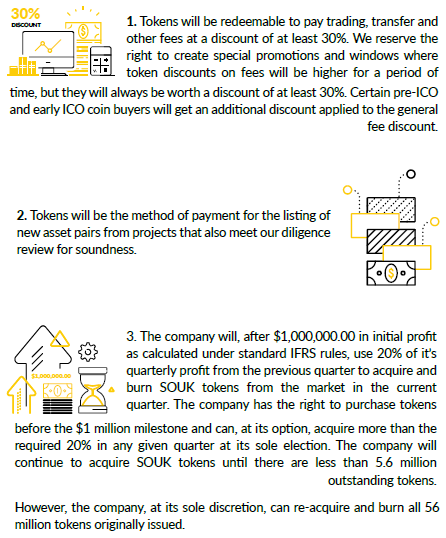 CryptoSouk's Token Sale Details
Token: SOUK
PreICO Price: 1 SOUK = 0.37 USD
Price: 1 SOUK = 0.5 USD
Platform: Ethereum
Hard cap: 11,000,000 USD
Restricted areas: USA, China, Iran, Yemen, Syria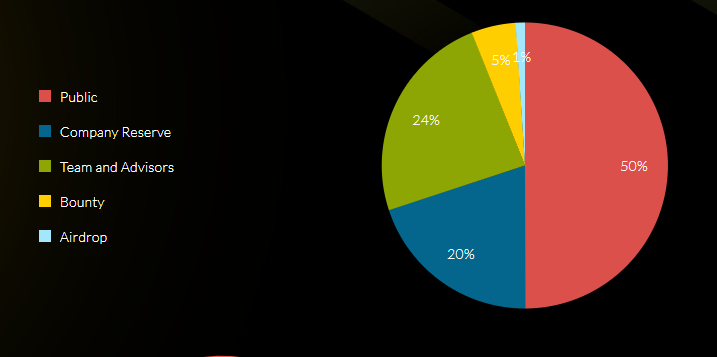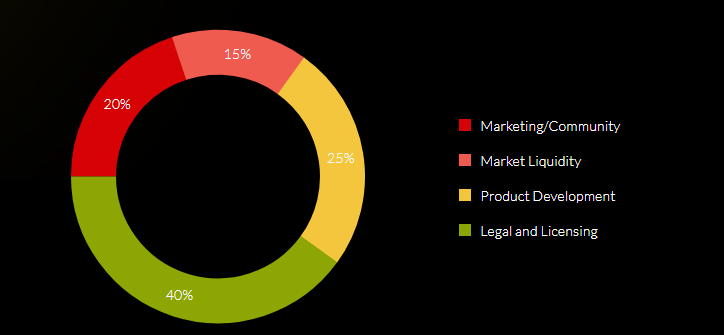 ROADMAP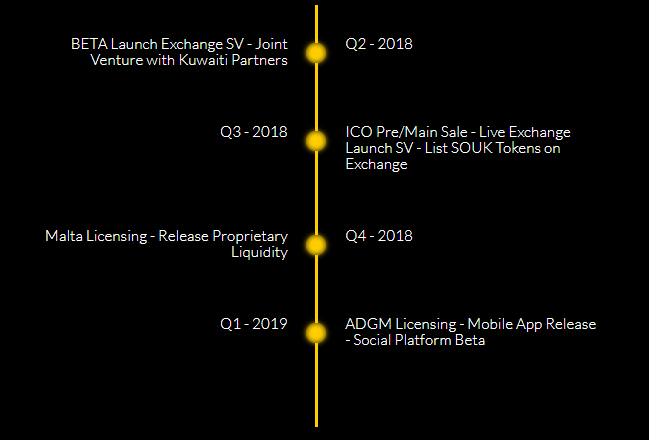 REFERRAL PROGRAM
The Referrals section ofCryptoSouk offers Traders the ability to:
Invite new Traders to CryptoSouk in exchange for a portion of the Tokens generated by them
Receive a welcome bonus in SOUK Tokens for joining CryptoSouk
Team
David Dubrulle
Co-founder CEO
An entrepreneur with 20 years of experience across Europe and the Middle East with expertise in Investment Banking, Corporate Finance, Investment Advisory, Capital Markets Securitization, and Collective investment schemes.
Gene Hoffman
Co-founder, Member Board of Directors
An experience serial entrepreneur and former NASDAQ CEO. Currently serves as an advisor to Chia Network, as well as a board member and interim CTO for AEToken.io.
Richard D'Souza
Operations Manager
Richard has spent 10 years as Operations Manager with one of the top Financial Services Companies in Kuwait. He has a total of 21 years' experience within Dealing Room/Operations, and co-founded 2 Financial Services startup Companies in Kuwait.
Basil Abusaada
Customer Support
Basil is currently the Operations Officer at JM Financial Brokerage Services Co. Kuwait where he has been working since 2016. Basil possesses excellent customer service, sales & communication skills
Advisors
Rob Viglione
Co-founder of ZenCash and President of the Zen Blockchain Foundation. His expertise spans the blockchain technology frontier and cryptoeconomics, and is an industry leader and advises select blockchain and startup society ventures.
Andrew Bates
An International Private Banker with over 26 years experience across 6 continents advising on wealth structuring, asset management, lending & trading platforms, along with constructing and running high performing teams
Strategic Community Advisors
Morten Christensen
Morten has been involved in all things cryptocurrency since early 2013, whether as a trader, a miner or launching different Crypto start-ups. His latest venture, AirdropAlert.com, gave him the opportunity to work closely with more than 30 ICO's from the presale stages.
Marco Calicchia
Marco is the CEO and Founder of MaZee, the leading ICO Community Management and Marketing Agency. He is an experienced ICO and Blockchain advisor with a portfolio of over 25 ICOs, including clients like Experty, Remme and Open Platform.
Valtteri Serimaa
Valtteri founded icotokennews.com and Digital Assets Ltd., an agency specialising in online marketing for ICOs. Before entering the crypto space, Valtteri had been managing various online marketing agencies.
CONCLUSIONS
Is this company a good investment for you? If you believe in the power of artificial intelligence, yes. The developers of CRYPTOSOUK are confident that they will be able to achieve some success in this segment. AI is likely to improve a lot in the future, as well as the cost of this company and its tokens.
CRYPTOSOUK can be a good long-term investment for you, because it is likely that this company will offer you a good return on investment, but in the future. If you have enough patience, it would be nice to invest in this company.
Here are the reviews I present to you all in finding information and knowing the CRYPTOSOUK project currently being run by their team, if there is any lack of explaining this article, do not worry, I have set up a link for you to get accurate information and of course you will be able to speak directly with their founder or team, at the link.

For more information and join social media CRYPTOSOUK , please follow the following sources:
Username: