CRYPTOSOUK – Your Gateway to the Crypto World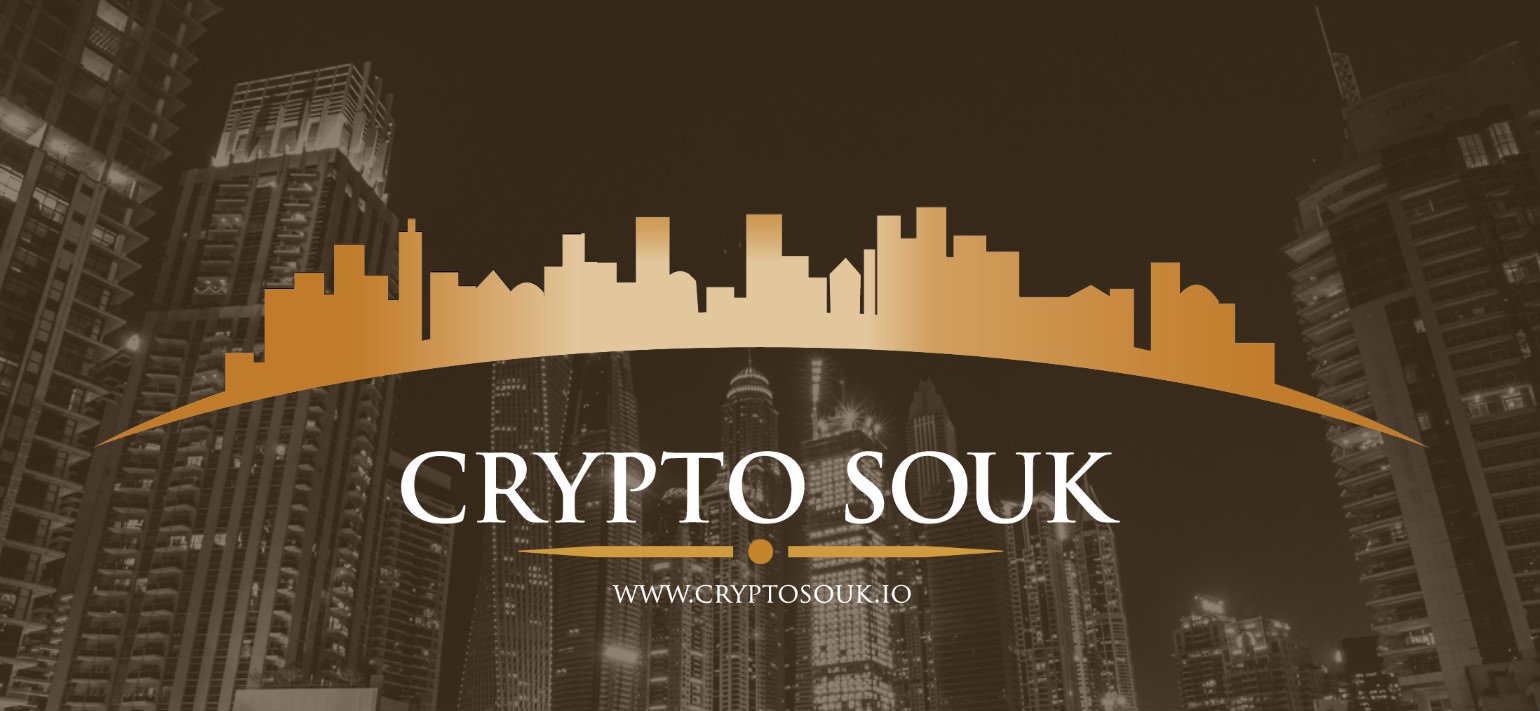 Cryptocurrencies are one of the most important inventions since the inception of the web. They are ushering in a new era of decentralization, privacy, and control of one's own data that has the potential to revolutionize many parts of society. There are currently over one thousand cryptocurrencies in use, with hundreds more being released each year. Their combined market cap has grown from $10 billion in 2016, to over $400 billion at the time of writing, having previously been much higher.
The crypto exchange market is growing at a very high rate but buying, selling, holding and trading cryptocurrency is not an easy task. It requires the knowledge of various trading tools and a vast understanding of the cryptocurrency market so as to efficiently trade, increase profits and reduce losses. Most existing exchange platforms actually suffer from lack of liquidity due to the low influx of cryptocurrency traders and investors. In the middle east, however, they think that more active traders and investors are looking for a higher touch, and easier to use trading partner that more matches their existing expectations of participating in financial markets. The customers also want to know that there are local people in the region that they can reach out to who speak their language and understand their customs.
The CryptoSouk is a new cryptocurrency trading platform that thrives to address various impending downsides of existing exchange platforms some of which are liquidity, being one of the major issues of exchange platforms globally and the availability of various funding options.
The CryptoSouk platform would focus on the inexpensive transfer of Fiat currencies in and out of the platform while focusing on native Fiats like Dinars, Dirhams, Riyals and Dollars. Most traders and investors take note of the diversity of trading pairs and assets while making a choice of exchange platform, the team behind the CryptoSouk understands this and plans on ensuring diversity with trading pairs and other digital assets while also taking note of the assets being listed. One major factor the team behind CryptoSouk would put into consideration is the availability of effective customer support; it is inevitable for traders and investors to need the help of the customer support team of exchange platforms and the CryptoSouk team understands this perfectly and as such would factor in the availability of superb customer support personnel that would be able to communicate effectively and efficiently even with traders and investors in the middle East.
They are offering a referral program where each user having an account on their exchange platform with unique referral code which can be shared with others. Users get 50% of the transaction fee, if an another user sign-up using their referral code.
CryptoSouk is an exchange platform built with the ultimate satisfaction of cryptocurrency traders and investors as the top priority. Digital trading on the platform would be made completely secure, fast and really simple without any form of complexity to accommodate new cryptocurrency traders while being of standard to experienced traders and investors as well. CryptoSouk factors in and capitalizes on offering high levels of liquidity, support in Arabic and adding native Dirham trading pairs which would invariably attract a huge number of local traders and investors.
VISION
The vision is to build the next generation digital asset exchange for traders of every skill level with the aim of making digital currency trading accessible to everyone. They are devoted to enhancing the customers' trading experiences with quick trade execution, fair pricing, world-class customer service, endless improvement and limitless creativity.
MARKETING PLAN
The marketing plan is to employ regional experience by directing localized unique digital marketing content via the most optimized channels as well as focusing on education in Arabic as simple yet effective content delivery is few and far between today. The appreciation of Arabic high context societies will contribute heavily in their mission to create a significant engaged community which forms the backbone of any crypto related product, project or venture.
In-line with industry-wide best practices for digital marketing, the marketing spend will be allocated to two distinct mediums:
Digital performance marketing channels
Offline marketing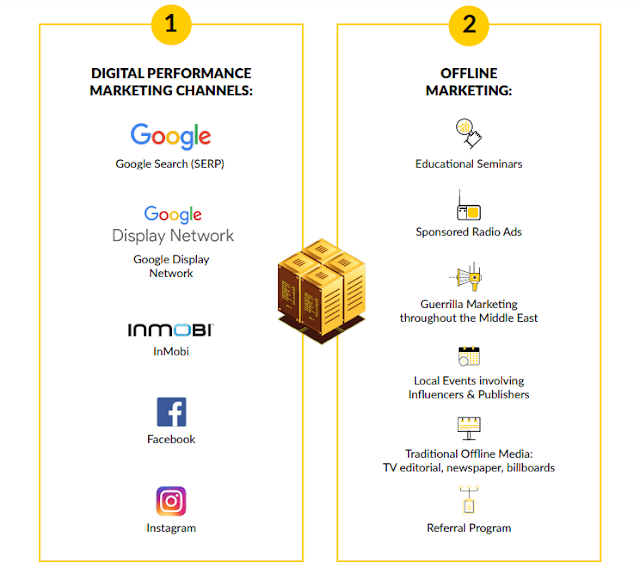 FEATURES OF CRYPTOSOUK
Multiple views including price chart, depth chart, order book and recent trades ticker.
58 available indicators including linear regression curves, moving averages and oscillators.
Ability to draw custom trendlines, pitchforks and more that scale and move with chart.
Ability to customize color and style of bars, borders, wicks, price lines, backgrounds and grid.

The technology is aimed at simplicity, security and reliability to support a wide range of features. Leading Transactional User Interface – CryptoSouk is a leading trading and financial technology company. They have built the best digital content exchange by focusing on the needs of professional traders and digital currency professionals.
They are committed to making digital currency transactions accessible, fast and completely secure.
Integration capabilities for KYC / AML, Bank / PSP
More than 20 order options including but not limited to; FILL or KILL, IOC, STOP, LIMIT, etc.
WHY CHOOSE CRYPTOSOUK?
On this platform has a reliability that is combined with rich features.You can enjoy the benefits of the best digital assets that focus on the needs of novice traders, professional traders, and digital currency experts. CryptoSouk is dedicated to making trading digital currencies accessible quickly and completely safe.
TOKEN SALE AND ICO DETAILS
The Crypto souk platform also has its own exchange coin, the SOUK Token, I am the transaction cost to the holder imagining the various discounts and incentives, the SOUK mark value will continue to increase. The token will be an ERC20 token on Ethereum called SOUK. We plan to raise a maximum of $10 million and a minimum of $1 million.
Token Details
Token Type : ERC20
Token Name : Souk
Token Ticker : Souk
Token Price : @ $0.50
Pre-Sale
Price: $0.375
25% Discount
Soft Cap – $1M
Launch Date – July 9th 2018
Duration – 30 Days
Main Sale
Price: $0.5
Hard Cap – $11M
Launch Date – August 22nd 2018
Duration – 30 Days
Token Distribution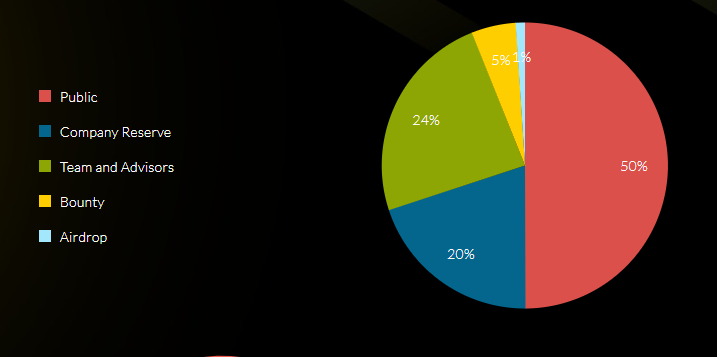 There will be 52,000,000 SOUK tokens created at $0.50 each. Assuming the Hard Cap is reached, the token distribution shall occur as per below: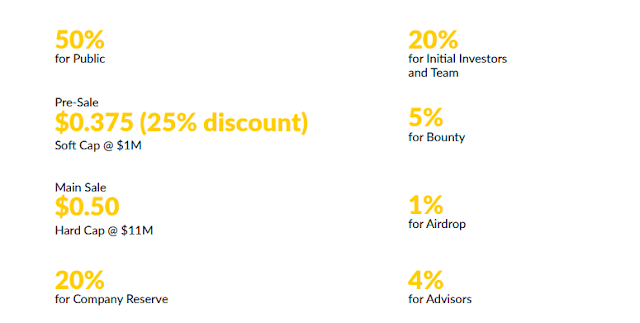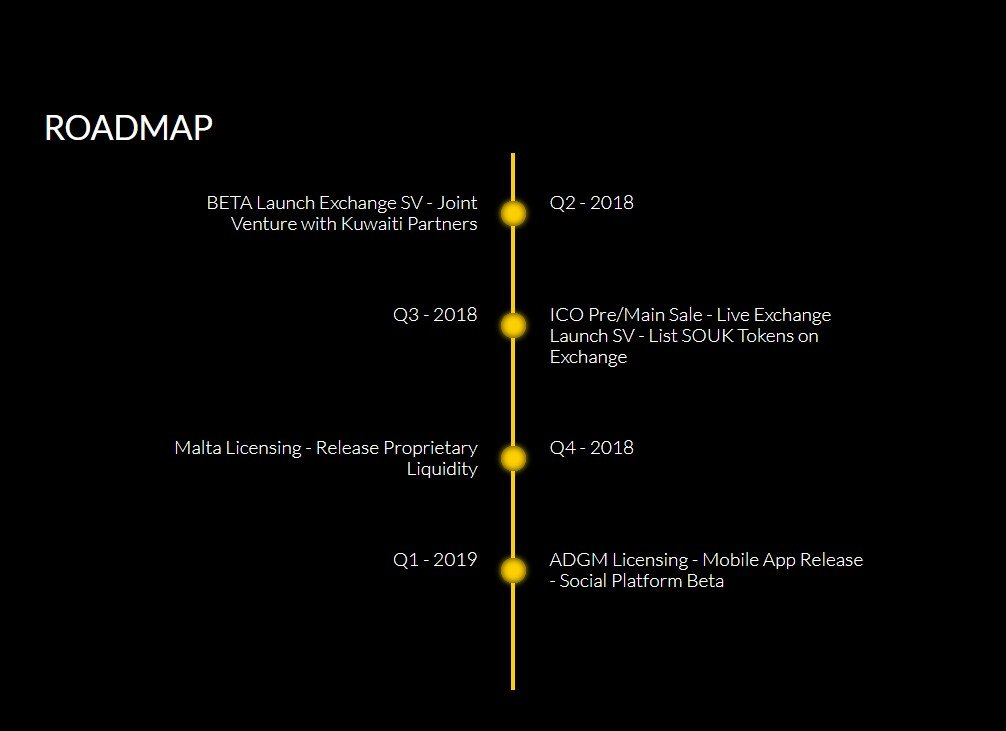 Q2 – 2018
BETA Launch Exchange – SV
Joint Venture with Kuwait Partners
Q3 – 2018
ICO Private Sale – Malta
LIVE Exchange Launch – SV
Launch SOUK Token on our Exchange
Open Listing of new Tokens
System Upgrade to permit fees paid in SOUK
Q4 – 2018
ICO Pre-sale (or Main sale)
Malta Crypto Exchange Licensing
Develop proprietary Liquidity
Q1 – 2019
ADGM FSRA OCAB Licensing
Release Mobile App
TEAM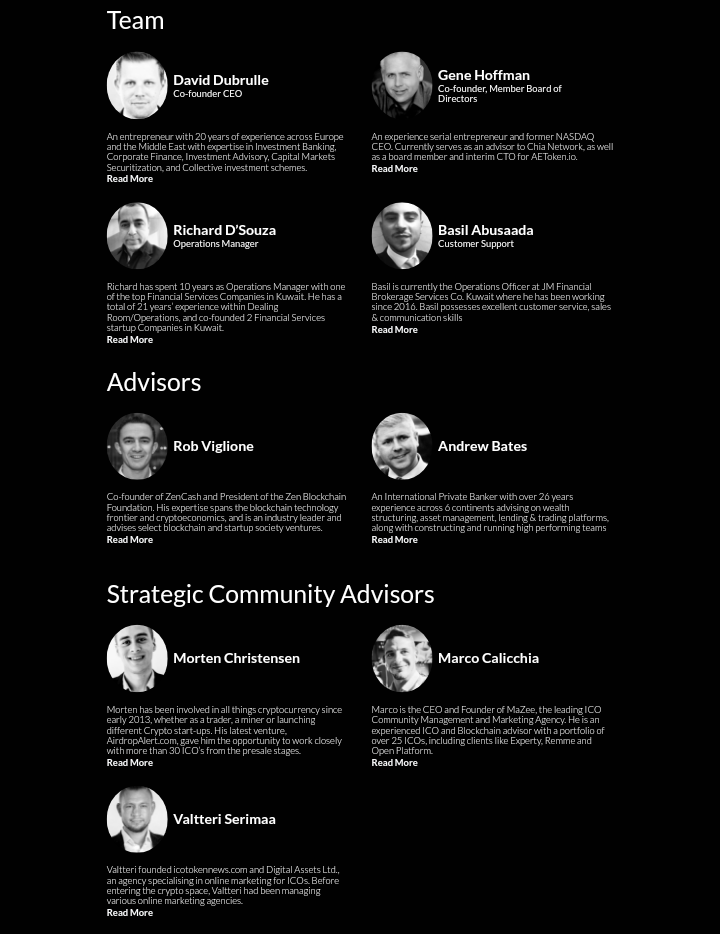 For more information, please visit:
WEBSITE: https://cryptosouk.io/en/ico
TELEGRAM: https://t.me/cryptosouk_community_en
WHITEPAPER: https://cryptosouk.io/user/themes/custom-theme/pdf/en/whitepaper.pdf
ANN THREAD: https://bitcointalk.org/index.php?topic=4515317
FACEBOOK: https://www.facebook.com/CryptoSouk.io
TWITTER: https://twitter.com/CryptoSouk
MEDIUM: https://medium.com/@cryptosouk
REDDIT: https://www.reddit.com/r/CryptoSouk/
LINKEDIN: https://www.linkedin.com/company/cryptosouk/
YOUTUBE: https://www.youtube.com/channel/UCLUcPnbxnzdyaeQzDxYyw1w/UCLUcPnbxnzdyaeQzDxYyw1w
INSTAGRAM: https://www.instagram.com/cryptosouk/
GITHUB: https://github.com/CryptoSouk
Author: JigaMola
Bitcointalk profile: https://bitcointalk.org/index.php?action=profile;u=1847143