CRYPTOSOUK: YOUR GATEWAY TO THE CRYPTO WORLD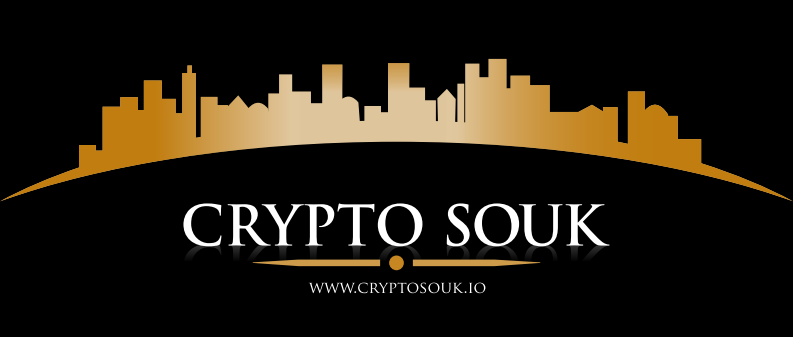 Crypto Souk have identified the market opportunity in having an active cryptocurrency exchange on the Middle East and the Arabic speaking countries, meeting their needs for a high secure exchange platform, local to the region, and able to communicate in their local language. For this, we have developed a team with global and regional trading experience, who can deliver our services in Arabic language and also not forgetting their basic needs like security and technical experts on the ecosystem. Our launched project offers trading in Ethereum, Bitcoin, Litecoin, Zcash, Monero and Dash with the intent to expand our customer base by promoting trading on these aforementioned coins.
Crypto Souk's exchange will be launched at the beginning of Q3 2018. Our exchange permits the loading of account by cryptocurrency or fiat payments, this gestures signifies one of our flexibility and ease of use. The company have future plans to continue adding trading support for other crypto assets to encourage more engagement and trading on the platform.
Apart from the flexibility of loading account with cryptocurrencies or fiat money, the diversity of trading pairs and crypto assets on our system and an outstanding touch of customer service in this region, we also believe it is an added competitive advantage that our team members have index knowledge of KYC/AML to provide a unique and frictionless experience for our users.
They've also designed a very rewarding Referral program aimed to generate wild growth, and be particularly appealing to anyone who can influence their inner circle and publicize Crypto Souk. This can be achieved when a user with an account on Crypto Souk shares their unique referral code to another user who signs-up using the referral code. The referee gets entitled to 50% of the transaction fee paid by their referral for an entire year.
Crypto Souk exchange have developed their own token known as the SOUK token. We plan to use our token as a thank you reward to our early supporters. People who buy the SOUK utility token will get discounts on trading fees and other costs if paid for in SOUK tokens. In the future when have made profit and increased the value of our token, we plan to repurchase the tokens in the market with a portion of our profits.
REFERRAL PROGRAM:
The Referrals section of Crypto Souk offers Traders the ability to invite new Traders to Crypto Souk in exchange for a portion of the Tokens generated by them. New users also receive a welcome bonus in SOUK Tokens for just joining Crypto Souk.
TOKEN DETAILS:

Token Type – ERC20
Token Name – Souk
Token Ticker – Souk
Token Price – @$0.50
TOKEN DISTRIBUTION: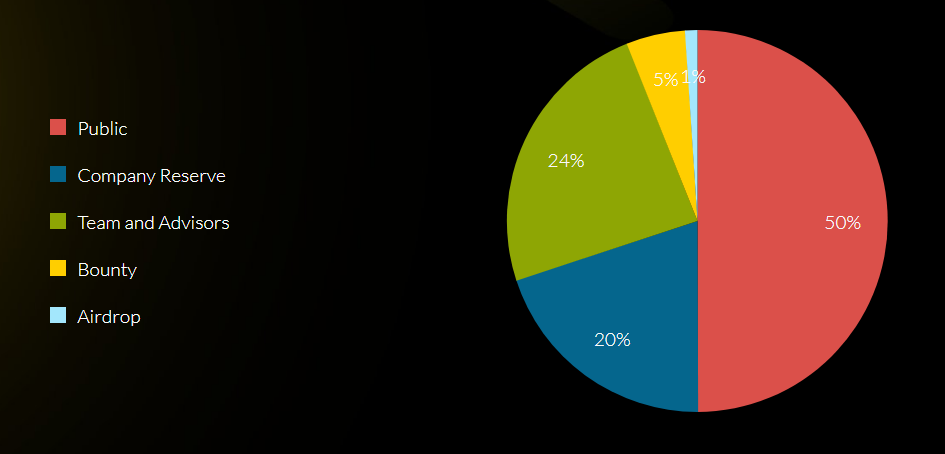 50% – Public
20% – Company Reserve
24% – Team and Advisors
5% – Bounty
1% – Airdrop
FUNDS ALLOCATION: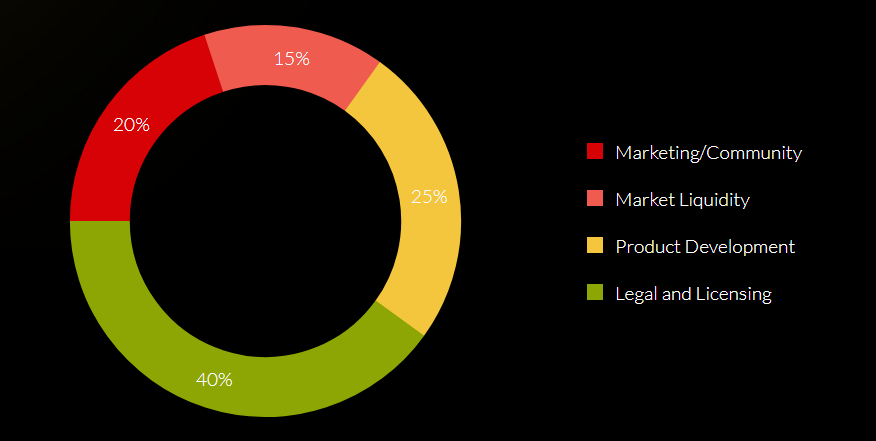 20% – Marketng/Community
15% – Market Liquidity
25% – Product Development
40% – Legal and Licensing
ROADMAP: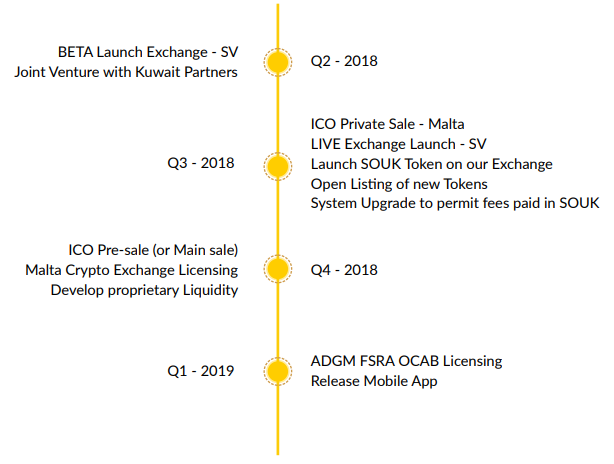 Q2 – 2018: BETA Launch Exchange – SV Joint Venture with Kuwait Partners
Q3 – 2018: ICO Private Sale – Malta LIVE Exchange Launch – SV Launch SOUK Token on our Exchange Open Listing of new Tokens System Upgrade to permit fees paid in SOUK
Q4 – 2018: ICO Pre-sale (or Main sale) Malta Crypto Exchange Licensing Develop proprietary Liquidity
Q1 – 2019: ADGM FSRA OCAB Licensing Release Mobile App
TEAM:
David Dubrulle – Co-Founder & CEO
Gene Hoffman – Co-Founder, Member Board of Directors
Richard D'souza – Operations Manager
Basil Abusaada – Operations Officer
ADVISORS:
Robert Viglione – Co-Founder of Zencash
Andrew Bates – International Private Banker
STRATEGIC COMMUNITY ADVISORS:
Morten Christensen
Marco Calicchia
Valtteri Serimaa
To conclude this, in line with Crypto Souk's vision, it is evident that Crypto Souk will build the next generation digital value exchange for traders, with the aim of making digital currency trading easily accessible to everyone. With quick trade execution, budget friendly pricing, a peaceful customer service and endless system improvements, Crypto Souk pledges to be devoted to enhancing customer's trading experiences. Read more and have a closer look at their detailed explanation of what they do. Follow their social media links also through these following links:
Website: https://cryptosouk.io/ico
Whitepaper: https://cryptosouk.io/pdf/whitepaper_v2.pdf
ANN Thread: https://bitcointalk.org/index.php?topic=4515317
Twitter: https://twitter.com/CryptoSouk
Facebook: http://fb.me/CryptoSouk.io
Medium: https://medium.com/@cryptosouk
Reddit: https://www.reddit.com/r/CryptoSouk/
BITCOINTALK USERNAME: thankyoulord
BITCOINTALK URL: https://bitcointalk.org/index.php?action=profile;u=2076086
WALLET ADDRESS: 0x2859DD117e5E186B2dec97b50012C66D0E7597Ad