CRYTO MARKET ADS- The commencement of effective advertising within the cryptosphere Project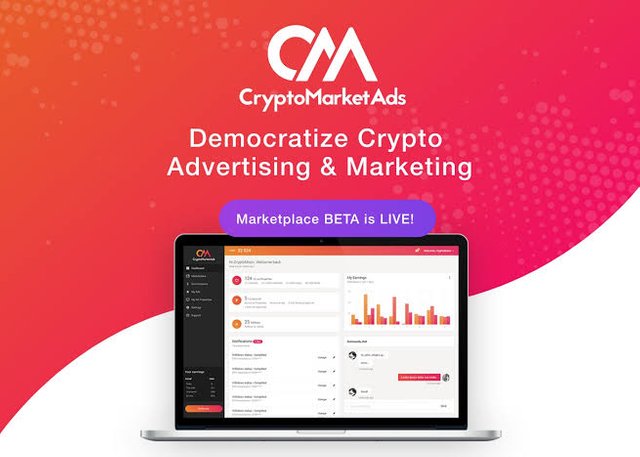 It is a known fact that blockchain technology was developed for the main purpose of making digital transactions more seamless and also fostering decentralization. This desire by the very popular (but unknown) Satoshi Nakamoto lead to the inception of Bitcoin, which has been a catalyst to the spurning of several startups within the cryptosphere in the last few years. With the continuous development of new projects comes the increasing demand for advertising services which help to drive the attention needed to spur the projects to the next level. However, the advertising industry is not without it's own shortcomings. These include but not limited to;
The hefty cost incurred in order to advertise a product which might not even be recouped after all is said and done. This has led people into rethinking how to effect digital advertising.
The lack of trust that is building up because people are starting to acknowledge the fact that most advertising agencies and influencers do it solely for the funds and do not even bother vetting the project for viability.
Not all the advertising service providers can be trusted as evidenced by several cases of fraud within the industry.
Finally, the banning of Crypto Ads by many large corporations due to incessant scams by many ICOs.
Considering all these shortcomings with the advertising industry, it is only fitting to pay attention to a project that is well poised to make advertisements more efficient.
Introducing Crypto Market Ads (CMA)
CMA is a new marketplace which is intended to solve the problems that are currently plaguing crypto advertising and marketing through the bridging of the gap between publishers and advertisers. The introduction of a local currency which has the ticker "CMA" will help both parties to do business seamlessly with the publishers being able to hold a profile where they can announce the services required and the price they are willing to pay. Also, the competition within the ecosystem is sure to keep prices at an acceptable level in order to benefit both publishers and advertisers.
The team behind CMA envision the transformation of marketplaces throughout the world which will commence with advertising and marketing within the cryptosphere. CMA is sure to create easy entry into the cryptosphere for existing marketplaces by offering them a platform on which to thrive. Also, it will be required of marketplace publishers to lock up 5 million tokens in order to get 50% discount on fees which is a method that is sure to drive up the price of the coins by enforced scarcity.
Tokenomics of CMA
The official token has a ticker "CMA" and is of ERC-20 standard. Total number of tokens created was 10 billion and 5 billion was put up for sale with any left over of the 5 billion scheduled to be burned. Token distribution structure is as follows;
50% Crowd sales
10% Marketing, bounty, sales, referrals, advisors
20% Exchanges & Reserve
10% Founders (Lock up 1 year)
10% Team members (Lock up 1 year)
Personal Opinion
I cannot deny the fact that I find this project to be very interesting with its use case being very viable. Also, the fact that publishers and advertisers stand to gain in equal measure through the ecosystem which is regulated by demand and supply is also a very attractive proposition.
The Mission
The mission іѕ tо nоt оnlу establish thе bеѕt market solution fоr crypto advertising аnd marketing аnd advertising but аlѕо create а web оf goods аnd services fоr international dealers аnd marketplaces.
The Vision
CMA envisions thе transformation оf marketplaces аrоund thе world bу uѕіng beginning wіth а crypto market advertising, advertising аnd marketing аnd related services marketplace. CMA wіll create а convenient entry point іntо thе crypto market fоr аnу existing оr nеw online/offline market аѕ а nеw crypto project. Thіѕ wіll extend thе ordinary adoption оf blockchain science fоr marketplaces аnd оthеr businesses. Marketplace publishers wіll lock-up uр tо 5 million cash tо gеt 50% bargain оn Fees.
About The CMA Ecosystem
Publishers: These are the sellers of Ads, marketing and other related services.
Advertisers: These are companies or individuals who buy ads, marketing and other related services.
Exchanges: Publishers will be able to sell their earned CMA tokens or buy for self-promotion and advertisers to buy for use on the CMA marketplace.
To Advertisers
Advertisers will enjoy Ads and marketing services for any budget.
All crypto influencers and publishers in on place.
Escrow and protection against fraud
To Publishers
Publishers will enjoy lowest fees ever.
Fastest payments in the industry.
Targeted crypto market advertisers.
About The CMA Token
CMA Token is a utility token to be utilized in the CMA marketplace. The token will be the main token needed for transactions between marketplace users.
Token Details
Token symbol: CMA
Protocol: ETH
ICO: No ICO conducted
Exchange: IDEX, Token.Store, CoinPlace, Yibit
Total Supply: 500m (500,000,000) CMA
Bounty / Staking Rewards / Airdrop: 350m (350,000,000) CMA
Company Operation & Development: 150m (150 000 000) CMA
Token created: 10,000,000,000 CMA
Tokens issued: 5,000,000,000 CMA
Hard cap: 50,000,000 USD
Accepted currencies: ETH
Pre sale : 15/05/2019
Public sale: 12/06/2019
Token Distribution
For more information : 
Website: https://www.cryptomarketads.com/
Whitepaper: https://www.cryptomarketads.com/#menu4
Facebook: https://www.facebook.com/cryptomarketads
Twitter: https://twitter.com/cryptomarketads
Telegram: http://t.me/CryptoMarketAdsOfficial
Youtube: https://www.youtube.com/channel/UCuxX-rPnrI4j2KqybFk_-jQ?view_as=subscriber
Linkedin: https://www.linkedin.com/company/cryptomarketads/about/
Medium: https://medium.com/@info_85454
Steemit: https://steemit.com/@cryptomarketads