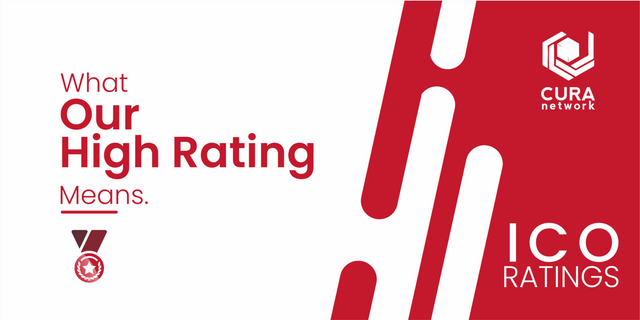 How Does The Cura Network Work?
Cura's mobile client application will provide all entities with access to the Cura blockchain network and its services.
Functionalities of the application include enabling users to manage their Cura NetworkIdentity, viewing their real-time health analytics, accessing numerous health applications, granting or denying requests on data access or even managing their payments or earnings in their crypto wallet.
Users of the app have to undergo the basic KYC process by providing their credentials and all the necessary information depending on the role they will on the platform. Once this process is complete, the platform will generate a private/public and a Cura Network Identity (CNID), which will be the user's unique identifier.
Cura has an Interplanetary File System (IPFS) that stores health records in a decentralized manner. Each time patient's records are updated; the system takes a snapshot of record and stores it in the storage smart contract on a blockchain. The snapshots have a time series pattern on the blockchain, which makes it possible to view the history of the patient's health data.



Cura is a blockchain based health system made up of entities that collaborate and share data amongst themselves in order to restore, promote, and maintain health in the world. By integrating blockchain technology, the Cura Network seeks to improve universal healthcare through its unified platform that powers a wide variety of health services.
The Cura Network will unite patients, providers, specialists, and application developers in a blockchain ecosystem that aims at making the healthcare industry and health transactions efficient, secure, reliable, and fast.
Data Access
Cura network features a request and approval system that ensures all entities have access to data. Patients have full ownership of their health data that can be distributed or shared with other authorized entities.
The patients have the authority to deny or grant other entities access to their full or partial health records. Third-party app developers, on the other hand, can use the Cura Network to acquire data for developing health service applications.
The Cura network is powered by the Cur cryptocurrency, which health specialists receive in exchange for the services they provide on the Cura blockchain while patients earn the cryptocurrency by participating in provider's research campaigns.
Benefits Of The Cura Network
For Patients
Full access to their health history and data
Complete ownership, security, and privacy of the patient's health data
Unique identity on the Cura Network
Earnings in the form of Cur cryptocurrency
For Specialist And Providers
Guaranteed payments for services rendered
Ability to collaborate with other colleagues from around the globe
Access to the patients' health records
Direct interaction with the patients reduces the research costs
For App Developers
Monetization of their applications through user subscription
Ability to integrate their health devices with the health data of users
Access to health statistics
For Medical Researchers
Access to the health data of patients will enable researchers and scientists to increase the accuracy of their research and findings.
Parameters Of The ICO
Token: Cur
Token Protocol: ERC20
Total token supply: 500,000,000
ICO date: 07 April — 24 June, 2019
Token supply during ICO: 30,000,000
Token price: 1 CUR = 0.45 USD
Accepted currencies: ETH, BTC, LTC, BCH
Soft Cap: 5,000,000 USD
Hard Cap: 15,000,000 USD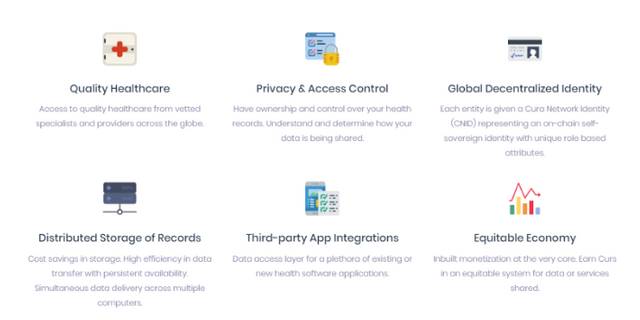 Official resources of the project Cura Network:
WEBSITE: https://curanetwork.co/
TELEGRAM: https://t.me/CuraNetworkPlatform
WHITEPAPER: https://curanetwork.co/whitepaper
ANN THREAD: https://bitcointalk.org/index.php?topic=5070046.msg47941881
FACEBOOK: https://www.facebook.com/curanetwork
TWITTER: https://twitter.com/curanetwork
MEDIUM: https://medium.com/cura-network
REDDIT: https://www.reddit.com/user/curanetwork
LINKEDIN: https://www.linkedin.com/company/curanetwork/
YOUTUBE: https://www.youtube.com/channel/UCr4xUHghM8p8fT2oa3Co2Sw
MY BITCOINTALK PROFILE LINK: