CYBERFM: REWARDING BOTH THE ARTISTS AND THE AUDIENCE
The blockchain has made a massive contribution to different industries of the world. This technology has helped many industries of the world to change from the centralized way of operation to a decentralized method that is fair and efficient.  This technology also played a functional role in the music industry by helping solve the various challenges faced in the industry. The music industry is a multimillion dollar company with different participants like artist, DJs, and producers. Music has brought many people together from different part of the world.  The mainstream channels are too decentralized and can be decentralized with the blockchain technology used by the CyberFm Radio platform. The Cyberfm will be changing the music industry for the artist on how they get paid and how their works get distributed. CyberFm Radio wants to make distribution efficient for the artist and provide a user-friendly application for all the users of the platform. CyberFm Radio intends to solve the issues faced by the upcoming and new artist in the music industry by decentralizing the whole process through the token used on the platform.
THE BENEFIT OF THE CYBERFM RADIO
1. Excellent Platform for artist
All the artist need to do is get their work registered on the platform to increase their exposure and recognition around the world. The music on the Cyberfm will have the opportunity of been streamed and listed to by the users of the platform. This will allow the upcoming artist have a stage to show their work at the same stage the top artist have their works distributed. Because of advancement in technology, the rate at which royalty is paid is been taking care by the token used on the Cyberfm platform.
Mobile Application
The application made available to all the users of the platform is called CyberFM app that can be downloaded by the ios and android users. This provides a users friendly interface for the participant of platform to download their best music and stream all forms of music without restrictions.
Payment System
The tokens used on the platform are a blockchain based type that is used for all the transactions on the platform. The two token utilized on the platform are listed below:
Mainstream for the underground (MFTU)
Cyber FM token (CYFM)
CYFM TOKENS
This token will be used for the royalty payment meant for artist in a transparent way. This will be used for all the transactions on the platform and payment royalties of the musician world from the different part of the globe.
Token Symbol: CYFM
Token Type: ERC-20
Decimal: 18
Total Supply: 100 Billion
This token is listed already and already listed on Ecex.exchange, Tokenjar.io and others exchanges in the digital currency market.
ROADMAPS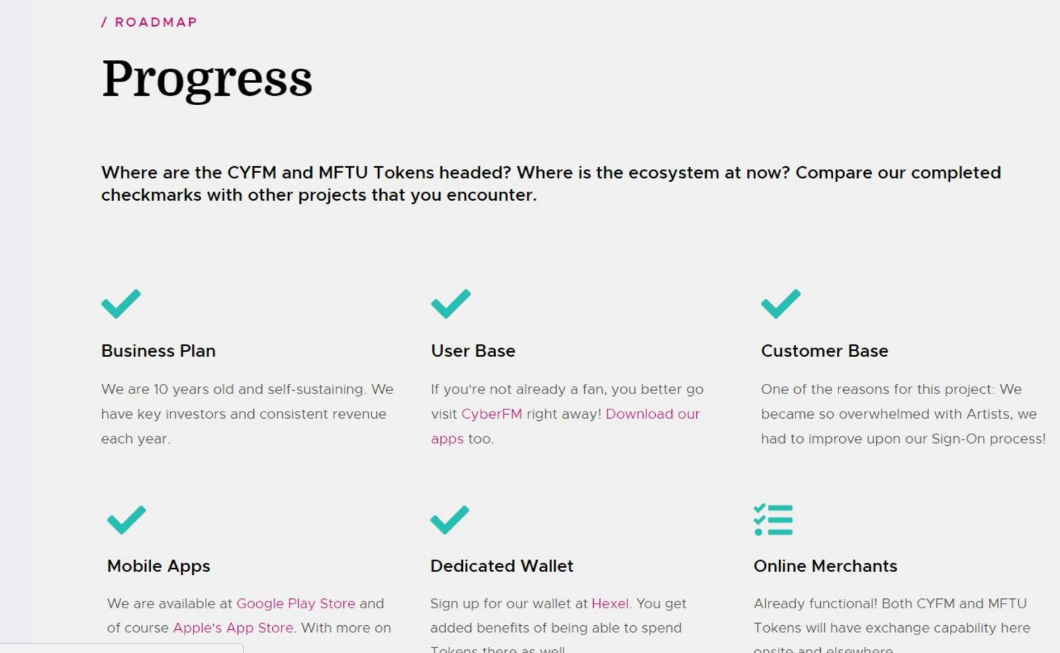 TEAM
CONCLUSION
The music industry is faced with various challenges today because the upcoming artists are not encouraged because they don't get to have their work promoted or sponsored which has made potential talents latent. The Cyber FM is providing a platform where the upcoming artists can get their works registered for free which gives them global exposure.  #CyberFM  #Investment #Cryptocurrency  #DistributedLedger #RadioOnline #CYFM
FOR MORE INFORMATION:
Website: https://www.cyber-fm.com/?utm_source=bounty
Whitepaper: https://mftu.net/site/whitepaper/
Telegram: https://t.me/mftudotnet
Linkedin: https://www.linkedin.com/company/cyber-fm
Facebook: https://www.facebook.com/cyberfm
Twitter: https://twitter.com/cyber_fm
Reddit: https://reddit.com/r/cyberfm
AUTHOR'S DETAILS
Bitcointalk Username: Bountyfit
Telegram: @odunayoipaye
Bitcointalk Profile: https://bitcointalk.org/index.php?action=profile;u=2256159
Ethereum Wallet: 0x7e45cfC9613022C736C6D821Bdd486588A5242d0