DABANKING
DABANKING – Decentralized Game Platform

One of the first DABANKING products from DABANKING is the FomoJackpot lottery program, based on blockchain technology along with the Dapp Game, which is collectively called FomoGame, which helps participants not only have fun after a tiring day, but at the same time easily increase their income .
FomoGame is an independent DApp system in the DABANKING ecosystem, built on the Blockchain Ethereum.
This contributes to absolute justice and transparency for users, thereby helping users to have extensive experience in all applications in the DABANKING ecosystem.
FomoJackpot gives players the chance to win a very small amount, 0.002 ETH per ticket.
The blockchain technology is a discovery that creates a decentralized network based on peer-to-peer network protocols, which allows each computer on the network to be a server, which differs significantly from traditional centralized networks.
2013 marked an important milestone for a breakthrough in blockchain technology development: the birth of the Ethereum (ETH) platform, created by Vitalik Buterin, a Russian developer.
He succeeded in bringing Blockchain technology to a new level by integrating Smart Contracts into the current Blockchain protocol, now known as Blockchain 2.0 or the Blockchain Utility.
 Blockchain technology   continues to be introduced to various segments of the economy and traditional markets of all existing industries. The game industry is also not left unattended, the blockchain can bring it to a completely new level of development. At present, the game industry has many problems, the solution is that the traditional methods that exist today are not possible and only blockchain that can eliminate all existing problems. These problems have prompted the DABANKING project  developers  to create their own unique game ecosystem on  Dapp  , offering the world a more efficient game market with the best products.
Valuable features of the game on Blockchain Technology
It tracks and authenticates ownership of types of digital assets.

It easily exchanges digital assets with high liquidity.

This reduces the cost of intermediaries

This integrates the blockchain into the game, thus increasing competition against local games.

This secures the payment system based on the blockchain.
To use company services you must have:
Metamask or Trustwallet on your device;

Ethereum in one of these wallets;

Go to the

Dabanking.io

website 

 and start evaluating the proposed product.
In the initial stages,  DABANKING  will be based on the Ethereum blockchain to scale and popularize its network. The internal DAB ecosystem tokens can also be mined at POC.
Add tokens
DAB  is the main coin of the DABANKING ecosystem   , which aims to develop ecosystems. The total emission of tokens is 200 million.
The only possible way to obtain a DAB token is to use the Mining Wallet to mine.
Developers also cannot have these tokens as they usually do, they also have to use mining wallets along with all other ecosystem users.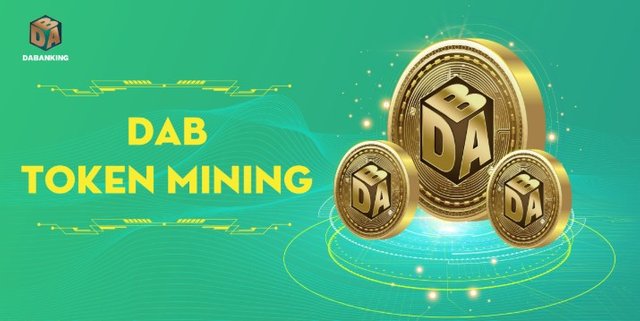 How to mine DAB tokens
For mining, users need to buy a Treasury Package for a minimum amount of $ 200 for ETH. The maximum package will be charged a user fee of $ 5,000.
Three types of packages have been developed for the use of ecosystem tokens:
Gold wallet; 

Green wallet;

Dompet mining.



When you activate your Gold Wallet, users will be added 800% of the total number of purchases.
Green wallet increases the balance by 200% for the first purchase, with the next purchase 100% will be added.
Consider a simple example: say a user buys a $ 500 package, he will have $ 4,000 in a Gold wallet and $ 1,000 in a green wallet in the case of a one-time purchase.
All of this is very profitable, because 0.5% of the total deposit of the Green Wallet will flow to the mining wallet every day. As a result, 15% of token storage was released in a month, a pretty good number came out a year, which was tens of times more than the traditional 8% prepared from all of us, our beloved Sberbank and other centralized banks. Do you feel the difference in centralized devices from decentralization? I think in the future everyone will understand that ordinary physical banks are very ungrateful and will begin to manage their finances more competently, receive more revenue more than companies like Dabanking.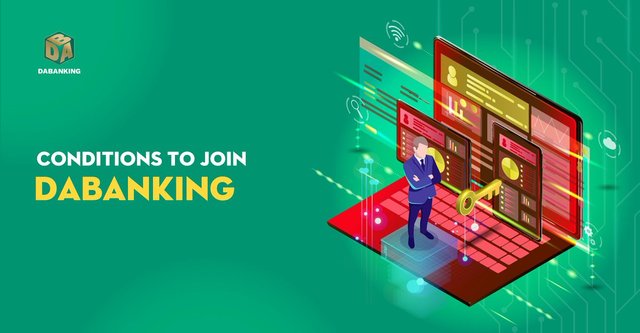 The more deposits you make to the Green Wallet, the more daily income will be stored in your mining wallet. Users can receive up to 1000% of profits from the total amount of funds invested.
As soon as funds appear in your mining wallet, you can use them as material for DAB ecosystem tokens in the R1 ratio. This indicator varies depending on the course in real time thanks to the innovative DABANKING Bot AI technology, which is calculated using a special complex formula, which focuses on many indicators, such as ETH costs, outstanding DAB offers, number of ecosystem participants.
The total amount of ETH used to purchase packages is frozen in the smart contract, so that no one can pass the system in any way. Even the developers themselves will not be able to do this, so you can guarantee the full security of the funds made and maximum security for users.
The only way to get your ETH reinvested from a guarantee fund is to transfer the DAB ecosystem token back to the smart contract.
DABANKING  is a unique project that is able to put the gaming industry a step higher, making investment in cryptocurrency a profitable and safe method for every inhabitant of the planet, which will have a positive impact on the entire blockchain industry. This project has a high ranking, reliable partners, and a highly qualified team that will undoubtedly bring everything from scratch. At the end of this year, new games will be integrated into the platform, the platform will continue to be improved and adapted to the needs of its users. In general, this project is quite interesting, for more detailed information you can follow the link below.
Roadmap
DABANKING for long-term development, bringing entertainment services to a decentralized application platform, providing back power to users. The development team has come up with a long-term strategy to make DABANKING a strong ecosystem that allows millions of customers to improve our services.