DABANKING : AN INNOVATIVE AND DECENTRALIZED GAMING PLATFORM .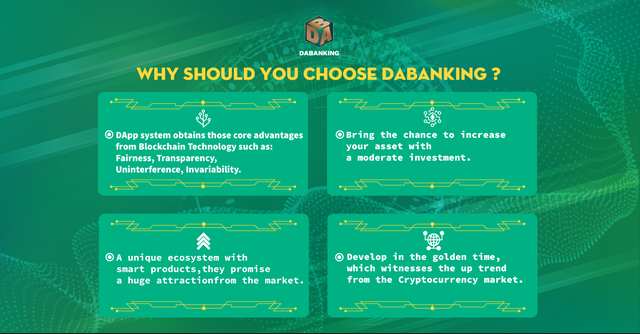 Hello esteemed readers, in this article I shall be introducing you to an innovative gaming project which I have come across on the blockchain. I am referring to DABANKING . It's really interesting and exciting to realize that you can earn some good money while having fun playing Games on DAbANKING platform.
Are you a crypto miner? Game developer or a crypto enthusiast? Then get excited because DAbanking platform is designed for you.
For Games developers, DABANKING platform is the right platform that provides them the opportunity to develop Decentralized Gaming Applications that is transparent trusted and fair enough for users via blockchachain technology. And for crypto enthusiasts, miners and game lovers DABANKING platform is the best choice you can ever think of.
In trying to compare the traditional gaming systems to DABANKINg I found out that we were in the dark, this is because the traditional gaming platforms were neither transparent, trusted, safe nor secure. But DABANKING Decentralized Gaming APP being designed on the blockchain comes with these unique features of transparency, trust, safety, security, Decentralization alongside a user friendly interface to enhance the experience of users.
WHY YOU NEED TO BE PART OF DABANKING COMMUNITY
Being part of DABANKING community comes with lots of benefits, this is because as a user you will have the opportunity to play different games on the platform and earn some good money. Some of the Games on DABANKING platform include:
FOMO JACKPOT: in this Game, everyone is a winner, you may ask how? the reason is because when you play jackpot on DABANKING platform , whether you win or not, you earn some tokens just for participating .
In the traditional Gaming platform, it is always difficult to find out the who owns a particular asset, but with DABANKING being created on the blockchain with Ethereum smart contract, users are able to trace and authenticate every genuine owner of any asset thereby eradicating the issue of fraud from the system.
I am sure no one will see DABANKING, enjoy the unique experience and will want to continue with the traditional gaming platforms, rather a lot of people will embrace DABANKING Gaming platform due to its innovative and interesting features that generates unlimited fun and money to users.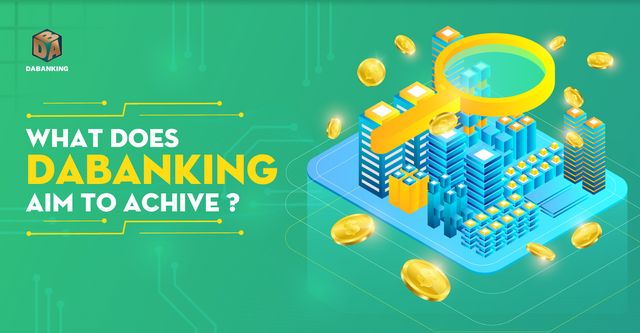 THE RULES AND BENEFITS OF PLAYING FOMOGAMES ON DABANKING PLATFORM
Anyone who wants to play the game is meant to buy a ticket which will enable him to play and win; winning here depends partly on how fast a user buys the ticket and partly on how much ticket the user is buying. With a minimum amount of 0.002 ETH, each payer can win as much as 650% the amount he plays with. When playing FOMOGAME, a player has the opportunity of win from four different categories of either Daimondd, Rubby , Gold or silver chest . Unlike other traditional gaming platforms, on DABANKING Fomogame , a player can use one ticket and be able to win a lot of prices. This is one of the reasons DABANKING is so special.
DABANKING ecosystem has DAA token as a utility token which is used in running the platform. Although players can either use ETH to play the Games or use the DAA token, whichever way the payer still earns for playing.
Apart from winning some Eth while playing games, users can also earn some Eth every two weeks just by holding some DAA tokens. The amount of Eth a user earns is dependent on the amount of DAA tokens, he holds in his wallet for the two weeks. I believe no one will want to miss this great opportunity of earning passive income in Eth that is why I am delighted to present DABANKING to my readers around the globe.
I am sure you will want to know more about this interesting project , please use the links below ;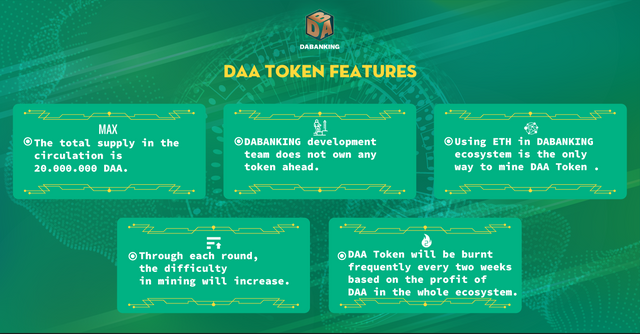 Website: https://dabanking.io/
Whitepaper: http://dabanking.io/static/whitepaper.pdf
Discord: https://discordapp.com/invite/uqfMjYV
Telegram: https://t.me/DABANKINGOFFICIAL
Youtube: http://bit.ly/2VYtVOV
Medium: https://medium.com/@dabanking.io
Facebook: https://www.facebook.com/dabanking.io/
Twitter: https://twitter.com/Dabanking_io
raque
0xbbaDDeA682f91F3F293a99525C0D22CbcC3fD4a5
https://bitcointalk.org/index.php?action=profile;u=1536160