DABANKING: Decentralized Gaming platform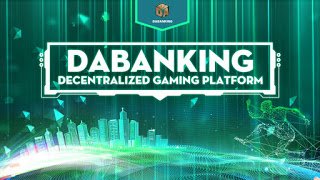 Hello everyone, after all this time I have not updated my writing on a review of a new blockchain based project, this time I will inform you of a new project that I think is interesting and certainly provides new income potential for us all. Previously as a reminder that blockchain technology has gone through more than 10 years of travel with various developments and challenges that emerged from various angles. Starting with its emergence with various preparations and strong cooperation between experts to its development. What becomes the starting point for rapid development is in 2017. Where at that time there were many emerging blockchain based applications (Dapp) which became a milestone in the overall development of the ecosystem in the blockchain.
Continuing in 2019, we are currently describing the results of the development of applications that are able to survive with their blockchain based application products and the emergence of new projects that indicate that the adoption of blockchain technology continues to run and develop as a form of development and transition to the era of digitalization . Although on the way there were obstacles that had lowered the level of public trust, it turned out that there was only a small amount of influence and this ecosystem continued to grow. This indicates that blockchain technology is a future technology that will become part of the digital era. In this year various sectors of life have been digitalized and many projects have tried their luck by integrating blockchain technology on their projects.
This time I will discuss a project called DABANKING that is running and has begun to operate with a focus on products in the entertainment sector. What and how do they offer products? See below.
One of the first DABANKING products that has been running is the Fomo Jackpot lottery which is of course blockchain based, hereinafter referred to as Fomo Game. The gaming and gambling sector is an industry with hundreds of dollars generated each year. It is inevitable that this sector has experienced very rapid development and has followed digitalization and has become a very large and wide opportunity to take part in it as is the decision of the team behind the DABANKING project. Fomo This game is built on Ethereum's blockchain infrastructure as the start of their service before they finally build their own blockchain infrastructure.
To join and enjoy their services is very easy. Simply prepare some ETH stored on Metamask on the computer or Wallet Trust on your cellphone, then you visit their website https://dabanking.io/ , create an account there, and you are ready to play while earning additional income with the game. As a preliminary note that they do not hold ICO, IEO or other similar programs that sell their tokens. The only way to get their tokens is to mine which is very complete way explained on their blog HERE. Their own token is called the DAB token with a total inventory of 200 million DAB tokens. There are also DAA tokens which only have a supply of 20 million and can only be mined. Everything is very complete explained on the link.
I feel that I have enough information from me about the DABANKING project this time. Look forward to further discussion about this project in my next article. For more information you can follow and visit their link below. May be useful…….
SEND REGARDS FOR SUCCESS:
WEBSITE  whitepaper  Telegram  FACEBOOK  TWITTER  Discord  ANN THREAD
Autohor : jeaniever rahardian
Profil : https://bitcointalk.org/index.php?action=profile;u=2447510
ETH addres : 0x42836bf737eC833228344f0841C3bD14f4D67643