DAGO mining

DAGO mining
We produce energy from renewable sources to use it for mining and the blockchain.
GREEN ENERGY
We produce renewable green energy with photovoltaics and CSP with heat storage, we are operative 24/7.
NEW TECHNOLOGY
Green energy, and new asic boards with immersion cooling, make us highly profitable.
EXSTREME SCALABILITY
We are highly scalable, we can install photovoltaic system and mining farm in every part of the world, the sun shines everywhere.
Why use Green Energy? How do we make Mining more profitable?
To date, 80% of the energy used for extraction is produced by coal-fired power plants (China, Russia …), also the Blockchain works with that energy, pollution deriving from miming is disastrous for the environment and the climate… Mining is very profitable, if done in the right way, using new technologies. Dago Mining can install its highly scalable and low-cost PV power plants worldwide. There are renewable energy resources in every nation, they can be used to reduce harmful emissions of greenhouse gases. Hydroelectric, geothermal and solar plants are possible and at affordable costs.
What makes us highly profitable: Green energy produced by our own power stations and ASIC technology with immersion cooling.
1. GREEN ENERGY
Team members have collaborated for years in the construction and maintenance of power plants for leading companies in the sector. We know what to do and how to create our plants.
2. NEW TECHNOLOGY
We have the possibility to choose among the most efficient components on the market with a high renewal speed at low costs. Immersion cooling and the use of renewable energy combined with accumulators make us independent and highly remunerative.
3. ACCUMULATION BATTERIES
On the market there are storage systems that allow storing the energy produced in excess by the photovoltaic systems and consume it during the night, or when the plant isn't producing. They are designed to maximize self-consumption, thus increasing the savings on energy costs.
Roadmap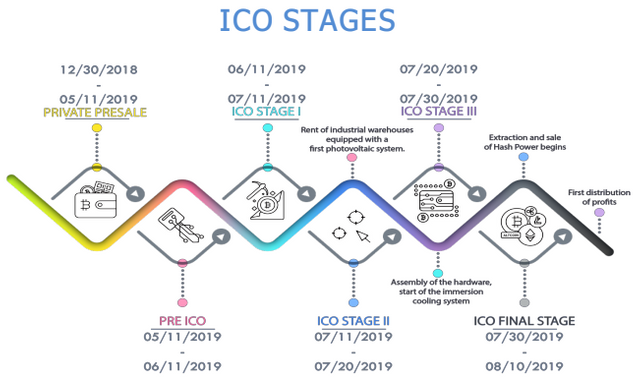 Our Team
Dago-mining is a start-up made up of entrepreneurs with a common passion for cryptocurrencies and ecology. Some team members and partners:
Valter Marelli
CEO – Director
Entrepreneur, founder and CEO of Dago Fin-Tech Corporation has launched several activities over the years and for 11 years has led a team involved in the maintenance and installation of power plants. Passionate about Crypto currencies and technology behind them.
Fabrizio Saltori
Logistics and Infrastructures Manager
Founder, entrepreneur in the field of extraction, processing and trade of marble. Founder of e-commerce and network marketing companies, passionate about Crypto currencies and technology behind them.
Mary Jo Marelli
Graphic Designer
Founder, web design expert, website programmer, she collaborates with her team in the launch of the ICO.
Patrizia Mereu
Video Designer
Founder, entrepreneur, expert in graphics and video, she has collaborated in the creation of several important network marketing structures, collaborating with video-graphics teams.
Raffaella Arcelli
Human Resources Manager
Founder, entrepreneur, expert in human resources management, she collaborates in various projects with Valter.
Giorgio D'Amico
CFO
Accountant and Trust Advisor with extensive experience in Private Clients Advisory Specialties: Wealth Management Estate Planning Private Investment Structuring Cryptocurrencies and digital assets.