DAGT Makes Your Digital Assets Fly
What is DAGT project?
DAGT, short for the Digital Assets Guarantee Token (www.dagt.io), is a digital asset collateralization credit platform built on Ethereum and smart contract technologies. Founded by Singapore's non-profit Foundation (GRANDDREAM), DAGT aims to utilize blockchain technology to build a transparent, efficient and distributed guarantee system which makes digital assets flow quickly. Throughout the ecosystem, credit users can pay for credit service fees by using the "DAGT" or other digital assets, so as to obtain the financial services provided by the financial institutions that the DAGT project cooperates with.
Blockchain technology is gaining grounds in recent times as it is used in several fields for specific reasons. It is changing the world globally and also gives room for innovative ideas giving us an insight of what the future might look like with blockchain. We can see industries and major business owners adapting to the new trend of blockchain technology. The good thing about it is that, not up to 2% of the world has gotten involved with blockchain technology; this means there is still lots of space to accommodate non-technical users.
One of the main reasons for the creation of DAGT platform is to utilize blockchain technology to develop an adequate structure that can accommodate the flow of digital assets without hindrances but with transparency and efficiency.
The occurrence of several digital data of valuable assets can be termed Digital Assets. Digital Assets are decentralized P2P cryptocurrency. We all know that the environments on which cryptocurrencies operate are quite different as they are not centralized. The creation and allocation of these currencies, either bitcoin, ethereum and others are not hindered by third parties.
Blockchain and Digital Assets work hand in hand. You can say that they are directly proportional to each other. The adoption of blockchain technology is spreading at a comforting rate and with that, the use and demand for digital assets follows. How does DAGT come in? DAGT is ready to create the world's first decentralized digital asset platform.
How Blockchain Technology Helps This Project
There are several limitations to the flow of Digital Assets currently. Because of this reason, Blockchain technology is employed to by-pass these limitations. Some sort of KYC procedures and Identity verifications are been carried out to credit users. This makes the whole process not transparent, inadequate and inefficient. Blockchain Technology can help in designing several models which can eradicate the barriers of this whole process and build trust among credit links and users.
DAGT will use this Blockchain technology to create a less complex system, one with efficiency and less expensive for users. Lending cost without blockchain is on the high side, DAGT is going to find a way to make this lending cost for credit users, low. This builds trust between operators and DAGT, hence; reduce borrowing cost and the complexity that surrounds the whole credit acquisition.
It is important for many business entities, both for legal entities and individuals, to have the scope of financial transactions such as loans. This is a type of financial security – loans issued by banks or other lending institutions based on urgent principles, payments and repayments.
A party that receives targeted financing immediately with terms of payment at an interest rate or commission is still called the Borrower. Organizations (banks or legal entities or other natural persons) issue funds under this agreement are called Lenders.
The application of Blockchain technology can not be overemphasized because it can be used in some institutions, DAGT is the world's first digital asset credit platform.
How Blockchain Technologies Helped This Project
There are some limitations to the current Digital Asset stream. For this reason, Blockchain technology is used to bypass these constraints. Some KYC procedures and Identity verification have been performed for credit users. This makes the whole process not transparent, inadequate and inefficient. Blockchain technology can help in designing some models that can remove barriers from this entire process and build trust between credit and user links.
DAGT will use this Blockchain technology to create less complex systems, one with efficiency and less costly for users. The cost of borrowing without blockchain is on the high side, DAGT will find a way to make this loan cost for credit users low. This builds trust between operators and DAGT, therefore; reducing borrowing costs and the complexity surrounding all credit acquisitions.
For the functioning of this system, a number of algorithms for
participants' actions in credit relations have been developed. For example, to get a loan, the following order is provided:
 Applies to accredited credit institutions for cash on loan terms.
  Submit data for smart contract (details of payment for fund transfer if there is a positive decision to receive loan).
Provide other credit information conducive to the adoption of a positive decision at the end of the loan agreement.
 Decision on the issuance of credit by an authorized credit agency cooperates with DAGT and issuance of amounts in the Blockchain system.
Gradual repayment of loans and interest by the Borrower.
Full payment of loan and interest under loan agreement, service fee, application of DAGT token in Ethereum ecosystem.
DAGT STRUCTURE SYSTEM
There are several DAGT structure modules that include Ethereum, smart contracts, DAPP, Oracle, TPGS, and DAAD.
-DAPP: Provides web-based user functionality.
-ORACLE: This is where we have an Oracle machine service that provides a data source and is supported by the DAGT platform.
-TPGS: TPGS holds digital assets in Blockchain smart contracts and increases registration, loan promises, and credit services.
-DAAD (Digital Asset Intelligence Trading System): It combines smart, open and transparent management contracts from product promises that link automated trading systems to third-party digital asset trading.
-Data and API services.
The process that must be done by C-side digital asset investors on the DAGT platform to obtain liquidity from their digital assets: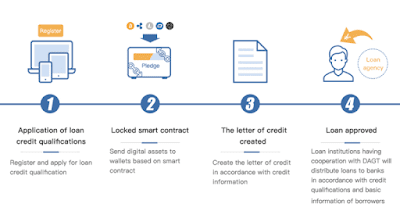 STEP 1. Credit applications
Register and apply for loan credit qualification
STEP 2. Credit information
Users must enter their credit information
STEP 3. Lock the smart contract
Send digital assets to the wallet under smart contracts
SETP 4. Letter of credit made and loan approved
DAGT creates letters of credit, and letters that comply with the letter B approve the loan. Credit agencies that cooperate with DAGT will distribute loans to banks in accordance with credit qualifications and basic information.
First, the advantages for C-side digital investors:
Increase fund liquidity. Ensure that certain digital assets can obtain funding from B-side compliance lending agents and increase the liquidity of individual funds and the value of digital assets used for investment, financial management, daily consumption or travel.
Enhance the security of digital assets. "Blockchain +", as the underlying technical structure of fintech, realizes the centralization of credit verification, non-destructive transaction data, capital circulation as well as transparent financial and transparent transactions.
Increase long-term stability and security of digital assets (avoid forcing close positions from the exchange). When using leverage to invest in a digital exchange, you may be forced to close your position due to a big surprise in the price of your digital assets, non-fulfillment of your additional bond obligations, policy lapses, or temporary changes in trading rules. The DAGT platform can help you avoid these losses. DAGT provides funding services to digital asset investors with a lower digital asset / liability ratio, increasing investor confidence in the risk of large market price shocks. Meanwhile, in accordance with investor needs, DAGT can immediately conduct currency extraction operations to ensure the stability and security of long-term digital asset ownership.
Second, the advantages of DAGT token holders:
Value-added benefits: When DAGT is listed on the exchange, you can get some value-added benefits.
Dividend Income: In the DAGT project operations process, dividend income will be distributed in accordance with certain proportions and time.
Fund service: DAGT tokens are valuable in their own right. Users pay for credit facilities through the use of DAGT tokens for funding services provided by financial institutions that adhere to the DAGT project. (There are already some CFL partners as of now).
The Technology of DAGT
The largest component of the Blockchain-based DAGT platform is the DAGT Token. These tokens are created and organized for the purpose of the platform so as to provide positive benefits to all users. This token is designed to be very safe, decentralized, and open using the ERC-20 standard compatible with Ethereum.
DAGT tokens can be used to pay borrowing costs, in accordance with the applicable agreement. This token operates as an exchange unit within the platform, so the ecosystem relies heavily on this token. The goal of creating a DAGT token is to provide security in payments and transactions. This security is guaranteed by a smart contract composed of cryptographic algorithms in accordance with the standard Ethereum blockchain.
DAGT Token is already technology in it. Then at the end of 2018, the system will run smoothly and lending can be done. It was began to be developed and verified since last December 2017. Then the developer team launched this token in version 1.0 in January 2018. Token re-developed and launched its latest version in mid 2018 tomorrow. Then smart contract will be optimized to be better with development.
Product Introduction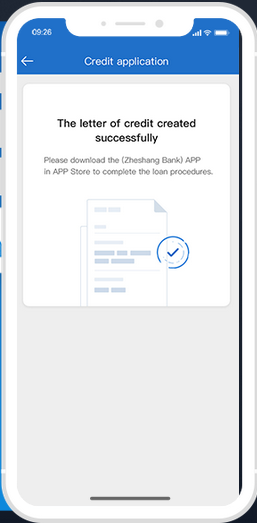 1. Credit Application
Register member account and apply credit application
STEP 2. Enter credit information
Credit users enter credit information
STEP 3. Lock smart contract
Continue digital asset pledge to smart contracting framework
STEP 4. Give Letter to Create Loan Problem
Grant Letter for Creating a Grant Loan: DAGT Co-operative Loan Institution provides loan funds to bank accounts based on credit information and audits basic information of creditors.
Fund Allocation

10% Marketing (10 Million DAGT)
20% Pre-sale Purchasers And public sale (20 Million DAGT)
40% Security Deposit (40 Million DAGT)
10% Founding And Developmetn team (10 Million DAGT)
20% Foundation (20 Million DAGT)
Total Supply: 100 Million DAGT
Token Symbol: DAGT
Accepted Currency: ETH and BTC
Roadmap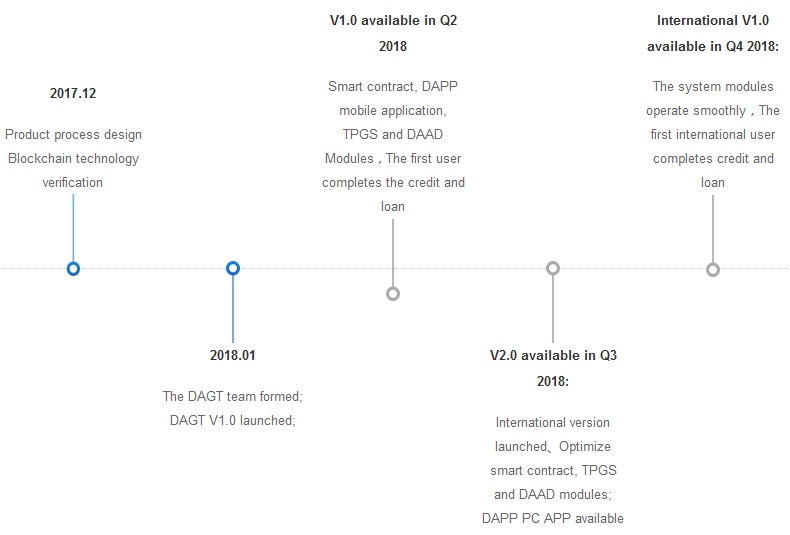 Visit DAGT on
Website: https://www.dagt.io/
Whitepaper: https://www.dagt.io/pdf/dagt_en.pdf
Twitter: https://twitter.com/DAGTofficial
Facebook: https://www.facebook.com/DAGTofficial/
Reddit: https://www.reddit.com/user/DAGTofficial
GITHUB: https://github.com/GRANDDREAM/crowdsale
Telegram: https://t.me/DAGTofficial
Youtube: https://www.youtube.com/channel/UC8FAmhZT7Rx8dS8mSDIDfeA
BitcoinTalk Profile Link: https://bitcointalk.org/index.php?action=profile;u=1776393
Ethereum Address: 0x0bdF15D19B1c37f55E36B82590DD49958439d2F9