DataBlockChain.io – A revolutionary data platform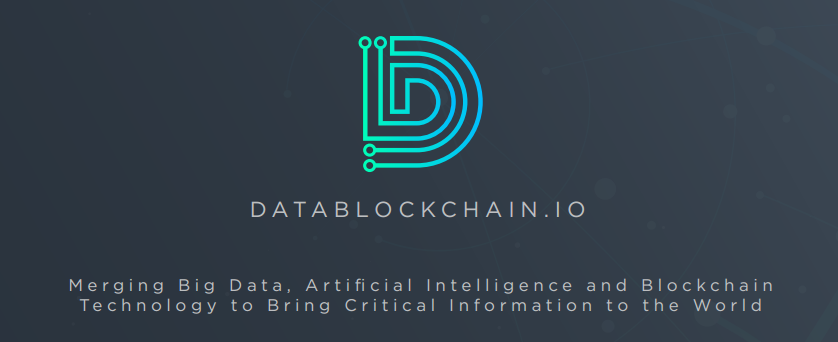 The Fever about cryptocurrency is increasing, people have heard about it, and more and more people want to find more about it, and find a way to be a part of it. When blockchain technology came, so many things changed, for better, we say. So many businesses have improved, so many companies have started using crypto currencies in their work. The new ideas are coming every day. People want to invest in the new projects. We have the biggest tool in the world, and it is called the Internet. The internet is an enormous base of information where we can do anything. Internet has connected the entire world. One of these projects is DataBlockChain
WHAT IS DATABLOCKCHAIN?
DataBlockChain.io is a revolutionary data platform that stands to disrupt the way that companies and individuals gather premium data. Our product will democratize data, making it more readily available and less expensive than the current methods of data gathering and vetting. The result is that clients can access specific data sets in a cost-effective and transparent way, collecting exactly what they need without paying for extraneous data."
Datablockchain will manage and help monetize their data, helping those data partners reach a wider global audience of potential customers. When a customer places an order for a Datablockchain that uses data from data partners, Datablockchain and a data partner will receive a percentage of the data that was acquired. The Datablockchain approach simplifies and maximizes profits for all parties involved.
"It is a smart data platform built on blockchain technology that provides transparency and security. It uses artificial intelligence to analyze billions of records and provide users with the exact information they need. Through the smart engine it created, data analysis only takes seconds while ensuring the accuracy of data gathered
DataBlockchain.io will combine their own data with many of the world's largest databases from government agencies, industry data, voting records and business data, estate data, credit Bureau data, etc., to create a wide variety of datasets for individuals and businesses seeking to attract and retain customers.Datablockchain.io is a project based on the latest data collection platform. The time spent on data acquisition and processing will be reduced by several times. Effective methods of working with databases, intuitive interface of sorting and ordering will be developed. In a word, all for the convenience of the user!
Datablockchain provides a reliable interface between users and data sources. Datablockchain will create a focused solution that eliminates the need for multiple data providers, brokers and brokers who create inefficiencies in a given market. Backend systems will provide complete confidence in the quality of data for the end user, as well as the completion of transactions for data providers.
DataBlockchain.io (DBCCoin) tokens will be used for transactions in DataBlockchain.io and to reward data providers. The DBCCoin token will also function as an important marketing tool for DataBlockchain.io, as it will serve as the basis for the reward program, and also stimulates partners through the promotion program. This functionality will be fully supported by a smart contract using Solidity.
TOKENSALE AND DISTRIBUTION
Total Tokens Created: 870MM
• Total Tokens Being Sold: 522MM (60%)
Private Sale: 100MM Tokens
Pre-Sale (5/27 – 6/21)
Total Tokens Being Sold: 164.58MM
Token Price: $0.08 ($0.12 w/ 50% bonus)
Main Token Sale (6/27 – 7/21)
Tokens Being Sold: in Token Sale: 257.42MM
Token Price: $0.12
Team/Advisors Allocated: 221.1MM (25.41%)
• Bounty Campaign: 10MM (1.15%)
• Air Drop / Marketing: 10MM (1.15%)
• Exchanges/Reserve: 106.9MM (12.29%)
• Min purchase for Pre-Sale: 1 ETH
• Min purchase for Public: 0.1 ETH
• All Unsold Tokens will be burned
• Team members will be on a 12 month vesting
schedule with 25% released quarterly
• Soft Cap: $10 Million | Hard Cap: $50 Million

![datachain2.PNG]
ROADMAP
(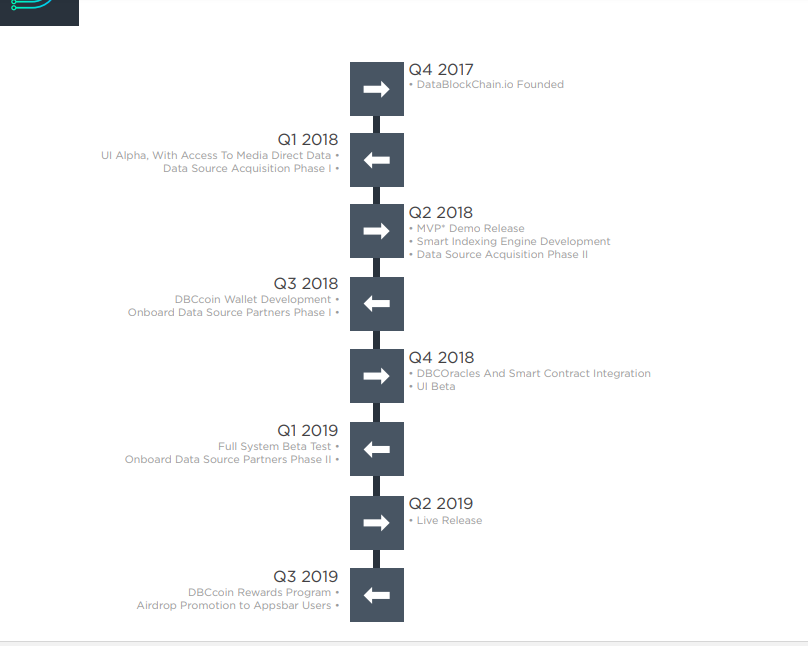 )
For more information please check the following links bellow:
website: https://www.dbc.io
whitepaper: https://www.datablockchain.io/pdf/whitepaper.pdf
twitter: https://twitter.com/DBC_IO
facebook: https://www.facebook.com/datablockchain/
my bitcointalk address: https://bitcointalk.org/index.php?action=profile;u=1141276
my Wallet address: 0x3c567089fdB2F43399f82793999Ca4e2879a1442