Sensor data is an integral component of the increasing reality of the Internet of Things (IoT) environment. In the IoT scenario, almost any entity imaginable can be outfitted with a unique identifier (UID) and the capacity to transfer data over a network. Much of the data transmitted is sensor data. The huge volume of data produced and transmitted from sensing devices can provide a lot of information but is often considered the next big data challenge for businesses. To deal with that challenge, sensor data analytics is a growing field of endeavor. Individuals and formal bodies spend quite a lot on buying and maintaining IOT sensors annually, which ends up locked up in silos. Not to talk about the channels that the data has to pass through from sensor to silo, passing through networks, control panels etc. With a projection rate of 1.2 trillion USD, the primary market for sensors is expected to rise in 2019 and the value of locked-away data to reach about 120 billion. To curtail these setbacks and fully utilize the potential of these data, DataBroker was created.
DataBroker dao is the first decentralized "shopping mall" to sell & buy sensor data, using the Blockchain technology. DataBroker DAO creates a platform whereby third-party data users and data owners can connect directly, allowing data to be more utilized and effective outside silos. With DataBroker DAO data becomes easily within reach for entrepreneurs, organizations etc., at a most fair and affordable price.
Our team of experts employs a smart contract based "shopping-mall" on the Ethereum network, whereby sensor owners can place the data generated by their sensors up for sale and buyers can get access to and purchase the data, using the same DTX token.
With the gateway operator dealing with its client-generated data, there becomes a straightforward extension of data streams to a location on the internet. And the gateway operator gets 10% in DTX tokens from each transaction, while the platform gets 10% too. But of course the grave share of about 80% of the proceeds goes to the sensor owner.
The Platform
At the core of the DataBroker DAO platform is the registry of sensors and data streams / files. This registry stores all data providing sources, whereby sensor data are being streamed. Streaming can also be live, from an IoT sensor and these data is sold per timespan. Files of data that can be bought are held or stored up in the DataSetRegistry, where they are sold per download. Data owners will have to stake a DTX token in order to lista stream / set in this registry.
Benefits of DataBroker DAO
You can monetize your data
You can recoup sensor costs
You gain access to thousands of sensors
Academics can get access to more cheap data, cutting out established data providers
It helps the Agricultural sector in deploying sensors for wind, temperature, humidity, barometric pressure and PH level in the soil.
Creating a central point of "discoverability".
Enabling crowdsourcing
It supports interoperatability
Consistent data quality
It builds an ecosystem
Partners



SettleMint – https://www.settlemint.com/
AmaZix – https://www.amazix.com/
ENTERPRISE ETHEREUM ALLIANCE – https://entethalliance.org/
BITCOIN PR BUZZ – http://bitcoinprbuzz.com/
POLYMATH – https://www.polymath.network/
Renowned & Co – https://www.renownedandco.com/
ICO Details
Symbol: DTX
Pre-ICO: 19 March 2018
Pre-sale bonus: 50%
ICO: 26 April 2018 – 30 June 2018
Main sale bonus: first day 10% (4400 DTX)
DIW Token Supply: 63, 189, 961 ($3,405,259)
Rate: 8000 DTX / ETH
Base rate: 4000 DTX / ETH
DTX Token Trading:
Starts on July 7th 2018
Exchanges: CoinFalcon
Token standard: ERC-20
Decimals: 18
Tokens for sale: 108.000.000 (48%)
Total supply: 225.000.000
Revenue Distribution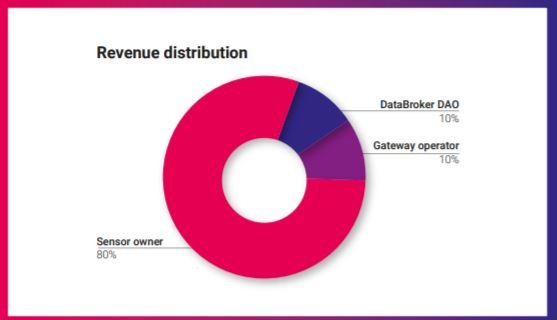 DataBroker DAO: 10%
Gateway Operator: 10%
Sensor Owner: 80%
Token Distribution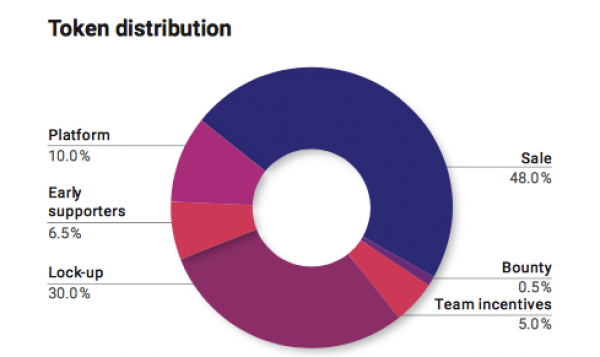 Platform: 10%
Sale: 48%
Bounty0.5%
Early Supporters: 6.5%
Lock-up: 30%
Team Incentives: 5.0%
Roadmap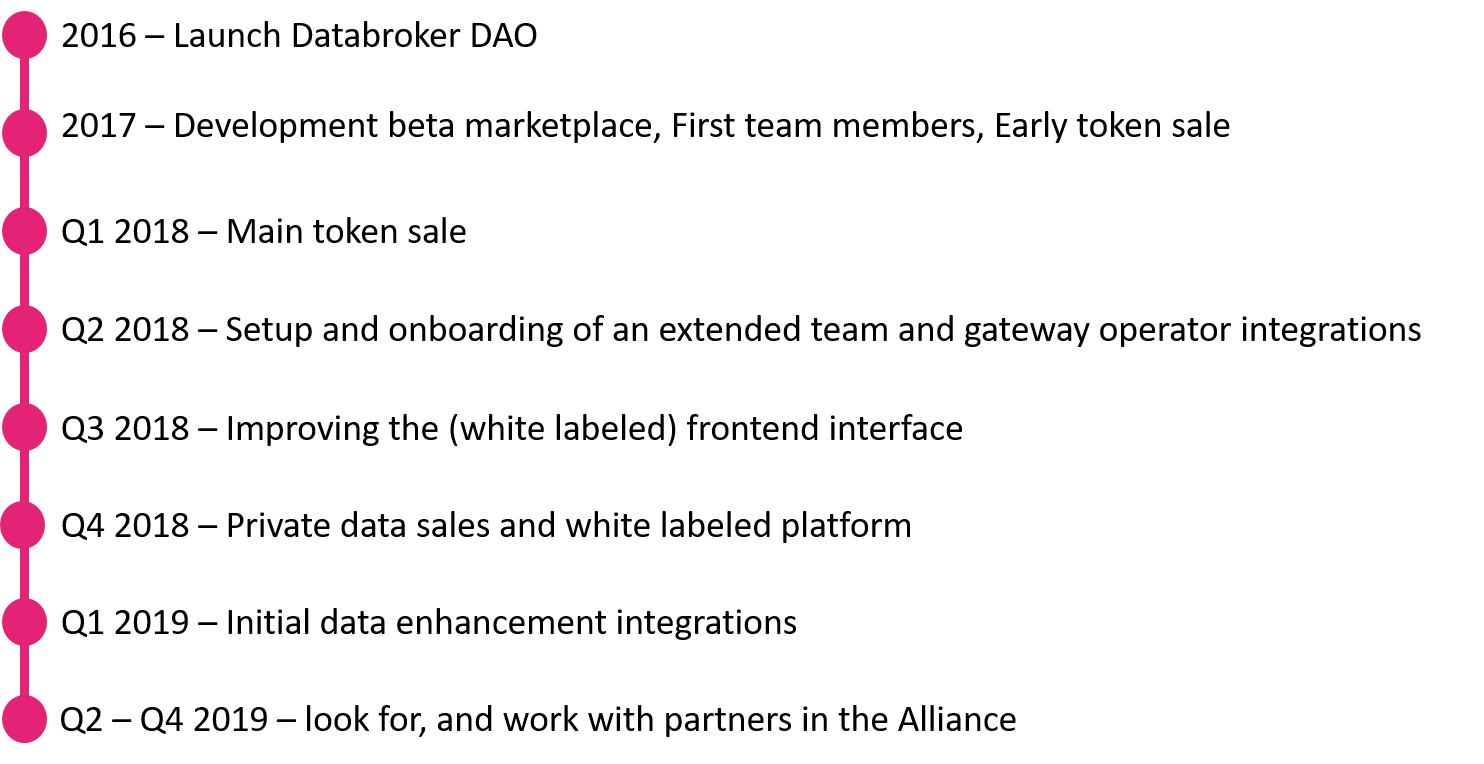 March 19th 2018
Presale
April 26th 2018
Token Sale
July 7th 2018
Trading Opens
Q2 2018
Mainnet Release
Setup and onboarding of an Extended Team
Gateway Operator Integrators
Q3 2018
Improving the (White Labeled) Frontend Interface
Q4 2018
Private Data Sales and Whitelisted Buyers
Q1 2019
Data Enhancement Integrations
Our Team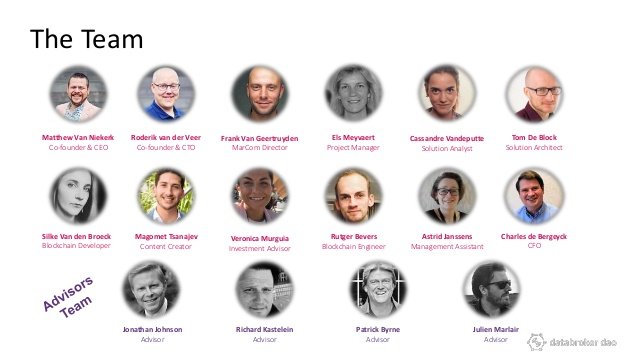 Matthew van Niekerk – Co-Founder & CEO
Roderik van der Veer – Co-Founder & CTO
Frank Van Geertruyden – MarCom Director
Els Meyvaert – Project Manager
Cassandre Vandeputte – Solution Analyst
Tom De Block –Solution Architect
Silke Van den Broeck – Blockchain Developer
Veronica Murgula – Investment advisor
Astrid Janssens – Management Assistant
Charles de Bergeyck – CFO
Peter – Jan Brone – Blockchain Developer
Advisors
Jonathan Johnson
Richard Kastelein
Patrick Byrne
Julien Marlair
Conclusion
DataBroker DAO is the first marketplace for IoT Sensor data that will connect sensor owners with purchasers of the data directly, utilising existing infrastructure from telecommunication providers operating sensor connectivity networks based on GSM, LoRa, SigFox or via a proprietary gateway of the sensor owner. Literarily, the DataBroker DAO can be likened to a "shopping-mall" for IoT sensor data. You are just a click away to a whole new world of credible data experience; join us today and that decision can neber be wrong. Please do well to follow any of the links provided below for more information.
Reference Links
Telegram: https://t.me/databrokerdao
Facebook: https://www.facebook.com/DataBrokerDAO/
Twitter: https://twitter.com/DataBrokerDAO
Medium: https://medium.com/DataBrokerDAO
YouTube: https://www.youtube.com/channel/UCUmxSlaliIuF0Z3yNw8y_uA
Bitcointalk: https://bitcointalk.org/index.php?topic=2113309.0
Reddit: https://www.reddit.com/r/DatabrokerDAO/
GitHub: https://github.com/DataBrokerDAO
Whitepaper: https://databrokerdao.com/whitepaper/WHITEPAPER_DataBrokerDAO_ENG.pdf
Website: https://databrokerdao.com/
Authored by: Davison
Bitcointalk url: https://bitcointalk.org/index.php?action=profile;u=2075838
Wallet: 0xcd3AA411AAF6Ab5017394e00Ad49eCF6B39Ee84B