Datum ICO Review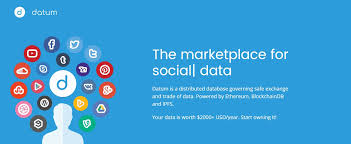 The Datum ICO has just started with their website already showing sales of $4 million.
What is Datum?
They're launching a new decentralized platform that allows users to store their data on a secure network that runs on the blockchain and uses smart contracts.
They plan to offer users the chance to retake control of their data rather than giving it to companies who then make a profit from selling it. The platform will also offer a marketplace which allows users themselves to sell their data and cuts out the middleman.
What's the problem with the current market?
Many companies offer 'free' services, however they then make money from selling your data. Ironically the only person who generally doesn't profit from this sale is the user themselves. The cost of buying an individuals data can vary from around $1 to $100s.
Companies such as Facebook or Google collect your data which then allows companies to buy ads with them and then target their ads at you more effectively.
Datum plans to allow users to profit from their data themselves by selling it directly to companies on the new decentralized platform.
The Datum Solution
The new platform will be available for a variety of different users:
Users: Users will have the option to submit their data on the platform and then given the option of selling it, by being on a decentralized network users will know that their data is completely safe.
Users will be able to use the simple to use Datum app which allows them to decide what data they wish to offer for sale.
Storage: The new platform will require a lot of storage, users will have the option of offering storage to the platform.
Consumers: People wishing to access data, users will have the option of allowing access to their data for free or for a charge. The network will require consumers to verify their own information so that users know exactly who's purchasing their data. Users offering storage will receive token rewards.
Token holders: Token holders will govern the decentralized platform.
How will it work?
The new platform is designed to be easy for users to understand:
The user first submits their data on to the decentralized platform, there will be a small gas fee to process.
A storage node will receive the data and it will be replicated on to other nodes to make it safe.
A consumer shows interest in buying the data.
The user receives an offer for the purchase of their data, the details of the buyer will be displayed. The user then has the option of accepting, rejecting or making a counter offer.
If the user accepts the offer then they'll receive DAT tokens, the decryption key will then be sent to the buyer.
The DAT Token
Users will be able to purchase data by using the new DAT token, once the tokens are sent they get destroyed, this will make DAT a deflationary asset as more tokens slowly get destroyed.
Users will also have the option of registering to set up a storage node which requires a small payment of DAT, once their node is running they'll receive a percentage of each transaction.
Datum ICO Details
Total supply: 3,000,000,000
Tokens available for sale: 1,530,000,000
Token price: 25,000 DAT= 1 ETH
Sale period: October 29th- November 29th.
Accepted currencies: ETH only.
Minimum goal: 5000 ETH (already raised)
Hard cap: 61,200 ETH
Conclusion
Most people are well aware by now that their data is big business, it allows companies such as Google and Facebook to be some of the biggest businesses in the world despite offering most of their services for free.
This is the perfect industry for cryptocurrency and their decentralized platforms to disrupt.
By allowing users to sign up for free and earn tokens for tasks as simple as providing their data it shouldn't be too hard for the platform to attract users. They also have the initial marketing effort for the ICO which should see a lot of users join up once the platform goes live.
The team behind the platform looks strong and are based all around the world from Switzerland, Singapore and Hong Kong.
Official Website: https://tokensale.datum.org
Whitepaper: https://tokensale.datum.org/assets/Datum-WhitePaper.pdf
Official Telegram:https://t.me/datumnetwork
BountyOx username = kont82
"This article was created in exchange for a potential token  reward through Bounty0x"