Every transaction done online involves the transfer of data throughout the network. Data is very important as its the key ingredient needed for most if not all sectors to function effectively.
Imagine the possibility of a world where data owners can trade in their data for passive income on a platform that allows owners be in total control of how their information is used. Likewise making sure that bad data are seived out and data consumers are only privy to good data.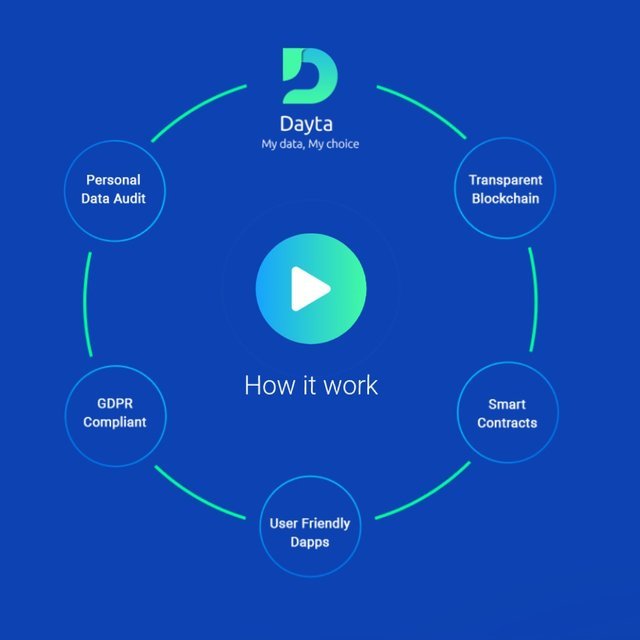 These possibilities should no longer be an issue considering how advanced technology has soared in recent years. By utilizing this technology, the DAYTA plans to make data monetization an easy and trustworthy process for users and data owners.
WHAT IS DAYTA ?
DAYTA is a data platform that uses system to collect data from diverse mobile apps, analyses and process, then sell it to data buyers in an open way and this will help remove intermediaries who take a huge portion from the profit but cannot assure the quality and credibility of the data. The Dayta vision is to solve multiple data protection, consent and privacy issues all at once.
Mobile phone application providing a more comprehensive range of opportunities for developers with a set of marketing tools. In turn, the blockchain technology implements the idea that the data of each anonymous user can be monetized, and openly and fairly. Developers, getting more data from their application, can improve the quality of its work and solve the problems that have appeared at an accelerated pace.
WHAT PROBLEMS DOES DAYTA SOLVE?
In order to provide a complete picture of user data, all data from applications must be decentralized, but the process is slow, because it is not so easy to do it:
Lack of trust between the data source and the buyer. There is no guarantee that you will not become a victim of fraud.
A centralized intermediate data model monopolized by large companies
Due to the lack of stimulus, data sources do not compensate for their data.
Lack of trust between data sources. Increasingly, data accumulates through applications.
HOW WILL DAYTA IMPROVE OUR LIFE?
DAYTA will create a database that will be analyzed and constantly updated.According to the developers' idea, companies will be able to share the information they have collected among themselves, and thus to achieve the most productive cooperation. All data received from companies and users will be controlled by special agreements and smart contracts.This will increase security and confidence in the ecosystem.
Based on all the collected data, a set of unique content for each user will be created. Targeting advertising will become more interesting and more targeted than before.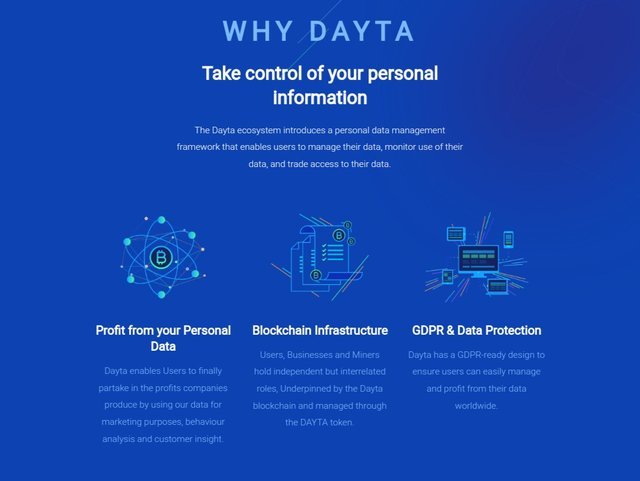 PROJECT OBJECTIVES
The engagement information platform provides application developers with a list of marketing tools through the – software development kit. Anonymous data is monetized by blockchain technology.
Application users will be awarded for providing their information subject to complete confidentiality and control over the exchange of data.
Developers will increase the active use and storage of their products using the SDK. They will get more information from the DAYTA network and improve the application based on the data received.
HOW DOES DAYTA WORKS
Using the decentralized data market place, DAYTA intends to support both the app developers and the app users through the sharing of high quality data.
With the use of smart contracts, it gives data manufacturers the control over the data to be shared, policies as regard getting money for data, and rewards gotten from data and secures data with the use of End-to-End Encryption.
Transparency in the usage of data and monetization through tracking and auditability.
Rewarding the data producers for data sharing and advertisement attachment.
PLATFORM OPERATION PRINCIPLE
The DAYTA protocol will include a privacy and communications protocol based on:
User consent, which will be necessary to turn on and off the monetization of data. Privacy policy and information sharing is strictly controlled.
Pass-through encryption It makes information management safe.
Smart Contracts. Data requests and distribution of remuneration are openly regulated and recorded.
Re-encrypt data. This is necessary for access by the requesting party when there is permission to share data.
The main goal of DAYTA is to show its users the best and most effective advertising on users' smartphones, which only exists on the market. Developers, on their website, published a special technical document that fully shows all non-working advertising models. All these models, as a rule, are based on the display of banner advertising, so they have a low degree of capture and attract attention from the user. Developers offer their solution to this problem. They plan to create a DAYTA platform based on the cryptographic technology Blockchain, which will work on any mobile devices with Internet access.
By itself, DAYTA is a special technology based on Blockchain, which was implemented in an existing advertising platform. This site is engaged in displaying special advertising on users' smartphones. This platform only complements, but does not replace third-party advertising applications. This application works in the background, and for its use the user does not need to run it. This significantly saves time, and improves the efficiency of advertising;
In the application DAYTA there is the possibility of selling various digital and not only goods. This increases the profitability of the application itself, and increases the ways of obtaining money income.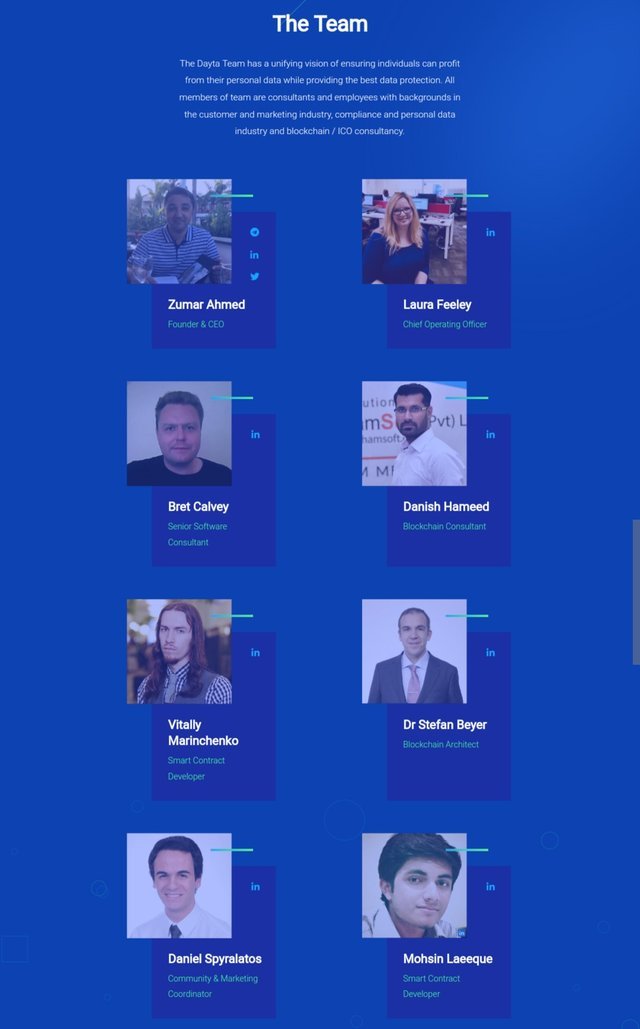 THE TEAM
The Team of the DAYTA project team consists of several specialists in their field. Each of the team members represented has experience in developing platforms based on Blockchain cryptographic technology. The team has designed a roadmap to build a secure, easy-to-use and robust personal information Dapp and exchange mechanism within an integrated, digital ecosystem.
THE DAYTA TOKENS
The DAYTA token is a means of payment for participants in the system. All internal transactions are conducted using a token. Advertisers can purchase custom data for more accurate targeting advertising. Depending on the user-platform-advertisers relationship, some of the tokens will be used as a reward for one of them.
ICO SALE
DAYTA tokens will be available prior to the public sale for registered participants. Bonuses will apply for early contributors at varying % dependent on date and amounts. Private investors can negotiate larger bonuses on a case-by-case basis.
TOKEN DISTRIBUTION
30% Allocated to Pre-ICO
30% Allocated to ICO
20% Allocated to Core Team and Advisors
10% Allocated to Partnerships
5% Allocated to Bounty
FUND DISTRIBUTION
50% Allocated to Engineering
15% Allocated to Operations
15% Allocated to Marketing
10% Allocated to Business
5% Allocated to Legal
5% Allocated to Security
For more information
TOKEN DETAILS
Token Name => DAYTA
Token Type => ERC20
Token Supply for sale => 1,500,000,000 DAYTA
Pre-ICO Sales Date => May 01st 2019
ICO public Sale => May 11th 2019
Payment Method => ETH, BTC, LTC, DASH
Website => https://www.mydayta.io
Whitepaper => https://www.mydayta.io/uploads/white_paper/Whitepaper.pdf
Telegram => https://t.me/mydayta
Twitter => https://twitter.com/MyDayta
Facebook => https://www.facebook.com/mydayta
Reddit => https://www.reddit.com/r/dayta/
Medium => https://medium.com/@mydayta
Author profile: