dClinic

Health is one of the most discussed issues today. A patient experiences a lot of inconvenience with a wide spread of private clinics. For example, it is problematic to take the results and present them in another hospital when taking tests or undergoing an examination in a private clinic. The information about a patient is confidential information, and a written application of a patient and a period of at least three days is required to obtain an extract from the medical card. The lack of a single information base negatively affects patient's health. After all, a doctor from one hospital can not view the results of examinations of other doctors from other clinics and assess the state of human health in a complex manner. Decentralized dClinic platform invites all hospitals in the world to use a single, decentralized database for storing patient data.
Key Features of dClinic
dClinic platform is aimed at improving the quality of medical services by forming a personal medical record of a patient throughout life. dClinic is easy to install and easy to use, allowing both public hospitals and private medical centers to quickly upload data to the system. A patient has access to his information and can independently record health data about previous examinations.
Advantages of dClinic
Now the most common program in medicine is Electronic Medical Record, which is difficult to integrate with. Not every clinic can install this program and work in it due to the lack of updates and complexity of adaptation to modern software. dClinic platform solves this problem due to the continuous work of the project creators to improve the system.
Using dClinic system, a patient can receive quality medical care in any hospital in the world that has access to the platform. To protect the data and prevent unauthorized use, dClinic uses blockchain technology as the basis. It is impossible to hack the system by storing data on distributed network nodes and generating a personal account without a strictly prescribed algorithm.
dClinic platform works on Shared Care model with the main principle of accumulating information about a single patient, rather than within one hospital. Such a model provides the possibility of creating a family card for the analysis of genetic diseases. Using dClinic will improve the quality of medical services and save money for patients similar medical examinations. Doctors will also have the opportunity to make an accurate diagnosis based on patient's health data in the dynamics.
With the help of the project, a patient can seek advice from any doctor who will make a medical report with the help of remote analysis. dClinic eliminates the territorial gap between a doctor and a patient. The consultation fee will be much cheaper, as it excludes a complex examination. Payment for services is carried out using smart contracts, which allow conducting transactions quickly and on favorable conditions.
DClinic cryptocurrency
DHC tokens are used to perform internal calculations on the project. A total of 5 billion DHCs were issued, of which only 20% are allocated for sale. Now the project is at the stage of the crowdsale which lasts till October. When purchasing cryptocurrency until September 2, an investor receives 30% bonus. The fixed price for one DHC is $0.1. The project's softcap is 20 billion dollars, hardcap – 50 million dollars.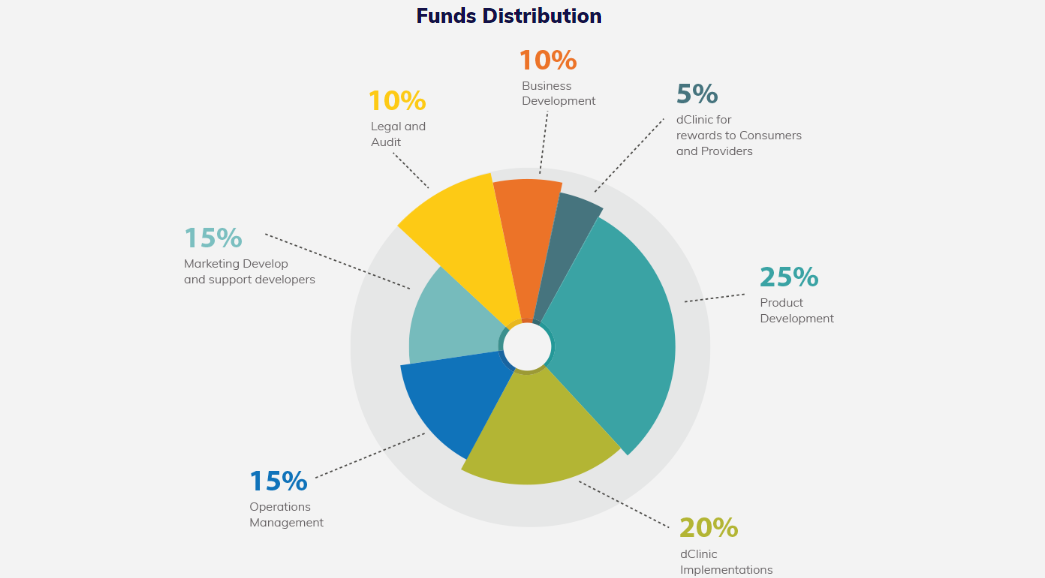 Summary
Thus, dClinic platform introduces a new innovative approach in healthcare, allowing patients to receive medical care at a high level and anywhere in the world. Even when traveling abroad and in case of contact with a local medical institution, a doctor will receive full information about a patient, and will be able to provide him/her with qualified assistance. A convenient project interface, a high level of adaptation to any type of devices and reliable storage of information will facilitate the rapid spread of dClinic around the world.
The project was launched in 2016, and at the moment the basic version of the project is released, the list of available tools is being updated in a non-stop mode. By 2022, the project creators plan to bring dClinic to the world level.
Links:
Website: https://dclinic.io
WhitePaper: https://dclinic.io/assets/doc/dClinic–whitepaper–new.pdf
Telegram: https://t.me/dclinic_io
Facebook: https://www.facebook.com/dClinic.io/
Twitter: https://twitter.com/dClinic_io
Medium: https://medium.com/dclinic-dhc
ANN: https://bitcointalk.org/index.php?topic=4904556
Author : Cing ciripit
BitcoinTalk Profil Link : https://bitcointalk.org/index.php?action=profile;u=2420095