The statistical data from world banks records that about 70% of all micro, small and medium enterprises in emerging markets have no access to credit. Though the sector very plays a big role in the local/global economy. Especially according to world bank data estimates that informal companies around the world have an additional credit gap of about $ 1 trillion. this gap is deeply felt in the global economy, and the banking industry to date cannot solve this problem. Therefore, we will develop a platform that will solve this problem using alternative methods or called 'alternative finance', which will provide alternative financing solutions such as peer-to-peer lending (P2P), crowdfunding, balance-sheet lending, invoice trading (loan backed by account receivables), supply chain finance, reverse factoring, merchant loans, VAT financing, and others. We will debate this gap, by creating a platform named "DEBITUM"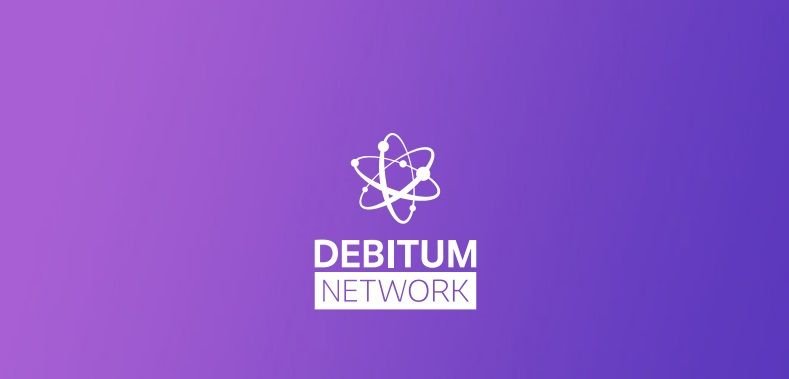 Debitum Network offers a hybrid solution – companies' financing will be executed in fiat. We are crypto realists instead of crypto fanatics that is why we are not using crypto while it is still not adopted mainstream. We want to create a truly decentralized network via motivated communities – so it can be a living ecosystem, rather than a bunch of individual organizations trying to deal services. It is a pragmatic approach which works in the real life.
ABOUT DEBITUM NETWORK
Relations between business borrowers and lenders are complex, but they can be standardized and streamlined. We build Ethereum-based decentralized ecosystem where operators of the financing market can access their clients in a more advanced way and lower costs. Operators are companies (or even individuals) who either aggregate the demand (investors/lenders) or supply (borrowers), or both. There are service providers like risk assessors, insurers, debt collectors, provision/collateral valuators, etc. Debitum Network will also act like a integration medium for various technical solutions which are related to financing process.While technically, in terms of economical effectiveness, Debitum facilitates the process of financing, it is an opportunity for professional operators in the financing industry to enter the global market with no barriers. For example, local risk assessors working in their domestic market would be able to sell their services for global investors willing to invest in their market.
How does Network Debitum work?
The Debitum Network hopes to address the aforementioned concerns through the decentralization of bank networks. Until now, banks are centralized and difficult for business owners to complete their work. Therefore, small businesses have to go through many difficulties when they try to get credit at the right time. Even if they can access credit, the process of accessing credit is frustrating and this creates many problems. Sometimes, businesses lose their investment opportunities when gaining access to credit. If the bank can be decentralized, this problem can be eliminated successfully. That's where Network Debitum comes into play.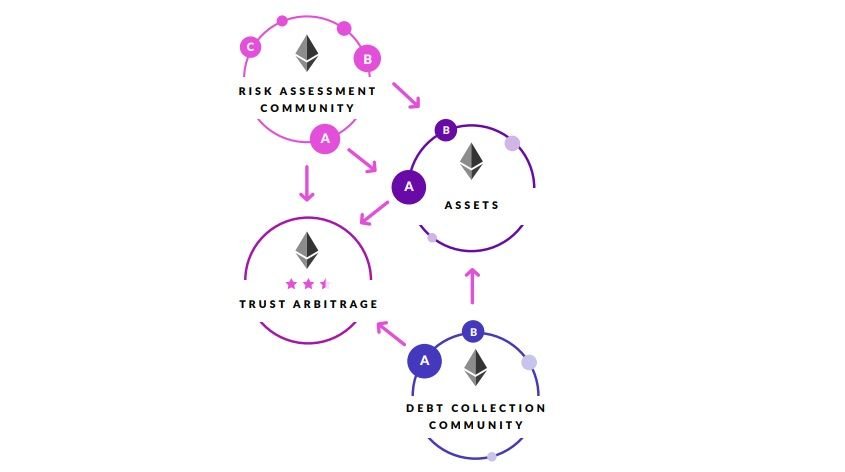 Debitum Network is based on three important components that ensure the uniqueness of the system, and also provides positive results to reduce the credit gap. The Debitum network is an intermediary when connecting small and medium-sized businesses to global investors, ie, provides verification, risk assessment, insurance.  The lending market is completely under the control of the central banks of the country and is thoroughly regulated by legislation. Local authorities, due to the ability to regulate the market, effectively block the receipt of funds by small businesses from creditors of various sizes, which greatly complicates the possibility of realizing their actual business potential. Also, there is an overestimated cost of trust between borrowers and creditors. Companies are struggling for affordable financing due to the lack of transparent collateral security registers and international lending markets.
The Debitum networkis intended for consolidation of borrowers, investors (creditors), insurers, etc. Companies or freelancers working in an alternative financial network also have the opportunity to connect to the network for free and instantly start transactions. The Debitum platform is based on a hybrid platform. All operations are processed through the Ethereum platform, which ensures the security of the Debitum Network. The platform consists of various smart contracts with a single internal payment method. Transactions pass through Fiat currencies, guaranteeing companies ease of use of services from the very beginning of use.
ROAD MAP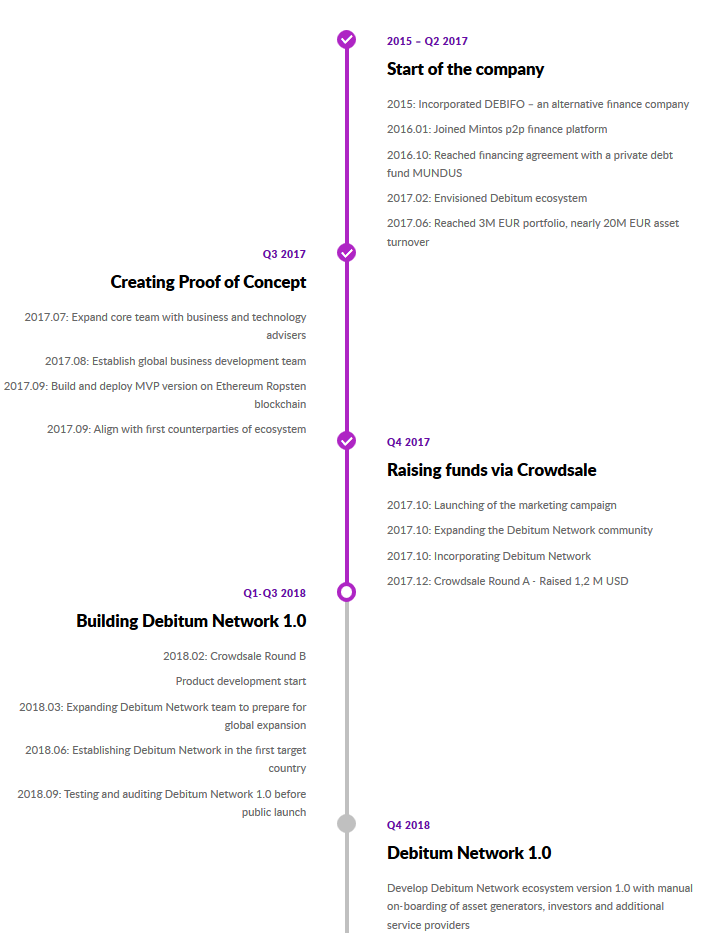 Details of ICO project Debitum :
Distribution of Debitum tokens :
60% Crowdsale
15% Team's share
15% Reserve
10% Supporters' share
Name – Debitum (DEB)
Blochein – Ethereum (ERC-20)
Total number of tokens – 400 000 000
ICO project Debitum
The ICO dates from March 3 to April 3, 2018.
Price of the token DEB-1 ETH = 6500 DEB
Bonus depends on the amount collected:
5% bonus to 14 000 collected by ETH
0% over 14 000 collected by ETH
For more information visit the links below
WEB: https://debitum.network/
WHITEPAPER: https://debitum.network/whitepaper
TELEGRAM: https://t.me/joinchat/G6KFmURKsu0FIfJetJ3mOA
TWITTER: https://twitter.com/DebitumNetwork
FACEBOOK: https://facebook.com/DebitumNetwork
Author: https://bitcointalk.org/index.php?action=profile;u=960458