Dentix Global – Dental Electronic Health Records System Built On Blockchain Technology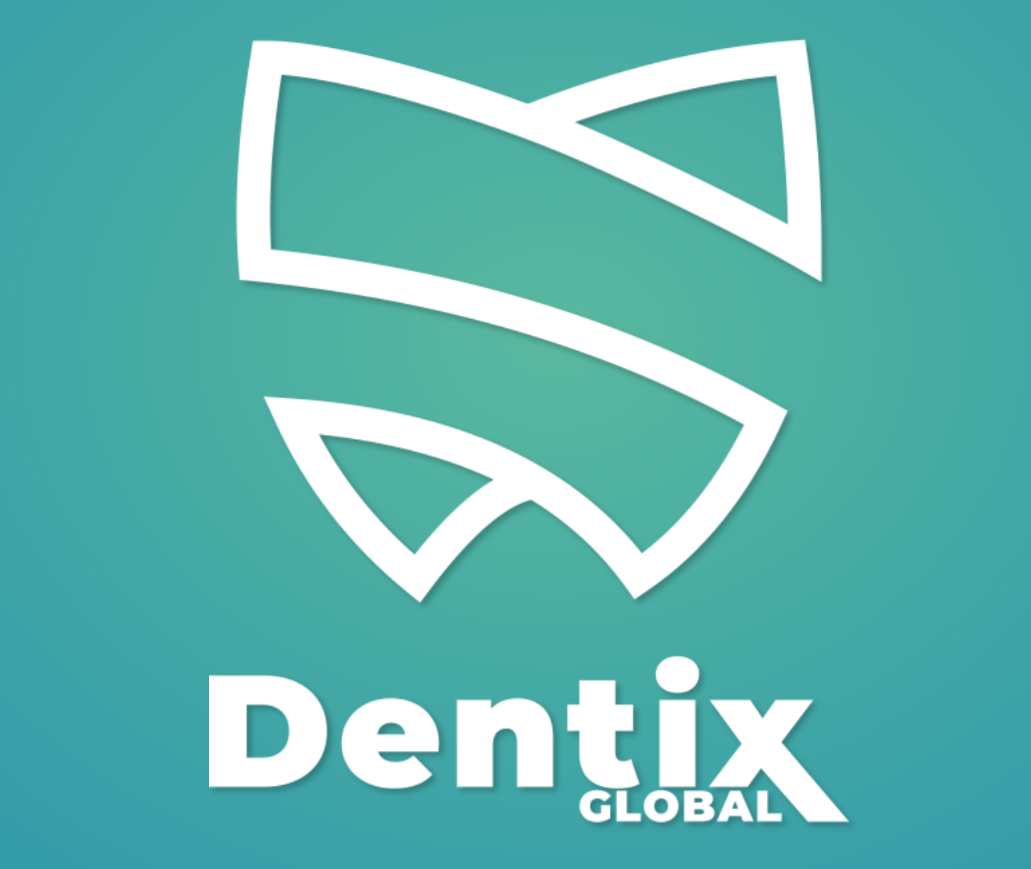 Dentix is creating a globally distributed, user-centric Dental Electronic Health Record platform, which will enable patients to give access to their dental records to in-network professionals in a transparent and secure way. Moreover, Dentix will create auxiliary services that will enable Dentists to drastically improve the quality of service provided. Users will be able to leverage their dental data to power a variety of applications and services.
Dentix is a Global Dental Electronic Health Record platform that allows blockchain backed, secure health record keeping, two-way doctor-patient communication, payment processing and worldwide patient referral and secure chart transfers. Dentix is stepping forward to provide EHR service to both Dentists and patients by integrating latest blockchain security practices and implementing a modular and decentralized approach to its' core components.

Dentix aims to to overall improve dental care industry by adding multiple layers of security, availability and communications between dental professionals and their patients.
Dentix will directly provide users with a secure medical record, as well as communication and payment services for patients and doctors directly from one roof. Users can directly grant access to their dental records to the networks provided by Dentix, for which this data will be used for medical purposes. Dentix directly reduces the cost burden on dental care services and improves its quality significantly more than today.
Dentix provides several features which can be used by users to get better dental care services, such as Practice-wide scheduling platform, Messaging Module, e-Prescription, e-Labs and many more. all data generated by the user will be directly stored and secured in the Blockchain-based database. Dentix also provides patients with easier access via mobile applications designed to enable users to transact or access dental care services.
Mobile apps make some features like Access to treatments performed and planned, Payment information and detalization, Private messaging module, review module, etc. Dentix uses a token called DNTX tokens that are useful as a means of payment for users or trade in exchanges. Dentix focuses on providing and developing a dental care service, which will provide users with a secure and transparent dental care service, and more profitable for investors.
Token Structure
Symbol: DNTX
Token Type: ERC20
Pre-ICO starts: February 1st, 2018
ICO starts: 2nd April, 2018
Pre-ICO Cost of 1.3 DNTX: 0.001 ETH
ICO Cost of 1 DNTX: 0.001 ETH
Pre-sale supply: 1 200 000 DNTX (0,4 % of the total supply)
Total token supply: 300 000 000
Accepted currency: Ethereum (ETH)
Softcap: US $1 200 000
Hardcap: US $28 000 000
Token Distribution
• 70%: Total ICO distribution to the community;
• 15%: Tokens allocated for marketing and loyalty purposes;
• 9% Reserved for the founders and management of the ICO;
• 3% Reserved for ICO partner advisers;
• 3% Reserved for "Bounty" campaign team
RoadMap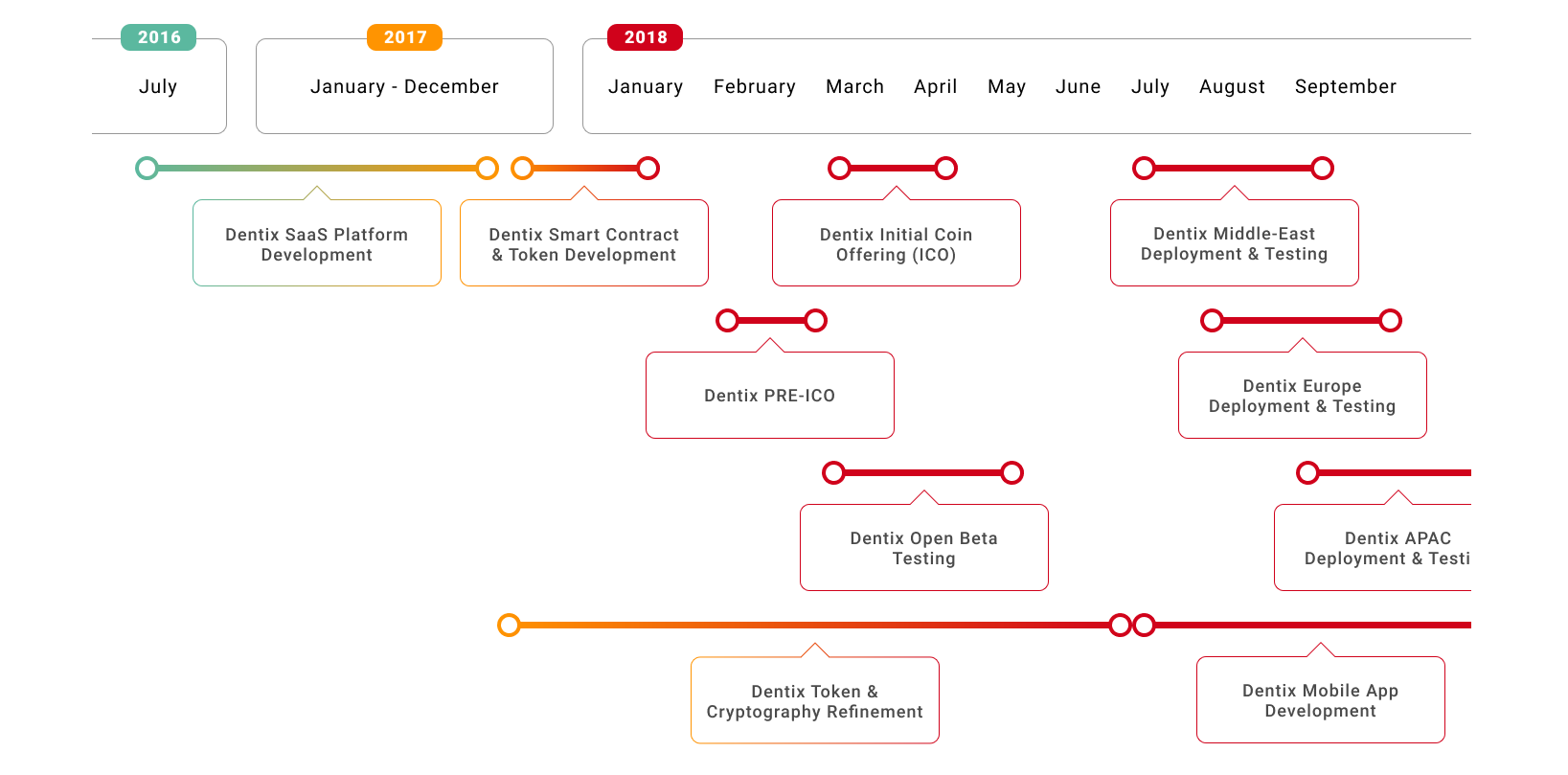 Team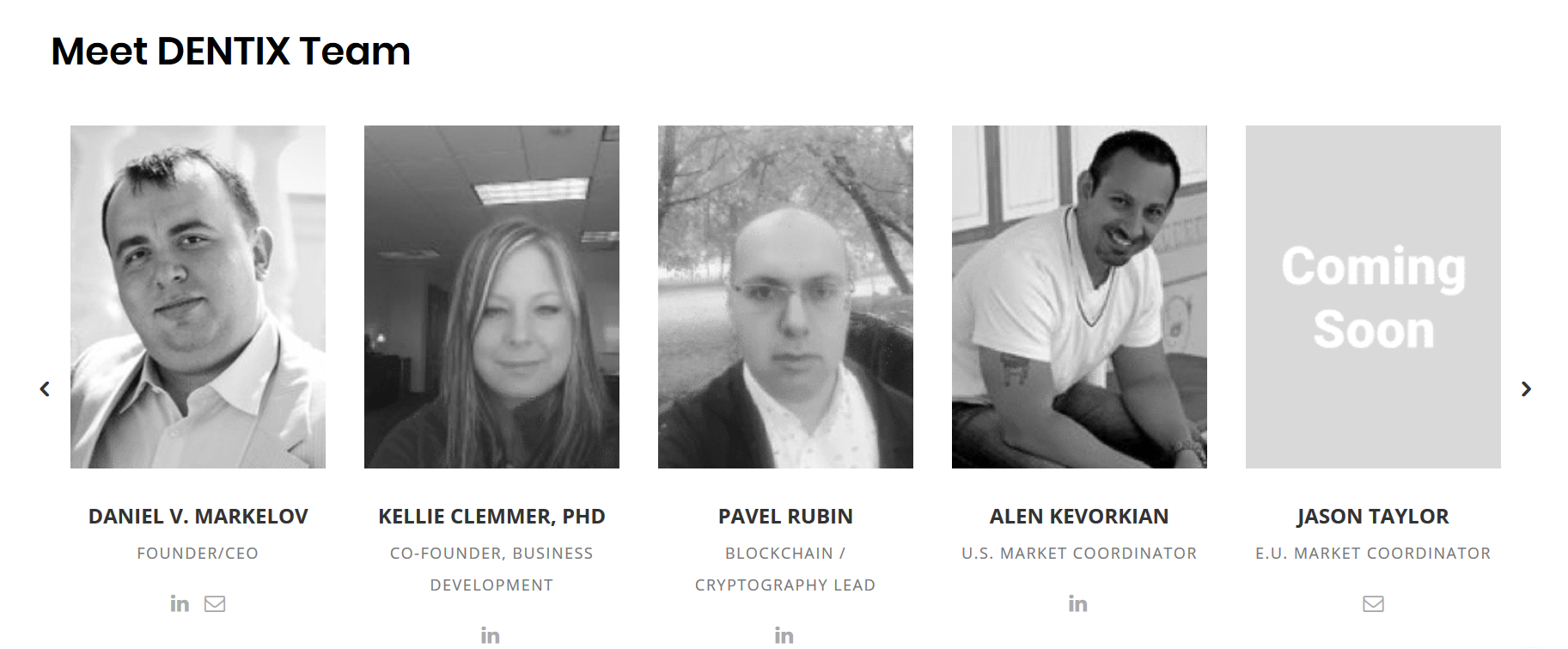 For more information, please visit any of the following links:
Website: https://dentix.io/
Whitepaper: https://dentix.io/docs/dentix_whitepaper_latest.pdf
Telegram: https://t.me/dentixglobal
Medium: https://www.medium.com/@dentix
Twitter: https://twitter.com/dentixglobal
Facebook: https://www.facebook.com/Dentix-Global-171003313661699/
GitHub: https://github.com/dentixglobal/smart-contract.git
Author: JigaMola
Bitcointalk profile: https://bitcointalk.org/index.php?action=profile;u=1847143