DESTREAM: GLOBAL SYSTEM FOR STREAMERS

Years back, the main form of communication that was used was physical letters, often taking a week or even two to have them sent to someone and expecting a response, even longer. With the invention of the internet came email and instant messaging, which meant people could send and receive things instantly, changing the way we communicate with each other. The Internet itself has been transformed. In its early days which from a historical perspective are still relatively recent it was a static network designed to shuttle a small freight of bytes or a short message between two terminals; it was a repository of information where content was published and maintained only by expert coders. Today, however, immense quantities of information are uploaded and downloaded over this electronic leviathan, and the content is very much our own, for now we are all commentators, publishers, and creators.
DeStream is the first decentralized global financial ecosystem for streamers. The platform will actively support young, promising streamers. All streamers, regardless of the kind of their activities, will benefit from the use of the platform. Each streamer will be provided with a personal marketplace for the sale of his goods (digital, clothing, various merchandise for his subscribers mugs, t-shirts, etc.), while the production and delivery of goods will be provided by the platform and its partners. Due to the large number of design options and a special editor, streamers will be able to give their channel its own individual identity and a unique design.
DeStream will be integrated into all existing popular streaming platforms. DeStream will be connected to Twitch or any other platform in just a few clicks. You won't have to worry about connecting payment systems, as all funds will be stored in a single wallet. Thanks to the internal marketplace and integration with external projects, you will be able to use DeStream Tokens immediately to buy digital items such as skins or in-game goods. Streamers will be able to put their goods up for sale.
The DeStream API offers excellent opportunities for entrepreneurs. The assets of streamers can be integrated into almost any type of business and foreign trade platform; they can be used for payment of goods and services, as a form of capital for loans or as a trading tool.
PARTNERS

DESTREAM ADVANTAGES
The benefits include the following; Scalabity, high-speed transaction processing, flexible support of smart-contracts and oracles, safety, high availability.
TOKEN SALE DETAILS
Total token issued: 6,000,000,000 DST.
Total tokens available for sale: 3,600,000,000 DST.
Token: DST
Type: Stratis
1 DST estimated as 0.006 USD.
Soft Cap: $5,500,000
Target Cap: $9,000,000
Hard Cap: $12,000,000
Private round: until June 15th
Stratis Crowdsale: July 15th – August 1st
Crowdsale: August 1st – September 30th
TOKEN DISTRIBUTION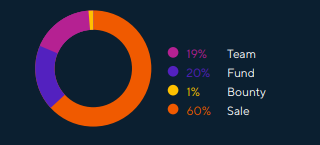 19% – Team
20% – Fund
1% – Bounty
60% – Sale
ALLOCATION OF FUNDS

11% – Events and Trips
17% – Development and Support
41% – Marketing
ROADMAP
1st and 2nd Quarter of 2018
• Design concept development
• Mobile applications design concept development
• Platform prototype development
1st and 2nd Quarter of 2018
• Finalizing the consensus for the blockchain
• Cryptographic token pre-mining
• Token sale
• Distribution of the cryptographic token in accordance with the results of the token sale
3d and 4th Quarter of 2018
• Running the alpha version of the platform
• Integration of platform payments into a public blockchain
• Beginning of OBS fork development for integration of Destream services
• Integration of payment gateways
• Development of the Destream portal
• Streamer portal release
3d and 4th Quarter of 2018
• The development of mechanics based on centralization solutions
• Develpement of voting system based on the blockchain
• Alpha version of mobile app
• Integration with XSplit
• Cloud storage of overlays
1st and 2nd Quarter of 2019
• Open Beta
• Annual Destream Fest
• Testing mechanics on smart contracts
• Beta version of Marketplace
• Overlay editor release
1st and 2nd Quarter of 2019
• Release of OBS's own module
• The first release of mobile applications
• Development of the market for digital assets
• Module for creating challenges
• Development of a Portal for Advertisers
3d and 4th Quarter of 2019
• Designing smart mechanisms for streamers
• Development of personalized subscriptions
• Ability to create a service catalog
• Release of Marketplace for products
• Transfer of all mechanics to smart contracts
3d and 4th Quarter of 2019
• A full-fledged smart contract editor
• Release of Portal for Advertisers
• Big data analytics for advertisers
• Integration with service providers
1st and 2nd Quarter of 2020
• Platform development
• VR support
• Annual DeStream Fest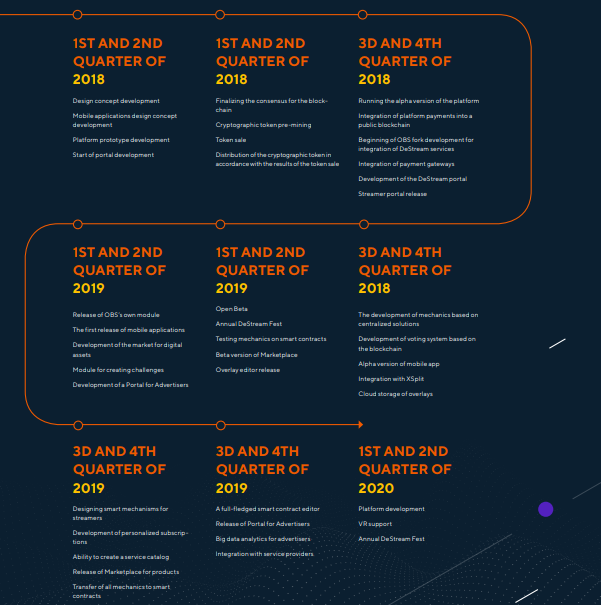 TEAM
Tachat Igityan – Founder, CFO DeStream.io
Anar Mekhtiev – Founder and CEO DeStream.io
Alexey Khvostenko – CTO at DeStream.io
Eldwin Wong – Asia BD Director
Dmitry Zorkin – Head of Community
Marc Bell – Business development Director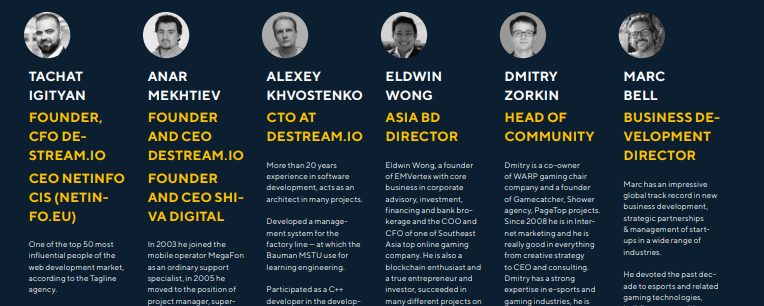 ADVISERS
Rick K. Dong – Director of Strategic planning YJM Games
Olga Kulikova – Marketing Advisory
Veronika Golavskaya – Ecom Partnership Director
Denis Chetverikov – BP Operations Adviser
Pavel Shynkarenko – Legal Adviser

For more details on this project, please feel free to click on any of the following links:
Website: https://destream.io/?utm_source=bitcointalk&utm_medium=link&utm_campaign=bounty
Referral link: https://destream.io/?referralId=adf52557d7994818a3bf8131262f2179#action=bountyreg
Whitepaper: https://destream.io/WhitePaper.pdf
Facebook: https://facebook.com/destream
Twitter: https://twitter.com/destreamproject
Bitcointalk: https://bitcointalk.org/index.php?topic=4698321.0
Medium: https://medium.com/destream
Reddit: https://www.reddit.com/r/DeStream/
Youtube: https://www.youtube.com/channel/UCNc-8nRAAauZ4F8NxNP5Ncw
Published by: tszone
Bitcointalk URL: https://bitcointalk.org/index.php?action=profile;u=1742409
Ethereum wallet address: 0x684c9d1c004AB2023E1d3ae9aEb902B514B703d1