DESTREAM: GLOBAL SYSTEM FOR STREAMERS

The Internet has turned our existence upside down. It has revolutionized communications, to the extent that it is now our preferred medium of everyday communication. In almost everything we do, we use the Internet. Ordering a pizza, buying a television, sharing a moment with a friend, sending a picture over instant messaging. Before the Internet, if you wanted to keep up with the news, you had to walk down to the newsstand when it opened in the morning and buy a local edition reporting what had happened the previous day. But today a click or two is enough to read your local paper and any news source from anywhere in the world, updated up to the minute.
DeStream will implement a range of tools for interaction between streamers and their audience, which were developed with the help of professional streamers, visionaries and psychologists. Streamers will be able to perform various activities to maintain viewers' interest and increase funds.
The main aim of project DeStream is to establish a decentralized global platform for the streaming market, which will allow streamers to maximize their productivity, diversify their activities and secure startup capital. We are establishing an innovative platform to serve as a new ecosystem for streamers. The use of blockchain technology will allow us to cut transaction fees in half. Due to decentralization, we will exclude payment systems from the process and reduce numerous costs of transactions. Thus, we will improve the quality of content, and streamers will be allowed to focus on creating, instead of operational activities. The profit of the platform will be generated by charging commissions for deposits and withdrawals of funds, or performing internal operations. We also want to reduce the amount of commission fee from 10% to 0.77% and thereby increase streamers' income.
PARTNERS

DESTREAM BENEFITS
• Scalability
• High-speed transaction processing
• Flexible support of smart-contracts and oracles
• Safety
• High availability
DST TOKENS USE CASES
• To make a donation
• To pay for the transaction fees on the platform;
• To buy digital goods;
• To receive payment from an advertiser;
• To purchase any goods in the affiliate shops;
• To gain access to big data analytics;
• To pay for the services of the platform (marketing, making the streams more attractive, etc.);
• To perform internal P2P operations;
TOKEN SALE DETAILS
Token: DST
Type: Stratis
Total token issued: 6,000,000,000 DST.
Total tokens available for sale: 3,600,000,000 DST.
1 DST estimated as 0.006 USD.
Private round: until June 15th
Stratis Crowdsale: July 15th – August 1st
Crowdsale: August 1st – September 30th
Soft Cap: $5,500,000
Target Cap: $9,000,000
Hard Cap: $12,000,000.
TOKEN DISTRIBUTION
Team – 19%
Fund – 20%
Bounty – 1%
Sale – 60%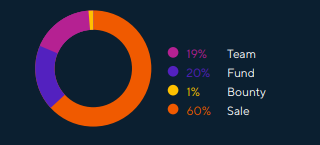 ALLOCATION OF FUNDS
Events and Trips – 11%
Development and Support – 17%
Marketing – 41%

ROADMAP
1st and 2nd Quarter of 2018
• Design concept development
• Mobile applications design concept development
• Platform prototype development
1st and 2nd Quarter of 2018
• Finalizing the consensus for the blockchain
• Cryptographic token pre-mining
• Token sale
• Distribution of the cryptographic token in accordance with the results of the token sale
3d and 4th Quarter of 2018
• Running the alpha version of the platform
• Integration of platform payments into a public blockchain
• Beginning of OBS fork development for integration of Destream services
• Integration of payment gateways
• Development of the Destream portal
• Streamer portal release
3d and 4th Quarter of 2018
• The development of mechanics based on centralization solutions
• Develpement of voting system based on the blockchain
• Alpha version of mobile app
• Integration with XSplit
• Cloud storage of overlays
1st and 2nd Quarter of 2019
• Open Beta
• Annual Destream Fest
• Testing mechanics on smart contracts
• Beta version of Marketplace
• Overlay editor release
1st and 2nd Quarter of 2019
• Release of OBS's own module
• The first release of mobile applications
• Development of the market for digital assets
• Module for creating challenges
• Development of a Portal for Advertisers
3d and 4th Quarter of 2019
• Designing smart mechanisms for streamers
• Development of personalized subscriptions
• Ability to create a service catalog
• Release of Marketplace for products
• Transfer of all mechanics to smart contracts
3d and 4th Quarter of 2019
• A full-fledged smart contract editor
• Release of Portal for Advertisers
• Big data analytics for advertisers
• Integration with service providers
1st and 2nd Quarter of 2020
• Platform development
• VR support
• Annual DeStream Fest.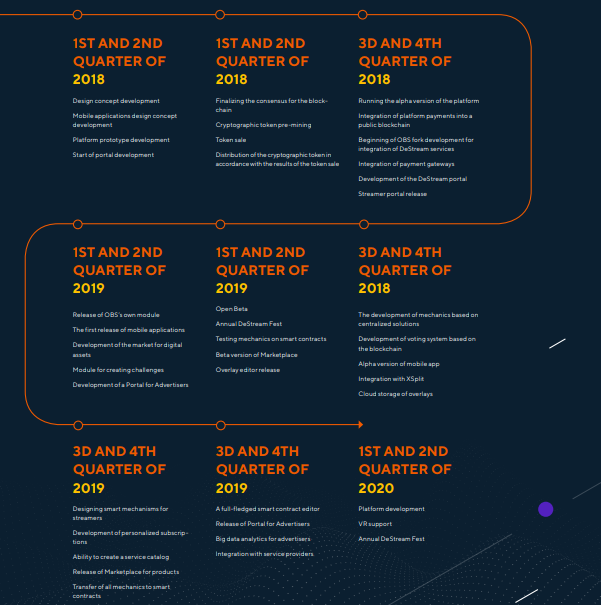 TEAM
Tachat Igityan – Founder, CFO DeStream.io
Anar Mekhtiev – Founder and CEO DeStream.io
Alexey Khvostenko – CTO at DeStream.io
Eldwin Wong – Asia BD Director
Dmitry Zorkin – Head of Community
Marc Bell – Business development Director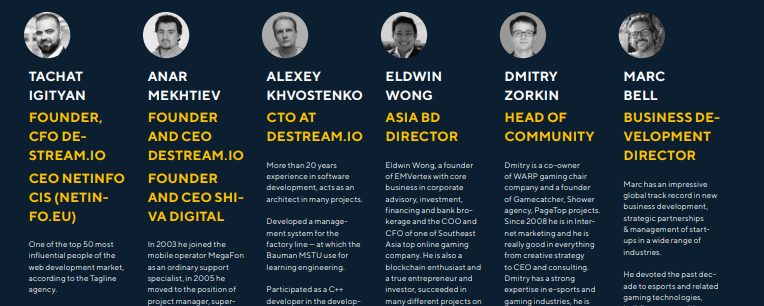 ADVISERS
Rick K. Dong – Director of Strategic planning YJM Games
Olga Kulikova – Marketing Advisory
Veronika Golavskaya – Ecom Partnership Director
Denis Chetverikov – BP Operations Adviser
Pavel Shynkarenko – Legal Adviser

For more details on this project, please feel free to click on any of the following links:
Website: https://destream.io/?utm_source=bitcointalk&utm_medium=link&utm_campaign=bounty
Referral link: https://destream.io/?referralId=adf52557d7994818a3bf8131262f2179#action=bountyreg
Whitepaper: https://destream.io/WhitePaper.pdf
Facebook: https://facebook.com/destream
Twitter: https://twitter.com/destreamproject
Bitcointalk: https://bitcointalk.org/index.php?topic=4698321.0
Medium: https://medium.com/destream
Reddit: https://www.reddit.com/r/DeStream/
Youtube: https://www.youtube.com/channel/UCNc-8nRAAauZ4F8NxNP5Ncw
Published by: tszone
Bitcointalk URL: https://bitcointalk.org/index.php?action=profile;u=1742409
Ethereum wallet address: 0x684c9d1c004AB2023E1d3ae9aEb902B514B703d1