DexAge
DexAge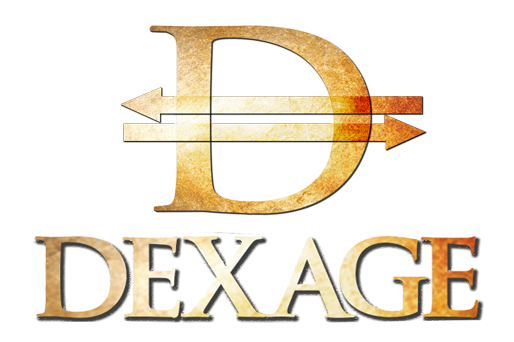 Why DexAge?
DexAge is a Decentralized Exchange platform, enabling P2P crypto to crypto exchange, crypto-fiat trading, P2P lending and chat on DAPP, using a user-centric approach where the whole platform would be driven by social web.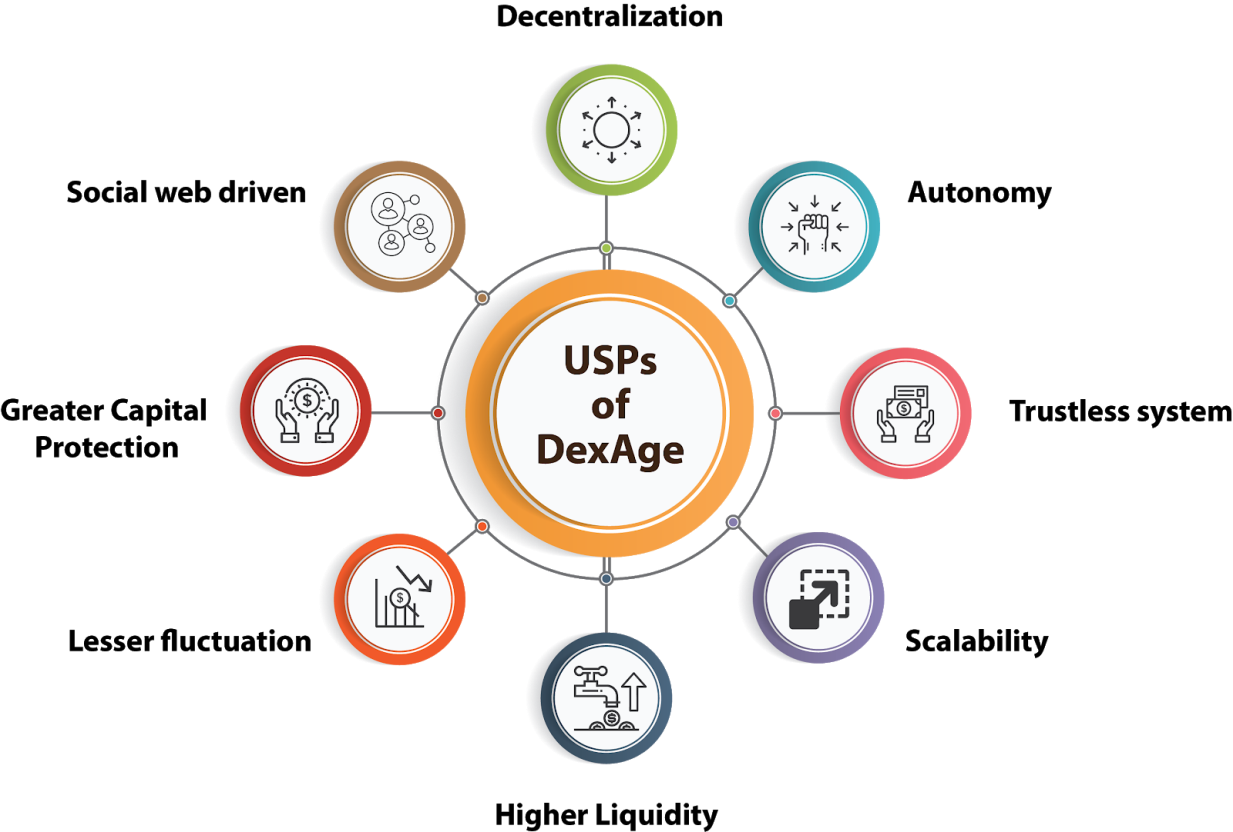 Our Vision
To create a trustless, permissionless P2P crypto exchange and trading platform that is autonomously driven by a synergetic web of traders, users and investors.
Decentralization
The blockchain driven decentralized exchange platform of DexAge enables its users to carry out P2p crypto to crypto exchange, P2P crypto-fiat trading and P2P lending in a robust ecosystem that is highly resistant to hacking.
Autonomy
The crypto-trading infrastructure at DexAge is an autonomous, self-sustainable system fuelled by the social connect between the traders and investors who use our platform. The lack of a single authority who controls the whole system hands over all the power to the stakeholders of DexAge, making them the prime force influencing our growth and development.
Social web driven
The innovative business model of DexAge will capitalise on the power of the  people. The DXG platform along with the Dapp will not just allow our traders, users and investors to trade and lend crypto-assets but will enable them to communicate and share their ideas and knowledge while interacting with one another through meetups and by chats on Dapp.
Trustless system
The P2P crypto transactions at the DXG platform, be it for trading or lending, would be coordinated by decentralized escrow services providing secure smart contracts.
Our Mission
DexAge strives to make our P2P platform an autonomous ecosystem where our users, traders and investors would serve as the fuel and not just as the nuts and bolts of our platform. The real growth and development of DXG lies in the empowerment of its stakeholders, which we endeavour to achieve through the multipurpose functionality of our DexAge tokens. By enabling our users to stake, vote, pay loans and manage their assets in a decentralized exchange, trading and lending marketplace, our end-game is for DXG and its stakeholders to thrive with the proliferative potential of cryptocurrencies.
Tokens Details
Token Symbol
DXG
Total Tokens
5,000,000,000 DXG
Token Type
ERC20
Soft Cap
25,000 ETH
Hard Cap
120,000 ETH
We Accept
ETH
Airdrop
10th Oct – 30th Nov, 2018
Allocated Token
250 Million
100% Discount
1 DXG/0 ETH
Amount to raise
0 ETH
Pre Sale
30th Nov – 31th Dec, 2018
Allocated Token
500 Million
40% Discount
1 DXG/0.00003 ETH
Amount to raise
15,000 ETH
Token Sale 2
1st Jan – 15th Jan, 2019
Allocated Token
570 Million
15% Discount
1 DXG/0.0000425 ETH
Amount to raise
24,255 ETH
Token Sale 3
15th Jan – 30th Jan, 2019
Allocated Token
570 Million
10% Discount
1 DXG/0.000045 ETH
Amount to raise
25,650 ETH
Token Sale 4
30th Jan – 14th Feb, 2019
Allocated Token
570 Million
5% Discount
1 DXG/0.0000475 ETH
Amount to raise
27,075 ETH
Token Sale 5
14th Feb – 28th Feb, 2019
Allocated Token
540 Million
No Discount
1 DXG/0.00005 ETH
Amount to raise
27,000 ETH
chart
45%
Crowdsale Program
2.25B Tokens
10%
Airdrop & Bounties
500M Tokens
15%
Team and Founders
750M Tokens
15%
Reserved
750M Tokens
10%
Pre-sale
500M Tokens
5%
Core Investors
250M Tokens
Roadmap
2017 Q1
Proof of Concept
2018 Q1
Team Formation
Research & Development
2018 Q2
Dexage Platform Prototyping
Private sale of DXG to Core Investors
2018 Q3
Release of DexAge MVP
Airdrop Campaign
2018 Q4
DXG Pre-sale to Qualified investors
2019 Q1
Main Crowdsale begins
Main Crowdsale ends
DXG Listing on DexAge internal market
2019 Q2
DexAge listing on other exchanges
2019 Q3
Release of P2P Exchange-Beta Version
2019 Q4
Release of DXG Chat Dapp-Beta Version
2020 Q1
Release of DexAge web P2P Exchange Trading Platform
Executive team
Our Team combines a passion for industry expertise with proven record in finance, development, marketing & licensing.
team
Precious Kenneth
Suanu Neenwi
Gody Wogu
Ukaoma Stanley
Kenneth Chile W.
Jude Umeano
David Oti
Zuzana Mejdrova
Owoh Onwuchekwa Ogbuefi
ADVISORS
Kingsley Okes Idisi
Sydney Ifergan
Manoj Rana
information:
WEBSITE | WHITEPAPER |ONE PAGER| GITHUB | TELEGRAM | FACEBOOK | TWITTER | MEDIUM
author: