DIGITAL INFORMATION WALLET (DIW); DATA SECURITY EXPERT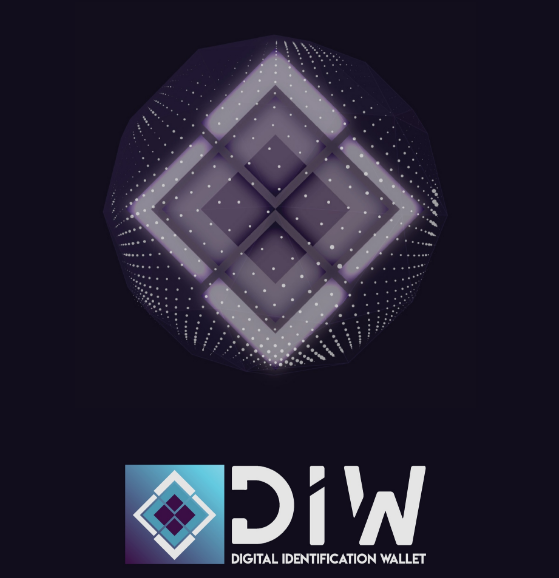 On a daily basis, an outrageously large amount of data is created and stored on digital information platforms. For, people from all works of life create, store and access data on various platforms such as social media, banking, shopping, music platforms, dating platforms, travels services, etc. Statistically speaking, compared to the information stored in all the libraries in the United States of America, the amount of data created on digital information platforms is about eight times greater! About 90% of the world's data has already been created in the last two years. Most times, to gain access to these data stored at various locations, passwords are required for security purposes. Currently, a lot of organizations operate with centralized systems, in such systems, information are stored in one particular place or centre; with such a system, there is a high risk of security breach, if the system is hacked, valuable information of individuals connected to that system could be lost, this is most likely to happen since most information have a single storage centre and are controlled by a central authority. For this reason, online fraud and scam have become the norm.
Also in the area of crypto currency, it is a known fact that digital currencies have not been fully accepted in normal "physical'' everyday transactions, only on online exchanges and crypto communities as a whole.
With a decentralized system, passwords and other sensitive information can be stored in locations that are easily accessible without the issue of breach in security. A decentralized system is usually spread across many servers in different geographical locations; data isn't controlled by one individual or group. This makes it almost impossible for hackers or fraudsters to gain full access to data in the system since information and passwords aren't stored at a central place.
DIW introduces its global blockchain based decentralized network with the ability to solve all the issues mentioned earlier. On the DIW network, DIW holders would have access to a secure vault on the network where every possible information can be stored, ranging from health records to passports, passwords, etc. Through what is called a global directory, entities and individuals all around the world be able to participate in exchange of services. Only valid holders that have successfully completed the KYC/KYS documentation would be granted access to the network; this would bring about transparency in operations and transactions.
THE DIW PLATFORM
The DIW project is a decentralized network which makes possible the creation of a secure online identification profile by registered account holders, individuals or organizations which provides the capability to store, access and exchange encrypted data. With blockchain technology and smart contracts, identification data of a DIW holder can be selectively revealed to other DIW holders. DIW which means Digital Identification Wallet, is an innovation with limitless possibilities which will keep unfolding with time.
ADVANTAGES OF DIW DECENTRALIZED COMMUNITY
• Easy access to support provided by a large global community
• The account holder has adequate security though hardware utilization
• Single access to a doorway that is endless
• Transactions via any form of currency, whether fiat or digital is done with complete freedom
• Transaction processes and fast less expensive and very efficient.
• Peer to peer protocol for distribution of sensitive data is secure
AREAS OF APPLICATION
SECURE DIGITAL VAULT: sensitive information such as credit card details, passwords etc are securely stored within a highly encrypted, secure and private decentralized platform.
PAYMENT GATEWAY FOR CRYPTO AND FIAT CURRENCY: website owners can receive payment through a secure medium in any fiat or crypto currency using the DIW single login decentralized platform.
DIW GLOBAL DIRECTORY: account holders (organizations or individuals) can list their products and services on a global directory which would also enable them expand their reach.
PAID ESCROW: an escrow service based on smart contract would be available to ensure safe and credible transactions between parties involved.
THE VISION (ELECTRONIC HEALTH RECORDS)
The of DIW is to encompass the health sector by enabling the encrypted storage and secure sharing of personal electronic health records between account holders and validated laboratories, pharmacists, doctors or other healthcare professionals with the additional option of utilizing technology already featured within the DIW network.
THE DIW TOKEN
The DIW token is an ERC-20 ethereum based utility token which would be used as the preferred method of payment within the entire DIW network. The DIW tokens would be utilized by the token holders for all their transactions and other activities including exchange of goods and services.
ICO AND TOKEN DETAILS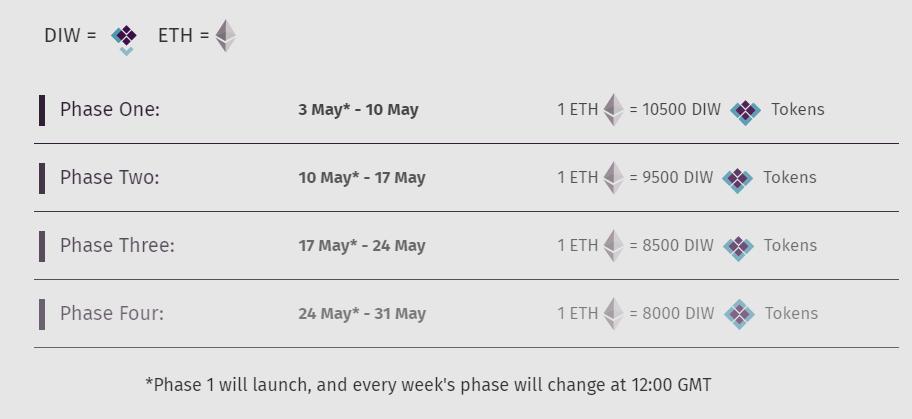 )
Symbol: DIW
Decimal: 18
Pre-ICO: 06/03 – 20/03/2018
ICO STAGE:
Phase 1(3rd may-10th may): 1 ETH = 10500 DIW tokens
Phase 2(10th may-17th may): 1ETH = 9500 DIW tokens
Phase 3(17th may-24th may): 1 ETH = 8500 DIW tokens
Phase 4 (24th may-31 may): 1ETH = 8000 DIW tokens
Tokens for crowdfunding: 700 000 000 (70%)
Hard cap : 28 000 000 USD
Participation would be done in ETH, unsold tokens will be burned.
TOKENS DISTRIBUTION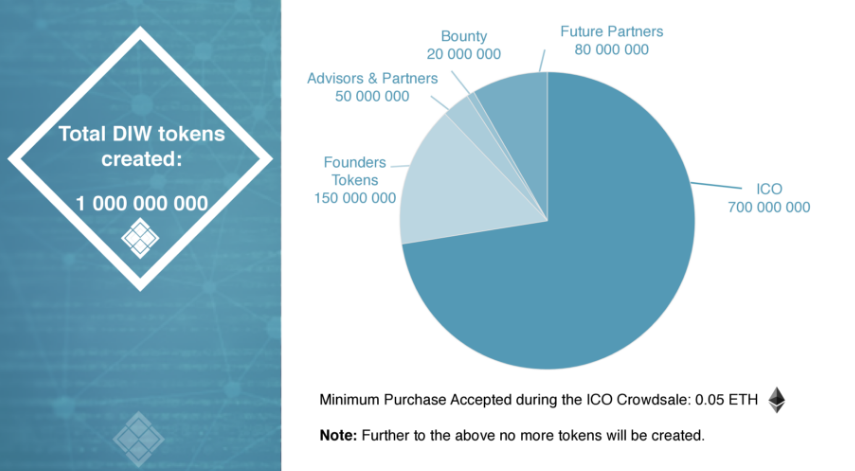 )
70% : ICO
15% : Founders tokens (12 months vesting/ 2 months cliff)
5% : Advisors & partners (12 months vesting/ 2 months cliff)
2% : bounty
8% : future partners
FUND ALLOCATION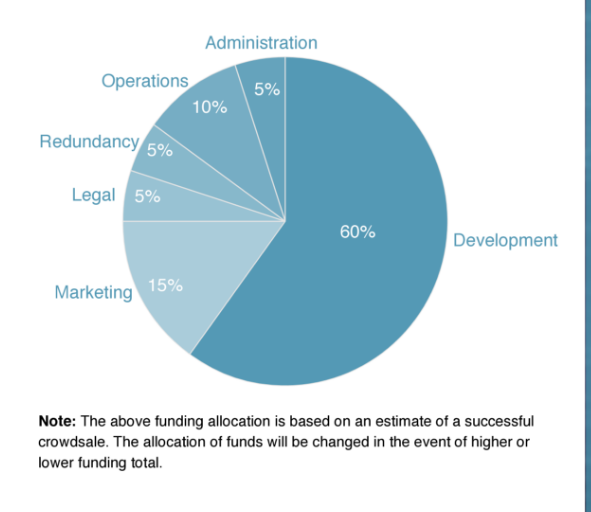 )
60% : reserved towards project design and development
15%: allocated for sales, marketing and community management
5% : administrative expenses
10%: operational costs, including office rental, equipment, servers, etc.
5%: redundancy fund
This fund allocation is based on an estimated successful crowdsale .
ROADMAP
4TH Quarter 2017: whitepaper
3rd may: ICO Listing on exchanges follows right after the ICO
2nd Quarter 2018: DIW prototype presentation
3rd Quarter 2018: DIW alpha version
4th Quarter 2018: European launch
DIW is powered by ALCAEUS LAB
ALCAEUS LAB TEAM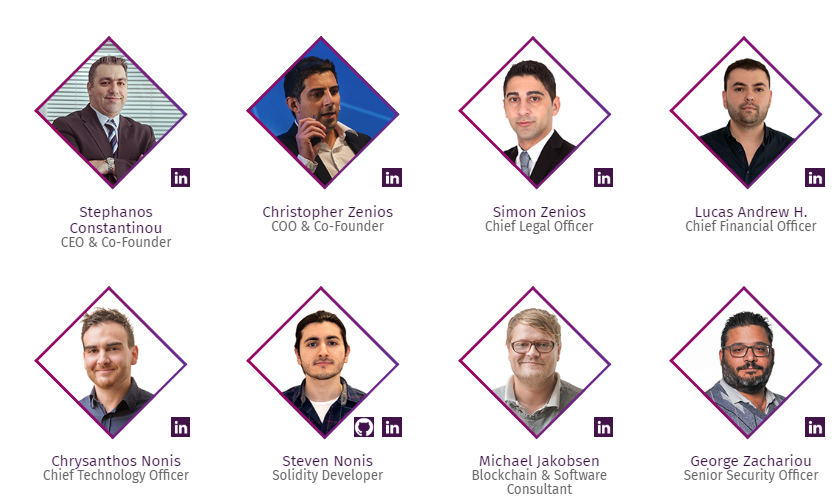 )
Stephanos Constantinou – CEO & founder
Christopher Zenios – COO & Co-founder
Simon Zenios – Chief Legal Officer
Lucas Andrew .H. – Chief Financial Officer
Chrysanthos Nonis – Chief Technology Officer
Steven Nonis – Soildity Developer
Michael Jakobsen – Blockchain & Software Consultant
George Zachariou – Senior Security Officer
Anton Bogdanov – Cryptographer & Application Developer
Nikolas Konstantinou – Chief Networking Officer
Constantina Samara – Senior Web Designer
Ben Boyadjian – Chief Analytics Officer
Christos Kyriacou – Business Development
Masha Soboleva – Russian Community Manager
ADVISORS
Simon Cocking – World-class Blockchain Expert
Dinos Pastos- Blockchain & Security Specialist
Stelios Stylianou- Author/ Pro-trader
Artur Oganov- Entrepreneur & Financial Advisor
Sydney Ifergan – Crypto Community Advisor
Alaa Mohra – International Marketing Expert
Toomas Allmere – Multitalented Finance Executive
Francesco Redaelli – International Business Developer/ICO Expert
Vladimir Nikitin – top 5 ICO Expert & ICO Advisor
DIW is definitely the perfect decentralized infrastructure when it comes to safeguarding important data and maintaining the privacy of account holders with zero cases of security breach. For more information on the DIW project, please check out the following links below:
Website: www.diwtoken.com
Facebook: https://www.facebook.com/diwtoken/
Twitter: https://twitter.com/diwtoken
Telegram: https://t.me/diwtoken
Instagram: https://www.instagram.com/diwtoken/
Youtube: https://www.youtube.com/channel/UCcsN2tHDO3kxl3p1bBq4g6g
Reddit: https://www.reddit.com/r/diwtoken/
Medium: https://medium.com/@diwtoken
Github: https://medium.com/@diwtoken
Authored by: thankyoulord
Bitcointalk url: https://bitcointalk.org/index.php?action=profile;u=2076086
Wallet: 0x2859DD117e5E186B2dec97b50012C66D0E7597Ad