The Digital Ticks is one that has a lot of user interest and has integrated top shelf technology to create a better user experience, creating efficiency in trading and exchange processes. Digital Ticks is a Commodity- Crypto Exchange which as the name itself implies, allows users to exchange or trade cryptocurrencies such as Bitcoin (BTC), Ethereum (ETH), Litecoin (LTC) or commodities such as Gold (XAU) Silver (XAG). The DTX, DTX standing for "Digital Ticks Exchange" platform would spark a revolutionary trend on a global level since it is the first to pioneer a new era for exchanges of this kind. Digital Ticks in basic terms, is where you would exchange or trade one currency into its equivalent other. The issues of Lack of Liquidity, Inefficient customer service and low Security standard are issues the DTX platform aims to resolve.
A First ever commodity – crypto exchange well designed by traders for traders. Digital Ticks Exchange is also a semi-algorithm platform provider on its own and allows for all types of crypto assets as well as commodity to crypto assets and trade. The DTx platform would be power packed with high technological features including all the basic features of an exchange required by any kind of trader. From the novice trader to a professional trader as well as the high frequency trader the DTX platform would come in as the most trusted and secured platform in order to give the user the perfect trading and exchange experience. In terms of security DTx is taking extra precautionary measures to avoid any kind of hacks like DDoS (Distributed Denial of Service) attacks, phishing attempts and by also performing vulnerability assessments and penetration testing. DTx has integrated advanced technologies in the creation of this system allowing the system to handle high volatility of the crypto markets as well as commodity markets which can handle up to 1,000,000 orders per second.
DTX TRADING FEATURES
• Trading multiple instruments
• Single Click Portfolio View
• OCO (One cancels the other) Order
• Trading through mouse and use of "Hot Keys"
INCENTIVES OF DTX
Users of the Digital Ticks platform are sure to expect incentives from the platform as DTX gives high-volume operators discounts on all fees related to transactions, and all users, without exception, will obtain a unique referral link for the user. This reference link will be used to invite someone new to start using the platform. When used, the user who loaned your link will take 5% of each commission that would normally be delivered in full to the Digital Ticks exchange. This applies to each of the operations make the person you invited).
You buy their "tokens" or chips using a referral link and the person who will give you the link will receive 5% of the amount you decided to buy, only this time it leaves the 10% assigned to references.
TOKEN DETAILS AND DISTRIBUTION
Token Name – DTX
Token Type – Ethereum ERC – 20
Purchase Method – BTC/ETH/Wire Transfer
Token Type – Utility
Pre – Token Sale Period – 25.03.2018 – 14.04.2018
Pre – Token Sale Price – 1 DTX = 0.30 USD
Public Sale Period – 15.04.2018 – 15.06.2018
Public Sale Token Price – 1 DTX = 0.375 USD – 0.700 USD
Soft Cap – USD 5.7 Million
Hard Cap – USD 30 Million
Unsold Tokens – IT will be burned after Token sale ends
DISTRIBUTION OF DTX TOKENS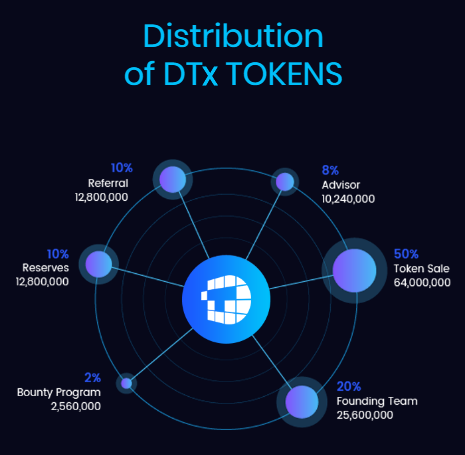 Refferral – 10%
Advisor – 8%
Reserves – 10%
Token Sale – 50%
Bounty program – 2%
Founding Team – 20%
DTX TOKENS FUND USAGE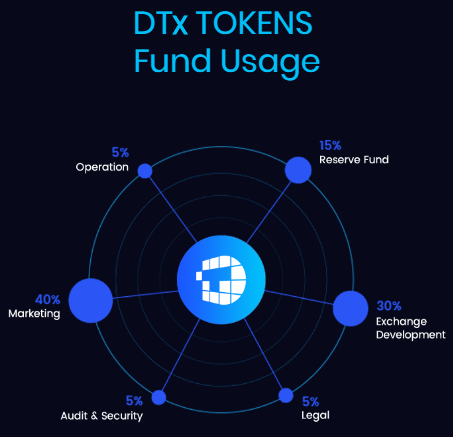 Operation – 5%
Reserve Fund – 15%
Marketing – 40%
Exchange Development – 30%
Audit and Security – 5%
Legal – 5%
ROADMAP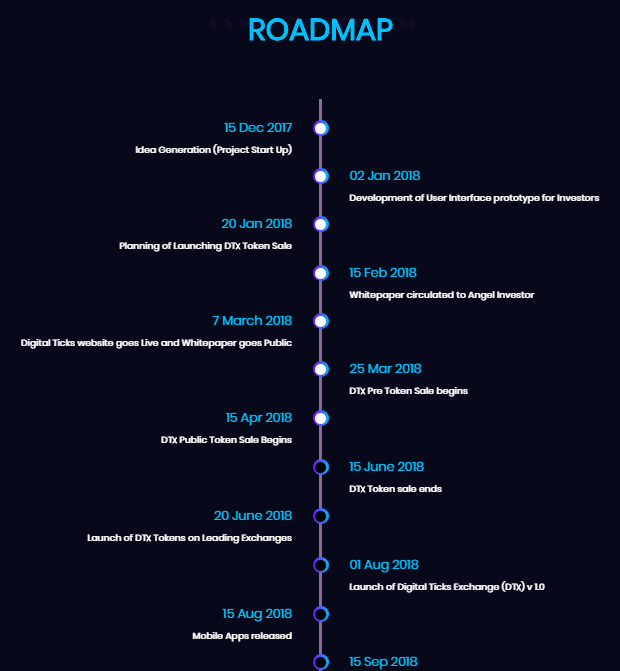 15 December 2017
• Idea Generation (Project Start Up)
02 January 2018
• Development of User Interface prototype for Investors
20 January 2018
• Planning of Launching DTX Token Sale
15 February 2018
• Whitepaper circulated to Angel Investor
7 March 2018
• Digital Ticks website goes Live and Whitepaper goes Public
25 March 2018
• DTX Pre Token Sale begins
15 April 2018
• DTX Public Token Sale Begins
15 June 2018
• DTX Token sale ends
20 June 2018
• Launch of DTX Tokens on Leading Exchanges
01 August 2018
• Launch of Digital Ticks Exchange (DTX) v 1.0
15 August 2018
• Mobile Apps released
15 September 2018
• Listing of additional Alt Coins
25 March 2019
• Annual Ceremony
15 May 2019
• 1000+ cryptocurrencies listed, daily exchange volume expected 200000+ BTC.
15 July 2019
• One of the Top 10 worldwide cryptocurrency Exchange Platforms
Quarter 4 2019
• Listing of Digital Ticks Exchange IPO on recognized Stock Exchange
OUR TEAM



Jitu Bajaj – Chief Executive Officer
Mayur Poddar – Chief Communication Officer
Pooja Juneja – Project Legal Advisor
Tushar Panchbudhe – Blockchain Developer
Gauri Bhagat – Social Media Community Manager
I kindly invite everyone to be part of this amazing project. For more information about Digital Ticks and to participate with our members worldwide, click on any of the links below;
Website: https://www.digitalticks.com/
Whitepaper: https://www.digitalticks.com/pdfs/Digitalticks_whitepaper.pdf
Telegram: https://www.digitalticks.com/#
Facebook: https://www.facebook.com/DigitalTicksExchange
Linkedin: https://www.linkedin.com/company/digitalticks
Youtube: https://www.youtube.com/channel/UC1v4EPdxzad-ybpyEd8QYEQ
Authored by:Tszone
bitcointalk org: https://bitcointalk.org/index.php?action=profile;u=1742409
Ethereum wallet: 0x684c9d1c004AB2023E1d3ae9aEb902B514B703d1