Research conducted by the Office of National Statistics on fraud and cybercrime in England and Wales has produced findings showing that consumers have faced 24 per cent less incidents of computer misuse when compared to the previous survey.
Contrasting this, Action Fraud, the UK's national fraud and cybercrime reporting centre, included businesses in its own research and found a 63 per cent rise in computer misuse instances in the same period of time, with hackers looking to capitalize. Among this research was one stand out finding that there has been a 145 per cent rise in viruses being used to deliver attacks, with the report citing attacks like WannaCry as reasons for this increase. Tim Ayling, Director, Fraud & Risk Intelligence at RSA Security, said: "Despite a marginal drop in recorded cases, it's clear from the CSEW results that cyber criminals are still having an online fraud frenzy, as criminals continue to profit from posing as major retailers, banks and brands online to trick you into giving up valuable personal and financial data. In the near future, as more automated services such as virtual assistants and driverless cars have access to this data and make our purchases for us, cyber fraudsters will even start to target our non-human counterparts. Before this becomes a reality, it's vital users get a handle on who has their information, and how they are protecting it now as we move into uncharted territory of 'human-not-present' fraud. Even more so is the case now in the crypto community; apart from the issue of limitation whereby its currency is only applicable in the crypto community, cyber-attacks and wallet-hacks has become a big issue in the crypto world. These amongst others are the major reasons why our set of innovative team came together to create an everlasting solution in the name of DIGITAL IDENTIFICATION WALLET (DIW).
DIW encompasses a whole lot of functionalities, in that it would be almost inappropriate to limit it to just one definition. However, to describe it inone of its functionalities, DIW is a personal decentralized identity service which enables registered account holders to securely store and access sensitive encrypted data utilizing the power of a blockchain network. Individuals and organizations looking to store, maintain as well as securely share their critical data — in part or in whole — will be greatly benefited by joining the DIW network. DIW will also develop and supply its own Hardware Wallet which will ensure maximum security to demanding premium members. This, in conjunction with the security offered by blockchain technology provides unprecedented levels of protection.
The DIW Platform & Protocol
The DIW platform encompasses a decentralized identification infrastructure which gives registered account holders, individuals or organizations the access to create their personal online identification profile, that provides the capability to store, access and exchange sensitive encrypted data. Most interestingly, DIW will be developing its own Hardware wallet to make certain maximum security covers its premium members. The DIW token is an ERC-20, Ethereum based utility token which is going to be the legal tender over the entire community.
Why DIW?
Secure peer-to-peer protocol for the distribution of sensitive data
Ultimate security to the account holder via the utilization of a hardware wallet
Efficient, swift and cost-effective transaction processes
Complete freedom to transact via any form of currency, digital or fiat
Single access to an endless doorway
Access to support provided by a large, global community
Application areas of DIW
• DIW Global Directory
• Paid Escrow
• Secure Digital Vault
• Payment Gateway for Crypto and Fiat Currency
• Healthcare
Partners



Ties.DB – https://medium.com/@diwtoken/diw-announces-ties-db-partnership-e8cb92169ff3
FIRSTBRIDGE – http://firstbridge.io/
Ambisafe Software – https://themerkle.com/diw-receives-a-favourable-audit-from-ambisafe-inc-just-before-the-end-of-its-pre-ico/
SmarterContract – https://www.cryptoninjas.net/2018/03/18/diw-and-smarter-contract-partnership-brings-human-judgment-to-smart-contracts/
W3C –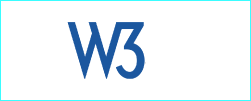 Bancor – https://www.ccn.com/diw-proudly-announces-bancor-protocol-integration/
ICO Details
Symbol: DIW
Pre-ICO: 6 March – 20 March, 2018
ICO: 03 May -31 May, 2018
DIW Token Supply: 1 000 000 000
Tokens for crowdfunding: 700 000 000 (70%)
Hard Cap: 28 000 000 USD
Participation: ETH
Token standard: ERC-20
Decimals: 18
Unsold Tokens: Will be burned
Token Distribution


ICO: 70%
Founders: 15%
Future Partners: 8%
Advisory & Partners: 5%
Bounty: 2%
Funds Allocation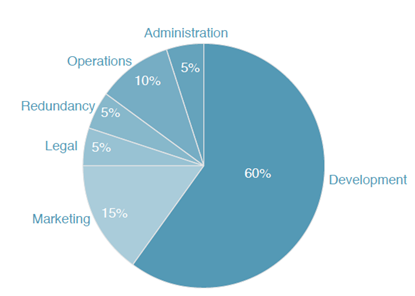 Development: 60%
Sales & Marketing: 15%
Legal: 5%
Administrative expenses: 5%
Operational Costs: 10%
Redundancy fund: 5%
Bonus Structure
Phase 1: 3 May – 10 May
1 ETH = 10 500 DIW Tokens
Phase 2: 10 May – 17 May
1 ETH = 9 500 DIW Tokens
Phase 3: 17 May – 24 May
1 ETH = 8 500 DIW Tokens
Phase 4: 24 May – 31 May
1 ETH = 8 000 DIW Tokens
Roadmap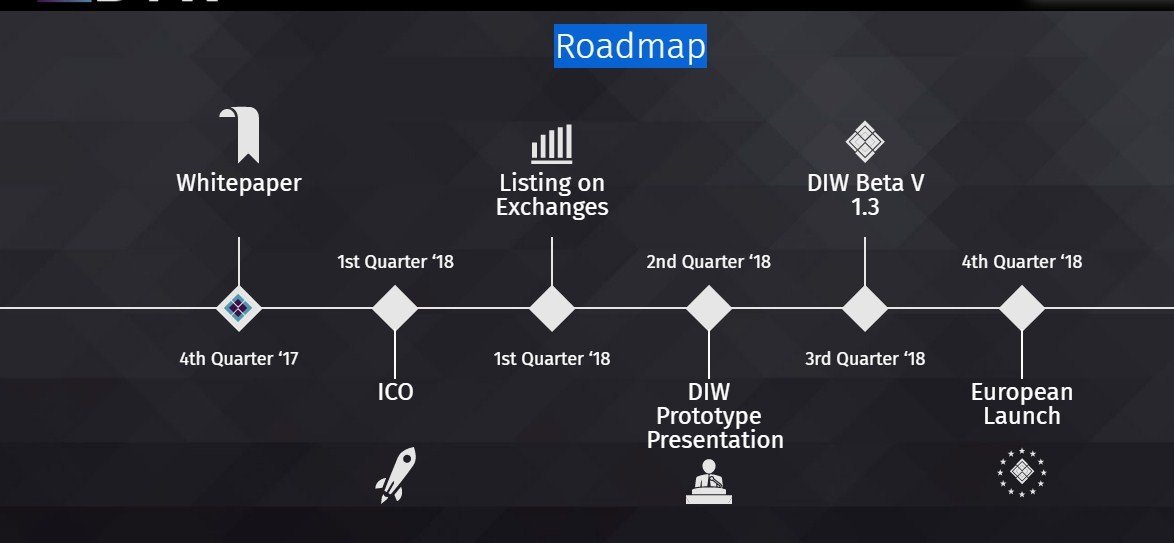 4th Quarter 2017
Whitepaper
3rd May
ICO
Listing on Exchanges
2nd Quarter 2018
DIW Prototype
3rd Quarter 2018
DIW Alpha version
4th Quarter 2018
European Launch
Our Team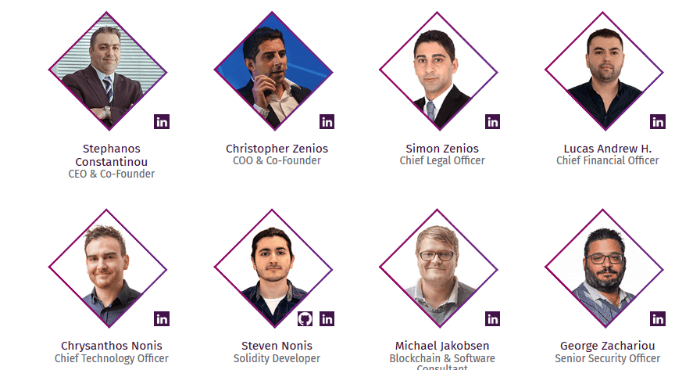 Stephanos Constantinou – CEO & Co-Founder
Christopher Zenios – COO & Co-Founder
Simon Zenios – Chief Legal Officer
Lucas Andrew H. – Chief Financial Officer
Chrysanthos Nonis – Chief Technology Oficer
Steven Nonis – Solidity Developer
Michael Jakobsen – Blockchain & Software Consultant
George Zachariou – Senior Security Officer
Anton Bogdanov – Cryptographer & Application Developer
Nikolas Konstantinou – Chief Neyworking Officer
Constantina Samara – Senior Web Designer
Ben Boyadjian – Chief Analytics Officer
Christos Kyriacou – Business Development
Masha Soboleva – Russian Community Manager
Advisors
Simon Cocking – World-class Blockchain Expert
Dinos Pastos – Blockchain & Security Specialist
Stelios Stylianou – Author / Pro-Trader
Arthur Oganov – Entrepreneur & Financial Advisor
Sydney Ifergan – Crypto Community advisor Expert at ICObench
Alaa Mohra – International Marketing Expert
Toomas Allmere – Multitalented Finance Executive
Francesco Redaelli – International Business developer / ICO Expert
Vladimir Nikitin – Top 5 ICO Expert & ICO Advisor
Conclusion
Imagine how your life could be, if there was a security storage that you would never have to worry about forgetting it somewhere. It's a situation where you wouldn't worry about robbers breaking into the security headquarter and take your assets. That idea would be a dream fulfilled. DIW Token is making that dream a reality. DIW plans to bridge the gaps and the issues with the introduction of the decentralized, peer to peer blockchain ecosystem. DIW holder will be able to access the network only with KYC details and with a valid documentation.
The consumers can perform the transactions with full transparency and the users will be able to see each other's real life performance. DIW has its own digital token system named as the DIW token. This token can be used to perform the transactions with a higher order security.
DIW has a vision of introducing the payment gateway in its network where the users can easily integrate the crypto wallets with the e-commerce websites. This enables the usage of cryptocurrencies in the everyday activities.
With DIW the advantages is just endless; join us for the best experience ever in the crypto world. Please do well to follow any of the links provided below for more information.
Reference Links
Website: https://diwtoken.com/
Forum topic: https://bitcointalk.org/index.php?topic=2567416
Technical documentation: https://docsend.com/view/qr8a4u7
Facebook: https://www.facebook.com/diwtoken/
Twitter: https://twitter.com/diwtoken
Telegram: https://t.me/diwtoken
Instagram: https://www.instagram.com/diwtoken/
Youtube: https://www.youtube.com/channel/UCcsN2tHDO3kxl3p1bBq4g6g
Whitepaper: file:///C:/Users/hp/Downloads/DIWtoken.com%20-%20Whitepaper%20-%20English.pdf
Reddit: https://www.reddit.com/r/diwtoken/
GitHub: https://github.com/diwglobal
Medium: https://medium.com/@diwtoken
Authored by: Davison
Bitcointalk url: https://bitcointalk.org/index.php?action=profile;u=2075838
Wallet: 0xcd3AA411AAF6Ab5017394e00Ad49eCF6B39Ee84B