DIW: DIGITAL IDENTIFICATION WALLET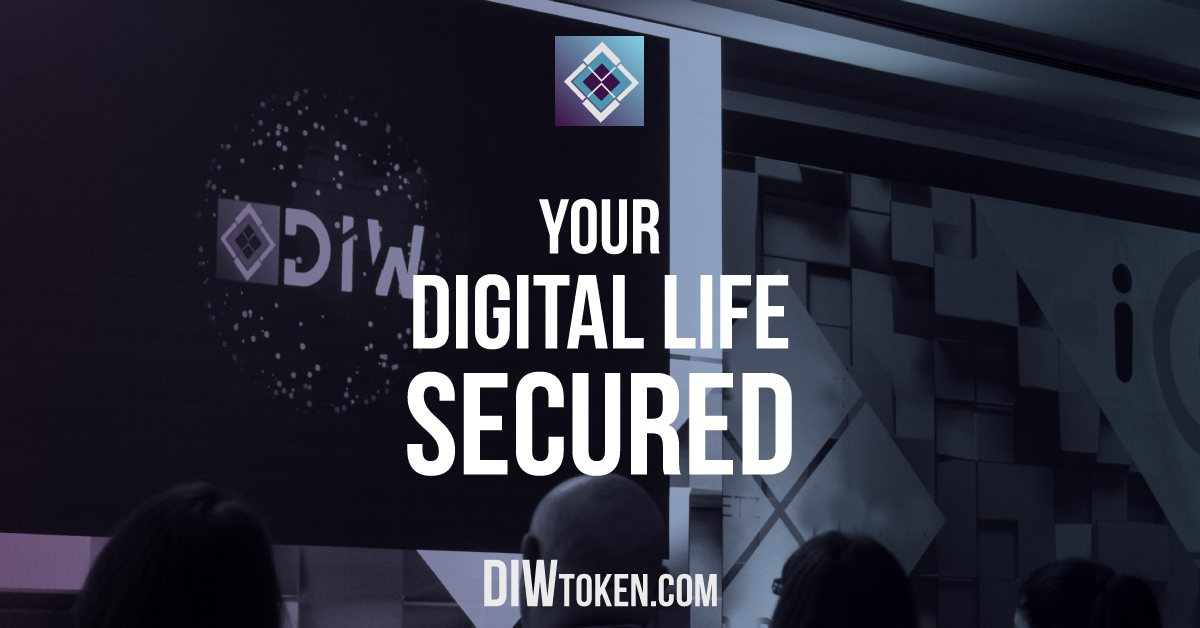 Data privacy is a challenging issue in the world that people face on a daily basis without actually finding a lasting solution. People create and access data through various devices everyday with information being stored in offline and online mediums such as databases and cloud services in either social media platforms, banking or many more. This is a confusing time in the world of data privacy and security, with millions of accounts being hacked because of the poor security to the data being stored. The more we store data in various locations, the more we rely on an increasing number of passwords to gain access to our information. However, DIW wants to put an end to these challenges. DIW wants to end challenges that include increasing data breaches, growing online fraud, and the utilization of crypto currency. DIW which stands for 'digital identification wallet' is an identification infrastructure which allows only registered account holders or designated organizations to create an online profile that is capable of storing, accessing and exchanging encrypted data, thus creating a lasting solution to data insecurity. The DIW plans to bridge and solve all the problems mentioned above with the introduction of its global, blockchain-based, decentralized network that is complete with its own ecosystem and currency. The DIW holders would be able to access the network, also granting access to a secure vault that is capable of storing their entire 'virtual life' which includes passports, login details and electronics health records, etc. The DIW project is simply unique and therefore, I urge you to read the whitepaper for more details https://docsend.com/view/qr8a4u7 .
THE DIW INFRASTRUCTURE AND PROTOCOL
• Efficient, swift and cost-effective transaction processes
• Complete freedom to transact via any form of currency, digital or fiat
• Single access to an endless doorway
• Access to support provided by a large, global community
• Secure peer-to-peer protocol for the distribution of sensitive data
• Ultimate security to the account holder via the utilization of a hardware wallet
THE DIW AREAS OF APPLICATION AND PHASE DEVELOPMENT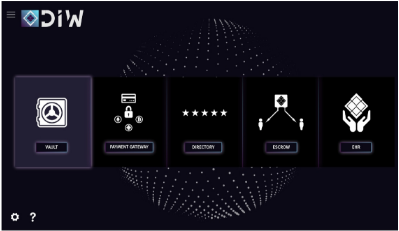 • Healthcare
• Secure Digital Vault
• Payment gateway for crypto and fiat currency
• DIW global directory
• Paid Escrow
TOKEN SALE DETAILS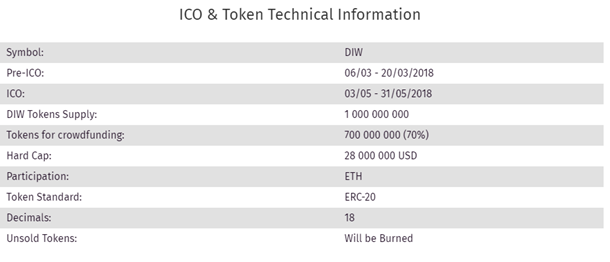 Symbol: DIW
Pre-ICO: 06/03 – 20/03/2018
ICO: 03/05 – 31/05/2018
DIW Tokens Supply: 1,000,000,000
Tokens for crowdfunding: 700,000,000 (70%)
Hard Cap: 28,000,000 USD
Participation: ETH
Token Standard: ERC-20
Decimals: 18
Unsold Tokens: Will be burned
ICO BONUS STRUCTURE



Note: ICO starting time and phase change starts and ends at 12:00 GMT, respectively.
Hardcap: 28 million USD in Etheruem.
Note that, the ICO will be terminated once the hardcap target has been achieved. Also, all unsold tokens will be burned at the end of the ICO.
TOKEN DISTRIBUTION



70% – ICO
15% – Founders Token
5% – Advisors and Partners
2% – Bounty
8% – Future Partners
FUNDING ALLOCATION
60% – Project design and development
15% – Sales, marketing and community management
5% – Legal consultation/ expenses
5% – Administrative expenses
10% – Operational costs, including office rental, equipment, servers, etc.
5% – Redundancy fund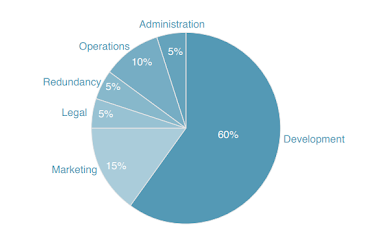 ROADMAP
4th Quarter 2017: Whitepaper
ICO: 3rd of May
Right after the ICO: Listing on Exchanges
DIW Prototype Presentation: 2nd Quarter 2018
3rd Quarter 2018: DIW Alpha Version
European Launch: 4th Quarter 2018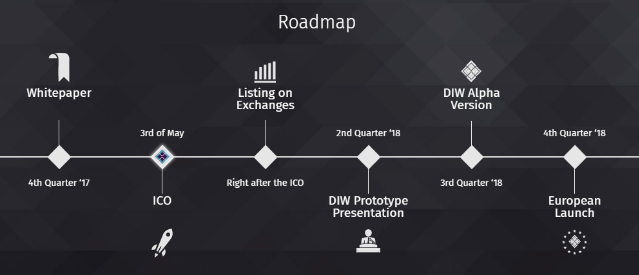 TEAM
Stephanos Constantinou : CEO & Co-Founder
Christopher Zenious : COO & Co-Founder
Simon Zenious : Chief Legal Officer
Lucas Andrew: Chief Financial Officer
Chrysanthos Nonis : Chief Technology Officer
Steven Nonis : Solodity Developer
Michael Jakobsen : Blockchain & Software Consultant
George Zachariou : Senior Security Officer
Anton Bogdanov : Cryptographer & Application Developer
Nikolas Konstantinou : Chief Networking Officer
Constantina Samara : Senior Web Designer
Ben Boyadjian : Chief Analytics Officer
Christos Kyriacou : Business Development
Masha Soboleva : Russian Community Manager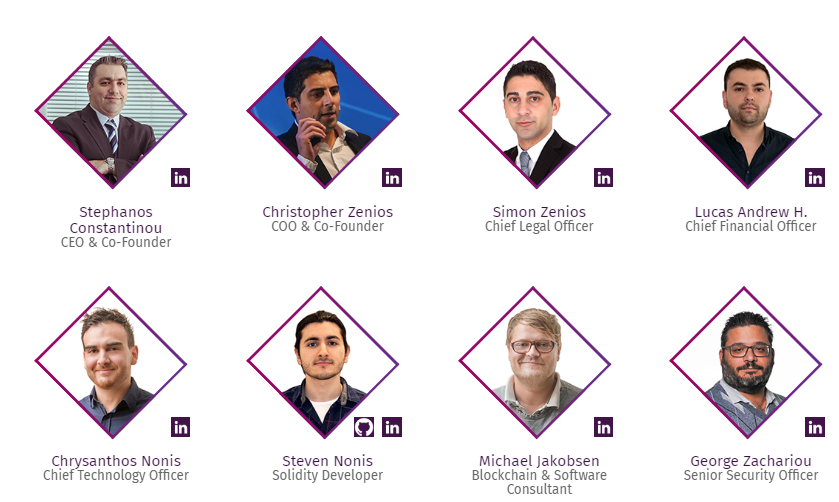 ADVISORS
Simon Cocking : World-class Blockchain Expert
Dinos Pastos : Blockchain & Security Specialist
Stelios Stylianou : Author & Pro-Trader
Artur Oganov : Entrepreneur & Financial Advisor
Sydney Ifergan : Crypto Community Advisor Expert at ICObench
Alaa Mohra : International Marketing Expert
Toomas Allmere : Multitalented Finance Executive
Francesco Redaelli : International Business Developer & ICO Expert
Vladimir Nikitin : Top 5 ICO Expert & ICO Advisor
For more details on this project, please feel free to click on any of the following links:
Website: https://diwtoken.com/
ANN thread; https://bitcointalk.org/index.php?topic=2567416
Whitepaper: https://docsend.com/view/qr8a4u7
Facebook: https://www.facebook.com/diwtoken/
Twitter: https://twitter.com/diwtoken
Reddit: https://www.reddit.com/r/diwtoken/
Bitcoin: https: https://bitcointalk.org/index.php?topic=2567416
Telegram: https://t.me/diwtoken
Instagram: https://www.instagram.com/diwtoken/
Youtube: https://www.youtube.com/channel/UCcsN2tHDO3kxl3p1bBq4g6g
Medium: https://medium.com/@diwtoken
Published by: tszone
Bitcointalk URL: https://bitcointalk.org/index.php?action=profile;u=1742409
Ethereum wallet address: 0x684c9d1c004AB2023E1d3ae9aEb902B514B703d1