DIW: SECURING YOUR DIGITAL LIFE

Today, digital life is barely safe. Lots of people engage in one social media activity or the other, be it banking, shopping or communication. However, our online life is faced with a huge threat as passwords and private data of social media and other online platform users are being hacked. People usually store their personal data and other classified information on their personal devices which are supposed to be safe, yet, organizations and individuals keep getting scammed or hacked. The rise in online hacks and scam has raised and keeps raising concerns on the safety of social media users. Storing data with various databases and cloud services that offer password and other classified information protection service haven't helped as they function on a centralized system which is susceptible to hacks and corruption. Also, hacks and scam make it increasingly difficult to find trustworthy consultants and professionals to work with as substandard products and services are bandied everywhere. Theft of data by identity thieves and scammers have been detrimental to businesses and individuals alike, both online and offline. These issues have propelled the need for a platform where data, passwords and other classified information can be safely and securely stored without the fear of breach. To this end, DIW (Digital Identification Wallet) and its innovative team has embarked on resolving the issues associated with data storage. They have developed a platform that uses a decentralized identification system. The DIW enables individuals, institutions and organizations who are account holders on the DIW platform to create a personal online identification profile which will enable them safely access, store and exchange personal, sensitive and classified data. The DIW is swift, highly secure, transparent, consistent and guarantees user anonymity. Premium DIW members will have access to the DIW hardware wallet which enable and ensure maximum security, among others. For efficiency of the DIW project, it has divided its development into 5 stages:
• DIW global directory
• Secure digital vault
• Paid escrow
• Payment gateway for cryptocurrency and fiat currency
• Healthcare
DIW ADVANTAGES
• Top-notch security to DIW account holders through the use of a hardware wallet
• Single access to an endless doorway
• Total freedom to transact via any currency, cryptocurrency or fiat money.
• Secure P2P protocol for the distribution of sensitive data
• Efficient, swift, and cost-effective transaction processes
• Access to support provided by a large global community.
INTRODUCING THE DIW TOKEN
The DIW token is an Ethereum based utility token used for transactions on the platform by users as well as exchanging services and products. The token will be influenced by currency, storage, escrow service, and crypto payments. The crowdfunding hardcap is valued at $28,000,000. The pre-ico started on March 6th and ended on March 20th 2018 while the ICO started on 3rd May, 2018 and end on 31st May, 2018. It should be noted that the ICO is currently in its phase 3 and in this phase 1 ETH is equal to 8500 DIW. I urge you to quickly take advantage of this very promising token sale event.

STRUCTURE OF DIW TOKEN BONUS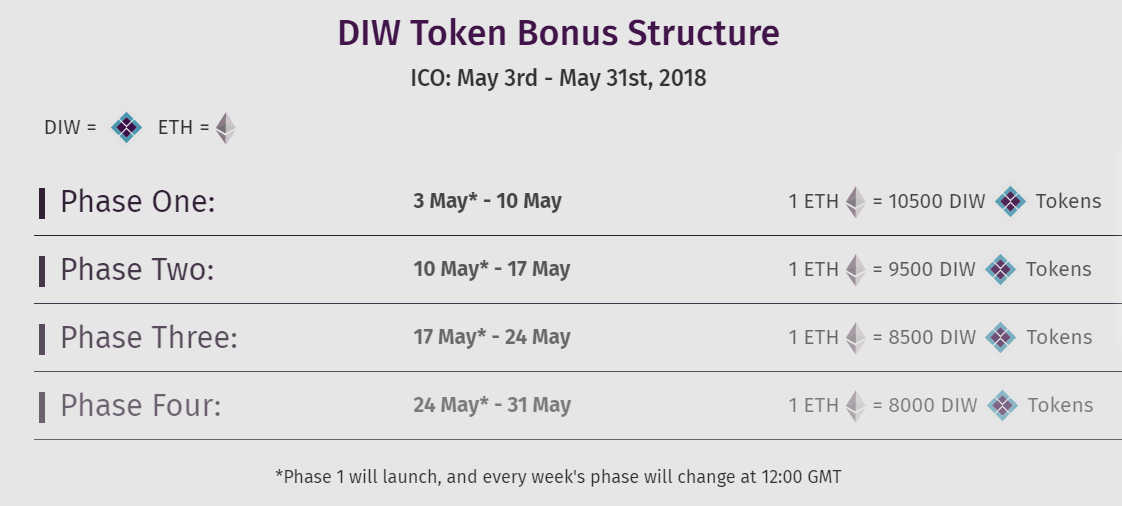 Note that 1 billion DIW token will be created and 700 million of it will be available for ICO. The hardcap is 26 million Ethereum, and the ICO will end once the hardcap is achieved. All unsold tokens will be burned.
TOKEN DISTRIBUTION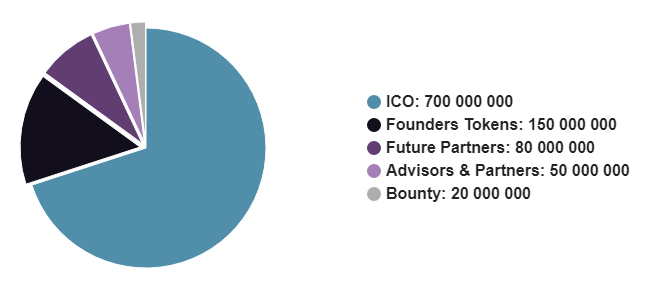 8% – Future partners
2% – Bounty
5% – Advisors & Partners
15% – Founders tokens
70% – ICO
FUND ALLOCATION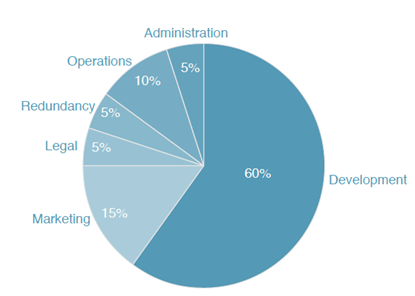 5% – Redundancy fund
10% – Operational cost
5% – Administrative expenses
5% – Legal consultation/expenses
15% – Sales, marketing, and community management
60% – Project design and development
ROADMAP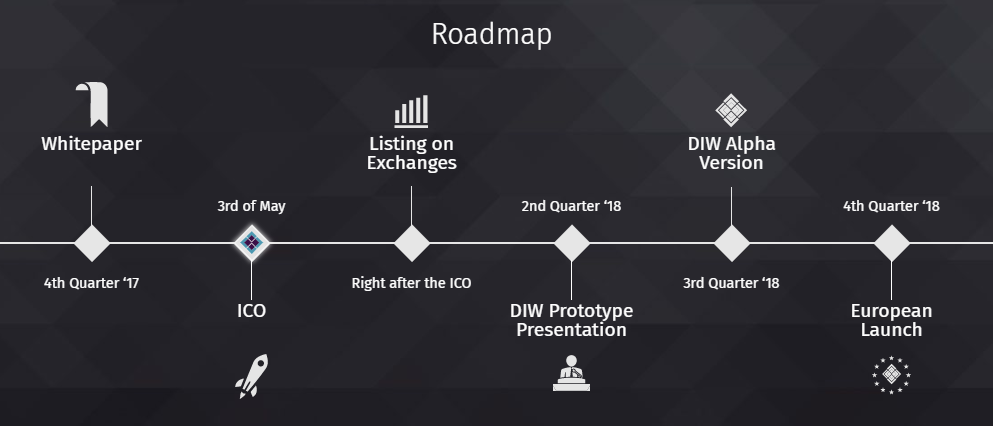 Q4 2017 – Whitepaper
27th March 2018 – ICO
• Listing on exchanges
Q2 2018 – DIW prototype presentation
Q3 2018 – DIW Alpha version
Q4 2018 – European launch
DIW TEAM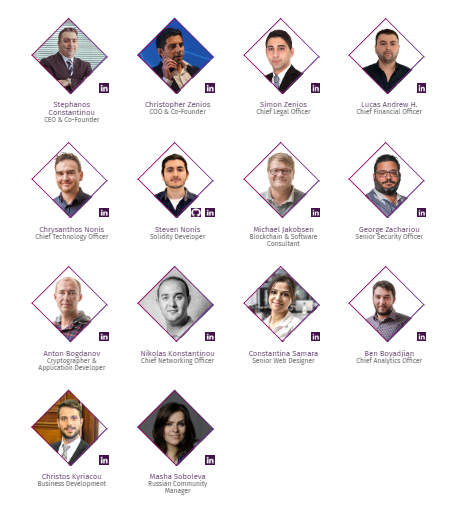 Simon Zenios – Chief Legal Officer
Lucas Andrew H. – Chief Financial Officer
Steven Nonis – Solidity Developer
Stephanos Constantinou – CEO & Co-Founder
Christopher Zenios – COO & Co-Founder
Michael Jakobsen – Blockchain & Software Consultant
Chrysanthos Nonis – Security Penetration Officer
George Zachariou – Senior Security Officer
Constantina Samara – Senior Web Designer
Ben Boyadjian – Chief Analytics Officer
Anton Bogdanov – Cryptographer & Application Developer
Nikolas Konstantinou – Chief Networking Officer
Christos Kyriacou – Business Development
Masha Soboleva – Russian Community Manager
DIW ADVISORS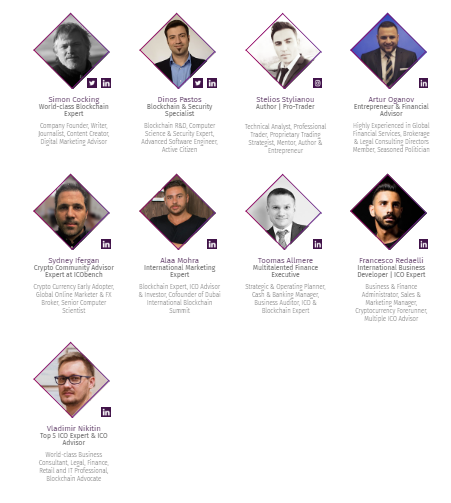 Stelios Stylianou – Author | Pro-Trader
Dinos Pastos – Blockchain & Security Specialist
Sydney Ifergan – Crypto Community Advisor, Expert at ICObench
Artur Oganov – Entrepreneur & Financial Advisor
Simon Cockcing – Word-Class Blockchain expert
Sydney Ifergan – Crypto Community Advisor Expert at ICObench
Francesco Redaelli – International Business Developer/ICO Expert
Toomas Allmere – Multitalented Finance Executive
Alaa Mohra – International Marketing Expert
Vladimir Nikitin – Top 5 ICO Expert & ICO Advisor
With the DIW, issues of data privacy and security will become a thing of the past. I, therefore, enjoin everyone to join in on the DIW project and participate actively in its ICO event.
For more information about this project and to connect with other participant across the globe, please feel free to click on any of the following links;
Website: https://diwtoken.com/
Whitepaper: https://docsend.com/view/qr8a4u7
ANN thread: https://bitcointalk.org/index.php?topic=2567416
Telegram: https://t.me/diwtoken
Twitter: https://twitter.com/diwtoken
Facebook: https://www.facebook.com/diwtoken/
Published by: charleyles
Bitcointalk URL: https://bitcointalk.org/index.php?action=profile;u=1344011
Ethereum wallet address: 0x69C516900e939e97C7c60Ca59bdaF15295556838