Docademic – Providing Free Basic Healthcare to The World
INTRODUCING
Docademic is a Platform that focuses on free primary health care since 2016, through integration and enhancement of treatment using AI and Blockchain technologies. Docademic has a vision to the fore, by seeing that quality health services should be easily and freely available to the wider Community. Using AI and Blockchain technologies, Docademic transformed traditional health care systems into a more renewable and decentralized system.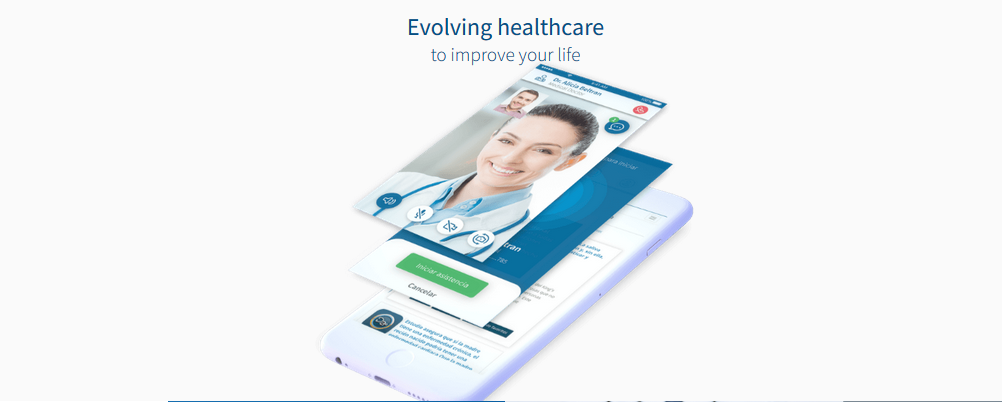 Getting Started Development
The team from Docademic developed this Platform using an integrated and renewable system, through Blockchain and AI technologies, which are expected to improve health services for the Society to be more qualified and more accessible. Docademic has been used by more than thousands of people in 20 Countries, through Telemedicine Video Doctor-AI service, which can be used for free. With the experience and data that Docademic already has, the Platform can provide the community, a health service that will improve public health services for the better than ever. Docademic enables communities to access health services better and more openly and provides the public with information about health benefits and knowledge in general. Docademic provides a feature where patients can communicate directly with doctors via Video Telemedicine, for free and wherever the user is. Docademic makes it easy for doctors to access patient data directly through the network provided by Docademic, such as referrals, tools for daily doctor practice, and epidemiological data reporting for our clients and researchers in real time.

Docademic provides an application called Docademic App and Docademic for Doctors, which is directly integrated, and will provide patients and physicians with a renewable health service and enable the highest level of access and medical advancement. Using AI technology, Docademic can complement and optimize the diagnosis of patients through speech or text expressed by the patient, and this technology will continue to be developed by the Docademic development team. Data generated by the diagnosis of physicians and medicines consumed by patients will be collected and reusable for health research and development. Docademic has a diagnostic technology named the Cross Human-AI Engine Diagnosis (CDHAIE), which has a rapid and thorough patient diagnostic function. CDHAIE allows rapid diagnosis Through technology developed by the Docademic team. CDHAIE also helps doctors in disease diagnosis through the video call feature, CDHAIE will help to diagnose the disease more accurately by collecting the symptoms of the disease expressed by the patient. Docademic also has a feature called Cool Emotions, which is used for the psychological treatment of patients.
APP: The Healthcare Engine
It provides an easy-to-use application that aggregates the services of the different analytical services of artificial intelligence and assists Human Physicians who are available 24 hours a day in a single, easy-to-use application that allows users to go to the place and time of their choice, as well as track the medications they receive, take and share their health history through the blocking chain with doctors of their choice.
Problems that DOCADEMIC solves:
Accessibility silos
Neglected markets
The problems of the Accessibility Silos and Infra Markets attended to are solved by connecting these health services in a single point of access, and by allowing patients to focus on a solution at home or on the right health care providers and services.
Human-AI cross-diagnosed engine:
Facilitates a quick, efficient and accurate diagnosis of patients: When the diagnostic process begins and the need for medical care in the DOCADEMIC APP is very high, the Doctor gets real-time AI suggestions for better patient diagnosis across the video telemedicine.
DOCADEMIC Plataformaorm DOCADEMIC FOR DOCTORS' social network is made up of a set of services that provide clients with the tools for continuous learning of medicine, reducing diagnostic errors and increasing the return on investment (ROI) by reducing costs for doctors and patients.
Users will get the following benefits:
a). Decrease in Counterparty Risk: DOCTOR users of the DOCADEMIC Platform will be assured that the available information complies with the regulators.
b). Increased efficiency: DOCADEMIC Platforms Doctor users can upgrade to other treatments without having to search the world's medical journals directly. News from journals will be updated through DOCADEMIC's real-time publishing technology, and should be instantaneous for physicians as soon as articles are published.
c). Precise diagnosis for clients: In this way, physicians will be better able to benefit from deficiencies in the sometimes slow incorporation of the latest advances in treatments into the health system.
Importance of BlockChain technology for DOCAMEDIC PLATAFORMS
Docademic obtains the medical records of patients in a locking chain on first contact with a doctor through our DOCADEMIC APP application. It's the best way to put people in the chain of blocks. If necessary, patients may be referred to other health services or products after their first contact with a physician at the DOCADEMIC APP. All patient information secured in a locking chain. Docademic Blockchain will eventually be possible to access third parties and they will be able to build applications and dapps in Docademic Blockchain.
ROADMAP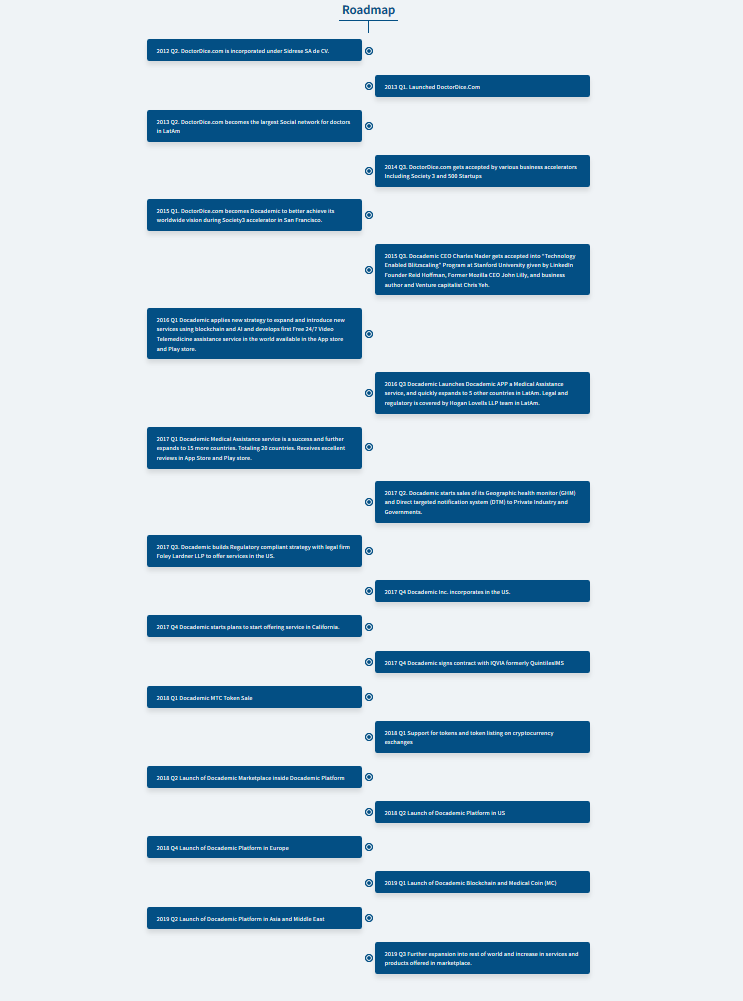 CONNECT WITH US
WEB: https://docademic.com/
WHITEPAPER: https://cdn.docademic.com/documents/ico/Docademic+White+Paper.pdf
ICO: https://ico.docademic.com/
TELEGRAM: https://t.me/joinchat/GWeOM0Nc_R_htbcpJha7mA
My profile Bitcointalk:https://bitcointalk.org/index.php?action=profile;u=996622