Docademic providing Healthcare to the World with Blockchain
Docademic has a significant competitive advantage
FREE AI-Human Doctor Telemedicine ON-RAMP service
Uses AI
Uses Blockchain
Have Marketplace
Social Network for Doctors
Complies with US regulations
Present in more than 15 countries
Home delivery of healthcare products
WHAT IS MTC (Medical Token Currency)?
The next Bitcoin or Ethereum for healthcare products and services.
Docademic is creating a Healthcare services based blockchain that will be powered by MTC. As more Healthcare services utilize the MTC blockchain, we anticipate MTC becoming the token of choice by a growing ecosystem of healthcare service providers thus causing the utility of MTC to grow.
TRADE MTC on all major exchanges
PAY with MTC for all of DOCADEMIC´s products and services
USE MTC as a payment token for other healthcare service
Allocation of Token :
30% Community / Ecosystem
20% Management / Team / Shareholders
35% Offered to public
15% Strategic partners
Use of proceeds
50% Expansion of services
20% Product development
15% Operations
15% Legal / Regulation
Roadmap
2012 Q2. DoctorDice.com is incorporated under Sidrese SA de CV.
2013 Q1. Launched DoctorDice.Com
2013 Q2. DoctorDice.com becomes the largest Social network for doctors in LatAm
2014 Q3. DoctorDice.com gets accepted by various business accelerators Including Society 3 and 500 Startups
2015 Q1. DoctorDice.com becomes Docademic to better achieve its worldwide vision during Society3 accelerator in San Francisco.
2015 Q3. Docademic CEO Charles Nader gets accepted into "Technology Enabled Blitzscaling" Program at Stanford University given by LinkedIn Founder Reid Hoffman, Former Mozilla CEO John Lilly, and business author and Venture capitalist Chris Yeh.
2016 Q1 Docademic applies new strategy to expand and introduce new services using blockchain and AI and develops first Free 24/7 Video Telemedicine assistance service in the world available in the App store and Play store.
2016 Q3 Docademic Launches Docademic APP a Medical Assistance service, and quickly expands to 5 other countries in LatAm. Legal and regulatory is covered by Hogan Lovells LLP team in LatAm.
2017 Q1 Docademic Medical Assistance service is a success and further expands to 15 more countries. Totaling 20 countries. Receives excellent reviews in App Store and Play store.
2017 Q2. Docademic starts sales of its Geographic health monitor (GHM) and Direct targeted notification system (DTM) to Private Industry and Governments.
2017 Q3. Docademic builds Regulatory compliant strategy with legal firm Foley Lardner LLP to offer services in the US.
2017 Q4 Docademic Inc. incorporates in the US.
2017 Q4 Docademic starts plans to start offering service in California.
2017 Q4 Docademic signs contract with IQVIA formerly QuintilesIMS
2018 Q1 Docademic MTC Token Sale
2018 Q1 Support for tokens and token listing on cryptocurrency exchanges
2018 Q2 Launch of Docademic Marketplace inside Docademic Platform
2018 Q2 Launch of Docademic Platform in US
2018 Q4 Launch of Docademic Platform in Europe
2019 Q1 Launch of Docademic Blockchain and Medical Coin (MC)
2019 Q2 Launch of Docademic Platform in Asia and Middle East
2019 Q3 Further expansion into rest of world and increase in services and products offered in marketplace.
Token Specifications: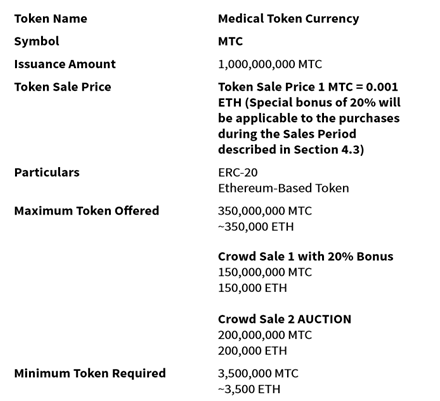 DOCADEMIC APPLICATION
Docademic APP is a very user-friendly and easy to use application that anyone can download and start using. Docademic Application supports both Android and IOS and can be downloaded from Google Play or App Store. Registration for Docademic can be submitted with Facebook, Gmail or any e-mail address.
Registered users can talk to Doctors on Docademic platform 24/7 for free.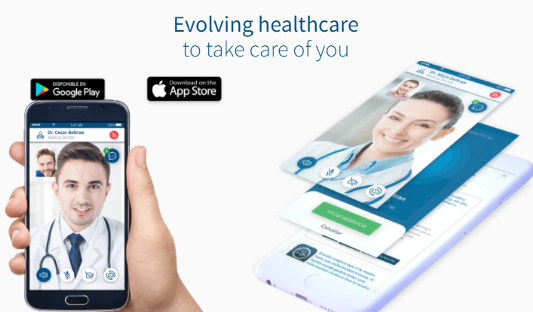 DOCADEMIC FOR DOCTORS SOCIAL NETWORK
Docademic for Doctors provides a social network for Doctors that are registered in Docademic Platform.
You can see the core offerings that Docademic platform offers for doctors below:
Medical educations
Electronic Health Records (EHR)
Real-time geographic epidemiological data reporting
AI-Driven treatment and diagnosis suggestions for Doctors in institutions or private practice
Medical journals
MEDICAL TOKEN CURRENCY (MTC)
Medical Token Currency (MTC) is the main element of Docademic Platform. MTC token holders are going to have full access to Docademic Platform and be able to use all Docademic's services.
MTC is an Ethereum based token. MTC tokens are being issued with adhere to the ERC20 tokenstandard. It can be stored in any wallet that supports ERC20 tokens such as Mist, MetaMask, MyEtherWallet.
See the details about token sale below:
Ticker Symbol: MTC
Token standard: ERC20
Issuance Amounth: 1,000,000,000 MTC
Price: 1 MTC = 0.001 ETH (20% bonus in Crowd Sale 1)
Soft Cap: 3,500,000 MTC
Crowd Sale Starting Date: January 29nd, 2018
Detail Information :
Website : https://ico.docademic.com/
Whitepaper: https://cdn.docademic.com/documents/ico/Docademic+White+Paper.pdf
Facebook : https://www.facebook.com/Docademic/
Twitter : https://twitter.com/docademic
Telegram: https://t.me/joinchat/GWeOM0Nc_R_htbcpJha7mA
My profile Bitcointalk:https://bitcointalk.org/index.php?topic=2757588.0