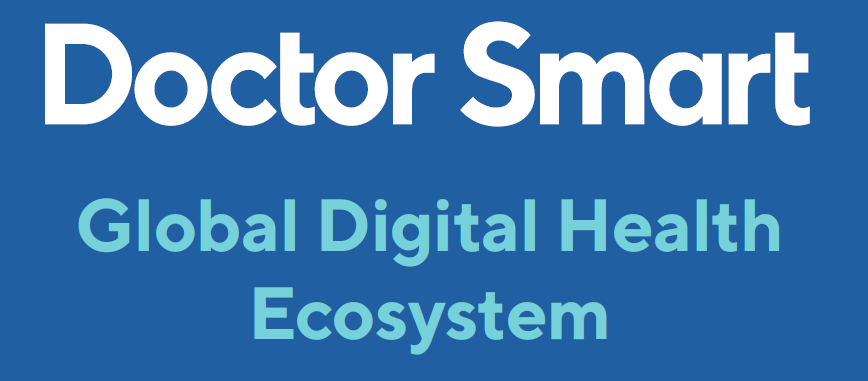 With the so many possible applications of the Blockchain Technology, there is one industry that is yet to be explored with its benefits and that is the field of medicine. Being one of the basic needs of every human, the opportunity for an easy access to medicine queries such as consultations should be made possible to help leverage the quality of life and increase longevity.
Imagine being in an area where access to clinics or hospitals require travel from coast to coast. This situation is not something new for a number of our fellowmen are suffering from this lack of medical accessibility. Instead of having immediate medical assistance, it will take hours before one gets to the patient. Even a simple consultation is often too few of instances for such a community that is away from medical accessibility.
To help improve the quality of medical accessibility and consultations as well as other medical related services all at an affordable price, Doctor Smart was envisions by its team.
Doctor Smart is starting an evolution in healthcare. Being a global blockchain ecosystem, Doctor Smart will be able to provide healthcare services at a lower price but with so much accessibility and benefits. The Doctor Smart ecosystem will be integrated with hospitals, clinics, healthcare providers and clients in a global setting.
The Doctor Smart ecosystem will also be driven with Artificial Intelligence (AI) Technology that will help aid in understanding patients' condition and make the decision making process for doctors and healthcare providers a bit easier and faster. It will also bring forth telemedicine to bridge the gap of medical accessibility to some areas and offer healthcare and wellness management.
The founder of Doctor Smart said "This will empower healthcare systems to deliver superior cost efficiency, affordability and quality of service to clients. We believe these advances will increase quality of life and longevity around the world".
The Doctor Smart Services
Doctor Smart is like a patient's virtual healthcare assistant that will give you an easy real-time and 24/7 access to some health and wellness advice given by doctors, fitness experts and instructors. Doctor Smart also offers a virtual visit where you can speak to a real healthcare professional and do your consultation online.
The image below shows the different virtual visit options Doctor Smart is offering to patients.

Aside from the aforementioned things that Doctor Smart can give to patients, here are other things that can also be done:
• Quick consultation accessibility to healthcare professionals and providers
• An user-friendly and comprehensive platform where you have an access to your overall health information gathered
through consultations, advices, prescriptions and personal data embedded on some fitness wearable devices and
mobile applications
• The ability to reach healthcare consultation from professionals all over the world
The Doctor Smart Revolution

Doctor Smart is hoping to drive a better healthcare system all over the world by going digital. With a blockchain-based platform, powered by AI and smart contracts, Doctor Smart is yet another medical solution breakthrough.
Doctor Smart Support System: Doctor Smart's clinical support decision system will help speed-up and make drug prescriptions even more precise by comparing the given drug to the patient's past medical record and drug interaction.
This Doctor Smart solution is assistance to doctors and other healthcare providers to avoid prescribing medicines that might put the patient in danger or eliminate drugs which were proven to have no effect to patients.
Doctor Smart Control System: This Doctor Smart solution will help healthcare providers such as insurance companies to easily verify medical qualifications of patients and for better and more concise consultations. To achieve highest quality, Doctor Smart has implemented a two stage quality control system.
Doctor Smart Blockchain-Based Ecosystem. The use of Blockchain in its platform will allow transparency of transactions between participants. This will lessen the chances of committing wrong decisions as documents will be made available to all included parties. Doctor Smart is also based on smart contracts that will make medical fees transparent and a bit affordable and have more secured financial transactions.
Doctor Smart AI Technology: The AI capability of Doctor Smart will help lessen the job of doctors and professionals. Having the ability to assess medical conditions through analyzing CT/MRI, X-ray and ultrasound images or scans, the diagnosis will come in faster and will aid the medical professional.
Doctor Smart Queue Solution: Based on some request parameters, patients will be matched to specialists in such manner.
The Doctor Smart Process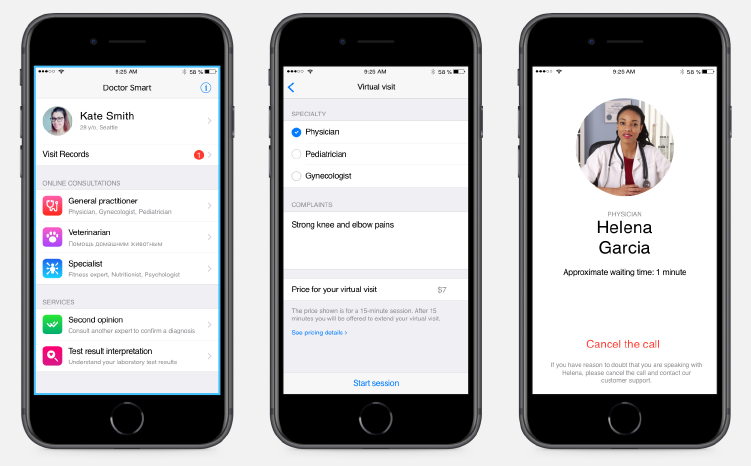 In general, patients will only need to access the Doctor Smart App, register, include some complaints or symptoms and select a specialist that he or she needs. With a waiting time of approximately a minute, Doctor Smart will connect you automatically to the specialist.
You will then do some real-time virtual visit or consultation of your choice. You have the option to share some medical files through the virtual visit and let the specialists gain access to it to further understand your current medical condition. After your virtual visit is done, you will know the total medical fees, doctor information and duration of your visit. All visit files will be saved according the medical advices given during the visit for your reference.
And then you will receive an individual medical advice after 30 minutes, starting from when the virtual visit ended.
For a more specific flow of how Doctor Smart works, see image below.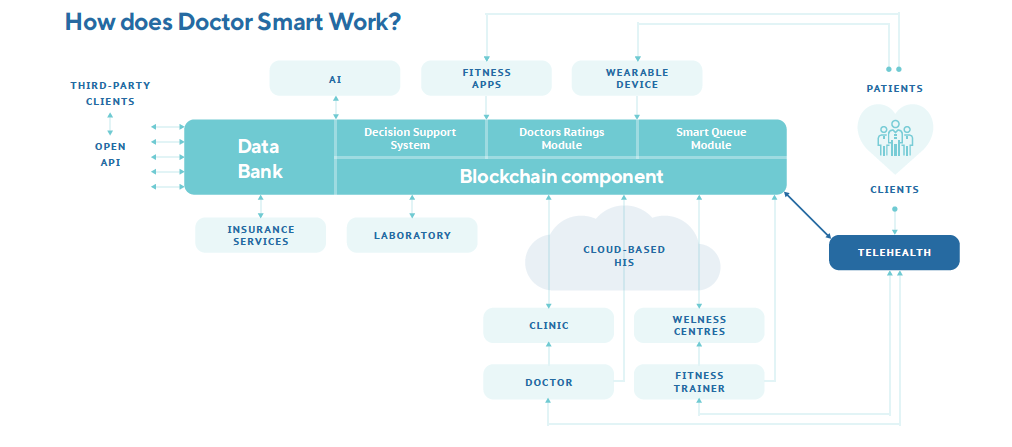 The Doctor Smart Ecosystem
The ecosystem will be comprised of Health Care Consumers or patients, healthcare specialists and providers and health insurance providers. They will all be vital in Doctor Smart's vision of making medical care more accessible, better, efficient and cost-efficient.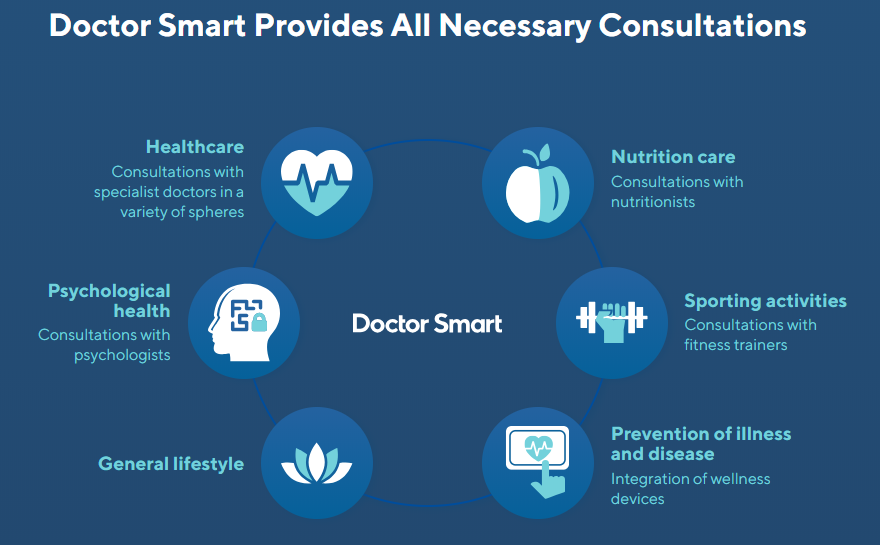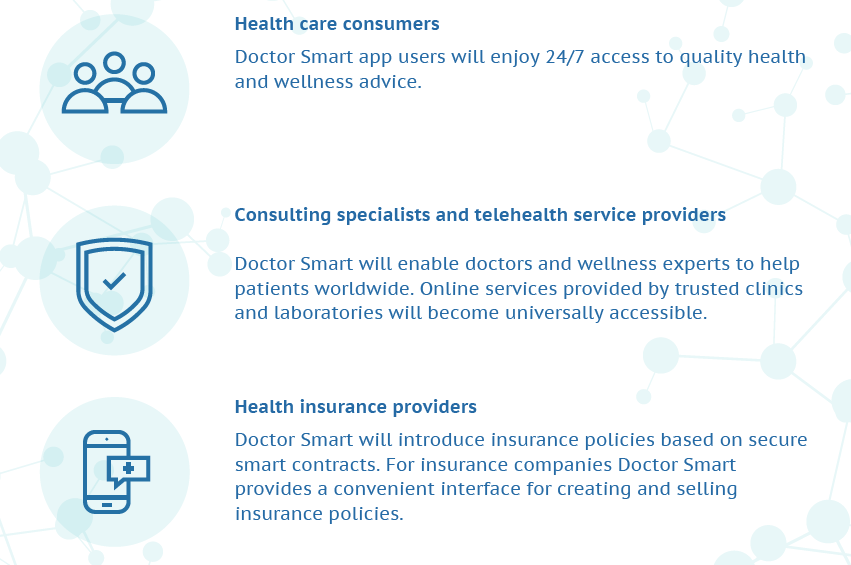 The Doctor Smart Token Details and Allocation
Token: DSTT
Price: 1 DSTT = 0.001 ETH
Platform: Ethereum
Accepting: BTC, ETH, BCH, LTC, DASH, ZEC
Minimum: investment 0.1 ETH
Soft cap: 50,000,000 USD
Hard cap: 5,000,000 USD
Country: Cayman Islands
To know more about the technical details and aspects of the project plus their latest updates, visit their official social media pages and website:
Bitcointalk Announcement Thread: https://bitcointalk.org/index.php?topic=3799820.0
Website: https://doctorsmart.io/
Whitepaper: https://doctorsmart.io/whitepaper_eng.pdf
Telegram: https://t.me/DoctorSmart_ICO
Facebook: https://www.facebook.com/DoctorSmartEng/
Twitter: https://twitter.com/DoctorSmartEng
Medium: https://medium.com/doctorsmart
BCT Username :Phatpharm20
BCT User Link: https://bitcointalk.org/index.php?action=profile;u=2038562