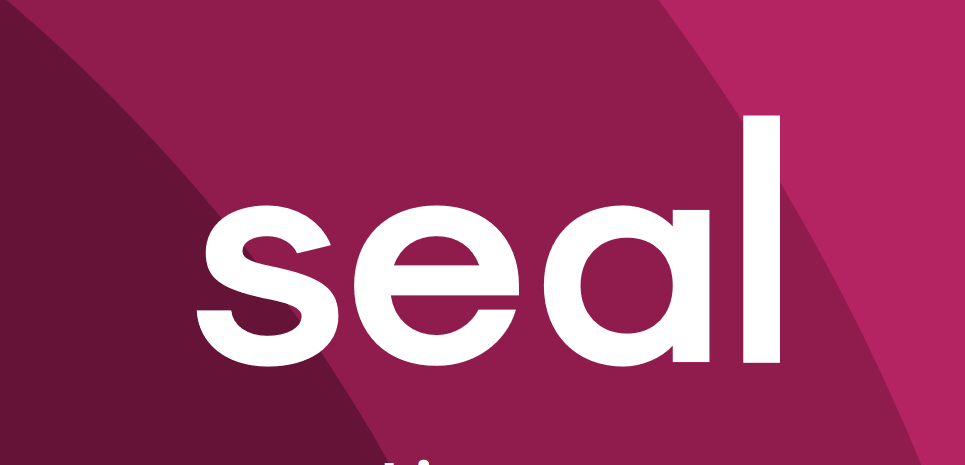 Seal is a blockchain powered product authentication and services platform which will provide consumers and manufacturers with product trust.
Seal enables anyone the ability to confidently, quickly and economically verify the authenticity of any product which is Seal enabled.
The Seal proprietary technology utilizes NFC compatible Seal chips which can be effectively, securely and discretely incorporated with any physically manufactured product. Upon integration of the Seal chip, the product is paired with the digital counterpart on the blockchain. Verification of authenticity is instantaneous with a simple tap or scan with any smart device.
For the first time in history, brands can earn money from items sold through the secondhand trade, while simultaneously protecting their markets from counterfeiters, by leveraging blockchain technology.
PROBLEM FACING THE INDUSTRY
NO PROPER PROTECTION– Nike is the most frequently imitated brand, but no brand is immune. Counterfeits reach the EU & US by the hundreds of millions of units. Unlicensed products are produced during midnight shifts and sold through parallel import.
MINDBOGGLING MAGNITUDE – 85% of global counterfeiting originates from Asia. 20% of China's total production is counterfeit goods. Global counterfeit products are projected to rise to $1954 billion* by 2022
GEOPOLITICAL SCALE OECD states counterfeiting has scourging impact on economies. The profits end up funding cartels and terrorist cells. It is a bigger revenue stream for crime rings than the drug trade. Safety of people globally is jeopardized by fake medicine, airbags and airplane parts.
SECONDARY MARKET – It is almost impossible for people to differentiate genuine from counterfeit products. Especially on the secondary market where fraudsters run amok, and there is no trust in the counterpart
DIFFICULTIES RECOGNIZING COUNTERFEIT FROM GENUINE PRODUCTS
We believe the designers, artists, scientists, programmers and creators are the unsung heroes behind brands that make magic happen in our lives. The brands are the seal of these creators' souls: they symbolize their blood, sweat and tears.
We believe that we should cherish brands and its creators, protect them, encourage them to keep going and strengthen the connection between people and brands.
The Seal app allows anyone to check if a Seal-enabled product is genuine. A simple tap with your smartphone lets you scan the Seal NFC chip, which is embedded in products, and shows you information about the product. The Seal chip, Seal app and the Seal Network provide authenticity and other services for products and brands. We use dynamic NFC chips instead of static QR-codes and RFID for better security and copy protection of the chips itself. By facilitating a secure tokenized version of a physical product, Seal allows product-specific services to operate such as transferring ownership, theft prevention, insurance, but also brand activation campaigns and product analytics.
SOLVING THE PROBLEM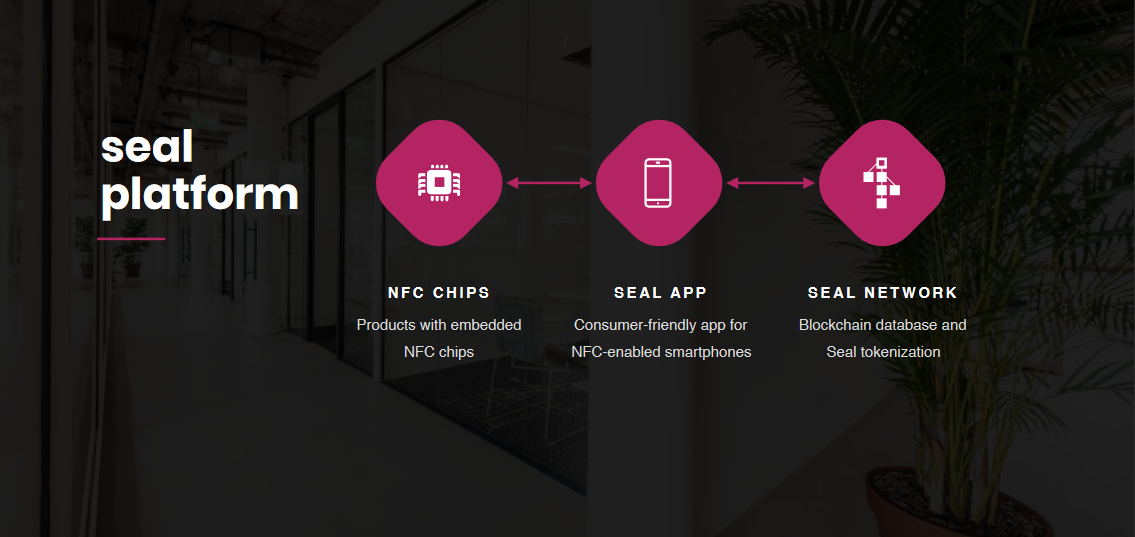 ONLINE AUTHENTICATION
Online authentication is the only way to ensure authenticity, but the data that resides on the product's embedded chip can be copied as well. Copies would still point to a valid product entry in the database. In order to solve the problem there must be a way to ensure the data is not duplicable. The blockchain is only one part of the solution. A dynamic chip, one that changes state each time you interact with it, prevents fraudsters from passing off the chip as real because every time an attempt is made to verify it, the data itself changes. The genuine and the counterfeit product will have out of sync information on it, which indicates the product is tampered with.
MAKE IT EASY TO VERIFY
Checking whether a product that you intend to buy is authentic or not should be easy. Consumers cannot be expected to appraise the authenticity of products by looking at minute details and knowing production anomalies. The anti counterfeiting method must be tamper-proof, but it should also be effortless to verify the authenticity. Seal makes it easy for anyone with a smartphone to recognize genuine or fake products.
REMOVE FINANCIAL INCENTIVE
Counterfeiting is driven by financial motives. To stop the cat-and-mouse game between counterfeiters and security specialists, the ability to monetize large-scale counterfeiting must cease. Instead of fortifying the product itself with special markings or hard to counterfeit materials, we embed chips that are authenticated on a blockchain. We bring all these technologies together in the Seal platform
INCENTIVIZE ADOPTION
RESTORE MARKET INTEGRITY
Seal is more than an anti-counterfeiting platform. With Seal, we enable services to be used with each unique product on the Seal Network.
A short list of possible services include:
Verify Authenticity (Already implemented)
Consumers check the authenticity of a product.
Register ownership (Already implemented)
Consumers claim ownership of a product. For insurance, P2P transactions & theft prevention.
Transfer ownership (Already implemented) Consumers transfer ownership of a product.
This allows brands to earn money on the secondary market
Theft-Prevention
Consumers mark products as lost or stolen. Displays a custom message triggered when scanned.
Track Parallel Trade
Brands track the origin of products and see where they are being sold.
Product Recalls
Brands issue a product recall / product replacement by informing customers when they scan the faulty product.
Product Analytics
Seal provides geospatial/time series product analytics to brands.
Custom Integration
Brands use tokens to pay for API calls that redirect to a custom source such as an app or browse
The revolution about SEAL
Seal is the best way for anyone to check if a product is genuine or fake. Seal combines NFC chips, which are embedded into physical products, the Seal app, and the Seal Network to provide a fast, simple, and secure way to provide products authenticity and other services. By facilitating a secure tokenized version of a physical product, Seal allows product-specific services to operate such as transferring ownership, theft prevention, insurance, but also brand activation campaigns and product analytics.
Seal lets brands earn money every time their products change owners. For the first time in history, brands can earn money from items sold through the secondhand trade, while simultaneously protecting their markets from counterfeiters. Using the power of the blockchain, authenticity can be checked and ownership can be transferred decades from now, even if the product itself is discontinued, as long as people contribute to the decentralized Seal network. Seal wants to bring back confidence to consumers and allow for brands to interact with their most heavily vested customers in the most direct way the internet has ever seen. Together, we build a better world in which consumers appreciate the creative work of makers and stop feeding the counterfeit economy.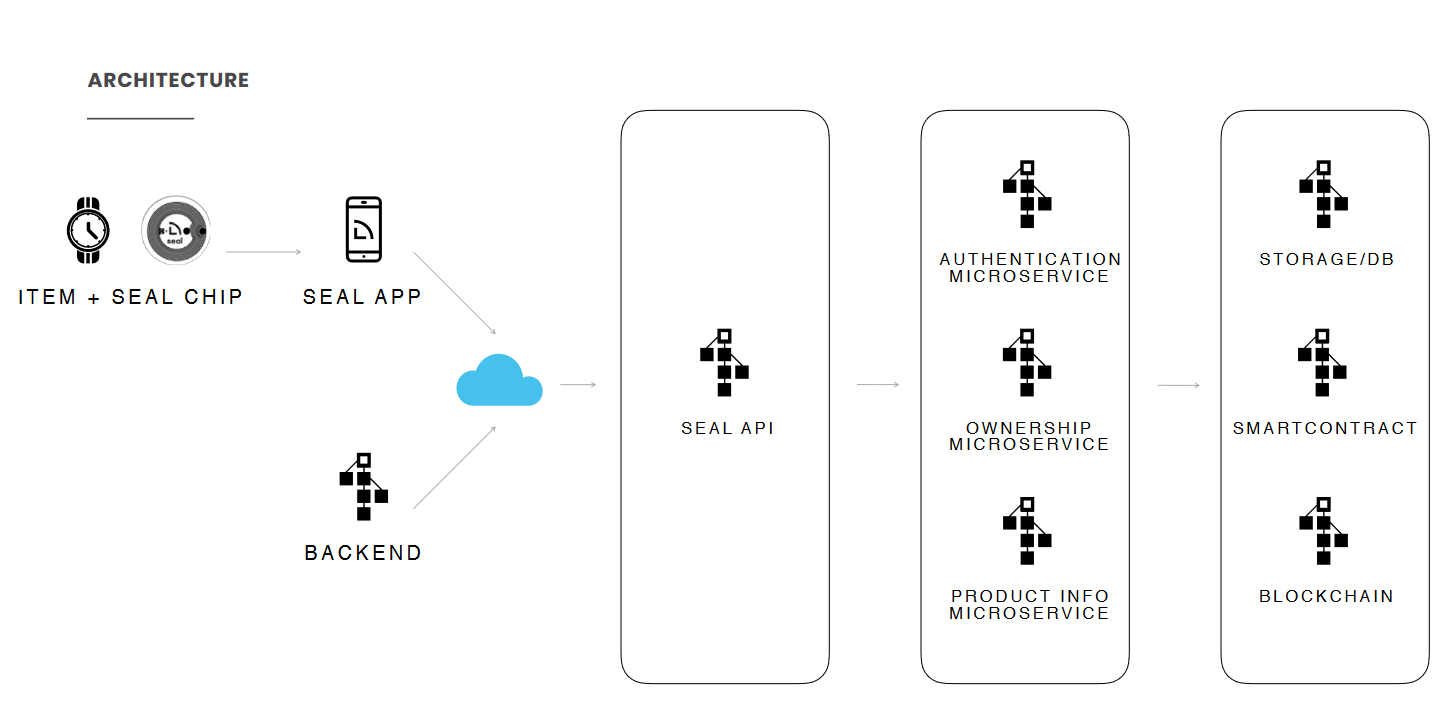 VISION
Master plan – Phase 1
Infrastructure of Authenticity
Seal's investments in the platform will lay the groundwork for the world's infrastructure of authenticity. This infrastructure is the basis upon which a service ecosystem can be built upon. Perhaps most notably, it would provide away for brands to gather data and perform geographic and time series analysis on product streams. This is a leap forward in the maturity of insight-driven organizations. Other services are not limited to the previously highlighted services. In the future, Seal may further expand its service offering, for example with special customs and law enforcement software,
Master plan – Phase 2
Convergence of E-Commerce & Retail
Seal has both E-Commerce and Retail applications. In retail, Seal can become a no-checkout method to pay for genuine products. Simply scan, pay and walk away. In E-Commerce, verifying and claiming the ownership of products could occur even before the product is shipped, or listed on sites like eBay or Amazon. Should the seller fail to send the product, the new owner can lock the product by marking it as lost or stolen.
Master plan – Phase 3
Currency of Authenticity
Seal establishes itself as the currency of authenticity. The currency is optimized for transacting consumer goods. Using Seal to pay for products while directly claiming ownership provides both buyer and seller a guaranteed exchange of goods. With regular FIAT transactions, there is no way to tell with certainty whether (a) the product is genuine and (b) physical money / banknotes are not counterfeited.
TOKEN SALE


Token Cap
A maximum of 1.2b tokens will be minted and will never exceed this amount. No more than 492m tokens will be allocated for the token sale rounds. Discounts and bonuses depend on strategic partnerships and deal size.
Token Emission
KYC and AML is required prior to buying tokens. Buyers need to provide their details and the address that will be used to send Ether from. If tokens in the presale round remain unsold, they will be offered in the mainsale. Offered tokens that remain unsold after the main sale will be distributed proportionately to ALL token sale participants.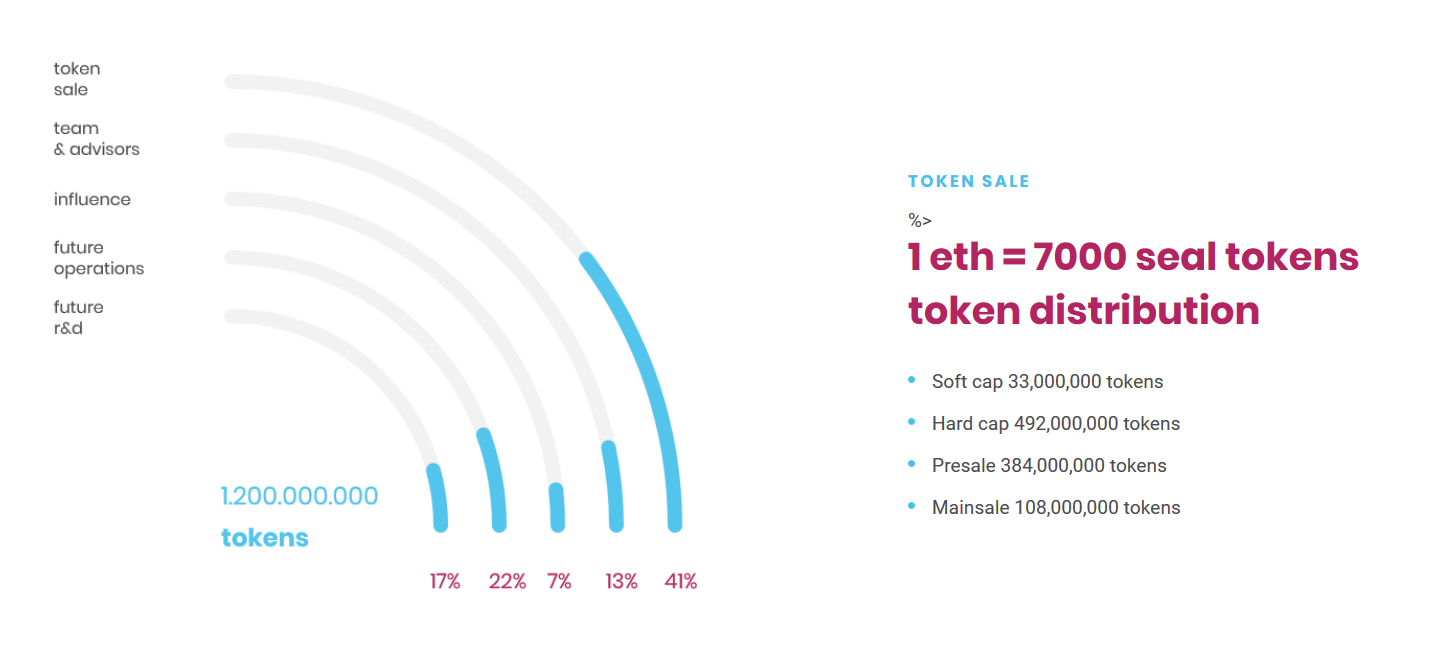 ROAD MAP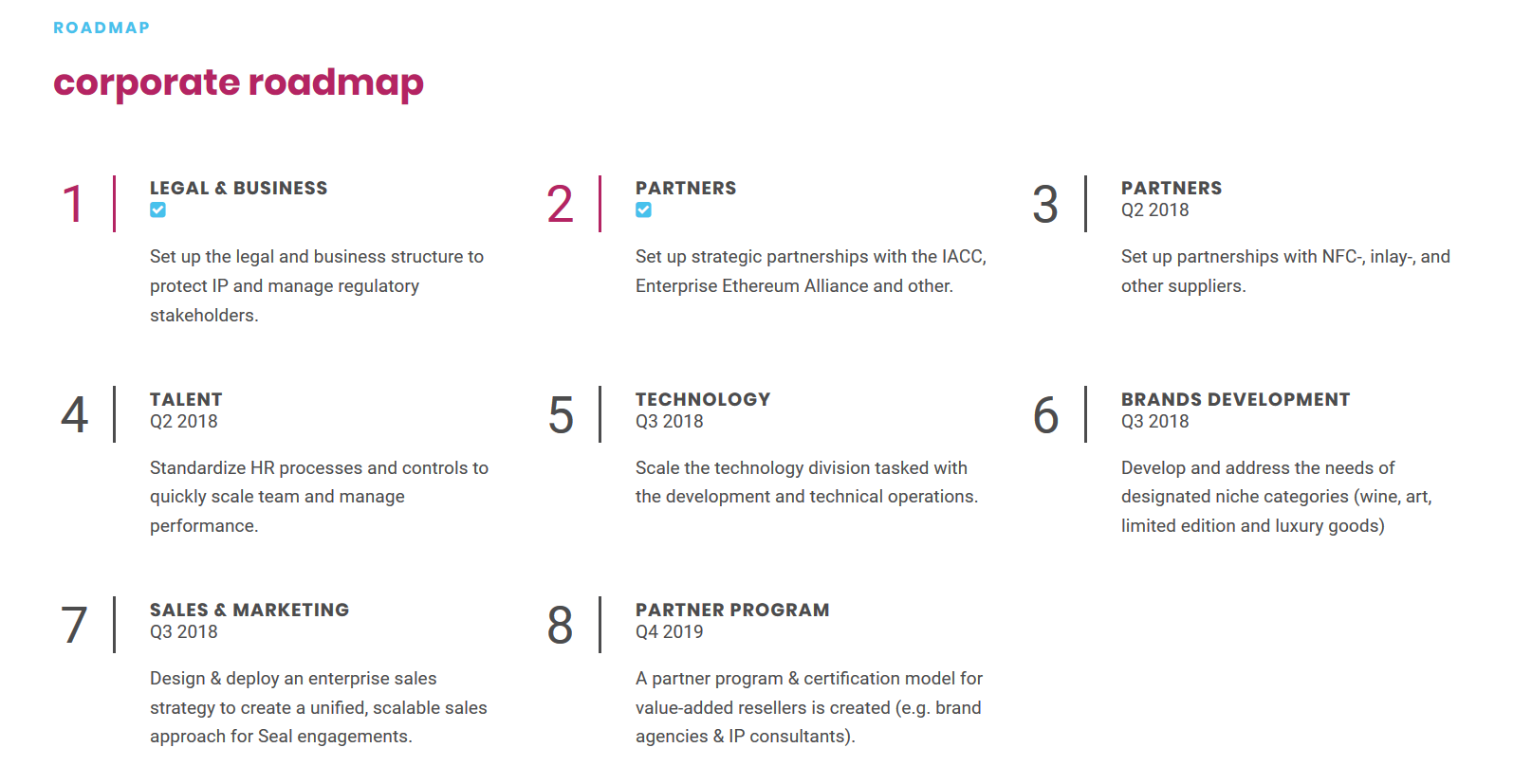 Meet the team behind this great project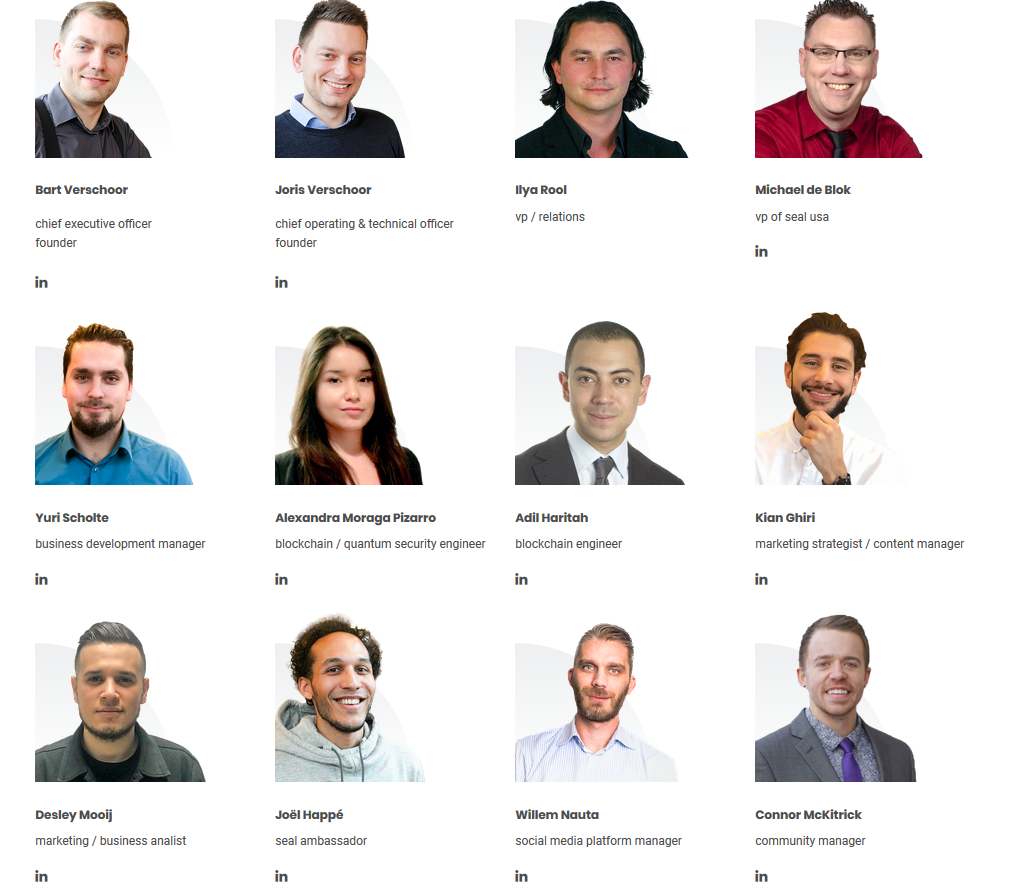 For more information, please visit the link below:
Website: https://seal.network
White Paper: https://seal.network/seal-whitepaper.pdf
Bitcointalk Thread: https://bitcointalk.org/index.php?topic=2929809.0
Bounty program: https://bitcointalk.org/index.php?topic=3217735
Telegram: https://t.me/sealnetwork
Twitter: https://twitter.com/seal_network
Facebook: https://www.facebook.com/SEALnetworks
Author: Tosin David
BTT Profile: https://bitcointalk.org/index.php?action=profile;u=1180815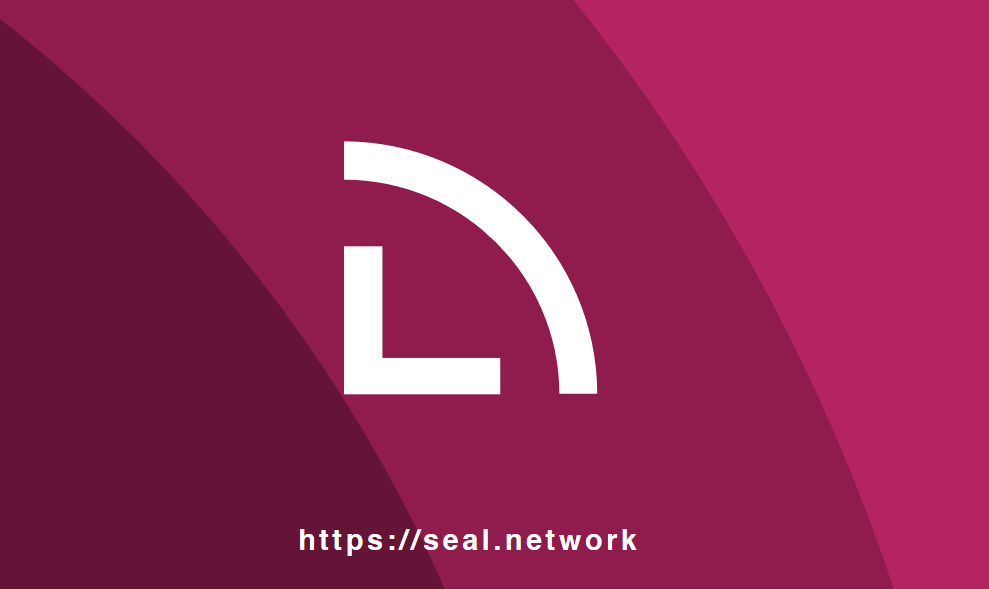 The world is full of creators: designers, scientist, programmers and makers. They dedicate their lives to bring us the best – humbled by years of failure, driven by a dream they can't let go, powered by force of will… until one day their work turns into brilliance It is the brand that seals it all, that connects us to the creators, adds value to our culture, and fulfills us with originality, inspiration and quality.
But it's an effort often overlooked – flooded by an overload of fake and soulless products, making it seem normal to expect emptiness in return. Now, let's celebrate true creation, pay tributes to dedication, and enrich our lives with worthwhile brands.