EcoStart
FEATURES of EcoStart

Ecostart is a publicly distributed cryptographic platform for creating software applications and solutions on the open blockchain.
This platform is made for financial support from environmental and ecological protection projects.
The essence of Ecostart is TerraEcocoin's own cryptocurrency (TECO), which produces a Proof-of-Importance algorithm.
How does it work?
This platform will be created on the Ecostart block system that will meet the requirements for effectiveness, reliability and cost speed. Currently, the ecosystem uses Ethereum where the smart contract at the ICO stage is written on it. This platform combines several technological solutions including applications that have been used, into one system.
EcoStart uses blocking technology to simultaneously complete several tasks, from creating fundraising services to writing information about client trading operations and selling tokens at the ICO. With the transparency aspect of blocking technology, customer trust in EcoStart grows to an amazing level.
The EcoStart ecosystem has seen the integration of TECO cryptocurrency to enable all ecosystem services to be done with it. With the increase in transactions and activities on the EcoStart platform, and the higher participation of buyers and sellers of cryptocurrency, the more benefits will be received by all participants.
The development of cryptosinger as a communication channel also opens environmental enthusiasts to a convenient and functional mode of communication in the ecological community while ensuring maximum confidentiality and anonymity.
Our aim is to increase investment in green projects and the tokenisation of investment activities.
The EcoStart Blockchain has all the characteristics needed for this:
• Fast transactions of around 100 K transactions per second
• Lack of intermediaries;
• Energy-saving verification protocol (up to 100 times less than Bitcoin)
• Smart contracts with new advanced features and tools to make them.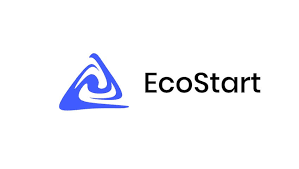 Development of technology blockade

Attract capital to finance environmental projects and new companies

Stimulate environmental activism and support environmental initiatives

Bringing the attention of the public, the media, the business community and the authorities to environmental issues

Promote voluntary work and sponsors in the environmental field.
We use the Proof-of-Importanc (POI) algorithm to create applications for open project finance, the encrypted currency of TerraEcocoin (TECO), and its generation.
Ecostart – Integrator of Environmental Movement Participants in Public Websites (Markets): – Looking for environmental projects for investment.
– To raise funds to invest in environmentally friendly projects.
– Search and adjust for voluntary activities – Form actual evaluations of platform users (initiators, investors, experts, volunteers) – Get objective recommendations.
Benefits of EcoStart
Investors, sponsors (socially responsible businesses) to finance environmental projects will create a positive image for themselves and PR, and in the case of investments in "green" commercial projects, they will also receive income.
TerraEcocoin's cryptocurrency owner will be able to make masternodes for the functioning of the platform and get a steady income, and invest in green startup.
Volunteers will be able to receive information in real time about the place and time of the environmental campaign.
For startups, it is possible to implement investment environment funds, which are focused on finance companies and startups that implement environmental projects.
Token
Token Details  Symbol: TER
Token Sale Starting: nineteen Nov 2018
Token Sale End: 31 Jan 2019
Price Token: $ 0.1 USD
Token problem: 210,000,000
Tokens for sale: 123 900,000
Maximum supply: 100 900,000 Maximum current inventory : one hundred fifty 000 000
Tokens for sale: 72 days
The innovative Blockchain technology has revolutionized various sectors of the world economy. The ecological sector has not been abandoned and environmentalists have something to smile about. In the past, there have been challenges as far as investment in environmental projects was concerned, with intermediaries interfering in the entire transaction process. But with EcoStart, there is a transfer of power and control to who the owner is – TECO investor and cryptocurrency owner.
ROADMAP EcoStart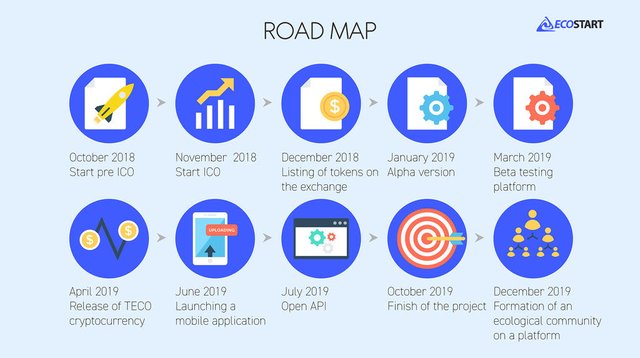 EcoStart TEAM AND ADVISOR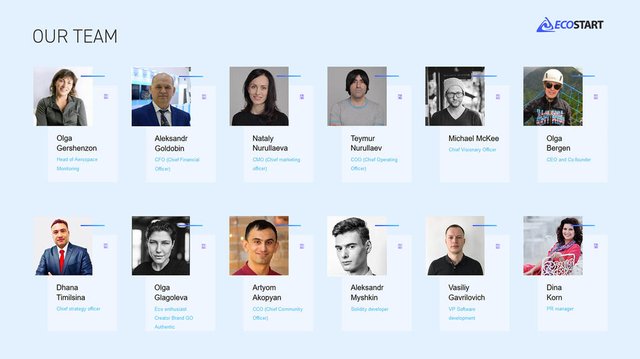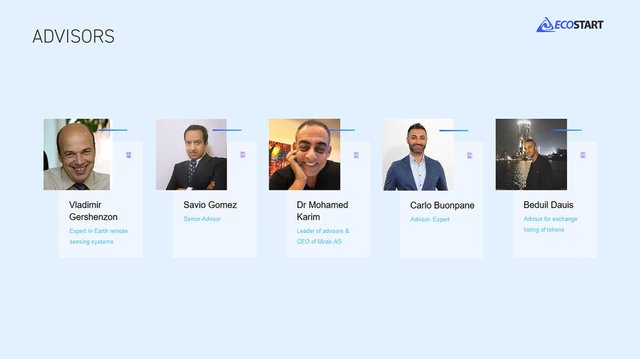 For more details or more, please! Please follow the link below:
WEB SITE:   https://eco-start.com
WHITEPAPAPER:  https://eco-start.com/docs/pdf/wp_en.pdf
THERE IS HERE:   https://bitcointalk.org/index.php?topic=5079313
TWITTER:  https://twitter.com/start_eco
FACEBOOK:  https://www.facebook.com/ecostart.eb.9
TELEGRAM:  https://t.me/ecostart2018
REDDIT:  https://www.reddit.com/r/EcoStart
btc name Sriningsih22
btc link profile https://bitcointalk.org/index.php?action=profile;u=2303929