In recent times, the smart phone messenger market is experiencing a drastic and far-reaching change, with WhatsApp (worth $21.8 billion) and Telegram (worth $3-4 billion) taking the preeminence especially in Western Messenger markets. Also, in the Asian Messenger market, the Chinese WeChat Messenger (worth $63.8 billion) is top ranking.
This evolution is tied to the vast use of smart mobile phones and the fact that virtually every smart phone user uses one messenger type or the other for chatting with friends and family, sending files, making free calls and sharing information.
At the same time, crypto currency is revolutionizing and getting more attention as an alternative to traditional money. With the blockchain technology as its bedrock, crypto currency is known for its decentralized nature and high security potential.
It is on the basis of these two revolutions that the Xmoneta idea was birthed. http://www.xmoneta.com/
The name is derived from the traditional mathematical 'unknown', 'X' and 'Moneta'- the Latin name for 'money'.
Xmoneta Messenger is a universal and extremely secure messenger application, built on the basis of the blockchain technology, to give users the opportunity to chat, send messages, make orders, buy goods, trade with people and manage their money (both Crypto and Fiat currencies). It is an all-in-one encrypted messenger application.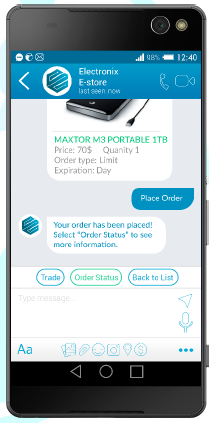 Compared to other giant social media applications, Xmoneta has a totally different principle and philosophy; in that, it allows users to satisfy their daily interests, lead a completely mobile lifestyle, free from any borders. Apart from its use for social and business communications, Xmoneta messenger can also be used as wallet for multiple currencies (both crypto and Fiat) thereby eliminating the need to use differentsources and wallets to transfer and exchange different types of currencies. It can also be said to be a decentralized messenger bank where all the processes are based on Smart-Contracts. To know more about the Xmoneta messenger and its accoutrements, kindly download the 'White Paper' on https://www.xmoneta.com/xmoneta_whitepaper.pdf
Core values of Xmoneta are Openness, Clearness and Freedom. These are made manifest in the fact that it is centralization free, doesn't undermine your privacy, neither collect your personal data nor spy on you. All messages and transactions are 100% encrypted and cannot be hacked.
Xmoneta will be organizing a crowd-sale of tokens known as Initial Coin Offering (ICO). The Xmoneta Token will be XMN and will be based on the ERC-20 standard. A total of 1 billion XMN Tokens will be supplied and the token price will be 1ETH=2000XMN. A milestone of 300ETH is set, which if not met at the end of the crowd-sale campaign, the amount raised will be sent back to the senders' address by the sales contract. Recommended minimum investment is, though not limited to 0.1 ETH. The Token distribution is given in the figure below.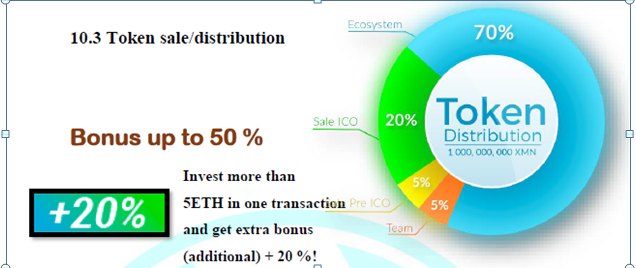 The ICO will be run in three phases;
• The Pre-ICO
 Start date: 25th January, 2018
 End date: 25th February, 2018
 Bonus: 30%
 Extra bonus: 50%
• The ICO B round
 Start date: 13th March, 2018
 End date: 8th April, 2018
 Bonus: 20%
 Extra bonus: 40%
• The ICO C round
 Start date: 9th April, 2018
 End date: 30th April, 2018
 Bonus: 10%
 Extra bonus: 30%
You can also follow Xmoneta on:
https://www.facebook.com/xmoneta.xmn
https://twitter.com/xmoneta_xmn
Authored By:https://bitcointalk.org/index.php?action=profile;u=1821623