eHarvestHub – The Blockchain Technology with Artificial Intelligence, Making Food Affordable and All
PRESENTATION
A storm has hit the investment market which we are not going to recover from. Crypto investment is that storm. With strict capital controls in place by most countries to control the flow of money and charge high taxes, cryptocurrency gained usage in circumventing capital controls and taxes, leading to an increase in demand. Cryptocurrency has been able to present an easy to use digital alternative to fiat currencies. Offering frictionless transactions and inflation control, investors have been prudent enough to add these currencies in their diversified portfolios as an asset, as the size of the market does not represent a systemic risk. Cryptocurrency employs the use of cryptography that assures high-security processes and verifies transactions personal to each user. Hence, counterfeiting and anonymous transactions are impossible to achieve.
While this revolution is gaining wide acceptance, eHarvestHub, a California-based company, that enables small farmers to sell their produce to grocers directly and hire truckers for transportation in an open marketplace has arrived.
Check out this video presentation
eHarvestHub
eHarvestHub is a California-based company, that enables small farmers to sell their produce to grocers directly and hire truckers for transportation in an open marketplace. This would enable them to sell their produce immediately, without a middleman.
eHarvestHub aims to reduce food costs and increase profitability by creating a trust system and eliminating intermediaries through the decentralization of goods and services.
It aims to eliminate middlemen from the food supply chain through the open market.
The main reason why farmers need a middleman is to help them distribute their products to hundreds of retailers in several regions. To solve the transportation problem, the platform also includes a reward system for carriers for shipping products.
The way it works is simple, farmers can list their produce, which grocers can purchase, once a route is created. Both can look at available truckers, and select a reasonable delivery price. Both growers and truckers set their own price, establishing a free market, and giving them independence.
The system rates every purchase to keep everyone honest. They also employ government officials to inspect food, making sure it complies with food safety regulations.
eHarvestHub AND Blockchain Technology
While transparency is mentioned as a prime motivator for the use of a Blockchain, there are many unanswered questions in how the implementation can actually lead to real transparency.
Yes, timestamped transactions can show when purchase orders were made and can keep some accountability for when various transactions in the supply chain exchanged money.
What is not included in the whitepaper but clarified by the team is that audits are performed by EHH employees, to ensure data that is input into the Blockchain is accurate. Further to that they also conduct audits with third parties like PrimusLab to ensure the food safety data is accurate. This can still be easily done with a traditional system that is non-decentralized with a software service hosted by the company, so there is no real advantage of using a Blockchain for this specific part of their use-case. However it does speak to the expertise of the team in the mediation of any buyer-seller disputes, and they have a sound business strategy to audit and settle any such issues.
Farmers can provide their products, in the purchase of which the interests of the grocers, once established the route. Both parties can get acquainted with the available carriers and choose a reasonable price for delivery. Both producers and carriers set their own prices, creating a free and independent market.
The system evaluates each purchase that uses the national authorities for inspection of food products, ensuring compliance with the rules of food safety. Both consumers and farmers will be able to get the best prices and profits. In addition, the consumer knows exactly who produces the products and who they support. Transparency and knowledge are incredibly important in today's purchasing decisions.
ICO AND TOKEN DETAILS
Name: eHarvestHub
Symbol: EHH
Platform: Ethereum
Type: ERC20
Price: 1 EHH = 0.30 USD
Soft cap: 2,000,000 USD
Hard cap: 15,810,000 USD
Tokens for sale: 75,744,444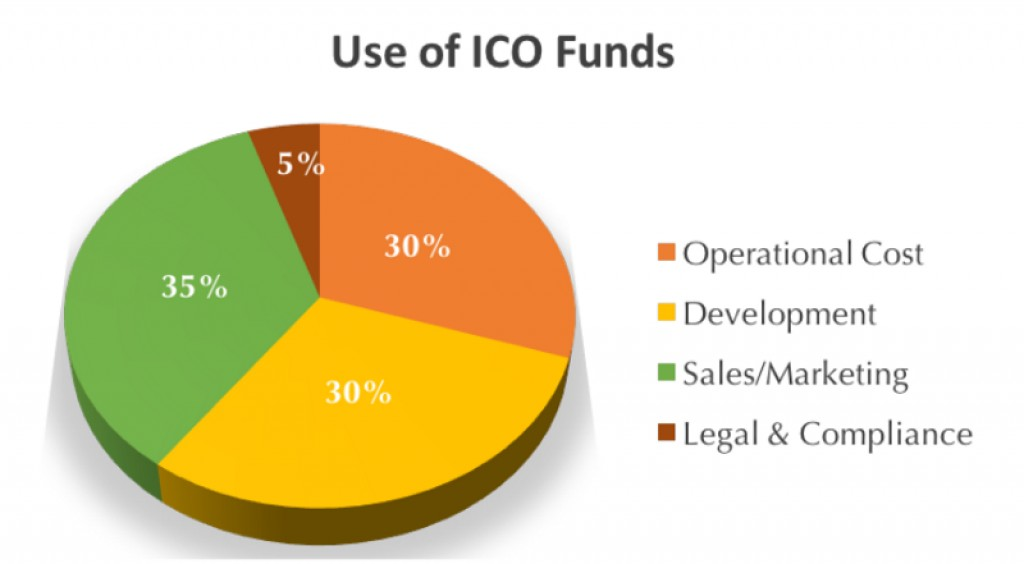 Token Distribution
The company will create 900M tokens and they will be distributed as follows:
48% Sold during ICO
20% Kept by the company
15% Given as Customer Rewards
12% Sold Pre-ICO
5% Given to advisors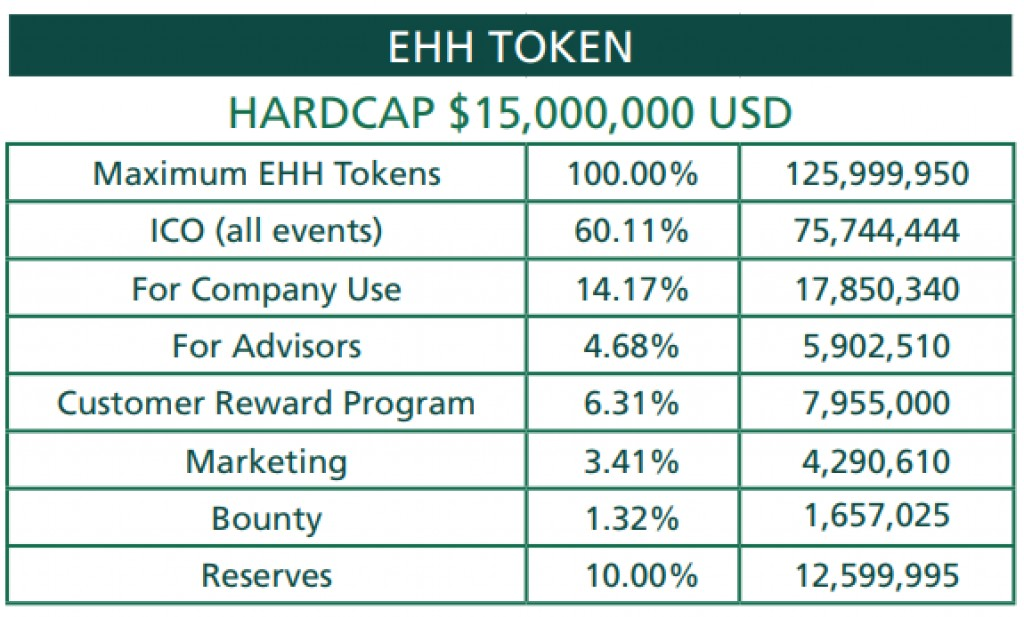 This means 60% of the currency will be purchased by users through their Pre-ICO and ICO events at a discount. This currency will be used to replace the fiat money in the platform. The idea is that the currency will be purchased at a discount, so the token holders will then trade the token at a higher price with the marketplace and exchanges.
Pre-ICO

During the Pre-ICO the company will sell each 5,000 EHH tokens for 1 ETH.
The minimum amount allowed to participate is 0.166667 ETH which translates to roughly $55 USD at the moment of writing. Participants will receive over 50% bonus for purchasing the token the first day.
ROADMAP
NOV 2011 – JUL 2012
Age of Discovery.
Customer Discovery.
Business Plan created.
Team assembled.
Advisory Board created.
eHarvestHub becomes a Delaware C Corp.
PTI Traceability.
JAN 2013 – DEC 2014
PTI Traceability.
Traceability MVP soft launch.
Version 2 of MVP Released (2014).
Version 1 of Order Management System(OMS).
Raise $87,000 Friends & Family Round.
Win 1st place at 11 pitch competitions including, Google NEXT, Silicon Valley Startup and FoodIT.
The farm tools.
JAN 2015 – OCT 2015
The farm tools.
Release V2 Order Management System.
Farmers tracked more than 4 million cases of fresh produce.
Win 1st Place at PUSHTECH 2020 and the industries Produce Marketing Association (PMA), SARTA AgTech and San. Francisco Shark Tank, pitch competitions.
$ 1 million in VC funding.
NOV 2015 – MAR 2016
$ 1 million in VC funding.
Closed $1Million from Tim Draper's Ventures Lab & Kaiwu Capital Begun development of Marketplace, Transportation platform and Inventory Management System (IMS).
Engineering Talent.
JUL 2016
Engineering Talent.
Partnered with Universidad Americana de Managua (UAM) and Universidad Nacional de Ingenieria (UNI) in Nicaragua to carry out a weekend hackathon to find our awesome development team.
MarketPlace done!
DEC 2016
MarketPlace done!
Marketplace and Inventory Management System are Completed and released.
Transportation done!
JAN 2017
Transportation done!
eHarvestHaul platform completed and released.
Blockchain Traceability.
NOV 2017 – APRIL 2018
Blockchain Traceability.
Commence Blockchain traceability development and test in Nicaraguan Pilot.
Blockchain Traceability will connect the consumer directly to the Farmer.
Pre-ICO.
APRIL 5 – 18 2018
Pre-ICO.
Our bonus structure reflects how important you are to us.
ICO Event.
APR 2018
ICO Event.
ICO tentatively will start April 28th ending May 24th, 2018. We expect to sale approximately 30 million EHH tokens.
EHH Token in Circulation.
MAY 2018
EHH Token in Circulation.
Token marketplace platform to be completed. Token contributors will be able to list and directly sale EHH tokens to eHarvestHub customers. Customers will begin to pay eHarvestHub for services creating demand for tokens to be sold. 3rd Parties will be able to pay eHarvestHub with EHH tokens for access to market to its members.
150,000 Transaction.
DEC 2018
150,000 Transaction.
California Farmers generate 150,000 transaction through eHarvestHub.
EHH Token used P2P.
JAN 2019
EHH Token used P2P.
Customers will begin using EHH Token to pay for products and services offered in eHarvestHub Marketplace.
Above you can see the roadmap — how the team sees their nearest and long-term future.
MEET THE AMAZING TEAM AND ADVISORY MEMBERS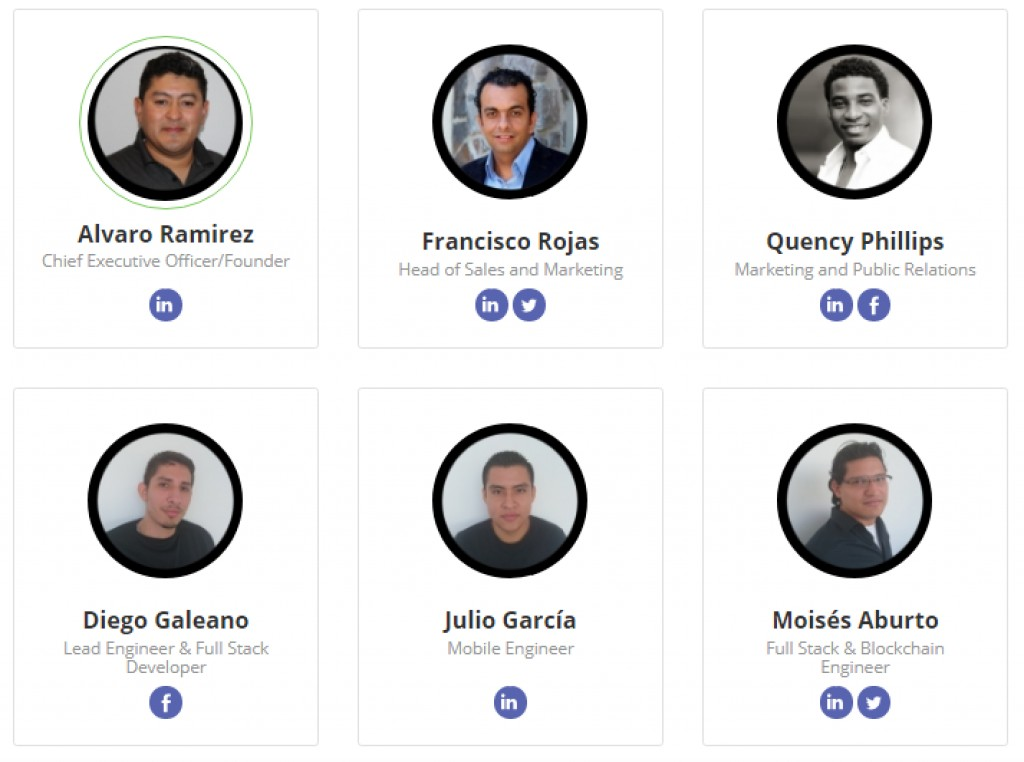 Be a part of this incredible project. Download the whitepaper for the full scoop.
Till next time…
For more information, please visit:
Website: https://www.ehhico.com/#ico
WhitePaper: https://www.ehhico.com/whitepaper/en.pdf/
Facebook: https://www.facebook.com/eHarvestHub/
Twitter: https://twitter.com/eHarvestHub
Medium: https://medium.com/@eHarvestHub
Telegram: https://t.me/eHarvestHub
Youtube: https://www.youtube.com/channel/UCY6akoSXfCRXteResiV1kZw
Instagram: https://www.instagram.com/eharvesthub/
Reddit: https://www.reddit.com/search?q=eharvesthub
BountyHive: https://bountyhive.io/browse/eHarvestHub?from=TheMichael
Bountyhive Username: TheMichael
Referral Link: bountyhive.io/r/TheMichael
Author: TheMichaelMatch
My BitcoinTalk Profile: https://bitcointalk.org/index.php?action=profile;u=1326035
Disclaimer: This article was published in terms of the bounty campaign. I am not a project team member or its representative but a supporter of this incredible project.