ELISIA
ELISIA – The BlockChain Revolution Has Begun.
We Promotion a blockchain platform (Elisia), which itself is a Dapp platform having the ability to build a Dapp for any existing blockchains and allow migration of Dapps from one blockchain platform to another with a single click.
ELISIA comes with a blessing on new projects or existing projects to create a competitive market for products / services and blockchain without exception. There will be competition that will continue to increase, this is because ELISIA wants the blockchain to produce solutions for new projects and existing projects.
At Elisia we propose a blockchain solution, which synchronizes all of the blockchain development platforms in a common platform and provide a unified interface to develop and deploy the blockchain based public and private applications on a master chain (Elisia) or sub chains like other Dapp building platforms with a single click or minor adjustments.
Elisia is the most exciting development in the blockchain world since Satoshi Nakamoto unleashed Bitcoin in 2008. Elisa provides lightning fast transactions with no fee. Each Elisia transaction will reach its destination in lightning speed without any fee to sender or receiver! Decentralized Applications (DAPPS) can be created with ease and deployed on the Elisia network with a click of a button without any fee for deployment.
Elisia blockchain is a delegated proof of stake (DPOS) chain with the side chains comprising of different algorithms like proof of stake (POS), proof of work (POW), delegated proof of stake (DPOS), etc.
ELISIA has a decentralized application, there is a unique button in the application to run the FREE sending / receiving feature. Applications that will be distributed on Elisia's network will provide excellent comfort and security. "FREE SEND, FREE TO ACCEPT AND GET THE SPEED LIKE THE FLASH"

ELISIA FEATURES

Speed – Indeed, currently there are so many platforms that provide very high speed of transactions, but they take advantage of this transaction speed feature by having to pay shipping costs! Do you need a fast transaction but it's free? Elisia is the right choice!
Free – There are no fees for using this platform! This not like other projects that only rely on fast transactions but still they will get income from the features of the transaction! Elisia 100% free will not be charged any fees in carrying out fast transactions like a light!
DAPPS – You don't need to have very high knowledge to make DAPPS, you can make this DAPPS only with the knowledge you have!
QUANTUM RESISTANCE

Elisia Guaranteed from the threat of quantum computing because Elisia uses DPOS, But Elisia also does not guarantee computational threats to protect Elisia's main chain. The presence of a chain has little chance of damaging the main chain.
But this Sidechain network adopted protocols such as.

Proof Of Stake

Proof Of Work

Etc.
KYC (KNOW YOUR CUSTOMER)
You only use two kind of identification's form

In order for Elisa to recognize the faces of all investors, she will need your photos.

All data must be correct and must be the same (name and confirmation address)

ELISIA ICO

Only white listed addresses will be accepted by our smart contract. This means that only members who have submitted KYC documents and been approved will be able to participate in the Elisia ICO.
Each white listed address is added to the smart contract manually. This will ensure that their is no possibility of an investor from a restricted country or non-verified member participating in the Elisia ICO. 
ICO Start Date:

November 30th 6am GMT
Soft Cap: 5000ETH
Hard Cap: 50000ETH
Token Price: 0.0001ETH
TOTAL SUPPLY: 1,000,000,000 ELSA
CONTRACT ADDRESS: 0x96c9126ee53fe08cc28fb08248915c76af3e3568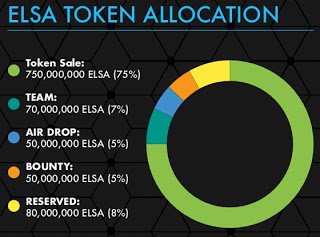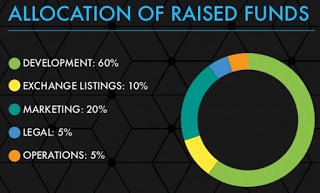 ICO BONUS:

First 24 hours: 45%
Day 2 – Day 7: 35%
Day 8 – Day 14: 30%
Day 15 – Day 21: 25%
ROADMAP
This timeline details our funding and development goals.
January 2018 – Idea/Brainstorming
February 2018 – Research Phase
June 2018 – First Tech White Paper
October 2018 – White Paper Released
November 2018 – Token Sale Begins
December 2018 – Elisia Network Development Begins
January 2019 – Token Sale Ends
February 2019 – Released on Major Exchanges
May 2019 – Elisia Network Testing
August 2019 – Elisia Network Development Complete
September 2019 – Elisia Network Official Release
October 2019 – ELSA Token Swap
November 2019 – First Annual DAPP Contest

TEAM
The Elisia management team is very knowledgeable and efficient in the areas of business, investment, finance, law, blockchain technology and cryptocurrencies with many years of experience
For more information you can visit link below :

Website ; https://elisia.io/
Whitepaper ; https://elisia.io/white-paper.pdf
Facebook ; https://www.facebook.com/Elisia-199175400981031/
LinkedIn ; https://www.linkedin.com/company/elisiaio
Twitter ; https://twitter.com/Elisiaio
Telegram ; https://t.me/elisiaio
Telegram Bounty ; https://t.me/elisiabounty
Reddit ; https://reddit.com/r/elisia
Github ; https://github.com/Elisia-io
Ann Thread ; https://bitcointalk.org/index.php?topic=5066777.0
Author of the article:

Bitcoinalk username : Cintashany01
Profile link : https://bitcointalk.org/index.php?action=profile;u=1661845
Facebook : https://www.facebook.com/max.bebasmardeka
Twitter : https://twitter.com/tarjoe_maximum
Telegram username : @TarjoeMaximum
ETH adress : 0x2b53a131742A8d2a03771C168267888D7ed5974f