ELISIA: THE REVOLUTION OF BLOCKCHAIN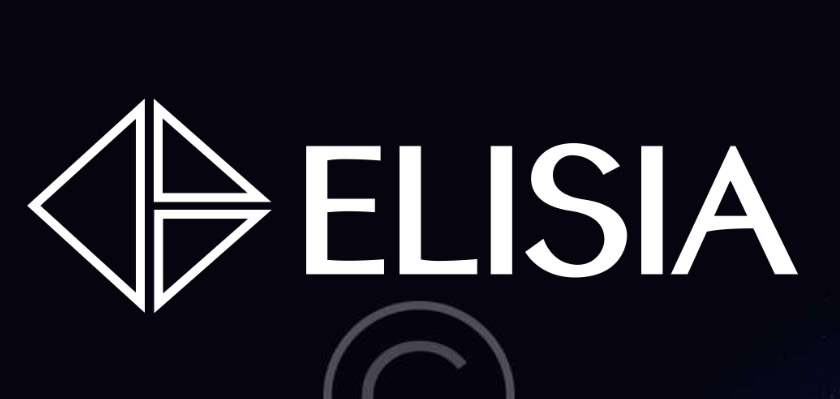 Elisia is a revolutionary network of blockchains which intends to resolve the issues and create a high-performance blockchain which is scalable, lightning speed with no fee transactions, and allowing potential users to develop Decentralized Applications (DAPPS). This is achieved with a consensus mechanism that is based on the Delegated Proof of Stake (DPoS) chains with other sidechains comprising of different algorithms like proof of stake (POS), proof of work (POW) and delegated proof of stake (DPOS) etc. Elisia eliminates the mistakes of its predecessors, solving the problems of scalability and increasing transactions per second, as well as bringing blockchain technology closer to mass adoption.
Elisia aims to provide a user-friendly platform to increase user adoption of blockchain technology as a whole. Elisia platform built on top of a highly secure blockchain, integrating the mixture of different technologies. At Elisia, all crucial integration of blockchain technology service is ever on their fingertips. Elisia's team of experts works day and night to provide its clients a lifetime free flowing blockchain technology using the best decentralized tools available.
Elisia is scalable enough to sustain active operation of thousands of industrial grade DApps at the same time, while the military-grade security of the Elisia Platform ensures the stability of the network. Furthermore, each transaction within the Elisia Platform, is free of cost. There are no hidden charges involved. The transactions promptly arrive at the desired destination at a rapid speed.
ELISIA FEATURES
Speed – Indeed, currently there are so many platforms that provide very high speed of transactions, but they take advantage of this transaction speed feature by having to pay shipping costs! Do you need a fast transaction but it's free? Elisia is the right choice!
Free – There are no fees for using this platform! This not like other projects that only rely on fast transactions but still they will get income from the features of the transaction! Elisia 100% free will not be charged any fees in carrying out fast transactions like a light!
DAPPS – You don't need to have very high knowledge to make DAPPS, you can make this DAPPS only with the knowledge you have!
QUANTUM RESISTANCE
Elisia Guaranteed from the threat of quantum computing because Elisia uses DPOS, But Elisia also does not guarantee computational threats to protect Elisia's main chain. The presence of a chain has little chance of damaging the main chain.
But this Sidechain network adopted protocols such as.
Proof Of Stake
Proof Of Work
Etc.
KYC (KNOW YOUR CUSTOMER)
You only use two kind of identification's form
In order for Elisa to recognize the faces of all investors, she will need your photos.
All data must be correct and must be the same (name and confirmation address)
Problems to be confronted:
Every technology and every refinement gets problems that arise during the execution of the project. Here is what ELISIA team has developed blockchain technology.
Restless in other Blockchain interactions.
On the basis of CoinMarketcap data, there are more than 2000 coins and tokens that are in principle different. In this difference the problem arises because they are not interacting with other blockchain (managing their own platforms), they will not be able to move from blockchain. called with very complete functions
Very wide application
Currently there are many platforms that use blockchain technology, for example the steemit platform that has been around for a long time and they will also find success from their social media platforms. just one Click
To find out more about this Troubled problem in Other Blockchain click on the following link.
White paper link: https://elisia.io/white-paper.pdf
Elisia to Airdrop Tokens
blob: https: //www.youtube.com/3e3bd179-fef2-41c4-9772-3d44048c6485
The Elisia ICO marks the first phase of the Elisia Blockchain Revolution. The ICO launches November 30, 2018. To celebrate Elisia, 50,000,000 ELSA tokens must be broadcast!
Elisia, the upcoming blockchain revolution has announced an Airdrop campaign. This event is aimed at raising awareness about the Elisia platform. As a thank you, the team offers 50 million tokens to new and existing users.
Please note that Airdrop: China, Bangladesh, Nepal, Macedonia, Ecuador, Pakistan, Algeria, Morocco.
About the airdrop
5000 users each receive 10,000 ELSA tokens. This corresponds to 1 ETH or $ 220 + each.
ELISIA TOKEN SALE
According to the company roadmap, https://elisia.io/#roadmap, Elisia token sale commences from November 30th, 2018 to January 2019. The estimated token price is about 0.0001 ETH, and the overall token supply is 1,000,000,000 ELSA. Elisia sets an initial hard cap of 50,000 ETH.
Only whitelisted addresses or member who have submitted KYC documents and been approved will be accepted to participate in the Elisia ICO. This will ensure that there is no possibility of an investor from a restricted country or non-verified member participating in the Elisia ICO.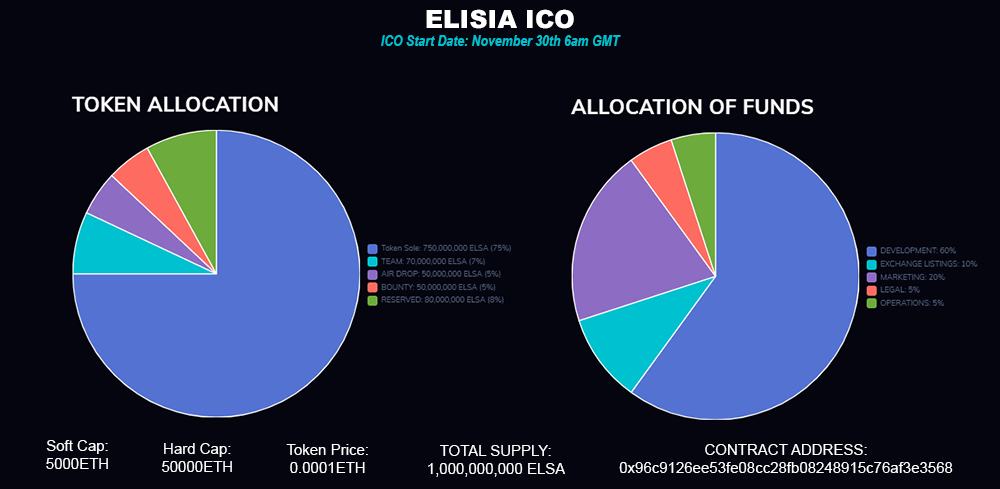 TEAM
For more information you can visit link below :
Website : https://elisia.io/
Whitepaper : https://elisia.io/white-paper.pdf
Ann Thread : https://bitcointalk.org/index.php?topic=5066777.0
Facebook : https://www.facebook.com/Elisia-199175400981031/
Twitter : https://twitter.com/Elisiaio
Telegram : https://t.me/elisiaio
Reddit : https://reddit.com/r/elisia
Github : https://github.com/Elisia-io
Bitcointalk username : faisdsoul05
Bitcointalk profile link : https://bitcointalk.org/index.php?action=profile;u=2397463
Eth Address : 0xcED5C28455E4c10B35339E673222a5C8A8A79E4A