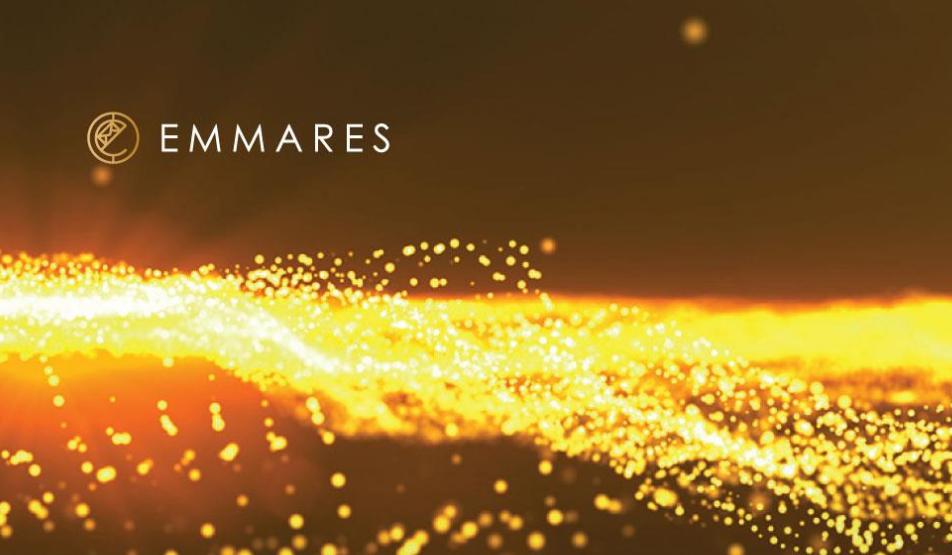 Cryptocurrencies is one of the most important inventions since the inception of the web. They are ushering in a new era of decentralization, privacy, and control of one's own data that has the potential to revolutionize many parts of society. There are currently over one thousand cryptocurrencies in use, with hundreds more being released each year. Their combined market cap has grown from $10 billion in 2016, to over $400 billion at the time of writing, having previously been much higher. Only 1% of the world's population own cryptocurrency. Companies involved with blockchain, the technology behind cryptocurrencies and altcoins are expected to experience significant growth over the coming years. Blockchain technology can solve dozens of previously intractable problems, like digital identities, supply chain integrity, data breaches and many, many more. The use of blockchain technology within society has been exponentially increasing since it was introduced to the world by Satoshi Nakamoto. The first use of blockchain technology was bitcoin. According to Gartner Insights, blockchain, the driving force behind the crypto market is estimated to grow in business value to $3.1 trillion by 2030. Blockchain is the fastest growing market in the world and the EMA token offers investors an opportunity to benefit from the growth in value. The age of blockchain technology is just beginning. Email Marketing Rewarding System, is an evaluation system that highly benefits email marketers (senders) as well as email recipients (therefore everyone who uses email). Email is considered as being one of the most effective marketing tools. Today's reality is that email marketing is used more than any other digital marketing channel, but the impact is not what it could be. This is due in large part to the fact that so much of the content used in email marketing is of exceptionally low quality. Customers want the information that email marketers have to offer, but they will not accept information that is low quality. At EMMARES project, we believe that we are a game changer, Using the smart services offered by EMMARES, email recipients will finally be able to get email marketing content up to their standards and customized for them based on their interests and region. Before i proceed lets take a look at this short video….
https://youtu.be/Zd9EqxFX6M0
EMMARES
EMMARES – Email marketing is part of the concept of digital marketing that uses email and the internet as a means of communication. Email marketing has the advantage of being a "direct" product of your direct sales, your sales, your goods, or your services. Email marketing is basically the same as a general email, but there is a difference in the purpose of persuasive content.
EMMARES is creating a global digital reputation of email content providers and their contents. Based on trusted evaluations and Quality score, recipients can find the best content based on their interests. It also brings new value an expanded audience for email marketers and less spam with only desired content for recipients.
VISION
To envision a world in which email marketing content is of a significantly higher caliber by which email marketers will be encouraged to consistently produce better content over time. Trusted evaluations will help all of us to minimize spam and also want email marketing to represent trust and quality in people's minds.
MISSION
Our mission is to make the world spam free and to play a leading role in uncovering the possibilities of a dynamic content evaluation and smart delivery system
BENEFACTOR OF EMMARES
Email marketers – Publishers
Token buyers
Mailing recipients – Evaluators
TOKEN
EMA is an ERC20 Token implemented in the Ethereum blockchain app platform. The Ethereum Contract for EMA Tokens and all other contracts are written in Solidity programming language. All Decentralized EMMARES Marketplace users will collect their EMA in Ethereum Wallet.
Email marketers will use EMMARES (EMA) by following these simple steps:-
Upon digitally signing the rewards contract, the sender pays the agreed number of EMA coins plus a service fee to a special campaign wallet that holds the tokens until the budget is fully utilized.
The recipient evaluates email content quality and is rewarded by EMA tokens.
After the rewarding pool is fully disbursed and/or the deadline has passed, the recipient can still review the provider's content but they will not be rewarded in crypto-tokens. Such ratings are not on the blockchain and are not relevant to the combined quality score. This way, recipients will be motivated to evaluate content quickly, giving their impressions on the content soon after it is first published. In turn, publishers will be motivated to provide an optimal rewards pool to get relevant quality assessments on the blockchain.
Users will be able to change ETH to EMA and vice versa through the DEX exchanges.
GAS and service fees are deployed within every cycle to cover blockchain transactions and service fees.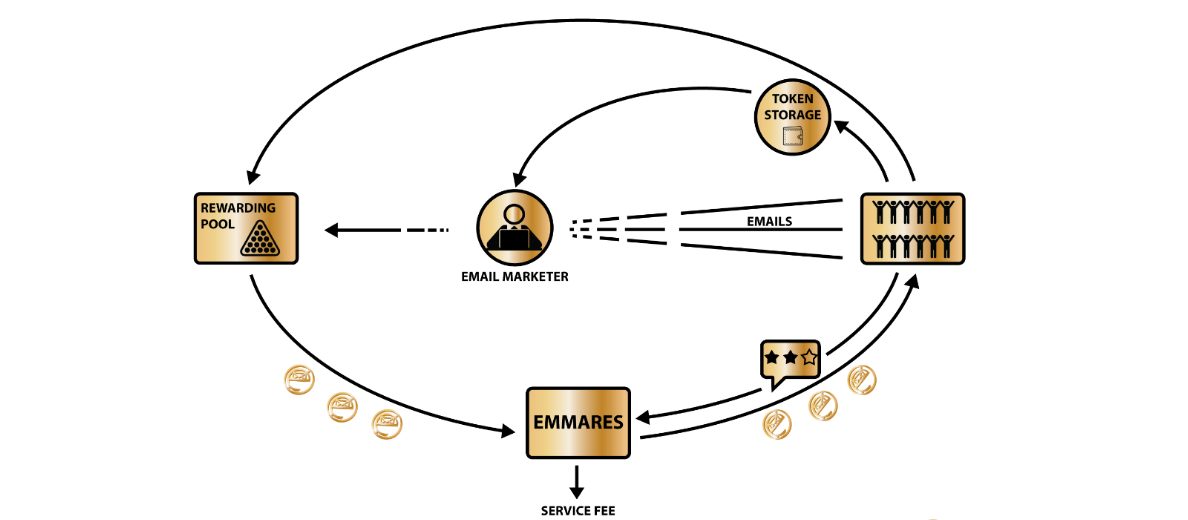 TOKEN AND ICO DETAILS
Public Presale and ICO: May 5th 2018 — Sep 30th 2018
Token: EMA
Total tokens supply: 500.000.000 EMA
Tokens for sale (pre-ICO & ICO): 255.000.000 EMA
Softcap: 2.000 ETH
Hardcap: 35.000 ETH
1 ETH = 5100 EMA
TOKEN DISTRIBUTION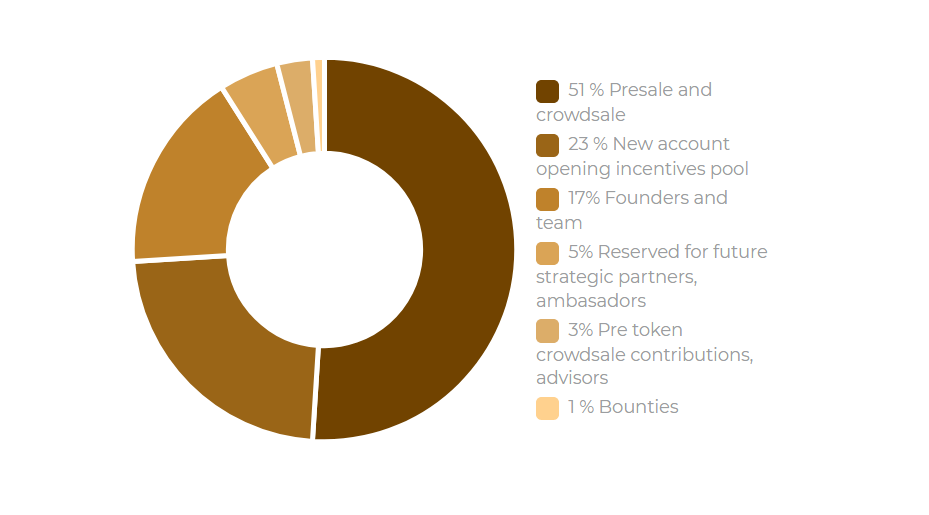 51 % Presale and crowdsale
23 % New account opening incentives pool
17% Founders and team
5% Reserved for future strategic partners, ambasadors
3% Pre token crowdsale contributions, advisors
1 % Bounties
ROADMAP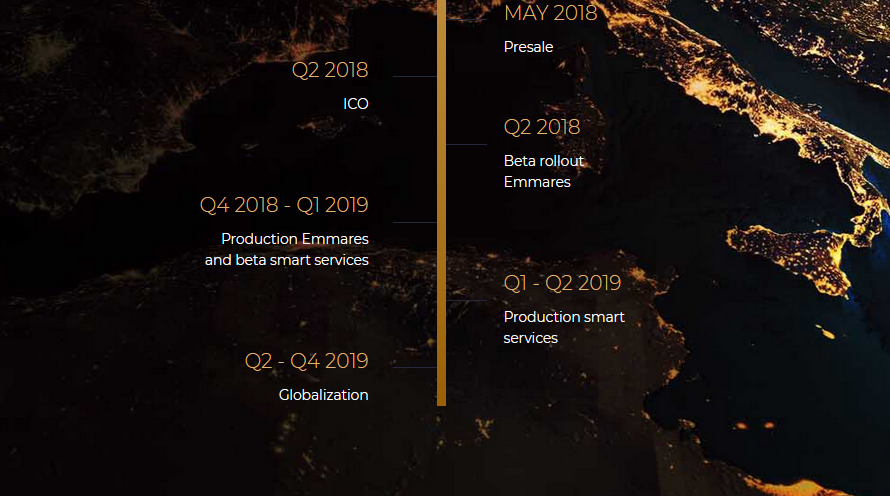 MEET THE AMAZING EMMARES TEAM




ADVISOR


For more information, please visit:
Website: https://emmares.io
Whitepaper: https://emmares.io/whitepaper.pdf
Bitcointalk: https://bitcointalk.org/index.php?topic=2807216.0
Twitter: https://twitter.com/emmares_io
Telegram: https://t.me/emmares

Author: Seunola
MyBitcoinTalk profile: https://bitcointalk.org/index.php?action=profile;u=1925064
ETH Address: 0x3eb48CF7E0A5570540641DD8263cA40e307562e9