ENCRYBIT – The Revolutinary Cryptocurrency Exchange
PRESENTATION
A storm has hit the investment market which we are not going to recover from. Crypto investment is that storm. With strict capital controls in place by most countries to control the flow of money and charge high taxes, cryptocurrency gained usage in circumventing capital controls and taxes, leading to an increase in demand. Cryptocurrency has been able to present an easy to use digital alternative to fiat currencies. Offering frictionless transactions and inflation control, investors have been prudent enough to add these currencies in their diversified portfolios as an asset, as the size of the market does not represent a systemic risk. Cryptocurrency employs the use of cryptography that assures high-security processes and verifies transactions personal to each user. Hence, counterfeiting and anonymous transactions are impossible to achieve.
While this revolution is gaining wide acceptance, Encrybit, a "results-oriented" company and therefore the team already made its vast research for security concerns, considering the past few incidents where exchanges had attacks causing platform users heavy losses.
The number of cryptocurrencies and exchange platforms are increasing each year. Currently, there are 190 exchanges, compared to 70 exchanges three years ago, on 15 March, 2015. Demand to buy and sell is also growing as the number of cryptocurrencies and trading platforms increase.
There are currently 1,568 different cryptocurrencies available, as at 21 March, 2018. This breaks down to 654 tokens and 914 coins. It all started with bitcoin, which was first released on January 9, 2009, and various versions launched in the following years. The first experiments in altcoins started happening in 2011 with Namecoin, iXcoin, SolidCoin and others being developed and released. Litecoin followed soon after in the same year."
With that being said, Encrybit R&D team is well organized to analyze cryptocurrency market and traders emotions about the cryptocurrency exchanges. To develop traders based exchange its important to point the traders challenges and expectation from the trading platform. Encrybit found the best way to identify the traders emotions and that was surveys. One of the most top successful surveys of cryptocurrency community.
But before we go any further, please check out this video presentation to get even more acquainted
Now that I have your attention, let's get right to it.
What exactly is ENCRYBIT?
Encrybit is the first cryptocurrency exchange with a modern trading platform that sets it apart from the traditional style of exchanges available in the current market. The Encrybit UI/UX promises a trading experience like no other.
Encrybit surveys corroborated this trend in the users, finding alot of things that people expect from trading platforms but often being left disappointed, causing them to look for third-party software to provide for these expectations instead. Encrybit is preparing to solve almost all the major issues of existing cryptocurrency exchanges, which push the traders to use this third-party software. The main reasons why people choose third-party charting platforms are:
TA tools are not enough to make a proper analysis;
The chart is not clear and most of the times too small;
The trading UI is confusing and not user-friendly.
The Problems
Security
This is a major loophole that has been discovered on many exchanges through survey carried out by Encrybit. As at the time of creating this post, over 90% of crypto market trading volumes are on centralized exchanges.
This is surprising considering the fact that most crypto individuals seems to desire decentralized ones, but due to low and poor volumes on decentralized ones, users adopt centralized exchanges which exposes them to the risk of hack but still use it due to the better liquidity they offer.
Poor Liquidity
The crypto assets market is still very volatile, and this leads to a major shift in price during large orders. This is due to the fact that there is a limited amount of liquidity in the crypto market compared to the fiat market.
This is the reason why low level exchanges with 100BTC trading volume face supply/flow crisis. This causes a swing in the market and till now, no exchanges have been able to come out with a solution.
Extreme Crypto Trading Fees
The ENCRYBIT survey revealed that crypto traders were worried about the dealing fees. Most digital asset exchanges ask for a charge of 0.25 percent to 3 percent. On decimalized money exchanges, the need for a fee is small or does n't exit. These charges are required since centralized digital money exchanges are expensive to operate.
The Solution
As stated earlier, security will be the major priority of the Encrybit project. When they conducted survey on some traders, they found out what these traders believe to be a modern first generation crypto assets exchange platforms and the top demand was security.
This made Encrybit to develop a multiple strategy to tackle security loopholes. They are creating a cold storage and multiple system protocol in what they believe will aid their transition into a new generation exchange platform. This multiple tier security will enable them to safeguard user's crypto assets.
Another unique feature of the Encrybit platform is their advanced built in technical analytics that will enrich a high level of TA capabilities. This feature is going to be extended to a large number of assets. Through this, Encrybit will help traders to set up an ideal trading surrounding which will also improve liquidity.
The Encrypt Function
Encrybit is a truly unique exchange that combines all the modern features that no traditional exchange has, making it a unique and advanced trading platform. As I said earlier, the basis for the creation of this exchange formed a deep and large-scale research, as well as a survey of a wide mass of people with direct experience with existing exchanges. The survey identified the most desirable and necessary functions for traders, which should have a full and modern exchange.
These functions include:
Smart alert
It is one of the most popular functions, the main task of which is to timely notify the trader about the movement of the exchange rate of coins, informing him by e-mail or by ordinary notification in the application;
Coin comparison
This function is aimed at the analysis of three or more coins, thanks to which the trader will receive a line chart so necessary to compare the current and the strength of the coins;
The book of wide order
It is presented in the form of a book of orders, which contains all the processes necessary to study the best moments to enter the short-term trade. This information will be relevant for many novice traders and will allow them to protect themselves from possible errors;
Social trading
It built in such a way that every trader has the opportunity to evaluate and view all the transactions of another trader, as well as repeat all his actions. This principle will allow not only to follow the strategy of another exchange participant, but also to learn his techniques;
P/L reports
They are aimed at notifying the trader with all the necessary information about his losses and profits. At the same time, it allows a deep analysis of the obtained statistics to further adjust its strategy.
The Encrybit Token Sale and ICO Details
The ENCX coin intends to become the main element of the entire Encrybit system. The use of ENCX will allow to carry out a huge number of actions related primarily to the collection of commissions and all exchange processes.
In total, the founders of Encrybit will release 270 million coins of which 172 million and 800 thousand coins will be available for sale.
The initial cost of which will be $ 0.2 per 1 ENCX.
Token Details
Token Symbol – ENCX
Token type – ERC20 Utility
Total Token Supply – 270,000,000
Token Price – $0.2
Soft cap – 5.4 Million in USD
Hard Cap – 32.4 Million in USD
The distribution of tokens and funds is as follows: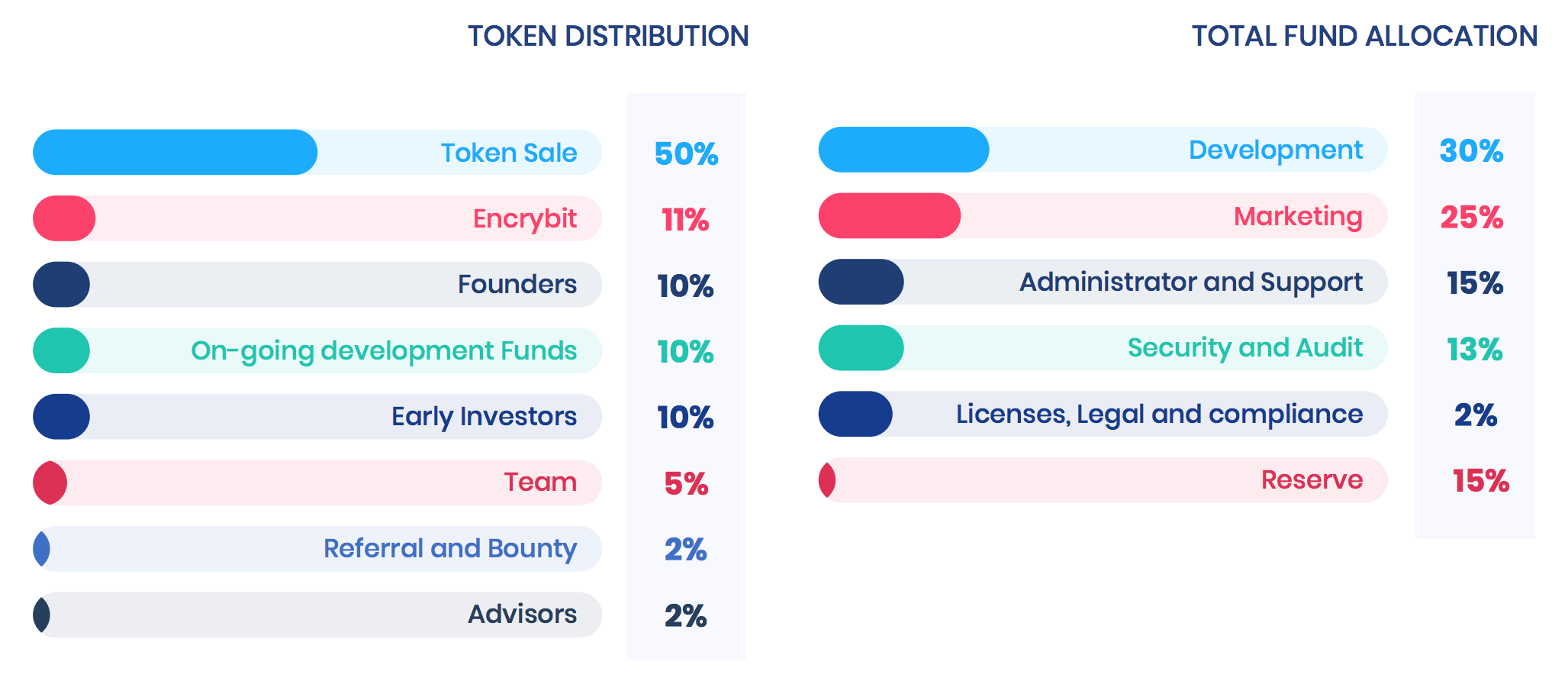 ROADMAP
Q1 2018: Jan, 2018 to March, 2018
Foundation Establishment
Foundation Establishment
Planning of Exchange Development
Launching of Internal Tools & Services
Q2 2018: April, 2018 to June, 2018
Encrybit.io Website Launch
Corporate Entity Establishment
External Team Building
Exchange Feature Prototype
LitePaper Published – English, Korean, Russian, French, Malay, Italian
ICO and Exchange Marketing
Listing of Encrybit in Major Publications
Cryptocurrency Exchange Problems Survey
Q3 2018: July, 2018 to September, 2018
Community Building
Global Promotion and Publication of Encrybit
Cryptocurrency Exchange Evaluation Survey
Launch of Main ICO Website along with Whitepaper and Prototype
Pre-ICO Bounty Programs
Q4 2018: October, 2018 to December, 2018
Private Sale Launch
ICO Goes Live Round 1 – Pre Sale
Q1 2019: Jan, 2019 to March, 2019
ICO Round 2 – Public Sale
Marketing and Promotions of Exchange
Exchange legal and compliance process
Be a part of this incredible project. Download the whitepaper for the full scoop.
Till next time…
For more information, please visit:
WEBSITE: https://encrybit.io
TELEGRAM: https://t.me/encrybit
WHITEPAPER: https://encrybit.io/pdf/encrybit-wp-v1.pdf
ANN THREAD: https://bitcointalk.org/index.php?topic=4837693.0
FACEBOOK: https://www.facebook.com/encrybitofficial/
TWITTER: https://twitter.com/enbofficial
MEDIUM: https://medium.com/@enbofficial
LINKEDIN: https://www.linkedin.com/company/encrybit/
REDDIT: https://www.reddit.com/user/encrybit
STEEMIT: https://steemit.com/@encrybit
Author: Cryptoholical
My Bitcointalk Profile: https://bitcointalk.org/index.php?action=profile;u=2487106
Disclaimer: This article was published in terms of the bounty campaign. I am not a project team member or its representative but a supporter of this incredible project.